North Carolina Grand Prix 1 - C2
North Carolina, Hendersonville, USA, November 17, 2007
Spinelli and Jones win in North Carolina
By Janet Trubey
Series newcomer Justin Spinelli (Richard Sachs/Rgm/Rex Chiu)
Photo ©: Trish Albert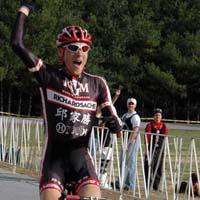 Sunny skies and cool temperatures greeted the racers who made the trek to Hendersonville, North Carolina, for the third installment of the Grand Prix UCI races. This year's races were held at Flat Rock Middle School and once again many men and women in search of valuable UCI points ventured to the mountains.
In the men's elite race it was series newcomer Justin Spinelli (RGM Watches/Richard Sachs) who took the win. The race began fast and furious with a running track start leading into the first section of grass and it appeared that there would be little separation on the first lap. That was until they reached the sand pit at the end of the lap, where the first bit of real action took place as Spinelli caused a traffic jam when he crashed.
It didn't take long for Spinelli to recover and get back to the front of the field along with Matt Shriver (Jittery Joes) and Taylor Carrington (Turin Bicycles). Steve Tilford (KCCX/Verge), Jon Hamblen (RGM Watches/Richard Sachs), Jonny Sundt and Nicholas Waite (Kelly Benefit) were chasing hard from behind.
By the time the men came around with three laps to go, Spinelli made Shriver do the bulk of the work, since his team-mate Hamblen was close to making contact to the three leaders. Once there, the Richard Sachs duo were able to attack again and again, until Shriver faulted on a turn due to the increasing pace. This left Carrington outnumbered with a sprint finish seemingly eminent.
Justin Spinelli (Richard Sachs/Rgm/Rex Chiu) leads
Photo ©: Trish Albert

Attacking into the sandpit on the last lap allowed Spinelli to increased his small gap substantially and secured the newcomer victory. Hamblen took the photo finish sprint from Carrington for second.
"I dedicate this win to Richard Sachs who has supported me in Cyclo-cross for the last four years and initiated my return to professional racing," said Spinelli. "I came here to win and today it could have been either Jon or myself."
In the Elite women's race it was Kelly Jones (Sugio/Cannondale/Bontrager) who took the race from the gun. Most of the field was together behind her through the first lap until the steep hill. There the field splintered into two groups - those who could ride it and those who had to run it.
It was Jones, Betsy Shrogren (Fort Factory), and Kacey Manderfield (Lees McRae College) who took to the front. After another lap, Manderfield started to fade, while Cara McCauley (BMW-Bianchi) made a huge effort and took over third place.
There were no more lead changes to be had, and Jones, who made her second trip from Canada to race in NC was glad she did as the trip was paid off with the big win.
Photography
For a thumbnail gallery of these images, click here
Images by Trish Albert/www.southeasterncycling.com
Results
Elite men
 
1 Justin Spinelli (Richard Sachs/Rgm/Rex Chiu)       57.02
2 Jonathan Hamblen (Rgm Wathces-Richard Sachs)        0.02
3 Taylor Carrington (Turin Bicycles - Powerbar)           
4 Steve Tilford (Team Kccx/Verge)                     0.31
5 Jonathan Sundt (Kelly Benefit Strategies/Medif)     0.38
6 Matt Shriver (Jittery Joe'S)                            
7 Jacob Fetty (Myogenesis/Thebikegame Dot Com)        1.08
8 Andy Applegate (Landrover / Cannondale)             1.11
9 Nicholas Waite (Kbs/Medifast Pro Cycling Team)      1.13
10 Tim Barrett (Myogenesis.Com)                           
11 Joshua Johnson (Big Shark Racing)                  2.16
12 Charles Pendry (Inland Construction - Btd)         2.17
13 James Schneider (Sonic Cyclocross/Jittery Joes)    2.22
14 Nathan Wyatt (Carolina Fatz/Sram/Santa Cruz)       2.35
15 Evan Hyde (Ridley)                                 2.42
16 Travis Livermon (Cycling Spoken Here)                  
17 Nathan Rice (Big Shark)                            2.44
18 Charlie Storm (Inland Construction - Btd)          3.27
19 Oscar Clark (Land Rover/Siemens Home Applia)       4.01
20 Scott Jackson (Lees-Mcrae Cycling Team)            4.05
21 John Degele (Inland Construction - Btd)            4.39
22 Matt Rotroff (Inland Construction - Btd)           5.38
23 Rich Harper (Abercrombie Fitch)                    5.58
24 Josh Whitmore (Carolina Tri - Ryobi Tools)         6.10
25 Joshua Stevens (Inland Const. Btd)                 6.23
26 Andrew Oishi (Duke University)                     7.32
27 Aaron Bradford (Lees-Mcrae College)                8.09
Lapped
28 Alex Ryan (Land Rover/Cannondale)                      
29 Bryan Schoeffler (Ridley Factory Team)                 
 
Elite women
 
1 Kelly Jones (Sugoi / Cannondale / Bontrager)       42.23
2 Elizabeth Shogren (Fort Factory Team)               0.15
3 Cara McCauley (Bmw - Bianchi)                       0.21
4 Kacey Manderfield (Lees-Mcrae Cycling Team)         0.35
5 Catherine Walberg (Team Kenda Tire)                 0.50
6 Christina Dekraay (Ht Naturals)                     2.28
7 Kimberly Sawyer (Bmw-Bianchi)                       2.45
8 Angelina Stevens (Inland Const. Btd)                6.49