USGP#4 - Mercer Cup #1 - C2
Trenton, New Jersey, USA, November 18, 2007
Gould takes Jersey sweep
By Kirsten Robbins in Trenton, New Jersey
Women's podium (L-R): Lyne Bessette (Cyclocossworld), Georgia Gould
Photo ©: Dave McElwaine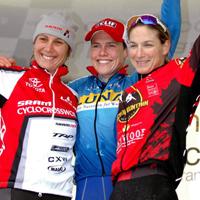 Despite setbacks during the race Georgia Gould (Luna) claimed her second United States Grand Prix of Cyclo-cross victory in as many days in Trenton, New Jersey today. The American took victory by some 20 seconds over former Canadian national champion Lyne Bessette (Cyclocrossworld) and Alison Sydor (Rocky Mountain).
"It wouldn't appear that I was feeling so good at the beginning of the race because I was riding like a moron," said Georgia, referring to her double crash through the Selle Italia Swirl on lap two. "But I'm pretty good on the straight open stuff and on the corners too so it was a nice race for me."
How it unfolded
Rebecca Wellons (Ridley Factory Team)
Photo ©: Russ and Nancy Wright

The three Canadian 'cross talents - Lyne Bessette (Cyclocrossworld), Alison Sydor (Rocky Mountian) and national champion Wendy Simms (Kona) - set the pace in an attempt to prevent Gould from claiming back-to-back victories. Sydor took the first position through the mud-ridden corners using her technical savvy to split the field before the sand pit. Simms took over the lead, attacking both Sydor and Bessette through the sand, gaining several bike lengths that caused the pair to scramble to catch back on.
Sydor believes the severe change in weather from the previous day's event held on the same course and 20 years of bike racing experience aided her podium finish. "Yesterday was more about power and today was about power and athleticism," said Sydor. "But you'll see that it's still the same riders in the top group. Today was physical but certainly more challenging technically."
"I know cyclo-cross is suppose to be all about mud and rain, but so far all the races I've done have been dry and on the grass so this is my first real experience in the mud," added Sydor. "Its not just about being good at mountain biking, it's about racing bikes for 20 years.
"It's a new sport to me, but in the end its still bike racing and the bike handling, whether you are the road in a rainy criterium or in a mountain bike race, there are still handling skills involved that you learn along the way," added the first-year cyclo-crosser.
Rachel Lloyd, Proman/Paradigm
Photo ©: Russ and Nancy Wright

As the three Canadians settled into a fast tempo, Gould and Rachael Lloyd (ProMan) slowly started to bring them back before the start of the second lap. Simms launched herself out of the sandpit with a sizable lead and maintained several seconds on the chase group until reaching the pavement to start the third lap.
Bessette used her road racing skills to bridge across to Simms and the pair rode off the front for the second time. Behind Gould crashed twice back-to-back through the Selle Italia Swirl, a technical section she made note of in her pre-ride.
"The start was all about chasing down attacks and closing gaps so it's hard when you are riding someone else's race, when riders are in front of you," said Gould. "I was struggling a bit and had a couple crashes. I rode the twisty section in the pre-ride but I crashed there during the race because it got really slippery so I started running it instead."
While Bessette used her horsepower to snag a lead over Simms, Gould brought out her A-game to weave her way passed Lloyd, Sydor and Simms and within two laps she rejoined Bessette. "I was worried a little during the race because there are a number of women who can win on any given day," said Gould. "I just tried to stay fluid and not make any small mistakes.
Alison Sydor (Rocky Mountain) outsprinted
Photo ©: Dave McElwaine

"I was stuck and couldn't get around the other riders in order to go my hardest and I was making a lot of mistakes sitting in, just frustrating myself," she added. "Once I was by myself I could really go fast and feel smooth. I knew I'd be able to close the gap because I could go faster on my own to catch back up."
Bessette and Gould entered into a dual of power versus technical speed until the final run through the sandpit. Gould's defining moment happened when she exited the pit before Bessette had entered it. "Lyne had a little bobble before the sand and I tried to stay on the gas to keep a gap," said Gould. "I was feeling really strong all race, even in the beginning but I was able to ride much faster alone."
With the top two spots on the podium confirmed, Sydor and Simms stayed close to one another until they hit the pavement and Sydor used her tactical smarts to out sprint Simms for third.
"I tried to pass Wendy in the technical sections a couple of times but she wouldn't let me by so I ended up staying behind her," said Sydor. "It's not the kind of race where you are able to sit on as an advantage. Everyone had to dig deep on a course like today and do there best around the corners. I had a good finish coming onto the road, I wasn't feeling good but I had it in me to go hard just for the last little bit."
Photography
For a thumbnail gallery of these images, click here
Images by Russ and Nancy Wright/www.abbiorca.com
Images by Dave McElwaine/www.trailwatch.net
Images by Fj Hughes/www.fhughesphoto.com
Images by Todd Leister/www.leisterimages.com
Results
Elite Women
 
1 Georgia Gould (Luna)                                                             36.05
2 Lyne Bessette (cyclocrossworld.com)                                               0.24
3 Alison Sydor (Rocky Mountain Haywood)                                             0.29
4 Wendy Simms (Kona-YourKey.com)                                                    0.35
5 Rachel Lloyd (Proman/Paradigm)                                                    0.59
6 Kerry Barnholt (Tokyo Joes / Van Dessel)                                          1.11
7 Amy Dombroski (Velo Bella - Kona)                                                 1.21
8 Katerina Nash (Luna)                                                              1.25
9 Maureen Bruno Roy (IF/Wheelworks/SRAM presented by General Catalyst)              1.36
10 Kelli Emmett (Giant Bicycles)                                                    1.54
11 Sue Butler (River City Bicycles)                                                 1.55
12 Wendy Williams (River City Bicycles)                                             2.00
13 Barbara Howe (Velo Bella Kona)                                                   2.38
14 Shelley Olds (California Giant Berry Farms/Specialized)                          2.44
15 Kathy Sherwin (Velo Bella - Kona)                                                2.55
16 Rebecca Wellons (Ridley Factory Team)                                            3.13
17 Natasha Elliott (Stevens Cross)                                                  3.22
18 Carolyn Popovic (Team CICLE)                                                     3.32
19 Sarah Kerlin (HRS/ Rock Lobster)                                                 3.48
20 Josie Beggs (California Giant Berry Farms/Specialized)                           4.05
21 Sally Annis (NEBC/CycleLoft/Devonshire Dental)                                   4.16
22 Kristi Berg (Redline Bicycles)                                                   4.21
23 Erica Yozell Miller (FORT Factory Team)                                          4.25
24 Amy Wallace (RGM WATCHES - RICHARD SACHS)                                        4.38
25 Melodie Metzger (California Giant Berry Farms/Specialized)                       4.45
26 Anna Milkowski (Velo Bella-Kona)                                                 5.03
27 Anne Schwartz (Flying Rhino Cycling Club)                                            
28 Melanie Swartz (Velo Bella - Kona)                                               5.21
29 Jennifer Tilley (Velo Bella/Kona)                                                5.29
30 Vicki Thomas (Stevens Cross)                                                     5.32
31 Dorothy Wong (TeamCICLE presented by Clif Bar/Voler)                             5.55
32 Kristine Church (Human Zoom/ Pabst Blue Ribbon)                                  6.03
33 Megan Elliott                                                                    7.29
34 Jennifer Stebbins (Workers Comp Solutions/Everactive)                            7.40
35 Melody Chase (Velo Bella - KONA)                                                 7.53
36 Kathryne Carr (Joe's Garage)                                                     8.43
37 Diane Grim (C3-Sollay.com)                                                       9.37
 
Juniors 15-16
 
1 Robin Eckmann (CLIF BAR DEVELOPMENT CYCLOCROSS TEAM)                             25.48
2 Cam Mancuso (Act)                                                                 0.04
3 Jesse Keough (CLNoonan Coast to Coast KAM)                                        1.30
4 Ross Gordon (Cap Atlantic Racing)                                                 3.50
5 Robert Policht (Verge Sport/Test Pilot)                                          12.34
 
Juniors 10-14
 
1 Sam Okeefe (C3-Solay.com)                                                        28.30
2 Aaron House (Housatonic Wheel Club)                                               0.13
3 Dag Anderson (Team Somerset)                                                      3.16
4 Max Mancuso                                                                       5.29
5 Nicolas Catlin (Tokeneke Road Club)                                                   
6 Alicia Styer (Velo Bella - Kona)                                                      
 
3/4 Women
 
1 Elizabeth Cash (Colavita New Mexico)                                             30.20
2 Cecelia Pleva (CRCA/Radical Media)                                                0.17
3 Christina Tamilio (Minuteman Road Club/Landry's Bicycles)                         0.28
4 Kristin Gavin                                                                     0.41
5 Stacey Moseley (Yippee/DAS)                                                       0.56
6 Elizabeth White (NEBC/Cycle Loft/Devonshire Dental)                                   
7 Jenny Simpson (The Cyclery)                                                       1.07
8 Christine Fennessy (South Mountain Cycles)                                        1.14
9 Sarah Hart (Hup United)                                                           1.20
10 Allison Snooks (Landrys Bicycles)                                                1.26
11 Jessica Kates (Keltic Construction)                                                  
12 Rozanne Puleo (Cambridge Bicycle/Igleheart Frames/LUNA)                          2.04
13 Kathrin Schumacher (CRCofA / BM&G - Pete's)                                      2.16
14 Tracey Lea (T.E.A.M. Fuji)                                                       2.47
15 Liz Seward (CRCA/Third Nature)                                                   4.14
16 Kerry Combs (Hup United/Zanconato Bicycles)                                      4.29
17 Doran Peterson (NCVC Inova)                                                      6.44
18 Jan Weyant-Hamel (Unattached)                                                    7.18