Georgia 'Cross #4 - NE
Macon, Georgia, USA, November 11, 2007
Barrett and Sawyer win Georgia Cross #4
The elite women's podium:
Photo ©: Trish Albert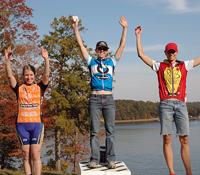 Tim Barret (Myogenesis) and Kim Sawyer (BMW-Bianchi) took strong wins in Macon at the fourth stop on the Georgia Cross Series. The men's A race saw an exciting three-man break with Tim Barrett and Casey Magner of Myogensis working over 18 year-old Oscar Clark in (FFCC). The two took turns attacking Clark but couldn't drop him until the sprint out of the final corner when Magner lead out Barrett for the win.
In the women's A field it was Sawyer who won going away.
The Masters 35+ field also saw a tight battle between Verge Series leader Brendan Sullivan (e-mag solutions) and former state champion Tony Scott (Peachtree Bikes). In the end Sullivan got away on the last lap to score the victory and increase his series lead.
Photography
For a thumbnail gallery of these images, click here
Images by Trish Albert/www.southeasterncycling.com
Results
Elite men

1 Tim Barrett (Myogenesis)                    
2 Casey Magner (Myogenesis)                   
3 Oscar Clark (FFCC)                          
4 Dave Howe (Camp Highland)                   
5 Eric Neely (Camp Highland)                  

Elite women

1 Kim Sawyer (BMW-Bianchi)                    
2 Kristen Bowers (Atomic Racing)               
3 Ellen Carroll (Team Cycleworks)             
4 Holly Longley (Sorella)                     
5 Trish Albert (OTR Cycling)                  

Men 3

1 Alex Clifford                               
2 Artur Sagat                                 
3 Jeff Welp (GTC)                             
4 Michael Bowen (Camp Highland)               
5 Richard Tillotson (AVX)                     
 
Men 4

1 Joe Burch (United Community Bank)           
2 Andrew Saar                                 
3 Curt Arey (AVX)                             
4 Chett Hopkins                               
5 Yoni Pollzi (Bikeways of Tucker)            
 
Women 4

1 Nancy Dalman (Dahlonega Wheelworks)         
2 Mary Pat Jones (Sorella)                    
3 Jane Hayward                                
4 Megan Melgaard                              
5 Elizabeth Lee (ACC)                         
 
Men Master 35+

1 Brendan Sullivan (E-mag Solutions)          
2 Tony Scott (Peachtree Bikes)                
3 James Wansley (Peachtree Bikes)             
4 Nate Zukas (ACC)                            
5 Chad Madan (Pacesetter Steel)               
 
Master Men 45+

1 Gerard Remery (GTC)                         
2 Dan Coy (GTC)                               
3 Toree Smiterman (GTC)                       
4 David Witherow                              
5 Lamar Mauney (FFCC)                         
 
Junior 14 and Under

1 Benjamen Weinbaum (Columbus Bike Racing)    
2 Evan Phillips (Columbus Bike Racing)