Chicago 'Cross Cup #4 - NE
Campton Hills, Illinois, USA, November 3, 2007
Haskell and Sherer win round #4
By Imelda March
Devon Haskell (Team Get A Grip Cycles)
Photo ©: Amy Dykema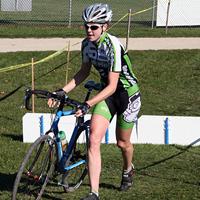 Sunny 'cross like weather greeted the Chicagoland racers at the Campton Cross in St Charles, Illinois.
Race Director Brian Conant created a technical but fast course that caused 'crossers to gasp for air throughout the entire lap. The most difficult sequence was heading into the back stretch of the course. Racers were greeted with barrier that once on the other side caused a run-up type of mount which was followed by an "s" shaped climb hooked to a mean left hand turn into a technical portion.
Devon Haskell (Team Get A Grip Cycles) continued her winning streak in the elite women's race; however, in a change of events Holly Klug (Killjoy) nabbed second place in a close finish over third place finisher June Upshaw (Verdigris Custom Homes).
Mike Sheer (Pony Shop) took the win over Scott McLaughlin (SRAM Factory) and Matt Steward (Bicycle Heaven) in the elite men's race.
The Chicago Cyclocross Cup Race will continue with Race #5 on Sunday, November 18, 2007 in Lansing, Illinois.
Photography
For a thumbnail gallery of these images, click here
Images by Amy Dykema
Images by Ed White
Results
Elite women

1 Devon Haskell (Team Get A Grip Cycles)          
2 Holy Klug (Killjoy)                             
3 June Upshaw (Verdigris Custom Homes)            
4 Christine Raymo (Sram)                          
5 Debbie Pielet (Albertos)                        
6 Kristin Arntzen (Albertos)   

Elite Men

1 Mike Sherer (Pony Shop)                         
2 Scott McLaughlin (SRAM Factory)                 
3 Matt Stewart (Bicycle Heaven)                   
4 Luca Lenzi (Vision Quest)                       
5 Brian Conant (Pony Shop)      

Juniors

1 Michael Trulson (2CC)                           
2 Adam Koselg (Bikeline)                          
3 Aaron Harrison (Redline)                        
4 Andrew Wadle                        
 
Women Cat 4

1 Lindsay Jones                                   
2 Heidi Sarna (Mission Bay)                       
3 Leah Sanda                                      
4 Imelda March (Team Kenda Tire)                  
5 Gina Kenny (ABD)                                                           
 
Masters 30+

1 Lou Kuhn (Pony Shop)                            
2 Brian Conant (Pony Shop)                        
3 Byran Rheude (Metlife)                          
4 Kevin Klug (Killjoy)                            
5 Mike Heagney (PYOC)   

Masters 40+

1 Rob Kelly (Bicycle Heaven)                      
2 Tim Boundy (Verdigris Custom Homes)             
3 Christopher Dimmick (Turin)                     
4 Wayne Simon (Colavita)                          
5 Lombardo Christando (Verdigris Custom Homes)                                                   
 
Men Cat 3

1 Bryan Rheude (Metlife)                          
2 Brian Daugherty                                 
3 Jason Knauff (XXX Racing AthletiCo )            
4 Brian Parker (Vision Quest)                     
5 Jason Schisler (Bandit)                         
 
Men Cat 4A

1 Aspen Gorry                                     
2 Joel Wandrey                                    
3 Nicholas Dornik (Turin)                         
4 Brad Coller                                     
5 Micheal Trulson (2CC)                           
 
Men Cat 4B

1 Mike Norman                                     
2 Adrian Sliva                                    
3 William Jackson                                 
4 Kevin Herman                                    
5 Kevn Clark