Chainbiter 9.0 - C2
Farmington, Connecticut, USA, November 3, 2007
2006 Results Results Past winners
Jones and Bessette conquer tough conditions
By Kirsten Robbins in Farmington, Connecticut
Jones leads New England Series
Christopher Jones (Nerac Pro Cycling)
Photo ©: Paul Weiss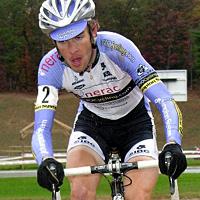 The rain, wind and technical circuit may have given the Elite Men's field better odds against 'cross newcomer Chris Jones (Nerac), but the odds swung in Jones' favour, with the Nerac rider showing a marked improvement in his development. Jones covered the last few laps alone to take victory over Jesse Anthony (Jamis) and Mark McCormack (Clif Bar).
"I'm learning a lot," said Jones. "The riders took me to school last weekend in Kentucky. It was muddy the first day and I crashed out of the first group, second group and third group. So I've been practicing a lot with the technical stuff and it is really paying off."
Several races were held before the start of the men's event, making the circuit's twists and turns chopped apart by the day's end. But the weather and technical course made for 'desirable' cyclo-cross conditions, a welcome change to previous races in September and October.
The race started fast with a strong tail wind, holding the front riders together, but as they hit cross winds on the gradual hill at the course's rear the field split apart with Jones and Anthony off the front. Troy Wells (Clif Bar), Adam Myerson (Nerac), Davide Frattini (Colavita/Sutter Home) trailed the battle between the two New England Series leaders, but were unsuccessful in their attempts to close the gap.
Gradually riders like McCormack, Tristan Schouten (Planet Bike), Jeremy Krauss (Fiordifrutta), Osmond Bakker (Stevens) and newly crowned Canadian National Champion Mike Carrigan started to claw their way back into the chase group. The only rider to successfully bridge across was McCormack as the chase behind Jones and Anthony swelled to four riders.
At the front of the race, Jones built a sizeable lead on Anthony after the young Jamis rider faltered through the sandpit. Jones increased the tempo a notch, until he realized he was clear of Anthony and had the victory sewn up. "The course was unique because of the long up hill drag and that section was really hard along with the run up that was took a lot of energy away each lap," said Jones. "Once I got 30 seconds on Jesse, I didn't want to do what I did at Gloucester and flat again, so I just kind of eased off and rode as smooth as possible.
"I think my fitness is staying the same," added Jones. "I have that road fitness and I'm just maintaining it a little bit. My coach has got me on the program where I'm staying where I'm at. So I'm not any fitter, but my skills are getting much better."
The race for second place came to a surprising end when New England's former 'cross leader McCormack said goodbye to his chasing companions Myerson, Frattini and Wells, as he bridged across to Anthony on the penultimate lap. McCormack attempted a gap over his protégé but realized the effort off the front was much more difficult than that of Anthony's chase.
Anthony quickly closed the gap on his coach/rival competitor and took the lead through the last sand pit on his way to second place. The former US Cyclo-cross Champion has mentored many of the younger riders that have come up through the New England Series and as they begin to impress American 'crossers McCormack is pleased to have been of help. "It's just fun racing - period," said McCormack.
"I don't come here to win necessarily, but I do come here to have a good time and getting on the podium once in a while helps me feel younger than what my racing license says," he joked. "So today I was more interested in seeing Jesse stay up there because I want to see him stay in that leader's jersey. It's good for 'cross to have young guys like him trying to take over what I did these last years."
Bessette's solo victory
Lyne Bessette (cyclocrossworld.com)
Photo ©: Paul Weiss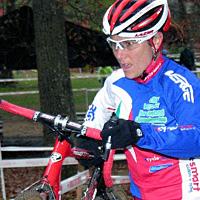 The women's race started with strong gusts of winds and rain due to a hurricane passing by to the east of Farmington. The conditions may have played a factor in the outcome of the first few laps, but Lyne Bessette's (Cyclocrossworld.com) inevitable win waited for her at the finish line regardless of rain or shine. Rebecca Wellons (Ridley Factory Team) took second place over Maureen Bruno-Roy, who slid out in the last corner before the line but was able to hang on for third place.
"For sure the wind and rain made the race harder, especially because this is the first slippery and wet race of the year for most people," said Bessette. "There was a lot of sand too and technical sections that were great for a rider like Maureen so I'm happy she did well today."
Bessette opened a gap the first time up the long hill and held a 10 second gap for the majority of the race. "I took the whole week off last week because I was feeling tired and I think this race was a great way to start off again," said Bessette, who is scheduled to compete in World Cup Koksijde in Belgium, famous for it's sand. "I actually like this kind of weather for 'cross. Because I was off all week I decided that once I got a gap, today I would just relax a little and not push too hard."
Bruno-Roy joined Wellons and Natasha Elliott (Stevens) with two laps to go, all three in the hunt for second place. "The corners started to get a little bit slick and once Bruno-Roy caught up to us I new she was going to be strong because she is a very good technical rider," said second placed Wellons. "There were lot of the exposed straight-aways that were really hard in the wind. Bruno-Roy used her advantage through the twisty technical section to gain a gap on us. She also did well with the off camber corner and carries a lot of speed through them."
The last lap came down to a battle between Bruno-Roy and Wellons after a crash took Elliott out of the chase. Bruno-Roy opened up a gap on Wellons through the technical section, but Wellons closed it before the last time through the sand pit. "We were together before the sand pit and I took a different line and felt confident after that about the final sprint," said Wellons. "Unfortunately we didn't get to sprint because she crashed before that in the last corner."
Bruno-Roy started the season with an illness and has been slowly building back her strength and speed racing through the cyclo-cross season. "It was really fun out there today even though it was a little slippery in the end," said Bruno-Roy. "I think I'm just getting my fitness now. I had a rough start today but was able to work my way back up showing that my fitness is improving. I hope that the weather gets fowl because the technical races are where I excel."
Photography
For a thumbnail gallery of these images, click here
Images by Paul Weiss
Results
Elite Men (47 starters)
 
1 Christopher Jones (USA) Nerac Pro Cycling                                   58.59
2 Jesse Anthony (USA) Jamis                                                    0.11
3 Mark McCormack (USA) Clif Bar                                                    
4 Adam Myerson (USA) Nerac Pro Cycling                                         1.08
5 Davide Frattini (USA) Colavita/sutter home presented by Cooking light            
6 Troy Wells (USA) Clif Bar                                                        
7 Tristan Schouten (USA) Planet Bike                                           1.31
8 Osmond Bakker (Can) Stevens Racing                                               
9 Matt Kraus (USA) RGM WATCHES - RICHARD SACHS                                     
10 James Driscoll (USA) Fiordifrutta                                               
11 Matt Shriver (USA) Jittery Joe's/Sonic Cyclocross                               
12 Ryan Leach (USA) GPOA-Cannondale                                            1.50
13 Justin Spinelli (USA) KBS/Medifast Pro Cycling Team                         2.08
14 Michael Garrigan (Can) JETPOWER/ Epic ride                                  2.44
15 Jerome Townsend (USA) Ridley Factory Team                                   2.50
16 Nicholas Keough (USA) Jittery Joe's/Sonic Cyclocross                            
17 Alec Donahue (USA) Joe's Garage                                             3.06
18 Derrick St John (Can) The Cyclery                                               
19 Adam Mcgrath (USA) Maxxis / Litespeed                                       3.30
20 Weston Schempf (USA) C3-Sollay.com                                              
21 Daniel Neyens (USA) Hagens-Berman Cycling Team                              4.40
22 Josh Dillon (USA) Fiordifrutta                                                  
23 Christian Favata (USA) ALAN North America                                       
24 Morgan Macleod (USA) Mechanical Services/CycleMania                             
25 Justin Lindine (USA) Targetraining / Fastar                                     
26 Kevin Wolfson (USA) Dartmouth Cycling                                       5.43
27 Ryan Fleming (USA) Everactive.com/Workers Comp Solutions/Legal Sea Foods    6.00
28 Hunter Pronovost (USA) Anthem-CCCC                                          6.08
29 William Dugan (USA) CCB/Volkswagen                                          6.18
30 John Burns (USA) Bikeman.com                                                6.25
31 Peter Rubijono (USA) Cambridge bike/Igleheart frames                        6.40
32 Corey Boilard (USA)                                                         6.52
33 Adam Sullivan (USA) NBX/Narragansett Beer Cyclocross                        7.10
34 Daniel Coady (USA) We Love Bicycles                                             
35 Dan Langlois (USA) Circle A / The Hub                                       7.24
36 Benjamin Popper (USA) Twin 6 / Killjoy                                      7.35
1 lap behind
37 Aaron Oakes (USA) Van Dessel                                                    
38 Jamie Belchak (USA) NAV/Classbook.com                                           
39 Amos Brumble (USA) CCB Volkswagon                                               
40 Dylan O'sullivan (USA) Housatonic Wheel Club                                    
41 Ward Solar (USA) Verge Sport / Test Pilot                                       
42 Michael Norton (USA) Verge Sport / Test Pilot                                   
43 Brian Hayes (USA) RGM Watches / Richard Sachs                                   
44 John Hanson (USA) FAST/IF powered by Lionette's                                 
 
Elite Women (32 starters)
 
1 Lyne Bessette (Can) cyclocrossworld.com                                     37.59
2 Rebecca Wellons (USA) Ridley Factory Team                                    0.09
3 Maureen Bruno Roy (USA) Wheelworks                                           0.17
4 Natasha Elliott (USA) Stevens Cross                                          0.34
5 Melanie Swartz (USA) Velo Bella Kona                                         2.12
6 Amy Wallace (USA) RGM WATCHES - RICHARD SACHS                                2.26
7 Anna Milkowski (USA) Velo Bella-Kona                                         2.50
8 Cris Rothfuss (USA) NEBC/Cycle Loft/Devonshire Dental                        2.57
9 Joanie Caron (Can) Team Cascades                                             3.06
10 Perri Mertens (USA) Cambridge Bicycle/Igleheart Frames                      3.09
11 Sara Cushman (USA) Gear Works/Spin Arts                                     3.13
12 Jennifer Stebbins (USA) Workers Comp Solutions/Everactive                   3.14
13 Alie Kenzer (USA) RGM WATCHES - RICHARD SACHS                               3.15
14 Ann Hansgate (USA) Terry Precision                                          3.18
15 Marianne Stover (USA) Independent Fabrication                               4.00
16 Erin Duggan (USA) Anthem CCCC/ Live the Edge                                4.09
17 Kim Blodgett (USA) RIDLEY FACTORY TEAM                                      4.13
18 Megan Bilodeau (USA) HUP United                                             4.18
19 Melody Chase (USA) Velo Bella - KONA                                        4.21
20 Brenda Bahnson (USA) Independent Fabrication                                    
21 Kathleen Billington (USA) Schick                                            4.40
22 Vicki Thomas (Can) Stevens Cross                                            4.47
23 Stephanie White (USA) UNH Velo Bella                                        4.51
24 Susan Maclean (USA) Gear Works/Spin Arts Cycling Team                       5.29
25 Heidi Vonteitenberg (USA) c3-Sollay                                         5.59
26 Hannah Kirshner (USA) Circle A Cyclocross The Hub                           6.14
27 Alex Jospe (USA) INTERNATIONAL BICYCLE CENTERS                              7.21
28 Laura Jensen (USA) Benidorm/Eastern Bloc Cycling Club                       7.38
1 lap behind
29 Sally Annis (USA) NEBC/CycleLoft/Devonshire Dental                              
 
2/3 Men (68 starters)
 
1 John Peterson (Bike Born Racing)                                            41.57
2 Brendan Cornett (Mechanical Services/CycleMania)                             0.41
3 Ryan Kelly (Housatonic Wheel Club)                                               
4 Joshua Lipka (Fiordifrutta Elite Cycling Team)                                   
5 James Tosca (Corner Cycle)                                                   0.56
6 Jeremy Dunn (Cambridge Bicycle presented by Igleheart Frames)                1.01
7 Pete Smith (Cambridge Bicycle / Igleheart Frames)                            1.07
8 Jonathan Awerbuch (Cycle-Smart)                                              1.13
9 Todd Rowell (NEBC/Cycle Loft/Devonshire Dental)                              1.44
10 Christopher Bagg (BikeReg.com)                                              2.04
11 Alex Cox (Freddie Fu Cycling)                                               2.17
12 Steve Roszko (BikeReg.com)                                                  2.34
13 Joshua Bartlett (NorEast Cycling p/b Timberland Outdoor Performance)        2.41
14 Don Snoop (Verge Sport / Test Pilot)                                        2.45
15 James Morrison (River City Bicycles)                                        2.52
16 Sean Cavanaugh (BETHEL CYCLE)                                                   
17 Sean Mannion (Verge Sport / Test Pilot)                                         
18 James Newton (Team International Bike)                                          
19 Tyson Parody (BikeReg.com)                                                      
20 Pierre Vanden Borre (Hup United)                                                
21 Cary Fridrich (Cambridge Bike/ Igleheart Frames)                            3.20
22 Frank Zgoda (Skylands Cycling)                                              3.29
23 Jeff Murray (Anthem-CCCC)                                                   3.33
24 Mike Zanconato (Hup United/Zanconato Custom Cycles)                         3.36
25 Kenny Ambach (Cyclonauts Racers)                                            3.41
26 Joel Biederman (Cyclonauts Racers)                                              
27 Joshua Jamner (HUP United/Colby College Cycling)                                
28 Jeffrey Ferraro (Anthem - CCCC)                                                 
29 William Palm (Cox Communications / MIT Cycling)                             3.52
30 Mike Bennett (INTERNATIONAL BICYCLE CENTERS)                                    
31 Mark Romanovsky (Pawling Cycle and Sport)                                       
32 Colin H. Murphy (Kenda/Raleigh Racing)                                          
33 Miro Koulnis (BikeReg.com)                                                      
34 Kevin Sweeney                                                                   
35 Scott Rosenthal (Hup United/Zanconato Custom Cycles)                        4.14
36 Andrew Crooks (NYC Velo)                                                    4.23
37 Christopher Bailey (Boston Road Club)                                       4.36
38 Emerson Loustau (NCC/BikeReg.com)                                           4.40
39 Brian Rutter (Laughing Dog Bicycles)                                        4.44
40 Colin Reuter (crossresults.com)                                             4.46
41 Jacob Morrison (T3 South Coast Cycling)                                         
42 Ronnie Steers (Gamache Cyclery)                                             5.24
43 Anthony Parent (Anthem - CCCC)                                              5.29
44 Eric Silva (Quad Cycles/Arlington Bike Club)                                5.53
45 Eben Weiss (Gotham)                                                             
46 Tom Buttner (Verge Sport / Test Pilot)                                          
47 Oscar Jimenez (NEBC/Cycle Loft/Devonshire Dental)                               
48 Nicholas Bartow (Berkshire Bike and Board)                                      
49 Mark Vareschi (Rutgers University Cycling Team)                                 
50 Ethan Parsons (NCC/BikeReg.com)                                                 
51 C Todd Lombardo (INTERNATIONAL BICYCLE CENTERS)                             6.20
52 Jason Parkin (CRCA - Blue Ribbon)                                           6.42
53 Nate Simms (NAV/Classbook.com)                                              7.03
54 Zach Magoon (BIKEMAN.com)                                                   7.16
55 Greg Martin (Independent Fabrication)                                       7.44
56 Joshua Anthony (Essex County Velo)                                          8.00
57 Chuck Nguyen (Bikeman.com)                                                      
1 lap behind
58 Matt Spence (Onion River Sports)                                                
59 Chris Curven (North Atlantic Velo / ClassBook.Com / Giant / Pedro's)            
 
U19 (Juniors starters)
 
1 Luke Keough (CLNoonan/KAM/Coast to Coast)                                   36.33
2 Gavin Mannion (Hot Tubes Junior Development Team)                                
3 Matthew Spinks (Skylands Cycling)                                            2.27
4 Jesse Keough (CLNoonan Coast to Coast KAM)                                   2.42
5 Gabe Anthony (Essex Cty Velo)                                                4.45
6 Ryan Packard (QuadCycles)                                                    5.11
7 Paul Lynch (CLNoonan/Coast-to-Coast/KAM)                                     5.23
8 Luke Reed (Bliss Racing)                                                     7.59
9 Christopher Opie (Quad Cycles/Arlington Bike Club)                           8.20
 
U15 Juniors (13 starters)
 
1 Aaron House (Housatonic Wheel Club)                                         16.14
2 Tommy Goguen (Minuteman Road Club)                                           0.10
3 Curtis White (CBRC/Capital Bicycle Racing Club)                              0.19
4 Jimmy Mucci (Berkshire Bike & Board)                                         0.23
5 Nate Morse (CLNoonan/Coast to Coast/KAM)                                     1.36
6 Andrew Frothingham (CCB)                                                     1.46
7 Peter Goguen (Minuteman Road Club)                                           2.01
8 Richard Vincent (Unattached)                                                     
9 Colin Vincent (Unattached)                                                       
10 Nicolas Catlin (Tokeneke Road Club)                                             
 
3/4 Women (31 starters)
 
1 Celeste Drumm (FTS)                                                         42.37
2 Michelle Kersbergen (Joe's Garage)                                           0.21
3 Anna Mcloon (Harvard University)                                             0.50
4 Rebecca Blatt (Kenda Tire)                                                   1.00
5 Cecelia Pleva (CRCA/Radical Media)                                           1.38
6 Haley Beann (Rocky Mounts)                                                   1.53
1 lap behind
7 Tracy Elmes (union velo)                                                         
8 Rachel Brown (INTERNATIONAL BICYCLE CENTERS)                                     
9 Jessica Kates (Keltic Construction)                                              
10 Elizabeth White (NEBC/Cycle Loft/Devonshire Dental)                             
11 Mary Fuchs (Eastern Bloc / Benidorn)                                            
12 Elizabeth Cash (Colavita New Mexico)                                            
13 Nicole Kesselring (NAV)                                                         
14 Rebecca Zanconato (Hup United/Zanconato Custom Cycles)                          
15 Caitlin Bever (MIT Cycling/FXDD)                                                
16 Stacey Moseley (unattached)                                                     
17 Stephanie Chase (INTERNATIONAL BICYCLE CENTERS)                                 
18 Ilana Brito (MIT)                                                               
19 Lynn Samaratano (Providence Bikes)                                              
20 Lauren Tracy (Team Vortex)                                                      
21 Katherine Papillon-Rodrigue                                                     
22 Tracey Boyden (Mystic Velo)                                                     
23 Jak Kukla (UNH Cycling/Noreast)                                                 
24 Kerry Combs (Hup United/Zanconato Bicycles)                                     
25 Sonya Cates (MIT Cycling/FXDD)                                                  
26 Pat Rosier (Berkshire Cycling Association)                                      
27 Caroline Gaynor (CRCA/Sanchez-Metro)                                            
28 Jennifer Tran (MIT Cycling/FXDD)                                                
29 Kristen Lukasch                                                                 
 
Masters 35+ (72 starters)
 
1 Pascal Bussières (Louis Garneau Custom Team)                                41.40
2 Roger Aspholm (Westwood Velo)                                                    
3 Jonny Bold (Corner Cycle)                                                    0.15
4 Kevin Hines (Bike Link MBRC)                                                 0.38
5 Colman O'connor (MBRC/Bicycle Link)                                          0.45
6 Mike Yozell (Fort Factory Team)                                              1.00
7 Curt Davis (Fiordifrutta Elite Cycling Team)                                     
8 John Mosher (Corner Cycle)                                                       
9 Troy Kimball (Westwood Velo)                                                     
10 Sean Groom (Squadra Coppi/IM Saab)                                          1.10
11 Mark Stotz (Corner Cycle)                                                   1.45
12 Greg Ferguson (Fort Factory Team)                                           1.56
13 Sam Morse (Corner Cycle)                                                        
14 Mark Gunsalus (bikebarnracing.com)                                              
15 Matthew Howard (GS Gotham)                                                      
16 Michael Bernard (gearworks spinarts)                                        2.15
17 Alan Starrett (Bikeman.com)                                                 2.23
18 Kristopher Auer (C3-Sollay.Com)                                             2.30
19 William Shattuck (bikebarnracing.com)                                       2.39
20 Marc Boudreau (Stevens Cross)                                                   
21 Jeff Molongoski (joes garage/reynolds composits)                                
22 Stephan Marcoux (garneau custom team)                                           
23 Keith Gauvin (cyclonaut racers)                                             3.00
24 John Meerse (Cyclemania)                                                        
25 Curtis Boivin (Providence Velo)                                                 
26 Brian Cantele (EBCC/Benidorm Bikes)                                         3.20
27 Matthew Myette (Zanconato Custom Cycles)                                    3.32
28 Christopher Burke (Bikeworks/Hallamore)                                     3.44
29 Tim Groesbeck (CCB)                                                             
30 David Belknap (Bicycle Link/MBRC)                                           3.53
31 David Young                                                                     
32 Christopher Long (Independent Fabrication/Gotham)                               
33 Stuart Jensen (Benidorm/Eastern Bloc Cycling Club)                          4.20
34 Paul Nyberg (Horst-Benidorm-Property Research Corp.)                            
35 Eric Marro (BOB/Shift-Stonyfield Farm-Ariza-Goodales)                           
36 Thomas Butler (CCC/Keltic Const/Zanes Cycles)                               4.24
37 Paul Lynch (bicyclelink/mbrc)                                               4.48
38 David Rath (GMBC/Catamount)                                                 4.58
39 Keith Button (noreast cycling)                                                  
40 Wade Summers (Horst-Benidorm-Property Research Corp)                            
41 Judd Milne (Squadra Coppi/IM Saab)                                          5.20
42 Matthew Domnarski (Horst-Benidorm-Property Research Corp.)                      
43 James Walsh (Cox Communications)                                                
44 John Grenier (BOB Cycling-Stonyfield Farms-Goodale's Bike Shops)                
45 Bruce Bell (GMBC/Catamount)                                                 5.34
46 Wayne Cunningham (NEBC/Cycle Loft/Devonshire Dental)                        5.42
47 William Thompson (CCC/Keltic Const/Zanes Cycles)                            6.02
48 Paul Debartolo (GS Gotham/TOGA)                                             6.08
49 Andrew Durham (CCB/Time)                                                    6.21
50 Steven Kane (Byron Lake/East End Cycling Team)                                  
51 Mike Spangenberg (CYCLONAUTS RACERS)                                            
52 David Foley (BOB/Shift-Stonyfield Farm-Goodale's Bike Shops)                6.49
53 Gary Aspnes (Horst-Benidorm-Property Research Corp.)                        7.02
54 Timothy Shea (BOB/Shift-Stonyfield Farm-Ariza-Goodales)                         
55 Tom Stevens (Gear Works / Spin Arts)                                        7.05
56 Spike Mclaughlin (Cox Communications Cycling Team)                              
57 Chris Curven (North Atlantic Velo / ClassBook.Com / Giant / Pedro's)        7.38
58 Paul Weiss (Portland Velo Club)                                             7.49
59 Anthony Alessio (ReMax/CRCA)                                                7.54
60 David Leedberg (GearWorks / Spin Arts)                                      8.08
61 Christopher Smith (NEBC/Cycle Loft/Devonshire Dental)                       8.20
 
4 Men (99 starters)
 
1 Tyler Sage                                                                  39.05
2 Joseph Crooks (Cyclonauts Racers)                                            0.36
3 Eric Edlund (MIT Cycling/FXDD)                                               0.54
4 Joey Solomon (Stage 1)                                                       1.05
5 John Gibbons (NEBC / Cycle Loft / Devonshire Dental)                             
6 Thomas Needham (HUP United)                                                  1.17
7 Brian Lawney (Cornell University)                                            1.21
8 Sam Dodge (Stage 1)                                                              
9 Deke Andrew (Portland Velo Club / Cyclemania)                                    
10 Matt Monbouquette (Green Mountain Rehabilitation)                               
11 Jordan Winkler (Cambridge Bicycle / Igleheart Frames)                           
12 Gary Giacchetto (East End/Kreb Cycle)                                       1.43
13 Bob Posey (Housatonic Wheel Club)                                           2.09
14 Darran Sayder                                                               2.13
15 Jason Moriarty                                                              2.16
16 Nathan Miller (UNH Cycling/Benidorm Bikes)                                  2.20
17 Anthony Vecca (CCNS/Pedal Power)                                            2.31
18 John Allen                                                                  2.34
19 Bryon Lewis                                                                 2.39
20 Michael Tonkinson (Essex County Velo)                                           
21 Zachary Wills (velo europa- cyfac)                                              
22 Jason Walder (GHCC Central Wheel)                                               
23 Eric Carlson (Bikers Edge)                                                      
24 Ian Sutton (QuadCycles)                                                         
25 Kevin Stawiasz (Bethel Cycle)                                                   
26 Keith Liggett (Cyclonauts)                                                      
27 Chris Brits (Central Wheel)                                                 3.00
28 Kenneth Han (QuadCycles)                                                        
29 Adam Duncan (Avenue A/Razor Fish)                                           3.08
30 Barton Craig (Refunds Now)                                                  3.20
31 Miles Ericson (EBCC)                                                        3.33
32 Steven Robbins (NCC- Northampton Cycling Club)                                  
33 Richard Kassan (Rutgers University Cycling Team)                                
34 John Wilde (Cyfac)                                                              
35 Andy Glaser (Rutgers University Cycling Team)                               3.46
36 Gregg Ferraris (Epic Velo)                                                      
37 Kerry Robair (Marble Design)                                                3.52
38 Erik Peterson (Cambridge/Igleheart)                                         3.57
39 Katriel Statman (Bard College Cycling)                                      4.05
40 Kevin Ballou                                                                    
41 Eric Martin (QuadCycles)                                                        
42 Eric Krivitzky (Penguin Racing)                                                 
43 Ryan Eckel                                                                      
44 Gable Jiran                                                                     
45 Andy Weigel (T3 South Coast Cycling)                                        4.32
46 Christian Rynkiewicz (Team Bycycle alley)                                       
47 Michael Bryand (Portland Velo Club/Cyclemania)                              4.45
48 Jake Colvin                                                                     
49 Jeff Gelt (Central Wheel)                                                   4.54
50 Mark Greve (Refunds Now)                                                        
51 Jay Mongillo (CCC / Keltic Construction / Zanes Cycles)                         
52 Brian Croteau (Noreast Cycling)                                                 
53 John Witmer (GMBC/Catamount)                                                    
54 Jacob Sisson (Cornell Cycling Club)                                             
55 Eli Papa (MIT Cycling/FXDD)                                                     
56 Karl Wiedernann                                                             5.28
57 Jon Eastwood                                                                    
58 Brooks Ward (Bard College)                                                      
59 Robert Magadini (Housatonic Wheel Club)                                         
60 David Powell (Cyclonauts Racers)                                            5.47
61 Vinnie Galatro (Keltic Construction)                                        5.56
62 Chad Casselman (NY Velocity/CRCA)                                               
63 Jeff Lukar (UNH Cycling)                                                        
64 Todd Mcloughlin (Kissena)                                                       
65 Taylor Valentine                                                                
66 Andrew Lysaght                                                              6.11
67 Chris Gardner (BIKEMAN.COM)                                                     
68 Saverio Fiorino (DC Racing/Danny's Cycles)                                  6.31
69 Jonathan Favata (Team overlook)                                                 
70 Micheal Maximenko                                                               
71 John Della Torre (CYCLONAUTS RACERS)                                            
72 John Torrey (cyclonauts)                                                        
73 Daniel Marcy (GMBC/Catamount)                                                   
74 Gary Szlachetka                                                                 
75 Joe Tromantano                                                                  
76 Patrick Littlefield (CRCA/Avenue A-Razorfish)                                   
77 Matt Boyle                                                                      
1 lap behind
78 Joseph Gilch (Rutgers University Cycling Team)                                  
79 Matt Lolli (www.ghostshipclothing.com)                                          
80 Craig Goodstein (CRCA/Sanchez-Metro)                                            
81 Christophe Jammet (CRCA/ NYVELOCITY)                                            
82 Kurt Maw (Comprehensive Racing / Salem Cycle)                                   
83 Don Heckler Jr.                                                                 
84 Christopher Pass                                                                
 
3/4 Masters (46 starters)
 
1 Christopher Cyr (Bikeman.com)                                               39.37
2 Bryan Atwood (zephyr)                                                        0.19
3 Kevin Callahan (Bicycle Link/MBRC)                                               
4 Randy Kirk (Cycle Fitness)                                                   0.47
5 Chris Brown (Corner Cycle)                                                       
6 Geoffrey House (Housatonic Wheel Club)                                       1.02
7 Doug Aspinwall (Joe's Garage)                                                1.32
8 Gerry Clapper (Benidorm Bikes/ Eastern Bloc CC)                                  
9 Bill Doonan (Minuteman Road Club)                                                
10 Dan Stasz (Joe's Garage)                                                    1.37
11 Patrick Cunningham (Eastern Bloc Cycling Club)                                  
12 Jimmy O'mara (BOB/Stoneyfield Farms/Goodales)                               2.14
13 Paul Novotasky Jr. (Pig Iron Sports)                                        2.31
14 Timothy Mather (Team Pursuit Fitness)                                           
15 Steve Frothingham (CCB)                                                     2.44
16 Michael Bradford (Naults.com)                                                   
17 Anthony Pace (Eastern Bloc Cycling Club)                                    3.03
18 Matt Carpenter (Team Edge)                                                      
19 Scott Roy (Bicycle Link MBRC)                                               3.43
20 Robert Carmen (Team International Bike Club, Boston)                        3.52
21 Dan Abbe (Cyclonauts Racers)                                                    
22 Paul Dzisitetto (MRL)                                                           
23 James Hoard (NBX/Narragasett Beer)                                              
24 Theo Kindermans (cyclocrossworld.com)                                           
25 John Plump (Quad Cycles/Arlington Bike Club)                                4.26
26 Chris Petrillo (EBCC)                                                       5.09
27 Ken Coleman (Housatonic Wheel Club)                                             
28 unknown Rider                                                                   
29 David Drumm (FTS Cycling Team)                                                  
30 Tom Perkins (bicycle depot)                                                 5.29
31 Mattison Crowe (HUP United)                                                     
32 Dusan Strika (Kissena Cycling Team)                                             
33 Harold Kamins (Targetraining)                                                   
34 Jake Enxuto (EBCC)                                                              
35 Lawrence Purtill (Cox Communications Cycling Team)                              
1 lap behind
36 Rick Comshaw (Capital Velo Club / Vernon Cycles)                                
 
Masters 55+ (21 starters)
 
1 Edward Hamel (Joe's Garage)                                                 41.38
2 Kent Webster (Putney West Hill)                                              0.59
3 Phillip Bannister (Putney/West Hill)                                             
4 Dusty Adams (MosaicSmalti.com)                                               1.21
5 Dave Beals (CBRC)                                                            2.18
6 Richard Sachs (RGM WATCHES - RICHARD SACHS)                                  2.23
7 Jerry White (Essex County Velo)                                              2.58
8 James Themig (Mystic Velo MCRA)                                                  
9 Richard Costa (Cyclonaults)                                                      
10 Steve Abbott (Cyclonaults)                                                      
11 Garabed Minasian (BOB cycling/stoneyfield)                                      
1 lap behind
12 Bob Ludecke (laurel bike club)                                                  
13 David Holmander (NHCC/Team NH/MCRA)                                             
14 Donald Snoop (Hang On Snoopy Racing)                                                              

Past winners

2006 Davide Frattini (Ita) Colavita / Sutter Home         Mackenzie Dickey (USA)
2005 Tim Johnson (USA) cyclocrossworld.com-louisgarneau   Lyne Bessette (Can) cyclocrossworld.com-louisgarneau
2004 Ryan Trebon (USA) Kona Bicycles                      Mary McConneloug (USA) SevenCycles
2003 Mark McCormack (Saturn)                              Anna Milkowski (Gearworks-Spinarts) 
2002 Marc Gullickson (Mongoose/Hyundai)                   Mary McConneloug (Seven Cycles)