Cyclo-cross World Cup #10 - CDM
Nommay, France, January 14, 2007
Nys is back in control
Mourey gave the locals hope but faded away
By Brecht Decaluwé in Nommay
Bart Wellens, Sven Nys and Gerben de Knegt
Photo ©: Brecht Decaluwe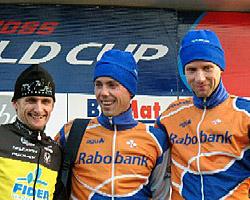 Sven Nys suffered a major defeat during the Belgian National Championships in Hamme-Zogge last week, but has proved that he's back in control by winning the next best thing - another world cup. Rain and the lack of freezing temperatures created a selective course in Nommay, an area in France where Francis Mourey (fdjeux.com) grew up. The French champion was expected to show the crowds that he's capable of beating the best cyclo-cross riders around, and while Mourey started off like a fusée, his hometown supporters suffered a major setback as their hero lost many places, eventually finishing 13th.

Sven Nys (Rabobank) did it the other way around and started like an escargot, but from the third lap on, Nys was in total control of the race. Bart Wellens (Fidea) was the last rider that could keep up with the 'cannibal of cyclo-cross', but nevertheless the Belgian champion had to admit Nys was the best today. "I was good but not good enough, I still felt the Champs in my legs," Wellens said. The Belgian champion was expected to start in the C1 cross around the track of Roubaix, but he didn't start as he suffered dental sores the night before.

Nys held Wellens to more than ten seconds, winning his sixth world cup this season. "Bart [Wellens] is really strong these days but I put him under pressure a whole lap long, eventually I could ride away from him...he cracked," Nys said. Gerben De Knegt showed that he's back after some lesser performances around Christmas, including the loss of his Dutch champion's jersey. "I'm happy that's it's going all right again; it was frustrating to finish around tenth place every time, but back then I couldn't do any better. It's sad I lost my title, but that can't be changed now," De Knegt said.

Richard Groenendaal (Rabobank) got beaten in the sprint by his team mate for third place, but was happy to see the Rabobank team dominate the race. Their rivals from the Fidea team struggled, despite the second place from Wellens and the fifth place from Petr Dlask (Fidea). The latter rode alone in front during the third lap. "I didn't see any Belgian riders - only some French - that's why I attacked, nobody followed me. By the end of the third lap Nys overtook me and from then on it was difficult to battle against Rabobank. In the end this was a good race but the result was not so good," Dlask explained to Cyclingnews.

One of the main obstacles
Photo ©: Brecht Decaluwe

Another Fidea rider who will be unhappy with his result is world champion Erwin Vervecken (Fidea). His form has yo-yo'd all season, and after winning the last world cup in Hofstade, he's back down a notch, finishing in seventh place. Vervecken chalked his poor showing up to fatigue, but with the world championships only two weeks away, he's running out of time to find his top form.

With five nationalities in the top-10, cyclo-cross seemed more international than ever in Nommay. Local boy Mourey started off well but only managed a 13th place. "I lacked the jus, the power to continue my efforts; I'm disappointed now, but I need to look at the future and make sure I'm recovered for the world championships," Mourey explained.

While everybody expected Mourey on the podium for the best local rider's price, it was John Gadret (AG2R) who stepped forward. "I didn't start too well, but then I just followed Nys throughout the race... he's hard to follow," Gadret said. No US-riders featured in the top-10; Jonathan Page's (Morgan Blue) preparation got disrupted and he had to start from the fourth row again, eventually Page finished 15th, his best result in a World Cup race this season. "I tried my hardest but I made a bad tyre selection at the beginning. I've come from a long way back, but I'm thankful that this is hopefully the last race where I need to start from way back," Page said.
How it unfolded
Christian Heule (Stevens) got away very well while the Belgians suffered a joint bad start. Mourey took over in that first lap taking a few seconds on the bunch. The French crowds were on fire but soon after Dlask caught the French champion. Dlask gained a few seconds during the third lap, but by then Nys had recovered from his bad start and bridged up with a big group towards Dlask.
Halfway through the race Nys, De Knegt and Groenendaal had a gap on a group with Gadret, Dlask and Wellens. Behind them were seven riders containing Heule, Vervecken, Mourey, Thijs Al (BeOne) and Sven Vanthourenhout (Sunweb). Going into the ultimate laps a group of six riders was formed: Nys, Wellens, De Knegt, Groenendaal, Gadret and Dlask. They had a half a minute Vervecken, Heule and Al.
With two laps to go Nys and Wellens were alone in front with 15" on the other four riders, after them the gap grew bigger than one minute. Just before the last lap Nys was able to ride away from Wellens, a gap he could maintain until the finish in Nommay. Behind Wellens, De Knegt won the sprint for third place while Dlask grabbed fifth in front of Gadret. One and a half minutes later, Vervecken was faster than Heule and Al, while Kevin Pauwels (Fidea) completed the top-10.
French delighted for women's double
Current world champion Marianne Vos set a high pace during the opening laps but halfway through the French women took over command at the head of affairs. Laurence Leboucher and Maryline Salvetat tried to play out their favourite role and received enormous support from the French crowd. Thriving on this excitement they were in control of the race, only bothered by the appearance of German Hanka Kupfernagel.
Going into the last lap, Kupfernagel attacked at the stairs but couldn't get away; from then on Leboucher and Salvetat alternated their attacks, supported by the spectators and an excited race announcer. Kupfernagel withstood four attacks but cracked when Leboucher tried for a fifth time. At the finish, Leboucher was welcomed by an ecstatic crowd, Salvetat then completed the French women's success by beating the German champion in a long sprint.
At the finish, Leboucher told Cyclingnews she expects herself to battle for the victory at the world's in Hooglede-Gits as well. Today she enjoyed the support of compatriot Salvetat to grab a well deserved win in front of a supportive crowd. "We didn't have special tactics, we just went flat out," Leboucher said. Kupfernagel's friend and coach, former cyclo-cross world champion Mike Kluge said to Cyclingnews this was a race where Hanka had tested an alternative tactic. "She didn't win but this gives us confidence for the world's," Kluge said.
US-riders Deidre Winfield, Rhonda Mazza and Christine Vardaros suffered on the French course and finished together at 18th place; Canadian Tara Ross was 26th.
Albert nets another espoir victory
Three national champions featured on the podium at the U23 world cup in Nommay with the Belgian, Dutch and Italian champions taking the top three spots. Belgian Niels Albert was clearly stronger than his rival Lars Boom on the heavy French course. Both riders will battle it out for the world title within two weeks, but meanwhile they are playing a mental game on each other.
Dutch champion Boom didn't admit he was beaten by Albert, as he wasn't fighting with equal weapons. "I caught a cold and have been ill since the Dutch championships," Boom said. The Belgian champion made clear that he didn't have to work hard to get the win. "I didn't feel good while warming up in Nommay and that feeling remained there during the first half of the race," Albert said. Despite those sensations, Albert attacked and enjoyed a lone race in front. "Halfway through the race I started feeling better; this was a good race."
Despite the subpar performance from Boom, Albert made it clear that he expected Boom to be his main rival at the world championships. "It will be a battle between Boom and myself," Albert said. Italian Rafael Visinelli managed a great third place behind the two protagonists of the U23 category. "This is my best performance in a World Cup race up until now, I'm very pleased with this." The Italian acknowledges that Albert and Boom are riding strong; "they are on a high level, but it's not impossible. I was riding in third place with Boom, but after a bike change I lost ten seconds on him; that gap remained the same until the finish," Visinelli explained to Cyclingnews.
Adams most persistent junior
Joeri Adams (Bel)
Photo ©: Brecht Decaluwe

Belgian Joeri Adams proved to be the most persistent rider of all juniors. Halfway through the race, a group of eleven riders were still riding together. A leading group of three, with Adams and the Czech riders Lubomir Petrus and Jiri Polnicky, looked to battle for victory; only Belgian Kevin Eeckhout managed to come back on this group going into the ultimate lap.
Eventually Adams got rid of his two Czech companions and arrived at the finish solo. Polnicky grabbed the second place ahead of Petrus. Eeckhout finished fourth in front of Italian Alessandro Calderan. Adams wasn't able to celebrate his victory, because he thought he was chasing the Italian. "Actually I didn't know that I had won the race," Adams said to Cyclingnews at the finish line. "Calderan had a gap in the second lap and I didn't see him again, so... yeah, apparently I did get past him," Adams explained while waiting for the medical control.
Photography
For a thumbnail gallery of these images, click here
Images by Brecht Decaluwe/Cyclingnews.com
Results
Elite Men
1 Sven Nys (Ned) Rabobank                                      1.04.18
2 Bart Wellens (Bel) Fidea Cycling Team                           0.13
3 Gerben de Knegt (Ned) Rabobank                                  0.20
4 Richard Groenendaal (Ned) Rabobank
5 Petr Dlask (Cze) Fidea Cycling Team                             0.27
6 John Gadret (Fra) AG2R Prévoyance                               0.35
7 Erwin Vervecken (Bel) Fidea Cycling Team
8 Christian Heule (Swi) Stevens Racing Team                       1.40
9 Thijs Al (Ned) BeOne                                            1.52
10 Kevin Pauwels (Bel) Fidea Cycling Team                         2.17
11 Maarten Nijland (Ned) Ruiter Dakkapellen                       2.20
12 Sven Vanthourenhout (Bel) Sunweb-Projob
13 Francis Mourey (Fra) Française des Jeux                        2.47
14 Marco Aurelio Fontana (Ita) G.S. Selle Italia Guerciotti       3.06
15 Jonathan Page (USA) Morgan Blue                                3.09
16 Davy Commeyne (Bel) Palmans-Collstrop                          3.15
17 David Willemsens (Bel) Sunweb-Projob                           3.22
18 Arnaud Labbe (Fra) Bouygues Télécom                            3.35
19 Tim Van Nuffel (Bel) Stevens Racing Team                       3.44
20 Steve Chainel (Fra) Auber 93                                   4.07
21 Wilant van Gils  (Ned) ZZPR.nl                                 4.27
22 Bart Aernouts (Bel) Rabobank                                   4.46
23 Jan Verstraeten (Bel) Sunweb-Projob                            4.50
24 David Derepas (Fra) Roubaix Lille Métropole                    4.54
25 Maros Kovac (SVk) Slovakian National Team                      5.13
26 Nicolas Bazin (Fra) US Domont cyclisme                         5.18
27 Joachim Parbo (Den) CK Aarhus                                  5.35
28 Lukas Flückiger (Swi) Athleticum MTB Team                      5.40
29 Johannes Sickmueller (Ger) Harvestehuder RSV v. 1909           6.52
30 René Birkenfeld (Ger) Harvestehuder RSV v. 1909                7.36

One lap down

31 Dariusz Gil (Pol) LKS Pom Strzelce Krajenskie
32 Vaclaf Metlicka (Svk) Slovakian National Team
33 Jan Ramsauer (Swi) Team Campione Celeste-Haba
34 Robert Glajza (Svk) CK ZP Sport A.S. Podbrezová
35 Jan Chrobak (Cze) Johnson Controls AS MB
36 Ronald Mutsaars  (Ned) ZZPR.nl
37 Thorsten Struch (Ger) German National Team
38 Marco Bianco (Ita) L Arcobaleno Carraro Team
39 Stefano Boggia (Ita) Ceramica Flaminia
40 Mariusz Gil (Pol) LKS Pom Strzelce Krajenskie
DNF  Camiel Van Den Bergh (Ned) Stevens Racing Team
DNF  Milan Barenyi (Svk) Slovakian National Team
DNF  Simon Zahner (Swi) Bürgis Cycling Team
DNF  Greg Reain (Can) Stevens Racing Team
 

Women

1 Laurence Leboucher (Fra)                                        36.51
2 Maryline Salvetat (Fra)                                          0.03
3 Hanka Kupfernagel (Ger)
4 Marianne Vos (Ned) Team Dsb Bank                                 0.13
5 Birgit Hollmann (Ger) Team Getränkehoffmann                      0.49
6 Helen Wyman (GBr) Global Racing Team                             2.01
7 Vania Rossi (Ita)                                                2.16
8 Arenda Grimberg (Ned)
9 Veerle Ingels (Bel)                                              2.29
10 Reza Hormesravenstein (Ned)                                     2.33
11 Christelle Ferrierbruneau (Fra)                                 2.36
12 Nadia Triquetclaude (Fra)                                       2.41
13 Caroline Mani (Fra)                                             2.57
14 Daniela Bresciani (Ita)
15 Rosa Maria Bravo Soba (Spa)                                     3.23
16 Alessandra Fatato (Ita)                                         3.25
17 Linda Van Rijen (Ned) Team Dsb Bank                             3.35
18 Deidre Winfield (USA)                                           3.46
19 Rhonda Mazza (USA)                                              3.54
20 Christine Vardaros (USA)                                        4.00
21 Lucie Lefevre (Fra)                                             4.05
22 Sanne Cant (Bel)                                                4.41
23 Claudia Seidel (Ger)                                            4.44
24 Stefanie Pohl (Ger)                                             5.16
25 Milena Cavani (Ita)                                             5.34
26 Tara Ross (Can)                                                 5.40
27 Katrien Pauwels (Bel)                                           6.55
28 Ivonne Kraft (Ger)                                              7.02
29 Britt Jochems (Ned)                                             7.05
30 Francesca Cucciniello (Ita)
31 Susanne Juranek (Ger)                                           7.31

One lap down

32 Stéphanie Denuit (Fra)
DNF Suzie Godart (Lux) Fenixs Hpb
 
U23

1 Niels Albert (Bel) Palmans-Collstrop                            49.54
2 Lars Boom (Ned) Rabobank                                         0.55
3 Rafael Visinelli (Ita) C.C.V. Cyclocross Team Bologna            1.12
4 Romain Villa (Fra)                                               1.39
5 Dieter Vanthourenhout (Bel) CK Podborany                         1.49
6 Philipp Walsleben (Ger) Heinz von Heiden Team Hannover           1.53
7 Ricardo van der Velde (Ned) Rabobank                             1.55
8 Lukas Kloucek (Cze) Cyklo Team Budvar Tábor                      2.03
9 Frantisek Kloucek (Cze) Author Team Praha                        2.12
10 Finn Heitmann (Ger) Heinz von Heiden Team Hannover              2.20
11 Tom Van Den Bosch (Bel) Palmans-Collstrop                       2.30
12 Quentin Bertholet (Bel) A.W.S. Cycling Team Kasterlee           2.31
13 Aurelien Duval (Fra)
14 Mathias Fluckiger (Swi)
15 René Lang (Swi) Delta Elite Team                                2.51
16 Maxim Debusschere (Bel) Sunweb-Projob                           2.56
17 Romain Lejeune (Fra)                                            2.58
18 Yves Corminboeuf (Swi) Team Scott-PRO Cycles-SRM-Le Maréchal    3.12
19 Thijs Van Amerongen (Ned) Van Vliet - EBH Advocaten             3.28
20 Florian Le Corre (Fra)                                          4.22
21 Rob Peeters (Bel) Kon. Balen B.C. V.Z.W.                        5.11
22 Marcel Wildhaber (Swi) Tower Sports
23 David Menger (Cze) Cyklo Team Budvar Tábor
24 Boy van Poppel (Ned) Rabobank                                   5.51
25 Damien Mougel (Fra)                                             5.56
26 Karl Schoknecht (Ger) RC Kleinmachnow                           6.18
27 Cristian Cominelli (Ita) Gewiss Bianchi                         6.23
28 Jonathan Lopez (Fra) V.C. La Pomme Marseille                    7.28

One lap down

29 Geoffrey Corniau (Fra) UV Aube
30 Lukas Winterberg (Swi) Campione Celeste
31 Aaron Schooler (Can) E.R.T.C.
32 Kyle Douglas (Can) 3 Rox Racing
33 Shaun Adamson (Can) Team Alberta
DNF Davide Malacarne (Ita) G.S. Zalf Desiree Fior
DNF Paul Voss (Ger) Team 3Cgruppe Lamonta
DNF Robert Gavenda (Svk) Selle Italia Guerciotti

Juniors

1 Joeri Adams (Bel)                                               39.15
2 Jiri Polnicky (Cze)                                              0.08
3 Lubomir Petrus (Cze)                                             0.12
4 Kevin Eeckhout (Bel)                                             0.16
5 Alessandro Calderan (Ita)                                        0.17
6 Thomas Girard (Fra)                                              0.43
7 Ole Quast (Ger)                                                  0.45
8 Max Walsleben (Ger)
9 Thomas Boulo (Fra)                                               0.49
10 Sven Verboven (Bel)
11 Jim Aernouts (Bel)                                              0.57
12 Arnaud Jouffroy (Fra)                                           1.01
13 Filip Adel (Cze) Cyklo Team Budvar Tábor (Cze)                  1.34
14 Matthias Rupp (Swi)                                             1.45
15 Josef Rauber (Ger)                                              1.54
16 Elia Silvestri (Ita)                                            2.04
17 Florian Danner (Ger)
18 Thomas Lemaitre (Fra)                                           2.13
19 Marcel Meisen (Ger)                                             2.23
20 Mickaël Jacquot (Fra)                                           2.27
21 Matteo Trentin (Ita)                                            2.45
22 Peter Sagan (Svk)                                               2.57
23 Thibault Taboury (Fra)                                          3.12
24 Vincent Baestaens (Bel)
25 Arnaud Grand (Swi)
26 Freddie Guilloux (Fra)
27 Jérémy Grimal (Fra)                                             3.22
28 Valentin Scherz (Swi)
29 Jérémie Duperron (Fra)
30 Romain Mottier (Fra)                                            4.20
31 Petr Marvan (Cze)                                               4.35
32 Peter Frei (Swi)                                                4.43
33 Marian Simora (Svk)                                             5.01
34 Kevin Feushe (Ger)                                              5.31
35 Pierre Kaeslin (Swi)                                            5.46
36 Tim Debusschere (Bel)                                           6.09
37 Alain Page (Swi)                                                7.46
38 Thomas Pinaglia (Ita)
DNF Jean Pierre Prudentino (Fra)