Ciclocross Internacional Asteasu - C2
Asteasu (Guipúzcoa), Spain, December 6, 2007
Nys takes 200th victory in Spain
By Antonio J. Salmerón
Sven Nys gets another hat
Photo ©: Oskar Matxin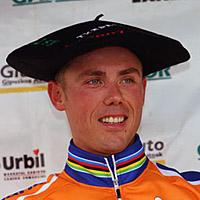 Belgian Sven Nys (Rabobank) racked up his 200th career victory in the Basque town of Asteasu, winning the race outside of San Sebastian ahead of his compatriot Sven Vanthourenhout (Sunweb Pro Job) and Czech Radomir Simunek. American Jonathan Page was fourth. A surprise fifth place finisher was the Spanish road professional Constantino Zaballa (Caisse d'Epargne), who was the top Spanish finisher.
The race, held in temperate conditions under sunny skies, was much less muddy and technical than the Igorre World Cup this past weekend, conditions which helped the roadies. "I was not surprised for me due to my strong performance", Zaballa said, "because I have been training with my brother, Juan Carlos Gómez, who races in the elite category and had a reference for my state of form," he added.
The Caisse d'Epargne rider, who has signed the Portuguese LA-MSS for the next season, has included in his training plan the national cyclo-cross calendar. "I practised cyclo-cross when I raced in the U-23 category. I do not like the gyms, and I think that cyclo-cross can help me to catch a peak of form without having to give me a big beating training on the road," Zaballa commented.
Photography
For a thumbnail gallery of these images, click here
Images by Oskar Matxin/www.oskarmatxin.com
Results
1 Sven Nys (Bel) Rabobank                                          59.34
2 Sven Vanthourenhout (Bel) Sunweb Pro Job                          0.44
3 Radomír Simunek (Cze) Palmans-Cras                                1.20
4 Jonathan Page (USA) Sunweb Pro Job                                1.20
5 Constantino Zaballa Gutierrez                                     2.25
6 Christian Heule (Swi) Stevens Racing Team                         3.27
7 Wesley Van Der Linden (Bel) Sunweb Pro Job                        3.40
8 Unai Yus Kerejeta (Spa) Aidazu-Lankide                            3.48
9 David Seco Amundarain (Spa) Superfroiz-Spiuk                      3.55
10 Javier Rz.Larrinaga Ibaņez (Spa) Spiuk-Bulletvan                 4.43
11 Juan Carlos Gomez Saiz (Spa) Noja-Canalsa                        4.55
12 Gorka Izagirre Insausti (Spa) Seguros Bilbao                     4.55
13 Isaac Suarez Fernandez (Spa)  Cantabria Infin                    5.31
14 Kamil Ausbuher (Cze) Easypay Cyclocross Team                     6.08
15 Jose Antonio Diez Arriola (Spa) Noja-Canalsa                     6.52
16 Hugo Alfonso Rus Martinez (Spa) Sanse/Spiuk                      6.54
17 Erlantz Uriarte Okamika (Spa) Ibaigane Opel                      7.05
18 David Peņa Ruiz (Spa) Saunier Duval-A                            7.54
19 Alexandre Izquierdo Acon (Spa) Ditec-Costa Dau                   8.22
20 David Juarez Alday (Spa) Ibaigane Opel                           1 lap
21 Rodolfo Marcos Movilla (Spa) Hermans Cvc                         2 laps
22 Jon Ander Manjon Alvarez (Spa) Suminan-Koplad
23 David Pardo Viana (Spa) Suminan-Koplad
24 Jose Vigil Fernandez (Spa) Montecerrao-Arm
25 Javier Heras Salichs (Spa) Bicicletas Salc
26 Ion Izagirre Insausti (Spa) Debabarrena
27 Ivan Crespo Iglesias (Spa) Pedro Cuervo-RT                       3 laps
28 Zigor Urain Zabala (Spa) Ederra Taberna
29 Pedro Usabiaga Balerdi (Spa) Azpiru-Ugarte
30 Jon Erguin Dorronsoro (Spa) Velodro.Anoeta
31 Jorge Iruretagoie Belaustegi (Spa)
32 Bruno Prieto Gonzalez (Spa) Montecerrao
33 Jorge Gonzalez Diez (Spa) Ciclos Sport
34 Antonio Suarez Fernandez (Spa) Cantabria Infin
35 Joseba Leon Gutierrez (Spa) Ciclos Maestre
36 Asier Lopez Llano (Spa) Berango 21/Bera                          4 laps
37 Jon Ugalde Ortiz (Spa) Ibaigane Opel
38 Asier Arregi Dominguez (Spa) Ciclos Patxi
39 Victor Hugo Revuelta Trancho (Spa) Almacenes Lavin
40 Mario Jose San Emeteri Gandiaga (Spa) Iurbentia-MTB R
41 Iņaki Mazorriaga Zumelaga (Spa) C.Iturriaga/Elo
42 Iņigo Andreu Gastaminza (Spa) Azpiru-Ugarte
43 Asier Galbez Hermoso (Spa) Ciclos Maestre
44 Pedro Jose Calvo Dominguez (Spa) Azpiru-Ugarte

Women

1 Ione Mujika Sarasketa (Spa) AD Subconjuntos                      49.04
2 Saioa Olite Calvo (Spa) Debabarrena-KIR                           5.40
3 Erkuden Almagro Mendoza (Spa) Larequi                             6.59