Superprestige #6 - Diegem - C1
Diegem, Belgium, December 30, 2007
Main Page Results Overall standings Previous Race
Race 4 - December 30: Elite Men
(K)nightrider Nys in total control
By Brecht Decaluwé in Diegem, with additional reporting from Gregor Brown
Sven Nys (Rabobank) leads
Photo ©: Isosport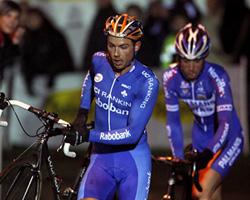 In a spectacular race setting, the cyclo-cross peloton arrived in Diegem, near Brussels, Belgium. With the race starting at 5:00 pm, the riders were expected to use their night vision. Yet despite the unusual 'cross race setting, the race developed in a way that wasn't so different from yesterday in Middelkerke. UCI-leader Sven Nys (Rabobank) was clearly in total control of this Superprestige race and cruised to his 17th victory of the season.
The Belgian, arguably the best cyclo-cross rider of his generation, was helped in this race by an early attack from the talented young Czech Radomir Simunek Jr. (Palmans-Cras). Together they left the bunch behind them after less than one lap, and they stayed together for five more. In a dark corner Simunek slipped away and allowed the Rabobank-rider to go on alone. Recovered from his slip, the young Czech racer managed to keep the other chasers on a safe distance and captured a strong second place in Diegem.
Behind them Zdenek Stybar (Fidea Cycling Team) and Niels Albert (Palmans-Cras) fought out a duel for the last podium spot and it was the Czech who managed to drop Albert in the end.
"I have to say it's something special with this light," Nys applauded the special race conditions in Diegem. "I couldn't see the riders before or behind me. After a while you get used to it and avoid the dark spots." The UCI-leader had a good companion today with Simunek who attacked the race after only half a lap.
Bart Wellens (Fidea Cycling Team) rides with
Photo ©: Isosport

"He started very quickly and I could do nothing but follow him. Then he asked me to pull along and I didn't hesitate to do so," Nys explained how the two of them got away. The young Czech dropped away literally and so Nys had to ride alone for the second half of the race.
"I didn't notice Radomir had crashed, I noticed a little further he wasn't there anymore. The fact he could hang on at 20" meant he was very strong today. I didn't know where everybody was with all that noise and the lack of visibility, so I continued base on my sensations," Nys said. "From the last lap on I knew it was in the pocket."
Runner-up Radomir Simunek Jr – son of the former world champion – was more than happy with his performance and result today. "Without that mistake I would've been second anyway," the Czech said in a mixture of German and Dutch. "The tempo from Nys in the second half of the race is most impressive." Just like Nys, Simunek is now the favourite for the national championships next weekend, although he will have to deal with Zdenek Stybar who made it up on the podium in Diegem as well. "I wasn't confident about my form after the World Cup in Hofstade, but know I know it's good enough for the national championships. I'm surprised Simunek got that much better in one month. We will have to take the initiative next week," Stybar said.
Jonathan Page (Sunweb Pro Job)
Photo ©: Gregor Brown / Cyclingnews

Yesterday's runner-up on Nys in Middelkerke Jonathan Page confirmed that his fitness level is going the right direction with another top-10 result in Diegem. The Sunweb-rider was happy with his performance although his start wasn't as good as he wanted. "I just missed the main chasing group and got behind guys that block the road, like [Wilant] Van Gils. This is a hard race," Page said to Cyclingnews.
Roger Hammond lives nearby the course in Diegem and is a regular starter in Diegem. The likable British rider improved his last year's result by five places, but Hammond didn't care too much. "I was stuck back there for the start, and this year there are even more corners... . It is good training though. It is like car racing – going into the corner in fortieth spot, and then it all bunches up and the top guys accelerate out at sixty an hour. I will be racing the British Nationals [January 6], but it is not a priority is just training [for the road season]."
Irish champion Robin Seymour was all smiles at the finish line. "This is just fantastic," Seymour said, "as I didn't get lapped. But riding in these spectacular settings is great. I've never seen this before. All races should be like that," Seymour laughed.
North American participants Nathan Chown and Molly Cameron gave all they had, but were lapped by the UCI-leader in the latter stages of the race. Another Irish participant was Philip Roche who finished 40th, being lapped by winner Nys as well.
How it unfolded
Roger Hammond (Team High Road)
Photo ©: Gregor Brown / Cyclingnews

Forty nine riders lined up for the start as the sun set near Brussels. Flood lights were spread out all over the course and allowed the riders to spot most of the technical sections. Zdenek Stybar took the best start and led the bunch during the first half of the reconnaissance lap. Radomir Simunek Jr. then decided the speed wasn't high enough and he jumped away with Sven Nys on his wheel. World champion Erwin Vervecken (Fidea Cycling Team) wasn't so keen for quick acceleration and didn't follow the duo in front of him.
Simunek kept the speed high and by the end of that first lap they had a gap of five seconds on the bunch. From then on, Nys took pulls, too, and the gap with the chasers increased quickly. A few moments later Nys received a knock from a spectator, luckily without causing him too much damage. The incident reminded us about the problems the organization had when fans were booing Richard Groenendaal (AA Sport Drinks) in the past.
After two laps the gap had grown up to 35", and Niels Albert took a strong pull in the chasing group. Albert shrunk the gap slightly with his effort, but he couldn't keep chasing on his team-mate. When he resigned the lead to someone else, the speed dropped again.
By the end of the third lap the gap had grown up to 46" as Simunek and Nys kept working well together. Ten riders chased in a group, but without organization. Just before the end of the fourth lap Molly Cameron was lapped. In the chasing group Stybar started pulling and the Sunweb riders in the chasing group disappeared.
Niels Albert (Palmans-Cras) fought hard for a podium
Photo ©: Isosport

With four laps to go Simunek started to make mistakes, and in a poorly illuminated left-hand corner his rear wheel slipped away. The young Czech crashed and Nys was off on his own. Further back Albert and Stybar went on the counter-attack; the duo chased at one minute behind leader Nys and at 45" off Simunek. Pocket climber John Gadret (AG2r Prévoyance) led the main chasing group down 1'10" from the leader.
Simunek was 20" behind Nys while Stybar tried to get rid of Albert with two laps to go. In a noteworthy effort, the two young riders did not lose time on leader Nys. Jonathan Page (Sunweb Pro Job) and Vervecken got better throughout the race, and together with Bart Wellens (Fidea Cycling Team), Groenendaal and Dieter Vanthourenhout (Easypay Cyclocross Team) they trailed at 1'20" from Nys. The UCI-leader raced in control and with a half a minute advantage over Simunek.
Going into the ultimate lap Nys only needed to stay upright to capture his fifth Superprestige victory of the season. Simunek consolidated his second place despite the two riders behind closing near the end. Simunek's compatriot Stybar shrugged off Albert and grabbed the final podium spot.
Belgian champion Bart Wellens had a poor first half of the race but improved throughout and finished only three seconds behind Albert to claim fifth place. Wellens was followed by good old Groenendaal who took sixth. World champion Vervecken wasn't going particularly well nor poorly; today he finished seventh, together with Gadret. Dieter Vanthourenhout and Jonathan Page finished off the top-10.
Photography
For a thumbnail gallery of these images, click here
Images by Gregor Brown / Cyclingnews
Images by Isosport
Results
1 Sven Nys (Bel) Rabobank                                        1.03.12
2 Radomír Simunek (Cze) Palmans-Cras                                0.20
3 Zdenek Stybar (Cze) Fidea Cycling Team                            0.33
4 Niels Albert (Bel) Palmans-Cras                                   0.39
5 Bart Wellens (Bel) Fidea Cycling Team                             0.42
6 Richard Groenendaal (Ned) AA Sport Drinks                         0.50
7 Erwin Vervecken (Bel) Fidea Cycling Team                          0.57
8 John Gadret (Fra) AG2r Prévoyance                                     
9 Dieter Vanthourenhout (Bel) Easypay Cyclocross Team               1.04
10 Jonathan Page (USA) Sunweb Pro Job                               1.12
11 Wilant Van Gils (Ned) ZZPR.nl                                    1.26
12 Klaas Vantornout (Bel) Fidea Cycling Team                        1.35
13 Jan Verstraeten (Bel) Sunweb Pro Job                             1.49
14 Marco Bianco (Ita) Arcobaleno Carraro                            2.15
15 Wesley Van Der Linden (Bel) Sunweb Pro Job                       2.24
16 Kevin Pauwels (Bel) Fidea Cycling Team                               
17 Thijs Al (Ned) BeOne CRC Team                                    2.30
18 Ben Berden (Bel) Revor Cycling Team                              2.50
19 Milan Barenyi (Svk) CK ZP Sport a.s. Podbrezová                  2.59
20 Tom Vannoppen (Bel) AVB/USspa Cycling Team                       3.08
21 Geoffrey Clochez (Fra)                                           3.16
22 Kamil Ausbuher (Cze) Easypay Cyclocross Team                     3.20
23 Davy Commeyne (Bel) Palmans-Cras                                 3.25
24 Sven Vanthourenhout (Bel) Sunweb Pro Job                         3.36
25 Jan Soetens (Bel) Jartazi Promo Fashion                          4.38
26 Roger Hammond (GBr) Team High Road                               4.57
27 Rob Peeters (Bel) Landbouwkrediet - Tönissteiner                 5.06
28 Nico Clarysse (Bel) Cycling Team Oost-West                       5.25
29 Mike Thielemans (Bel) Cycling Team Thielemans & Co - Reynaers    5.50
30 Anders Klinkby (Den)                                             6.10
31 Robin Seymour (Irl)                                              6.15
32 Stijn Penne (Bel) VZW Wielerclub Onder Ons Parike                6.25
33 Evert Verbist (Bel)                                              6.38
34 Roy Van Heeswijk (Ned)                                           6.43
35 Keiichi Tsujiura (Jpn)                                           6.50

One lap behind

36 Nathan Chown (Can) Handlebars - Queen City Cyclists                  
37 Staf Scheirlinckx (Bel)                                              
38 Molly Cameron (USA) Vanilla Bicycles-Stumptown Coffee                
39 Bert Scheirlinckx (Bel)                                              
40 Philip Roche (Irl)                                                   
41 Torsten Wittig (Ger) BRC Zugvogel                                    
 
Overall Superprestige standings after six events

1 Sven Nys (Bel) Rabobank                                 89 pts
2 Bart Wellens (Bel) Fidea Cycling Team                   75
3 Zdenek Stybar (Cze) Fidea Cycling Team                  67
4 Niels Albert (Bel) Palmans-Cras                         62
5 Richard Groenendaal (Ned) AA Sport Drinks               53
6 Klaas Vantornout (Bel) Fidea Cycling Team               41
7 Erwin Vervecken (Bel) Fidea Cycling Team                40
8 Wilant Van Gils (Ned) ZZPR.nl                           38
9 Radomír Simunek (Cze) Palmans-Cras                      33
10 Thijs Al (Ned) BeOne CRC Team                          31
11 Kevin Pauwels (Bel) Fidea Cycling Team                 26
12 Dieter Vanthourenhout (Bel) Easypay Cyclocross Team    21
13 Rob Peeters (Bel) Landbouwkrediet - Tönissteiner       17
14 Sven Vanthourenhout (Bel) Sunweb Pro Job               16
15 Petr Dlask (Cze) Fidea Cycling Team                    15
16 Francis Mourey (Fra) Française des Jeux                14
16 Lars Boom (Ned) Rabobank                               14
18 Jan Verstraeten (Bel) Sunweb Pro Job                   11
19 Gerben De Knegt (Ned) Rabobank                         10
20 Enrico Franzoi (Ita) Lampre-Fondital                    9
20 Jonathan Page (USA) Sunweb Pro Job                      9
22 John Gadret (Fra) AG2r Prévoyance                       8
23 Christian Heule (Swi) Stevens Racing Team               5
23 Bart Aernouts (Bel) Rabobank                            5
25 Jan Soetens (Bel) Jartazi Promo Fashion                 4
26 Davy Commeyne (Bel) Palmans-Cras                        2
26 Marco Bianco (Ita) Arcobaleno Carraro                   2
28 Ben Berden (Bel) Revor Cycling Team                     1
28 Tim Van Nuffel (Bel) Easypay Cyclocross Team            1
28 Wesley Van Der Linden (Bel) Sunweb Pro Job              1