Verge NECCS #4: The Cycle-Smart International - C2
Northampton, USA, November 5, 2006
2005 Results Results Past winners
Dickey wins again, White breaks through
by Kirsten Robbins in North Hampton, Massachusetts
Dickey wears the leaders jersey
Mackenzie Dickey (VERGE Sport/Test Pilot) cruises solo through the trees on Sunday in Northampton, MA
Photo ©: Ed Collier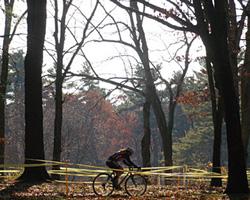 Mackenzie Dickey (Verge) won the elite women's even in the same fashion as Matt White - solo-style! Her main competition was a three-woman chase containing Rebecca Wellons (Gearworks), Amy Wallace (Richard Sachs) and Betsy Shogren (Fort Factory).
Dickey blew away her competition from the start gaining a significant lead over the field almost instantaneously. "I had the same game plan today as I did yesterday," Dickey said. "I had a great start and tried to open the gap and hold it. I just kept it going and it worked all the way to the end."
"Although I love sprinting, it is always nice when you come to the finish with a gap and you don't have to worry about a sprint - I'd take that any day of the week."
The circuit seemed to suit Dickey perfectly as she made the win look effortless. "The course really suits my ability with a nice mix of technical sections and some flat power stretches," Dickey said. "I like the hard ride up and the run up too. It was a really hard course but I could cost up part of the run up by getting speed going into it. I also came into the barriers with some speed and it worked well for me."
The strong chase of three riders began to separate from each other as the race progressed. Rebecca Wellans struggled with a fumble over the barriers but later increase a lead over Amy Wallace to take second place. "The start was really fast but I knew that I didn't need to be on the front," Wellons said. "It was really windy on the lower section and I was happy being in fourth or fifth through that section. I went a little too hot into the barriers when I was chasing Mackenzie and crashed over them. Eventually I was able to make it back to Wallace and I stayed behind them in the wind for a while longer. I later passed them because I wanted to get to Mackenzie."
Amy Wallace and Betsy Shogren worked together until half a lap to go. Wallace attacked Shogren up the final climb gaining enough of a gap to secure third place. "Today was really hard and I am still gaining fitness and building that back. Hopefully my racing will get better over another month," Wallace said. "Wellons and I typically ride together a lot in races and we train together too. We have similar ability and fitness and work well together."
"I like to start the race fast and stay out of any messes, partly because I am usually the one causing the mess. But I like to be out in front for the start. I started to fall off of Wellons pace and fortunately I was able to ride with Betsy for a while. I remembered that she had been slower up the hill so I tried to get to the hill first and created a gap from there."
Dickey has successfully taken over the Verge New England Championship cyclo-cross leaders jersey and intends to hold onto it. "I am going to try to hold onto the Verge New England Championship cyclo-cross Series jersey for as long as I can," Dickey said. "Lyne Bessette is an awesome competitor and I am sure she will have her A-game with her in Sterling, when we meet again. Hopefully I will be able to gain a few more points before then. I was third in the Verge Series last year and my goal is to improve on that this year."
White solos to victory
White solo on the super steep and rocky run-up on Sunday
Photo ©: Ed Collier

Matt White (Fiordifrutta) showed the elite men how to win a race off the front, soloing from the gun. White crossed the line thirty seconds ahead of Davide Frattini (Colavita Olive Oil/Sutter Home), caught racing in limbo after an attempt to bridge across to the winner. Johannes Huseby (Fiordifrutta) scooped up third place by winning a sprint over Mark McCormack (Clif Bar).
It was riders ready, go, and Matt White attacked the field. "I was really fired up from yesterday's tactical finish and that fueled me for the start today," White said. "Yesterday was really tactical and my brain hurt a little from that. I wanted to start harder today and thin the group out as soon as possible. I had no idea that I was going to be off the front the entire race, solo."
White shocked his competitors and fans today in his leading performance. "It was motivating for me because of my hometown crowd," White said. "Everyone I knew was here watching, all my friends and family."
"It was really tough today and it seemed to take so long. With nine laps to go I felt like I had been out there for half an hour already. Although I had the race dialed down this morning, I didn't go into it saying it was a super good course for me, but with in the first two laps I knew that I was doing just fine on it. I felt like the opening four laps were the fastest and after that I had to struggle to hold on to my gap. But no matter how I felt, good or bad, my time splits were the same each lap. I felt like I had a really steady hour of racing."
Air-McCormick defies gravity
Photo ©: Bill Hurley

Fiordifrutta took full advantage of their two riders in the original eight-man chase after White. The group was stacked with cyclo-cross specialist like Mark McCormack, Davide Frattini, Johnny Sundt (Hagens Berman), Luca Damiani (FIDIBC), Adam Myerson (Nerac-Outdoorlights.com), Matt Kraus (Alan Factory) and Whites two teammates Michael Cody and Johannes Huseby.
"I am sure my teammates were back there jamming things up for me and I was happy that they were able to ride such a tactical race for themselves with a strong finish," White said. "I could see them from a corner back and it was fun to watch them play their tactics on each other. I could see them attacking and chasing."
There were several attempts to bridge to White and all riders in the chase took a pull at one point or another. Davide Frattini was able to create a gap on the chase but did not have the legs to connect with White. "Matt rode the first two laps really hard at a fast tempo," Frattini said. "I tried to go early but was not able to bridge to him and the chase group caught me. The Fiordifrutta guys did some good teamwork. Cody would take the turns at the front to slow down the group and in general they played with good tactics to give the possibility to Matt to build his gap further. But, Matt was so strong and he was able to hold this gap for the whole race."
Team tactics seemed to play a major role in the outcome of the race and each podium rider benefited from the help of their teammates. "There were eight riders in the chase group and almost everyone did a good pull but we were not catching Matt," Frattini said. "Luca Damiani was in the group with me and I jumped on the run up with five laps to go. Basically, Luca did the same tactic with me that Cody and Huseby did for Matt."
Luca Damiani admits his hand in Frattini's successful gap over the chase. "I helped to control the chase group for Davide," Damiani said. "When he gained five seconds on my group I looked at the situation and went to the front. I pulled hard enough so no one would attack me but slow enough to let Davide's gap grow."
The chase group began to dwindle as the race progressed until Mark McCormack and Johannes Huseby found themselves alone together in a battle for third. "Mark put in a few really strong attacks and no one else could stay with him except for me," Huseby said. "I recognized that there were a few spots on the course where Mark was trying to make his move and it became predictable. I also knew that there were some areas that I was a little bit stronger than him and I figured I could respond well to him."
A chase group isn't too far behind
Photo ©: Ed Collier

The two powerhouses riders approached the finishing sprint together lead out by McCormack and won by Huseby. "I never tried to get away from Mark and I knew it was going to be a tough battle in the sprint," Huseby said. "I have been in a sprint many times with Mark and have only been capable of beating him a few times. He definitely has the upper hand in a sprint and I did not know what to expect."
"Even though he was doing a lot of work today, I never count him out. He went a little slower into the last straight, which played into my advantage. If he had really gassed it in that section I would have been in a lot more trouble. But because I had something left in the tank I was able to win the sprint this time."
Whites win today placed him on the podium for a second time as leader of the Verge New England Championship Cyclo-cross Series. "I never would have imagined being in the leaders jersey at the beginning of the season," White said. "There are so many more races left and I am going to try to hold onto it. Mark is always going to be a tough competitor. I have a lot more racing in the New England area and I will try to hold on to my fitness for another month - for the national championships as well."
Photography
For a thumbnail gallery of these images, click here
Images by Bill Hurley/FASTshots
Images by Ed Collier/www.edcollierphotography.com
Images by Paul Weiss/www.paulweiss.bz
Results

Elite/U23 Men
 
1 Matt White (Fiordifrutta)                                       59.42
2 Davide Frattini (Team Colavita / Sutter Home)                    0.19
3 Johannes Huseby (Fiordifrutta Elite Cycling Team)                0.43
4 Mark Mccormack (Clif Bar)                                        0.44
5 Jonny Sundt (Hagens Berman)                                      0.50
6 Luca Damiani (Fidibc Vc Arbedo)                                  1.00
7 Adam Myerson (Nerac-Outdoorlights.Com Pro Cycling)               1.04
8 Matt Kraus (Alan Factory Team)                                   1.08
9 Michael Cody (Fiordifrutta Cycling Team)                         1.33
10 Justin Spinelli (Rgm Watches - Richard Sachs - Rex Chiu)        2.14
11 Christopher Jones (Targetraining- Williamscycling.Com)          2.57
12 Charles Marzot (Cl Noonan/ Coast To Coast/ Kam)                 3.19
13 Matthew O'keefe (Ccb/Volkswagon)                                3.20
14 Josh Dillon (Fiordifrutta)                                      3.35
15 Christopher Peck (Fiordifrutta)                                     
16 Robbie King (Priority Health)                                   3.39
17 Ted King (Priority Health)                                      3.40
18 Alec Donahue (Joe's Garage/Reynolds Composites)                     
19 Eneas Freyre (Targetraining)                                    3.42
20 Daniel Coady (Ncc / Bikereg.Com)                                4.26
21 Bill Elliston (Targetraining/Fuji)                              4.51
22 Brian Hayes (Rgm Watches - Richard Sachs - Rex Chiu)            4.52
23 Jonathan Bruno (Independent Fabrication/Channel Cafe)           5.20
24 Jeffrey Craddock (Ccb/Volkswagon)                               5.28
25 John Hanson (Nerac-Outdoorligts.Com Pro Cycling)                5.34
26 Justin Lindine (Windham Mountain Outfitters)                    5.36
27 Robert Giannini (Crca)                                              
28 Matt Demeis (Bikeman.Com)                                       5.46
29 Colin Eggleton (Wheelworks)                                     5.47
30 Andrew Freye (Bikeman.Com/Salsa Cycles)                         6.02
31 Ward Solar (Verge Sport/Test Pilot)                             6.19
32 Alex Whitmore (Harris Cyclery/Igleheart Frames)                     
33 Brad Sheehan (1K2Go.Com/S&W Sports Cycling Team)                    
34 Ryan Larocque (Team Bicycle Alley)                                  
35 Steve Weller (Cycle-Smart, Inc.)                                    
36 Noah Taylor (Rgm Watches - Richard Sachs - Rex Chiu)                
37 Kevin Wolfson (Dartmouth College Cycling)                           
38 Petter Rubijono (Harris/Igleheart)                                  
39 Sean O'rourke (Token Products/Tnmracing.Net)                        
40 Jeff Leake (Fts / Dave's Bike Shop)                                 
41 Dylan O'sullivan (Team Bicycle Alley)                               
42 Adam Sullivan (Caster's Majik Coffee P/B Apex Tech Group)           
43 Steve Wallace (Skirack)                                             
44 John Burns (Bikeman.Com)                                            
 
Elite Women 
 
1 Mackenzie Dickey (Verge Sport/Test Pilot)                       38.23
2 Rebecca Wellons (Gearworks/Spin Arts Cycling)                    0.16
3 Amy Wallace (Rgm Watches - Richard Sachs - Medford)              0.25
4 Betsy Shogren (Fort Factory Team)                                0.39
5 Perri Mertens (Harris Cyclery/Igleheart)                         0.53
6 Pauline Frascone (Independent Fabrication/Kempner)               1.06
7 Sara Cushman (Gear Works/Spin Arts)                              1.07
8 Melody Chase (Nhcc/Rhino Bikeworks)                              1.14
9 Marci Titus (Hall Desalvo Custom Cycles)                         1.23
10 Mandy Lozano (Cheerwine Cycling)                                1.45
11 Erica Yozell (Fort Factory Team)                                    
12 Kathleen Billington (Conn Coast Cycling Norwalk)                2.10
13 Marianne Stover (Independent Fabrication Thetford)              2.42
14 Heidi Von (Teitenbe C3/Adg/Joes Baltimore)                      2.55
15 Lisa Most (Wissahickon)                                         3.02
16 Kathryne Carr (Easthampton)                                     3.22
17 Callie Mcdowell (Velo Bella-Kona)                               3.23
18 Brenda Bahnson (Independent Fabrication)                        3.36
19 Rebecca Menke (Team International Bike/Nerac)                   3.48
20 Kate Scheider (Williams College/North Atlantic Velo)            4.00
21 Catherine Dudley (Putney/West Hill)                             4.44
22 Celeste Drumm (Fts/Dave's Bike Shop)                            5.08
23 Martha Wilson (Gear Works/Spin Arts Cycling Team)               6.14
 
B Men 
 
1 Andrew Boone (Tnmracing.Net / Token Products)                   41.04
2 Damien Colfer (Mechanical Services/Cycle Mania)                  0.09
3 Patrick Goguen (Ncc/Bikereg.Com)                                 0.15
4 Gary Douville (Nebc/Cycle Loft)                                  0.16
5 Ryan Rumsey (Bikeman.Com)                                            
6 Pete Smith (Essex County Velo)                                   0.34
7 Nathaniel Ward (Joe's Garage/Reynolds Composites)                1.05
8 John Peterson (Www.Bikebarnracing.Com)                           1.07
9 Dan Langlois (Circle A Cyclcross)                                1.09
10 Olivier Bordeleau (Xprezo)                                      1.15
11 Andrew Grabarek (Ccc- Keltic)                                   1.19
12 Sean Capizzo (Caster's/Majik Coffee P/B Apex Tech Group)        1.21
13 Matthew Purdy (North Atlantic Velo)                                 
14 Jonathan Awerbuch (Dartmouth College Cycling)                   1.22
15 Ryan Kelly (Unh Cycling/Team 201A)                              1.26
16 Jamie Pelletier (Ncc/Bikereg.Com)                               1.31
17 Ed Meyer (Dartmouth College Cycling)                                
18 Hunter Pronovost (Anthem Blue Cross & Blue Shield - Cccc)       1.54
19 Brian Rutter (Rb's Bait Shop)                                   1.57
20 Matt Budd (Budd Bike Works)                                     2.00
21 Joshua Lipka (Bca/Vomax)                                        2.05
22 Jon Rowe (North Atlantic Velo)                                  2.08
23 Joel Biederman (Cyclonauts Racers)                              2.10
24 Jeremy Dunn (Harris Cyclery/Igleheart Frames)                       
25 Pierre Vanden (Borre Hup United)                                2.13
26 Jeffrey Whittingham (Independent Fabrication)                       
27 Joshua Austin (201A)                                            2.31
28 Christopher Bagg (Putney Bicycle Club)                          2.34
29 Thom Parsons (Independent Fabrication)                          2.35
30 David Baxter (Casters/Majik Coffee P/B Apex Technology)         2.40
31 Kenny Ambach (Cyclonauts Racers)                                2.42
32 Sean Cavanaugh (Bethel Cycle)                                   2.43
33 Jeff Murray (Anthem Blue Cross & Blue Shield - Cccc)            2.45
34 Chris Mayhew (Wissahickon)                                          
35 Donald Snoop (Jr Vergesport/Test Pilot)                         2.48
36 Joe Cruz (North Atlantic Velo / Soul Cycles)                    2.53
37 Jeff Ferraro (Anthem Blue Cross & Blue Shield - Cccc)               
38 Greg Burbidge (Claremont Cycle Depot)                           3.01
39 Nate Simms (Nav/Classbook.Com)                                  3.02
40 Ethan Parsons (Ncc/Bikereg.Com)                                 3.04
41 Steven Morse (Bikeman.Com)                                      3.05
42 Ronnie Steers (Gamache Cyclery)                                 3.07
43 Corey Masson (Tnmracing.Net)                                    3.10
44 Colin H. (Murphy Essex County Velo)                             3.11
45 Alex Duggan (Umass)                                             3.17
46 Jason Perry (Cyclonauts Racers)                                 3.22
47 Shane Mulrooney (Velo Europa Cyfac)                             3.23
48 Mark Romanovsky (Hvvc/Dutchess Cars)                            3.26
49 Brant Hornberger (Ncc / Bikereg.Com)                            3.32
50 Adam Branfman (Nebc/Cycleloft)                                  3.33
51 Coley Bryan (Harborside Cycle)                                  3.34
52 Glenn Cook (Annies Homegrown)                                   3.54
53 Kevin Cummisford (Boston Road Club)                             3.59
54 Shane Kramer (Team Placid Planet)                               4.02
55 Tim Cook (Annie's Homegrown)                                    4.08
56 Justin Ziemba (Team International Bike/Nerac)                   4.13
57 Stephen Sontag (Hanover)                                        4.20
58 Jim Wirtanen (Harris Cyclery/Igleheart)                         4.24
59 Steve Simonds (Southern Maine Cycling Club)                     4.30
60 Ben Corbalis (Union Velo)                                       4.34
61 Keith Button (Noreast Cycling)                                  4.36
62 Marc Bavineau (Ecv)                                             4.40
63 Sam Stevens (Anthem Blue Cross & Blue Shield-Cccc)              4.41
64 Brian Walak (Dave's Bike Shop Fts)                                  
65 C. Greg (Robidoux Team International Bike/Nerac)                5.00
66 Tyson Parody (Ncc/Bikereg.Com)                                  5.03
67 John Dorfer (Veloshop)                                          5.13
68 Jacob Morrison (Silver City Cycling)                            5.19
69 Brian Walburn (Nashua)                                          5.26
70 Kyle Smith (Alan Factory Team)                                  5.33
71 Mike Bennett (Team International Bike/Nerac)                    5.37
72 Jack Madden (The Hub)                                           5.50
73 Richard Brown (Noreast Cycling)                                     
74 Wayne Maceyka (Boston Road Club)                                5.58
75 Brendan Sullivan (Team International Bike/Nerac)                6.06
76 Todd Crisafulli (North Atlantic Velo/Pedros)                    6.13
77 Chuck Nguyen (Bikeman.Com)                                      6.18
78 Drew Szeliga (Unh Cycling/Team 201A)                                
79 Anthony Parent (Anthem Blue Cross & Blue Shield - Cccc)         6.23
80 Eric Wemhoff (Nebc/Cycle Loft)                                  6.31
81 Scott Sullivan (Casters/Majik Coffee P/B Apex Technologies)     6.52
82 John Berlinger (Putney/ West Hill)                                  
83 Thomas Lebosquet (Unattached)                                       
84 Brendan Hanrahan (Providence Velo Club)                             
85 Matt Montross (Gmbc)                                                
86 Alexander Vaivars (Essex County Velo)                               
87 Mark Robson (Nerac-Outdoorlights.Com)                               
88 Dusty Adams (Mfs Racing)                                            
 
U19 Juniors 
 
1 Nicholas Keough (Cl Noonan/ Coast To Coast/ Kam)                35.01
2 Luke Keough (Cl Noonan/ Coast To Coast/ Kam)                         
3 Gavin Mannion (Ccb/Volkswagen)                                   0.37
4 Robert Schmidt (Cbrc)                                            2.17
5 Greg Carpenter (Devo Canton)                                     2.54
6 Manny Goguen (Union Velo)                                        3.42
7 Brad Perley (Trek/Cape-Able Bikes)                               3.57
8 Ryan Barlow (Alan)                                               5.20
9 Collin Huston (Southern Maine Cycling Club)                      6.08
10 Tommy Goguen (Union Velo)                                       7.48
11 Grant Reuter (Rt 44 Velo)                                       8.24
12 Jesse Keough (Cl Noonan/ Coast To Coast/ Kam)                       
13 Gabe Anthony (Ecv)                                                  
14 Jarred Reuter (Rt-44 Velo/Silver City)                              
15 Spencer Pero (Pbca)                                                 
16 Joshua Lehmann (Noreast Cycling)                                    
 
Cub Juniors 
 
1 Shawn Hudlin (Fts Racing)                                       13.57
2 Tommy Goguen (Union Velo)                                        0.12
3 Paul Lynch (Mystic Velo Club)                                    0.13
4 Ryan Packard (Quad Cycles / Arlington Bicycle Club)              0.16
5 Aaron House (Housatonic Wheel Club)                              0.27
6 Curtis White (Cbrc/Capital Bicycle Racing Club)                  0.32
7 Jarred Reuter (Rt-44 Velo/Silver City)                           0.47
8 Peter Goguen (Union Velo)                                        1.07
9 Jimmy Mucci (Fts /Dave's Bike Shop)                              1.08
10 Adam Hugabone (Fts Racing)                                      1.28
11 Austin Vincent (Unattached)                                     1.46
12 Caleb Anthony (Ecv)                                             3.25
13 Grant Reuter (Rt 44 Velo)                                       4.06
14 Alec Guay (Unattached)                                          4.35
15 Richard Vincent (Weatogue)                                      5.05
16 Sean Suprenant (Ccb Milford)                                        
17 Teresa Groton (Claremont Cycle Depot)                           7.04
 
B Women
 
1 Jennifer Stebbins (Dartmouth College Cycling)                   35.38
2 Erin Canniff (Team Harborside)                                   0.21
3 Kim Blodgett (International)                                     0.25
4 Hannah Kirshner (The Hub/Circle-A)                               0.43
5 Vicki Thomas (Ride With Rendall)                                 0.46
6 Alexandra Jospe (Colby Alum)                                     0.49
7 Colleen Flaherty (Fts/Dave's Bike Shop)                          0.50
8 Blake Fitch (Nebc/ Cylce Loft)                                   1.08
9 Rachel Brown (Harvard University Cycling Association)            1.13
10 Hanna Walton (Fts)                                              1.23
11 Erin Duggan (Velo Bella-Kona)                                   1.29
12 Mary Lynn (Wikar Fts/Dave's Bike Shop)                          1.49
13 Robin Shea (East End/Kreb Cycle)                                1.52
14 Jennifer Rhodes (Team International Bike/Nerac)                 2.02
15 Heidi Wakeman (Team Harborside Cycle)                           2.12
16 Janet Hayes (If)                                                2.37
17 Jak Kukla (Unh Cycling/Noreast)                                 3.00
18 Allison Snooks (Landry Bike)                                    3.05
19 Julie Lefebvre (Sturdy Girl Cycling)                            3.06
20 Lesli Stevens (Anthem Blue Cross & Blue Shield - Cccc)          3.12
21 Stacey Moseley (Ccb/Vw)                                         3.27
22 Janet Ramos (Nebc/Cycle Loft)                                   3.34
23 Bess Arendall (Birmingham)                                      3.52
24 Rebecca Zanconato (Hup United Worcester)                        4.11
25 Loraine Warner (Nebc)                                           4.23
26 Kristen Jeppesen (Putney/Westhill)                              4.33
27 Christina Lindsey (Philadelphia)                                4.49
28 Jessica Kates (Bully Dog Bikes)                                 4.50
29 Samantha Barlow (Cuevas/Act)                                    5.03
30 Jennifer Muto (Charlestown)                                     5.19
31 Katie 'Kmonster' (Dunn Tufts University)                        5.37
32 Amy Lane (Snickers Marathon)                                        
33 Kerry Combs (Independent Fabrication)                           6.06
34 Sarah Hart (Colby College Cycling)                              6.22
35 Elaine Debitetto (Boston Triathlon Team)                        7.13
36 Emily Smith (Hup United)                                            
37 Kate Baylis (Radsport)                                              
38 Pat Rosier (Bca)                                                    
39 Julie Lockhart (Nebc/Cycle Loft)                                    
40 Todne Texeira (Quadcycles)                                          
 
Masters 35+
 
1 Jonny Bold (Corner Cycle)                                       41.07
2 Michael Yozell (Fort Factory Team)                               0.08
3 Curt Davis (Fiordifrutta)                                        0.27
4 Sam Morse (Bicycle Link/Mbrc)                                    0.29
5 Greg Ferguson (Fort Factory Team)                                    
6 Gunnar Shogren (Fort Factory Team)                               0.54
7 Mark Stotz (Gearworks -- Spinarts)                               1.00
8 Sean Groom (Squadra Coppi/Im Saab)                               1.01
9 Ralf Warmuth (Highland Park Hermes)                                  
10 Keith Gauvin (Horst,Benidorm Prc)                               1.08
11 Troy Fenderson (Boston Scientific Cycling/Everactive Online)    1.16
12 Hines Gear (Works / Spin Arts)                                  1.18
13 Bussières Biogen (Idec Auberge La Goéliche)                     1.20
14 John Mosher (Bicycle Link/Mbrc)                                 1.32
15 Christopher Long (Independent Fabrication/Gotham)               1.36
16 Mark Gunsalus (Bikebarnracing.Com)                              1.38
17 Marc Boudreau (Ride With Rendall)                               1.57
18 Paul Curley (Gearworks / Spinarts)                              2.05
19 Stephan Marcoux (Louis Garneau/Ski Velo)                        2.07
20 Alan Starrett (Bikeman.Com)                                         
21 John Meerse (Hurricane Mountain Multisport)                     2.08
22 Curtis Boivin (Providence Velo)                                     
23 Wade Summers (Horst-Benidorm-Property Research Corp)            2.18
24 Chris Borrello (Gearworks/Spinarts)                             2.21
25 Eric Marro (Bob/Skofield Builders)                              2.26
26 Brian Cantele (Benidorm Bikes)                                  2.32
27 Christopher Burke (Providence Velo)                             2.40
28 Todd Bowden (Cvc)                                               2.51
29 Paul Lynch (Bicyclelink/Mbrc)                                   2.56
30 Bradley Patches (Gretna Bikes)                                  2.57
31 Tim Groesbeck (Ccb)                                             2.58
32 Michael Bernard (Gearworks/Spinarts)                            3.07
33 Aaron Millett (Essex County Velo)                               3.09
34 Kenny Shardlow (Bikebarnracing.Com)                             3.14
35 Scott Livingston (Horst-Benidorm-Property Research Corp.)       3.21
36 Eric Lemaire (Ski Velo / Vincent Renault)                       3.22
37 James Walsh (Cox Communications)                                    
38 Paul Boudreau (Essex County Velo)                               3.25
39 Scott Wade (West Hill/Putney)                                   3.26
40 Jeffrey Molongoski (Cyclonauts)                                 3.30
41 Robert Kramer (Alan Factory Team)                                   
42 Kris Auer (C3/Adg/Joes)                                         3.31
43 Matthew Myette (Cyclonauts Racers)                                  
44 William Sawyer (Gearworks - Spinarts)                           3.34
45 Jan Wiejak (Verge Sport/Test Pilot)                             3.52
46 Michael Cole (Minuteman Road Club)                              3.58
47 David Fredrickson (Westwood)                                    4.01
48 Thomas Butler (Ccb/Volkswagen)                                  4.10
49 Bob Bisson (Gear Works/Spin Arts)                               4.14
50 Keith Button (Noreast Cycling)                                  4.16
51 Alec Petro (Mbrc/Bike Link/Team Psycho)                             
52 Kevin Callahan (Bicycle Link/Mbrc)                              4.20
53 David Lyman (Union Velo Club)                                   4.24
54 Michael D. (Tucker Tosk/Berkshire Cycling Assoc.)               4.25
55 Harry Stover (Bikebarn Racing)                                  4.32
56 Matthew Domnarski (Horst-Benidorm-Property Research Corp.)      4.36
57 Cliff Summers (Cbrc)                                            4.38
58 Andrew Durham (Ccb/Volkswagon)                                  4.40
59 Bruce Bell (Gmbc/Catamount)                                     5.00
60 William Thompson (Bethel Cycle - Mcra)                          5.02
61 James Mcdonald (Ncc/Bikereg.Com)                                5.03
62 Chris Milliman (Hup United-Clif Bar)                            5.04
63 Martin Valiquette (Ski Vélo Vr)                                 5.08
64 M. Andrew (Ruiz Ccb/Volkswagen)                                 5.22
65 John Grenier (Bob/Skofield Builders)                            5.23
66 Chris Curven (Nav/Pedros)                                       5.24
67 Paul Weiss (Portland Velo Club)                                 5.26
68 Bob Lesmerises (White Mountain Velo)                            5.28
69 Gary Aspnes (Horst-Benidorm-Property Research Corp.)            5.36
70 Steven Bonadio (Arc-En-Ciel Racing Team)                        5.40
71 Gene Petrella (Ccb/Volkswagon)                                  5.46
72 Doug Aspinwall (Joe's Garage/Reynolds Composites)               5.49
73 Timothy Shea (Bob / Skofield Builders)                          5.51
74 Nate Simms (Bicycle Link/ Mass Bay Road Club)                   5.53
75 Eric Derivera (West Boylston)                                   5.57
76 Peter Crowley (Ncc / Bikereg.Com)                               6.03
77 David Leedberg (Gearworks / Spin Arts)                          6.05
78 Barry Doubleday (Mass Bay Road Club)                            6.25
79 Wayne Cunningham (Nebc/Cycle Loft)                              6.35
80 Chris Evans (Wissahickon)                                       6.36
81 Brian Walburn (Nashua)                                          0.45
82 Geoff Sullivan (Eastern Bloc Cycling Club)                      0.46
83 Carl Ring (Nhcc/ Team Nh)                                       0.43
84 Alan Douglass (Cyclonauts Racers, Inc.)                         1.30
85 Steven Kane (Byron Lake)                                        1.39
86 Richard Sachs (Rgm Watches- Richard Sachs - Rex Chiu)           1.10
87 John Munhall (Meredith Group Gpoa)                              2.52
88 Jay Mongillo (Ccc/Keltic Contruction)                           3.46
 
C Men 
 
1 James Newton (Nerac.Com / International Bike Centers)           33.02
2 Paul Novotasky (Jr. Pig Iron Sports)                             0.29
3 Timothy Mather (Pig Iron Sports)                                 0.34
4 Daniel Owen (Cbrc)                                               0.47
5 Eric Silva (Tufts University)                                    0.53
6 Zachary Wills (Alan Factory Team)                                1.00
7 Oscar Jimenez (Nebc/Cycleloft)                                   1.05
8 Mike Zanconato (Hup United)                                      1.15
9 Michael Sheehan (Gmbc/Catamount)                                 1.33
10 Eric Schillinger (Nycross.Com/Cbrc/Federal Stafford Loans)          
11 Jonathan Parrott (Bicycles Unlimited)                               
12 Dan Ouellette (Gamache Cyclery)                                 1.38
13 John Wilde (Harvard U Cycling)                                  1.44
14 Chris Butler (Butler Furniture/Gear Works)                      1.50
15 Matt Carpenter (Ebcc/Benidorm)                                      
16 Stephen Wright (Minuteman Road Club)                            1.53
17 Gary David (Minuteman Road Club)                                1.57
18 Tom Buttner (Verge Sport/Test Pilot)                            2.02
19 Keith Reynolds (Nebc/Cycle Loft)                                2.07
20 Miles Ericson (Eastern Bloc)                                    2.10
21 Robert Tyszko (Team Nhcc/New Hampshire Cycling Club)            2.11
22 Brian Croteau (Noreast Cycling)                                 2.13
23 Jack Hayden (Unattach)                                          2.14
24 Matthew Snow (Targetraining)                                    2.16
25 Graeme Street (Team Cyclo-Core.Com)                             2.17
26 David Loszewski (Bob/Skofield Builders)                         2.34
27 John Bache (Providence)                                             
28 Scott Gerstl (Natick)                                           2.38
29 Justin Roth (Harriscyclery/Igleheart)                               
30 Art Baril (Minuteman Road Club)                                 2.49
31 Joshua Jamner (Colby College Cycling)                               
32 Cort Cramer (Ccv)                                               2.53
33 Jeff Fowler (Ncc / Bikereg.Com)                                     
34 Michael Meuse (Team Harborside Cycles)                          2.54
35 Christopher Owen (Leverett)                                     2.56
36 Anthony Maressa (Umass Amherst Bike Racing)                         
37 Joseph Tramontero (Ccc)                                         2.58
38 Keith Liggett (Cyclonauts)                                      3.06
39 Matthew Knight (Nebc)                                           3.07
40 Kenneth Hamel (Afd/Osvc)                                        3.20
41 David Goodwin (Ncc / Bikereg.Com)                               3.25
42 Robby Cuthbert (Berkshire Cycling Association)                  3.30
43 David Terrell (Springfield Bicycling Club)                      3.35
44 Jeff Lukach (Univ Of New Hampshire)                             3.39
45 Steen Sawyer (Minuteman Road Club)                              4.03
46 Paul Crowley (Jr Missing Link Bicycle Club)                     4.07
47 Nathan Pfeifer (Unattach)                                       4.17
48 Richard Person (Minuteman Road Club)                            4.20
49 James Dutko (Capital Bicycle Racing Club (Cbrc))                4.42
50 John Witmer (Gmbc/Catamount)                                    4.59
51 Drew Procyk (Mystic Velo)                                           
52 Geoffrey House (Housatonic Wheel Club)                              
53 Thomas Needham (Pepperell)                                      5.03
54 Christopher Kielb (Ncc / Bikereg.Com)                           5.06
55 Paul Yeomans (Team Wayfarer)                                    5.08
56 Thomas Hoogendyk (Holyoke)                                      5.42
57 Charlie Roberts (Minuteman Road Club)                               
58 David Powell (Unattach)                                         5.52
59 Martin Wright (Harriscyclery/Igleheart)                         6.00
60 John Torrey (Agawam)                                            6.01
61 Michael Lowry (Minuteman Road Club)                             6.05
62 Steven Robbins (Ncc)                                            6.15
63 Jake Colvin (Unattach)                                          6.21
64 Jim Lynch (Mystic Velo Club)                                    6.22
65 Walter Rowland (Butler Dfl Racing/ Gutterball Inc.)             7.08
66 David Elliston (Gioia Designs)                                  7.09
67 Chris Schickler (Competitive Edge)                              7.11
68 Ken Scott (Waltham)                                             7.27
69 Christopher Mcqueen (Rushin' Revolution)                        7.42
70 Brian Bicki (Team Hawaiian/ Peloton Bicycle)                    7.53
71 Brad Herder (Bca)                                               8.47
72 Jason Clark (Amgen Cycling)                                         
73 Scott Sweeney (Stow)                                                
74 Matt Juros (Essex County Velo)                                      
75 Vincent Galantro (Unattach)                                         
76 Chris Dever (Velo Europa-Cyfac)                                     
77 Tim Burton (Madison)                                                
78 Patrick Douglass (Cyclonauts Racers, Inc.)                          
79 Peter Vanlieu (Unattach)                                            
 
B Masters/45+
 
1 Aaron Richer (Team Pinnacle)                                    33.38
2 Michael Keough (Cornercyclecyclingclub)                          0.09
3 Steve Witkus (Blackstone Valley Velo/Thepeloton.Net)             0.24
4 Royce Yeomans (Cyclonauts Racers)                                0.33
5 Christopher Evans (Ncc / Bikereg.Com)                            0.46
6 Peter Collins (Collins Crane & Rigging)                          0.51
7 Christopher Cyr (Bikeman.Com)                                    1.02
8 Derek Griggs (Recycled Sports)                                   1.06
9 Mike Czupryna (First State Velo Sport)                           1.08
10 Kevin Kerwood (Ncc / Bikereg.Com)                               1.09
11 Anthony Pace (Eastern Bloc Cycling Club)                        1.15
12 Mark Suprenant (Ccb/Volkswagen)                                 1.22
13 Bill Doonan (Nebc/Cycleloft)                                    1.27
14 Barry Groton (Claremont Cycle Depot)                            1.31
15 Dan Stasz (Joe's Garage / Reynolds Composites)                      
16 Jay Bartlett (Hup United)                                           
17 John Schwarz (Unattached)                                       1.35
18 Wayne Barlow (Coyote Hill)                                      1.41
19 Scott Roy (Bicycle Link Mbrc)                                   1.50
20 Ned Connell (Putney/West Hill)                                  1.51
21 George Gagnon (Naults.Com)                                      1.54
22 David King (Ccb/Volkswagen)                                     1.56
23 John Stonebarger (Mbrc/Bicycle Link)                            2.01
24 Theo Kindermans (Cyclocrossworld)   	                           2.02
25 John Baker (Putney/Westhill)                                    2.03
26 John Laupheimer (Nebc/Cycleloft)                                2.04
27 Jerry Chabot (Thejonathanpage.Com)                                  
28 Charles Bourdages (Kittery)                                     2.10
29 Mark Lescault (Team Gearworks/Spinarts)                         2.20
30 Matt Daly (South Glens Falls)                                   2.21
31 Stuart Boyd (Essex County Velo)                                 2.36
32 Christopher Kadlick (Minuteman Road Club)                       2.46
33 Robert Davenport (Richmond)                                     2.49
34 John Plump (Quad Cycles/Arlington Bike Club)                    2.54
35 Richard Morin (Union Velo)                                      2.55
36 Joseph Lellman (Ncc / Bikereg.Com)                                  
37 Robert Bauer (Minuteman Road Club)                              3.17
38 Kevin Young (Minuteman Road Club)                               3.20
39 Jorge Hernandez (Minuteman Road Club)                               
40 Michael Whitfield (Nhcc/Team Nh)                                3.24
41 Paul Crowley (Sr Missing Link Bicycle)                              
42 Joseph Barroso (Providence Velo)                                3.25
43 Theodore Essenfeld (Essenfeld Enterprises/Uss Guardian)         3.26
44 Ken Coleman (Housatonic Wheel Club)                             3.32
45 Arnold T. (Kalmbach Bicycle Link /Mass Bay Road Club)           3.34
46 Jay Downs (Fort Factory Team)                                   3.46
47 Lawrence King (Providence Velo)                                 3.47
48 Randy Taylor (Laurel)                                           3.54
49 Donald Catlin (Tokeneke Road Club)                              4.27
50 Joe Sconzo (Capital Velo Club/Vernon Cycle)                     4.36
51 Don Rice (Ccb/Volkswagen)                                       4.38
52 Paul Brais (Peleton Bike)                                       4.52
53 David Drumm (Fts/Dave's Bike Shop)                              4.57
54 Frank Dionisio (Kissena Cycling Club)                           5.08
55 Paul Debitetto (Boston Triathlon Team)                          5.17
56 Jeff Papineau (Cyclonauts)                                      5.31
57 Jim Merrifield (Bca/Vomax)                                      6.06
58 Christopher Mapel (Unattached)                                      
59 Jack Chapman (Nault's Cyclery/Naults.Com)                           
60 Keith Andree (Laurel)                                               
61 Christopher Duffey (Bicycle Link)                                   
 
Masters 55+ 
 
1 Bannister Phillip (Putney/West Hill)                            33.44
2 Edward Hamel (Ncc/Bikereg.Com)                                   1.01
3 Kent Webster (Putney/West Hill)                                  1.04
4 Bruce Mccowan (Arc En Ciel Racing Team / Mcra East Greenwich)    1.39
5 David Rath (Gmbc/Catamount)                                      1.58
6 David Genest (Rgm Watches - Richard Sachs - Rex Chiu)            2.22
7 Dave Beals (Cbrc)                                                2.46
8 James Themig (Mystic Velo Mcra)                                  2.51
9 Craig Walton (Housatonic)                                        3.10
10 Jim Quinn (The Bicycle Link/Mbrc)                               3.13
11 Hunt Barrows (Rgm Watches - Richard Sachs - Rex Chiu)           3.24
12 Joseph Collins (Brownsville)                                    3.35
13 Clive Woakes (Competitive Edge/Arc)                             3.50
14 Joe Hepp (Southern Maine Cycling Club)                          4.02
15 Dan Tieger (Essex County Velo)                                  4.40
16 Jim Dowling (Maine Cycling Club/Rainbow)                            
17 Herbert Bates (Naults.Com)                                          
18 Donald Snoop (Hang On Snoopy Racing)                                
19 Bill Hart (Unattached)                                              
20 Vincent Donohue (Worcester Cycling Club)                            
21 Russell Brooks (Naults Cyclery/Naults.Com)                          

Past winners


     Men                             Women

2005 Mark McCormack (USA)            Lyne Bessette (Can)
2004 Mark McCormack (USA)            Mary McConneloug (USA)
2003 Jackson Stewart (USA)           Carmen D'aluisio (USA)