Cyclo-Cross World Cup #8 - CDM
Milan, Italy, December 8, 2006
Wellens the new master
By Laura Weislo, with additional reporting from Brecht Decaluwé
Bart Wellens (Fidea Cycling Team)
Photo ©: Roberto Bettini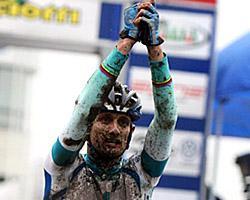 The 'master of the mud', Sven Nys, has been dethroned in Italy by his compatriot, Bart Wellens. Wellens showed that he, too, can be king in bad conditions, as he powered away early on, and then kept extending his lead throughout the race.
Beaming with joy at the finish while being congratulated by his family and girlfriend Lentel, Wellens told Sporza TV: "I had to wait for this moment for so long but now I'm enjoying really great sensations. This is my first big win of the season, being only my third victory actually. I got the victory on a nice course and in my opinion I did it in a great way in a man-to-man duel; this is really moral boosting."
The Belgian then explained his fierce tactics at the beginning: "That wasn't planned but I decided to pull through anyway," he said. "Only when I started the ultimate lap I realised the victory was for me."
Wellens has tried the early attack before only to be overhauled by Nys midway through the race, but this time his gamble paid off. Nys, who found himself too far back after a furious start by the Fidea team, got caught up behind Erwin Vervecken, who had some trouble on one of the many short, steep climbs.
The UCI points leader wasn't too disappointed after being beaten by his career long rival. "I shouldn't be apologising for a second place in a world cup race," he said. "I just didn't have the legs I hoped for, while Bart had a really good day. If I would've been riding on my normal level, we would've seen a great race."
Sven Nys re-mounts
Photo ©: Roberto Bettini

Nys settled into a chase group with Sven Vanthourenhout and Klaas Vantornout (Fidea), but after seeing Wellens extend his lead on lap two, Nys set off in pursuit. "I tried to close the gap until it reached 30 seconds, I realised I kept losing time each lap. At that moment you need to be smart and focus on second place," Nys explained. But Wellens, the 2003 and 2004 world champion, had re-found his confidence and his good form, and just kept extending his lead until the final lap
Coming into the final stretch, Wellens he had more than a minute to clean the mud off his sponsor's logo and salute the crowd after taking his first world cup victory of the season. Nys sprinted in just ahead of his Rabobank teammate Sven Vanthourenhout, and Frenchman Francis Mourey.
Vanthourenhout confirmed that his form is going in the right direction, despite being unable to grab a big win this season. "I was the best of the pursuers," he said. "That third place is not a victory but it gives me a good feeling. It's going alright but you can't just order a win. Right now Nys and Wellens are at a level higher than the rest."
How it unfolded
The start in Milan was more like a typical Belgian day than an Italian one - light rain, cold temperatures, and the riders faced a course riddled with thick mud puddles and steep, slippery climbs. Crowds along the course were uncharacteristically sparse for a world cup round, perhaps reflecting the decreased interest in cyclo-cross in the land of retired/unretired world champion Daniele Pontoni, or maybe due to a lack of desire to don the necessary rubber boots in the fashion capital of Italy? The crowd that was in attendance was treated to a battle royale.
From the gun, Fidea team's Klaas Vantornout rocketed down the paved straight-away with his teammate Wellens right behind. The pack reached the first muddy slope at full gas, with UCI leader Sven Nys, winner of five of the seven previous world cups, nestled mid-pack as Vantornout set a blistering early tempo out front. At such a high pace, any small mistake can seriously impact the race outcome, and a bobble by world champion Erwin Vervecken held up Nys at a critical moment, delaying his move to the front.
Meanwhile, Wellens was clearly on excellent form today, and may have been heeding the advice of former Belgian national coach Eric De Vlaeminck, who earlier this week criticised Nys' tendency to ride in a controlled and unexcitable manner. De Vlaeminck said on Sporza radio, "If you want to be world champion, you have to get angry." Wellens had a spark of that fury as he stomped out of the pack and up to Vantornout, quickly catching and passing the 24 year old neo-pro.
An all-Belgium podium
Photo ©: Roberto Bettini

By the end of the second lap, Nys was about 15 seconds behind with Sven Vanthourenhout and Vantornout, and trailed by the Francis Mourey, winner of the last Italian world cup round. As Wellens extended his lead, Nys rode the two 'Vans' off his wheel, and went off in pursuit.
Out front, Wellens maintained his spry, powerful gait, while Nys looked uncharacteristically heavy in the legs, and by the fifth lap, it became clear that Nys was not on his usual form. The relentless tempo of Wellens cracked Nys, and he faded back to 45 seconds at the end of lap six. In the closing laps, it looked as if Nys might be caught by the chase of Vantornout, Vanthourenhout and Mourey, but at this point, Nys' unexcitable style served him well, and he held on to take second place by a handful of seconds over Vanthourenhout.
Photography
For a thumbnail gallery of these images, click here
Images by Roberto Bettini/www.bettiniphoto.net
Images by Tricarico Davide/www.laborraccia.it
Results

1 Bart Wellens (Bel) Fidea Cycling Team              1.06.19
2 Sven Nys (Bel) Rabobank                               1.03
3 Sven Vanthourenhout (Bel) Rabobank                    1.08
4 Francis Mourey (Fra) Française Des Jeux               1.14
5 Klaas Vantornout (Bel) Fidea Cycling Team             1.21
6 Kevin Pauwels (Bel) Fidea Cycling Team                1.42
7 Gerben De Knegt (Ned) Rabobank                        1.58
8 John Gadret (Fra) Ag2r-Prevoyance                     2.47
9 Kamil Ausbuher (Cze) Cyklo Team Budvar Tábor          2.50
10 Bart Aernouts (Bel) Rabobank                         2.55
11 Christian Heule (Swi) Stevens Racing Team            3.00
12 Thijs Al (Ned) Bejan-Rings                           3.03
13 Maarten Nijland (Ned) Eurogifts.Com                  3.20
14 Wilant Van Gils (Ned) ZZPR.nl
15 Erwin Vervecken (Bel) Fidea Cycling Team             4.25
16 Davy Commeyne (Bel) Palmans-Sapim-Collstrop
17 Radomir Simunek (Cze)                                4.50
18 Simon Zahner (Swi)                                   4.55
19 Marco Aurelio Fontana (Ita)                          5.05
20 Alessandro Fontana (Ita)                             5.12
21 Marco Bianco (Ita)                                   5.15
22 Ryan Trebon (USA) Kona                               5.34
23 Malte Urban (Ger) Stevens Racing Team                5.55
24 Arnaud Labbe (Fra) Bouygues Telecom                  6.22
25 Zdenek Mlynár (Cze) Max Cursor                       6.30
26 Steve Chainel (Fra)                                  7.00
27 Ronald Mutsaars (Ned)                                7.55
28 Alexander Moos (Swi)                                 8.23
One lap behind
29 Jan Chrobák (Cze) Johnson Controls AS MB
30 Jan Ramsauer (Swi) Vc Hittnau
31 Darius Gil (Pol) Paged-MBK-Scout
32 Joachim Parbo (Den) Cycling Aarhus
33 Marius Gil (Pol) Strzelce Krajenskie
34 Tim Van Nuffel (Bel) AVB Asbestverwijdering
35 Unai Yus (Spa)
36 Camiel Van Den Bergh (Ned) Stevens Racing Team
37 Andreas Moser (Swi)
38 Oscar Vazquez (Spa)
39 Santiago Armero (Spa)
40 Luca Damiani (Ita)
41 Paolo Pavoni (Ita)
42 Antonio Ortiz Barranco (Spa)
43 Mauro Gonzalez Fontana (Spa)
DNF Alessandro Grandi (Ita)
DNF Roland Morx (Aut) Arbo Hypobank Stattersdf.
DNF Gerhard Krenn (Aus)
DNF Peter Presslauer (Aut) Stevens Racing Team
DNF Thorsten Struch (Ger)
DNF Stefano Boggia (Ita)
DNS Stefano Toffoletti (Ita)