Cyclo-Cross World Cup #3 - CDM
Pijnacker, Netherlands, November 13, 2005
Nys continues World Cup run
Sven Nys
Photo ©: Roberto Bettini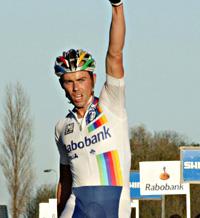 Can anyone stop Rabobank's Sven Nys? That's the question his competition is asking after the Belgian cyclo-cross ace took his sixth consecutive World Cup victory in Pijnacker on Sunday. Nys made it three-for-three in this season's series by defeating Richard Groenendaal Rabobank) and Gerben De Knegt (AA drink-Bejan), who were the only riders to stay with Nys.
Nys took the lead after a quarter of the race, with Groenendaal and De Knegt chasing hard a short distance behind. From the trailing pack, Sven Vanthourenhout (Rabobank) attempted to bridge the gap, but his efforts came to nothing and he concentrated on hanging on to fourth place as the rest of the field disappeared.
Groenendaal and Nys worked together to build a lead with De Knegt hanging on. Nys said afterwards that he had tried to let De Knegt through to take a turn on the front, but the Dutchman was content to settle for third. "Apparently that was the highest place feasible for him," said Nys.
Behind the lead trio the battle was on for fourth. Enrico Franzoi (Lampre - Caffita) looked strong but faded toward the finish as Vanthourenhout proved the fastest of the chasers.
Photography
For a thumbnail gallery of these images, click here
Images by Roberto Bettini/www.bettiniphoto.net
Images by Russ and Nancy Wright/www.abbiorca.com
Images by Nadine Vos/www.nvos.dds.nl
Results
Elite men
 
1 Sven Nys (Bel) Rabobank                             1.02.33
2 Richard Groenendaal (Ned) Rabobank                     0.04
3 Gerben De Knegt (Ned) AA drink-Bejan                   0.16
4 Sven Vanthourenhout (Bel) Rabobank                     1.05
5 Erwin Vervecken (Bel) Fidea Cycling Team                   
6 Tom Vannoppen (Bel) Palmans-Sapim-Collstrop                
7 John Gadret (Fra) Chocolade Jacques                        
8 Bart Aernouts (Bel) Rabobank                               
9 Petr Dlask (Cze) Empella Czech Team                        
10 Enrico Franzoi (Ita) Lampre - Caffita                 1.10
11 Bart Wellens (Bel) Fidea Cycling Team                 1.20
12 Kamil Ausbuher (Cze) Cyklo Team Budvar Tábor          1.30
13 Davy Commeyne (Bel) Palmans-Sapim-Collstrop           1.33
14 Christian Heule (Swi) Stevens Racing Team             1.46
15 Radomir Simunek (Cze)                                 1.52
16 Jonathan Page (USA) Cervélo                           1.56
17 Eddy Van Yzendoorn (Ned)                                  
18 Zdenek Stybar (Cze) Fidea Cycling Team                    
19 Michael Baumgartner (Swi)                                 
20 Tim Van Nuffel (Bel) AVB Asbestverwijdering           2.03
21 Wilant Van Gils (Ned) ZZPR.nl                         2.31
22 Simon Zahner (Swi)                                    2.45
23 Thijs Al (Ned) B & E Cycling Team                     2.53
24 David Derepas (Fra)                                       
25 Malte Urban (Ger) Stevens Racing Team                     
26 Vladimir Kyzivat (Cze)                                3.08
27 David Seco Amundarain (Spa)                           3.13
28 Bart Dirkx (Ned) AA drink-Bejan                           
29 Ondrej Lukes (Cze) Johnson Controls                       
30 Jens Schwedler (Ger) Stevens Racing Team                  
31 Rafael Visinelli (Ita) V.C. Bologna                       
32 Thorsten Struch (Ger)                                 4.01
33 Peter Presslauer (Aut) Stevens Racing Team                
34 Wim Jacobs (Bel) Fidea Cycling Team                   4.12
35 Marco Fontana (Ita)                                   4.21
36 Ryan Trebon (USA)                                     4.26
37 Camiel Van Den Bergh (Ned) Stevens Racing Team        4.30
38 Tadeusz Korzeniewski (Pol)                            4.33
39 Jean-Pierre Leyten (Ned)                              4.35
40 Marco Bianco (Ita)                                    4.56
41 Jeremy Powers (USA) Jelly Belly - Pool Gel            5.19
42 Marek Cichosz (Pol)                                       
43 Isaac Suarez Fernandez (Spa)                          5.32
44 Stefano Toffoletti (Ita)                              5.35
45 Fabian Brezinski (Ger)                                    
46 Joachim Parbo (Den) Cycling Aarhus                    5.40
47 Václav Metlicka (Svk) Team Kral R.C. Pfeil Hof E.V    5.56
48 Marco Aurelio Fontana (Ita)                           6.56
 
Women
 
1 Daphny Van Den Brand (Ned) ZZPR.nl                    39.07
2 Marianne Vos (Ned)                                     0.40
3 Maryline Salvetat (Fra) Lapierre International             
4 Birgit Hollmann (Ger)                                  1.14
5 Helen Wyman (GBr)                                      1.21
6 Laurence Leboucher (Fra) Heijdens-Ten Tusscher         1.59
7 Reza Ravenstein (Ned)                                  2.11
8 Arenda Grimberg (Ned) Therme Skin Care                 2.14
9 Daniela Bresciani (Ita)                                2.37
10 Nicol Kampeter (Ger)                                      
11 Anja Nobus (Bel)                                      2.52
12 Susanne Juranek (Ger)                                     
13 Nadia Triquet (Fra)                                   2.54
14 Christel Ferrier-Bruneau (Fra)                        3.11
15 Joyce Vanderbeken (Bel)                               3.38
16 Nicole De Bie- Leyten (Ned)                           3.54
17 Loes Gunnewijk (Ned) Vrienden Van Het Platteland      4.28
18 Loes Sels (Bel) Vlaanderen-Capri Sonne-T Interim      4.36
19 Annabella Stropparo (Ita)                             4.39
20 Milena Cavani (Ita)                                   4.41
21 Katrien Pauwels (Bel)                                 5.08
22 Britt Jochems (Ned)                                   5.26
23 Anne Kathrin Nitzsche (Ger)                           5.36
24 Isabella Hoffman (Lux)                                5.58
25 Katrien Aerts (Bel)                                   6.17
26 Stefanie Gronow (Ger)                                 7.01
27 Caroline Peteghem van (Bel)                               
28 Mika Ogishima (Jpn)                                       
 
Under 23
 
1 Niels Albert (Bel) Palmans-Sapim-Collstrop            53.07
2 Kevin Pauwels (Bel)                                    1.24
3 Rob Peeters (Bel)                                      1.26
4 Jan Soetens (Bel)                                      2.25
5 Finn Heitmann (Ger) Stevens Racing Team                2.53
6 Felix Gniot (Ger)                                      2.57
7 Daan De Jonge (Ned)                                    2.58
8 Rikke Dijkxhoorn (Ned)                                     
9 Rik Van Yzendoorn (Ned)                                    
10 Jan Van Dael (Bel)                                    3.00
11 Joerie Cauwenhoven (Bel)                                  
12 Bart Verschueren (Bel)                                    
13 Jerry Kallenfels (Ned)                                    
14 Frank Van Grootel (Ned)                                   
15 Guus Machielse (Ned)                                      
16 David Claerebout (Lux) LG Alzingen                        
17 Lorene Plichak (Pol)                                      
18 Joost Springintveld (Ned)                                 
19 Jorn Van Veen (Ned)                                       
20 Adam Bycka (Pol)                                          
21 Konrad Opitz (Ger)                                        
22 Frank Sikking (Ned)                                       
23 Remco Kuijlenburg (Ned)                                   
24 Pieter Homan (Ned)                                        
 
Juniors
 
1 Dennis Vanendert (Bel)                                38.03
2 Ramon Sinkeldam (Ned)                                      
3 Geert Van Der Sande (Ned)                              0.11
4 Mitchell Huenders (Ned)                                0.35
5 Savié Van Horik (Ned)                                  0.37
6 Sylvester Janiszewski (Pol)                                
7 Jordy Beuker (Ned)                                     0.39
8 Jeroen Dekkers (Ned)                                   0.41
9 Coen Vermeltfoort (Ned)                                0.45
10 Jordy van Erp (Ned)                                   0.48
11 Remco Broers (Ned)                                        
12 Stephan Sprinke (Ger)                                     
13 Rob van der Velde (Ned)                                   
14 Julian van Dijk (Ned)                                     
15 Edwin Arts (Ned)                                          
16 Twan van den Brand (Ned)                                  
17 Mark Smit (Ned)                                           
18 Richard van Loon (Ned)                                    
19 Adri Nugter (Ned)                                         
20 Pjotr Antkoviak (Pol)                                     
21 Joël Bakker (Ned)                                         
22 Christopher Janssens (Ned)                                
23 Ferdy Gerritse (Ned)                                      
24 Luuk van Vliet (Ned)                                      
25 Jetse Bol (Ned)                                           
26 Ritchie Motké (Ned)                                       
27 Raymond Gaasbeek (Ned)                                    
28 Umberto Atzori (Ned)                                      
29 Christiaan Rijn de (Ned)                                  
30 Tommy Groffen (Ned)                                       
31 Ricardo Robben (Ned)                                      
32 Nico Thomas Gollnick (Ger)                                
33 Jake Griffin (Ned)                                        
34 Stefan Edema (Ned)                                        
35 Soren Quaadgras (Ned)                                     
36 Michael Sterk (Ned)                                       
37 Bryan van Rijswijk (Ned)                                  
38 Daddi Alazzawi (Ned)                                      
39 Kars Dorrepaal (Ned)                                      

World Cup standings after round 3
1 Sven Nys (Bel) Rabobank