CCCP - Cyclo Cross at Coyote Point - C1
California, USA, December 5, 2004
Frischknecht and Hall sweep Coyote Point weekend
Thomas Frischknecht
Photo ©: Mitch Clinton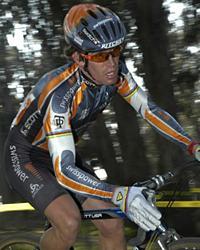 It didn't matter which direction each days course went - Saturday clockwise, Sunday counter-clockwise, the results were the same with Swiss former World Champ and MTB legend Thomas Frischknecht recording a second straight win in the weekend doubleheader on the beach course and Gina Hall duplicating her Saturday win in front of her parents with a carbon-copy runaway.
Sunday's course ran in an almost complete reverse of Saturday's circuit - except for the addition of the infamous 150 yard stretch of the beach on San Francisco Bay. Summer tidal action stole much of the deep sand and those unexpected high tides actually hardened the last 75 meters where most riders could remount. And reversing the course exposed significantly different berms - cambered corners on Saturday suddenly became slow paced off-cambered monsters inside the eucalyptus forest.
The Elite Men's race started with the usual Kona chain curse - Saturday it was Barry Wick's turn at bad luck where his chain jammed on the first lap. Sunday it was Ryan Trebon's first run on the beach - as he remounted, he lost the chain and watched 20 riders pass before he got the transmission glued back together. The train had left the station with the heads of state in 1st class - Wells, Wicks, Stewart, Tonkin, Jacques-Maynes and that Swiss guy. One more lap and Trebon had moved into 10th and on the third lap he rejoined the leaders. Stewart clanged into the Fizik corner at the beginning of the beach run and knocked the whole steel fence and banner assembly almost into the bay. Shaken and stirred but mostly chagrinned, he was never able to regain the leaders. For Jacques-Maynes, it was two flats that killed his chances. For the final three laps, the music was Russian Army songs and it played loudly for the finalists - Wells and Frischknecht in the Kona sandwich of Trebon and Wicks. And for the finale the song was a Swiss melody as Frischi smoked them again - plenty of time to play to an appreciative adopted audience of Northern California fans.
Gina Hall followed Saturday's script - quick acceleration on the first lap and ride a clean race - no mistakes, perfect entry and exit from the beach, and oodles of power on the paved sections. The Velo Bella gang posse was close all day with Christine Vardaros regaining her early season form and closing to less than a minute at the finish and Canadian Wendy Simms tuning her next ride to the World's with a strong third place.
Photography
Images by Mitch Clinton/www.clintonphoto.com
Images by Russ & Nancy Wright/www.abbiorca.com
Images by Garret Lau/www.pbase.com/garrettlau
Results

Elite Men
 
1 Thomas Frischnecht (Swi)                   59.47
2 Ryan Trebon (USA)                           0.06
3 Todd Wells (USA)                            0.18
4 Barry Wicks (USA)                           0.39
5 Erik Tonkin (USA)                           1.41
6 Justin Robinson (USA)                       2.54
7 Travis Brown (USA)                          3.13
8 Ben Jacques-Maynes (USA)                    3.34
9 Jackson Stewart (USA)                       3.57
10 Brent Prenzlow (USA)                       4.04
11 John Funke (USA)                           4.10
12 Aaron Odell (USA)                          4.16
13 Cameron Falconer (USA)                     4.40
14 Dan O'Sullivan (USA)                       4.43
15 David Wyandt (USA)                         5.02
16 Benoit Simard (Can)                        5.43
17 Robert Saybolt (USA)                       5.47
18 Dean Dealy (USA)                           7.03
19 John Frey (USA)                            7.04
20 Troy Barry (USA)                           7.31
21 Pascal Bussieres (Can)                     7.54
22 Jeff Herring (USA)                         8.03
23 Phil Roberts (USA)                         8.14
24 Lance Doherty (Can)                        8.20
 
One lap behind
 
25 Rick Hunter (USA)                              
26 Brett Hondorp (USA)                            
27 Jeffrey Hantman (USA)                          
28 John Behrens (USA)                             
29 Benjamin Dodge (USA)                           
30 Nick Agate (USA)                               
31 Andy Brooks (USA)                              
32 Anastasio Flores (USA)                         
DNF Joshua Snead (USA)                            
DNF Shannon Skerritt (USA)                        
 
Elite Women
 
1 Gina Hall (USA)                            42.47
2 Christine Vardaros (USA)                    0.37
3 Wendy Simms (Can)                           1.07
4 Barbara Howe (USA)                          1.53
5 Melodie Metzger (USA)                       2.47
6 Erin Kassoy (USA)                           3.15
7 Hillary Daniels (USA)                       3.53
8 Sarah Kerlin (USA)                          4.54
9 Linda Elgart (USA)                          4.55
10 Kathleen Hannon (USA)                      5.03
11 Lauren Constantini (USA)                   5.09
12 Hollie McGovern (USA)                      5.13
13 Cat Malone (USA)                           5.19
14 Sheila Moon (USA)                          9.56
 
Junior Men
 
1 Mitchell Peterson (USA)                    40.29
2 Adam Switters (USA)                         0.57
3 Eric Riggs (USA)                            1.23
4 Michael Hosey (USA)                         3.18
 
B Men
 
1 Jeremy Shrow (FreeWheel)                   42.10
2 Preston Tucker (Missing Link)                   
3 John Kammeyer (Redline/Ritchey)             0.12
4 Martin Suro (Desalvo Castor Cycle)          0.17
5 Matt Kramer (Stan's)                        0.22
6 Damon Pettinger (White Jersey)              0.27
7 Cesar Chavez (BuyCell.com)                  0.37
8 Robert Mau                                  0.38
9 Jessee Mayberry (Redline/Ritchey)           0.46
10 Robert Godar (Huangoche)                   0.51
11 Aaron Beardsley (Big Swingin Cycles)       0.52
12 Reed Maxwell (Missing Link/Bianchi)            
13 Eric Russell (Clif Bar)                    2.04
14 Brian Rogers (Sycip)                       2.10
15 Aron Bonar (Solano Ave Cyclery)            2.33
16 Stan Barrett (Cycle-Smart)                 2.37
17 Isaias Job (Wrong Way)                     2.55
18 Karl Etzel (Redline/Ritchey)               3.00
19 Jordi Cortes (Missing Link)                3.03
20 Steven Woo (Fusion Sport)                  3.10
21 Chris Coffee (Redline/Ritchey)             3.36
22 Bo Barry (Soulcraft)                       3.38
23 Rick Lambert (Sycip)                       3.56
24 Erio Brown (Huangoche)                     4.09
25 Joseph Ernst (Sycip)                       4.11
26 Cisco Moran (I Love Daisy)                 4.15
27 Ryan Galdes (Redline/Ritchey)              4.28
28 Johannes Schmidt (Redline/Ritchey)         4.49
29 David Dick (Santa Cruz Spokesman)          5.03
30 Albert Reinhardt                           5.05
31 Eugene Beser                               5.59
32 Solomon Soltes (Huangoche)                 6.13
33 Andrew May (Pegasus)                       6.39
34 Dave Pedersen (Alan Factory Team)          7.17
35 Eliot Logan (Alto Velo/Webcor)             7.42
36 Scott Sisto (Specialized)                  7.47
37 Alan Lukka                                 8.20
38 Robert Barber (Trydin)                         
 
Single Speed
 
 
1 Brad Koester (DFL)                         43.06
2 Mike Bohn (Unattached)                      0.50
3 Jason Pyrzynski                             0.55
4 Evan Adams (Big Swingin' Cycles)            1.15
5 Heath Maddox (Sycip)                        3.33
6 Brent Chapman (Squadra Ovest)               6.05
 
 
 
35+ Men Cat A
 
 
1 James Coats (Amgen/Felt)                   38.46
2 Richard Maile (Art by Opsle)                0.01
3 Mark Howland (Black Market Racing)          1.05
4 David Hejduk (Sycip)                        1.08
5 David Eastwood (Art by Opsall)              1.17
6 Gannon Myall (Family Cycle Center)          1.37
7 Tim Thompson (Eurocycling Imports)          1.44
8 C. Daugherty (Infineon Raceway)             2.01
9 Pat Schott (Blackmarket)                    2.05
10 Norman Thibault (Frontrunners-Brodie)      2.27
11 Steve Hess (Bicycle Trip)                  2.30
12 Thomas Feix (Pen Velo)                     2.49
13 Eric Bustos (LGBRC)                        3.14
14 Stephen Kent (Sycip)                       3.24
15 Brij Lunine (Missing Link Bianchi)         3.27
16 Ronald Gutierrez (SYCIP)                   3.28
17 Jason Rahlwes (Fox Racing Shox)            3.40
18 Jeff Hane (Team Wrong Way)                 3.41
19 Dan Sovreign (SGW City Bike)               3.43
20 Steve Ouzounian (Missing Link Bianchi)     3.44
21 Philip Sims (Hunter)                       3.45
22 David Gill (Team Santa Cruz)               4.15
23 Stacey Sell (Specialized)                  4.30
24 Mark Mastoras                              4.48
25 Dick Vanderluit (Euro Cycling)             4.54
26 Rich Sangalli (Dewar's)                    5.31
27 Matthew Rolandson (DFL)                    5.51
28 Bill Carslay (Missing Link Bianchi)        6.14
29 Norman Field (Team Santa Cruz)             6.16
30 Gregory Phipps (Real Bicycles RT)          7.17
31 John Rowen (SYCIP)                         7.31
32 Matt Wocasek                               7.39
33 Darrel Brokeshoulder (LGBRC)               8.21
34 Eugene Beyer (FFBC)                        9.11
 
One lap behind
 
35 Tom Leach (Panaracer)                     39.05
36 Dennis McGovern (SYCIP)                   49.58
 
 
Results - 45+ Men Cat A
 
1 Larry Hibbard (K2 Aptos Bike Trail)        40.19
2 Henry Kramer (Schwab Cycle)                 0.02
3 Mark Abele (Panaracer)                      0.51
4 Norm Kreiss (Missing Link)                  1.55
5 Rich Stone                                  1.56
6 Cass Laizure (Missing Link Bianchi)         2.19
7 Chris Allen (Euro Cycling Team)             2.36
8 Doug Hatfield (Family Cycling)              2.56
9 David Covington (Excel Sports)              3.09
10 Larry Nolan (USPS Masters)                 3.27
11 Jon Suzuki (Missing Link)                  3.28
12 John Brown (Family Cycling)                4.04
13 Joseph Fabris (Le Village)                 4.20
14 John Elgart (Alto Velo)                    4.42
15 Robert Kurosawa (Third Rail)               4.52
16 Kem Akol (Bicycle Trip)                    5.16
17 Steve Stewart (LGBRC)                      5.17
18 Frank Cuaresma                             6.13
19 Gary Noe (Rio Strada)                      7.26
 
One lap behind
 
20 Dionicio Ybarra (Missing Link)            38.20
21 Jim Beuselinck (Euro Cycling Imports)          
22 Paul Sadoff (Rock Lobster)                38.21
23 Robert Barber (Tribe)                     39.16
 
B Women
 
1 Michelle Sinnott                           38.59
2 Amrita O'Leary (Huanogoche)                 0.03
3 Trina Baumsteiger (Southern Sierra)         0.05
4 Celeste McCartney (Missing Link/Bianchi)    0.20
5 Joan Gregg                                  1.02
6 Michelle Lambert (Sycip)                    1.28
7 Julie Barott (Roaring Mouse)                1.50
8 Janel Lodge (Black Market Racing)           2.35
9 Courtenay Brown (Freewheel)                 3.02
10 Julie Brothers (Rock Lobster)              3.20
11 Ella Lawrence (Hunter Cycles)              4.57
12 Amy Abele (Velo Bella)                     6.18
13 Monica Gill (GCCA)                        13.13
 
C Women
 
1 Beverly Chaney                             32.18
2 Heather Mackenzie                           0.40
3 Karen Rehder                                1.06
4 Shannon Kentern                             1.23
5 Esther Kim (Velo Girls)                     1.47
6 Mary Hoover (Bay Area Velo Girls)           4.29
7 Kim Natzel (Velo Girls)                     4.33
8 Yvonne Walbroehl                            6.22
9 Lorri Lown (Bay Area Velo Girls)                
 
C Men
 
1 James Newman                               35.15
2 Jeff Crofton                                0.41
3 Jeffrey Bramlett                            0.53
4 John Wynne                                  1.08
5 Ray Gale (Pen Velo/Kondra)                  1.29
6 Sean O'Connell (Real Bicycles)              1.45
7 Ryan Isaacs                                 1.47
8 Nick Hanni (Fusion Sport)                   2.03
9 Karl Knutson                                2.13
10 Channing Chen                              2.51
11 Matt Voltoline                             2.54
12 Glenn Masuda (Celo Pacific)                2.55
13 Andrew Yee                                 2.59
14 Nate Shaw (Bianchi)                        3.05
15 David Albert                               3.23
16 Eric Lowe                                  3.27
17 Clifford Lee                               3.47
18 Steve Stern                                4.00
19 Tim Gonzales                               4.07
20 Erik Salander (Pen Velo)                   4.18
21 Brandon Rosenbaum                          4.30
22 Ryan Williams                              4.44
23 Troy Mayfield                              4.52
24 Mark Hagen                                 4.56
25 Jason Sage (FFBC)                          5.05
26 Glenn Hutchison                            5.10
27 Alexander Abbas (Genentech)                5.17
28 Tom Fabey                                  5.22
29 Kevin Hill                                 5.26
30 Eric Sterner                               5.58
31 Henry Mar                                  6.00
32 John Bono                                  7.07
33 Jim McDonald                               8.19
34 Ceasar Agustin                             9.41
 
One lap behind
 
35 Evan Terzolli                             36.55
 
Jr Men Cat B
 
1 Blake Anton (Davis BC)                     38.40
2 Jeremy Ferguson                             0.40
3 Cody Kaiser                                 6.15
 
One lap behind
 
4 Bjorn Fox                                  34.33
5 Ben Kowta                                  40.00
6 Raymond Mendoza                            40.22
 
results 35+ Men Cat B
 
1 John Mundelias                             35.32
2 Austin McInerny (Missing Link Bianchi)      0.01
3 Thomas Fox                                  0.40
4 Dave Schindehette (Pegasus)                 0.51
5 Steve Tamanaha                                  
6 Steve Natzel                                0.52
7 Paule Bates (Roaring Mouse)                 1.13
8 Jim Long (Berkeley Bike Club)               1.31
9 Mark Slavonia (Pen Velo)                    2.11
10 Mark Kurashige (LGBRC)                     2.22
11 Chris Baker                                2.30
12 Matt Kowta (Esquire Racing)                2.34
13 Tom Boardman                               2.47
14 Juan Ortiz (Fusion Sport)                  3.46
15 Johnny Stallings (Beeline)                 3.51
16 Mike Schaller                              5.09
17 Steven Woo (LGBRC)                         5.39
 
Results - 45+ Men Cat B
 
1 Christopher Holmes (Team Robeks)           37.37
2 Bruce Lodge (Blackmarket Racing)            0.19
3 Gary Anghinetti (Bike Rout)                 0.47
4 Joseph Crabtree (Hub Cycle)                 0.51
5 Bob Malheiro (SCCC Village Import)          3.19
6 Bruce Kaiser (SGW/City Bike Works)          4.52
7 Gary Davis (LGBRC)                          6.54
 
One lap behind
 
8 Dan Gavin                                  39.27