Champbikx BMX Series #1 - NE
Nerang, QLD, Australia, January 1, 2006
BMX elite on track to the Olympics
Elite men's final
Photo ©: Dean Nommensen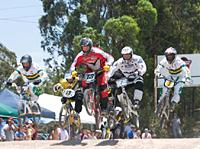 Australia's elite BMX riders converged at Nerang today for round one of the Champbikx BMX series. This National series offers UCI (International Governing Body) points which count towards selection for the Beijing Olympics.
Thirty-six riders competed in the first Round in a condensed program that sees riders race up to five times in two hours before reaching the final. Gold Coaster, Jamie Hildebrandt, a.k.a. Kama Kazi, won the final elite race over training partner and 2000 Dual world champion, Wade Bootes. Third was Anthony Harvey from Belarine, Victoria.
The high standard of BMX riders, lead to tough racing with national champion, Luke Madill from Penrith missing out on the final. Bootes explained, "My semi-final was nearly like a final!" Bootes had praise for the winner, Kama Kazi also from the Gold Coast, "He's revved up to get into the high performance program." The best placed from the high performance squad was Jamie Gray from the Sunshine Coast who placed 6th today.
"I think with the whole Champbikx thing that now everyone realizes how important it is," said Bootes about Olympic selection.
World Mountain Cross Silver Medalist, Jared Graves from Toowoomba, finished in seventh place. "There were so many of the world's top riders here," he said. Graves had a lot of ground to make up after drawing gate one in the finals. "I sort of got the raw deal," he said. "I got lane one but it's all done by random selection so you can't do much about it," he explained. "I still gave it my best shot."
Two riders down
Photo ©: Dean Nommensen

Gold Coaster and national bronze medalist, Michael Robinson, finished a creditable eighth in one of the best fields ever assembled on the Coast.
The elite women's event was won by world's silver medallist, Renee Junga, on her club track in Nerang. Junior world BMX champion, Nicole Callisto from Perth, placed second. The Mountain Cross world champion, Jill Kintner from the USA, finished a creditable third while silver medallist from the world championships, junior Sarah Walker from New Zealand, finished sixth.
In the junior men, Todd Pascoe from Townsville won convincingly from Thomas Hubert from Maitland and Derrick Mellish from Mackay third.
Riders will now prepare for the second Round of the Champbikx Series on Saturday January 7 at Centenary Plains, near Brisbane.
Photography
For a thumbnail gallery of these images, click here
Images by Dean Nommensen/www.jodeanphotography.com.au
Results

Elite Men, 36 riders
 
1 Kama Kazi                
2 Wade Bootes              
3 Anthony Harvey           
4 Marc Willers             
5 Billy Jolliffe           
6 Jamie Gray               
7 Jared Graves             
8 Michael Robinson         
 
Elite Women, 13 riders
 
1 Renee Junga              
2 Nicole Callisto          
3 Jill Kintner             
4 Tanya Bailey             
5 Ziggy Callan             
6 Sarah Walker             
7 Krystal Cranfield        
8 Tanya Thiele             
 
Junior Men, 25 riders
 
1 Todd Pascoe              
2 Thomas Hubert            
3 Derrick Mellish          
4 Jay Hatten               
5 Blake Schofield          
6 Michael Vockenson        
7 Matthew Mitton           
8 Matthew Willoughby       
 
14 Boys, 9 riders
 
1 Ryan Faux                
2 Jacob Page               
3 Brendan Abel             
4 Robert Londema           
5 Christopher Vockenson    
6 Matthew Dunsworth        
7 Kevin Watson             
 
15 Boys, 13 riders
 
1 Michael Chasteauneuf     
2 Sam Willoughby           
3 Daniel Hatten            
4 Josh Callan              
5 Blake Collins            
6 Nick Deninger            
7 Anthony Dean             
8 Ian Docherty             
 
16 Girls, 11 riders
 
1 Ceilidh O'Sullivan       
2 Grace Ireland            
3 Rachel Bracken           
4 Caitlyn Ward             
5 Ashleigh Weier           
6 Caetlyn Hubert           
7 Maggie Faux              
8 Stacey Jones             
 
16 Boys, 11 riders
 
1 Dirk Winter              
2 Steven Janssen           
3 Jye Danielson            
4 Matthew Davies           
5 Luke Londema             
6 Samuel Shields           
7 Luke Bracken             
8 Kristofer Ulyate