Lastest Cycling News for March 12, 2007
Edited by Gregor Brown
Lefevere "asks" riders to sue newspaper
By Susan Westemeyer
Quick-Step Team Manager Patrick Lefevere has asked the thirty riders on his team to sue the newspaper Het Laatste Nieuws, which had accused him of "30 years of doping."
The Belgian announced earlier this month that he was suing the newspaper for €20.5 million, and team doctor Yvan Van Mol is suing for €2 million.
The Het Laatste Nieuws article was based partially on interviews with a rider who is currently with the team, but who remained anonymous. According to Sportwereld.be, Lefevere spoke with his riders over the weekend, and the eight riders currently racing in Paris-Nice agreed.
"I do not require them to do this, I merely ask them to," he said to Sportwereld.be. "But whoever doesn't do it makes themselves suspicious as being the one who spoke to Het Laatste Nieuws. I can assume that no one would be so stupid as to file a complaint against themselves."
He laid this claim out more specifically, according to Sporza.be. He said that if someone does not participate, "then we will know immediately who from our team talked to them. ... The riders are also victims of these doping charges. The article endangers their future."
Napolitano marks season first
Danilo Napolitano relaxed for 2007
Photo ©: Hedwig Kröner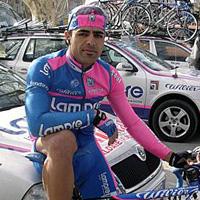 While Alejandro Valverde (Caisse d'Epargne) took the final overall in Vuelta a Murcia, Italian Danilo Napolitano marked his first 2007 win, 15th career victory, by over-powering Baden Cooke (Unibet.com). The win gave Director Sportif Giuseppe Martinelli a gift and showed that, alongside Daniele Bennati, the Lampre-Fondital team has another strong sprinter.
"Today I turned 52 years-old. But he has still not paid for the drinks," joked Martinelli after the stage win by 26 year-old Napolitano. The DS will also have further reason to celebrate when tomorrow his daughter, Francesca, receives her university diploma. After a short party he will head to Tirreno-Adriatico with Napo, where they will face Alessandro Petacchi (Milram).
"This year we have still not encountered each other," said the rider who lives in Lago d'Iseo to La Gazzetta dello Sport. The two will go head-to-head in the Italian race that starts this Wednesday and runs through, Tuesday, March 20. "Certainly when he is in the sprints it is easier because his team takes control of the group, and to find your position is easier and less dangerous."
While Napo is racing in Italy, his teammate, Bennati, is in France, where he started yesterday in Paris-Nice. The duo is taking separate paths to the Milano-Sanremo, March 24, where Napo finished fifth while his Tuscan mate was out with sicknesses. He does not foresee any problems racing La Classicissima with his teammate.
"Whoever is going well will do the sprint," he continued. "If we are both going well then... we will see. I think that it is justified that whoever has demonstrated themselves to be better up until now should be in charge, in other words Daniele. If he asked me to pull for him in the sprint then I will do so without any problems."
Napo, originally from Sicily, indicated that the relationship between him and his teammate is perfect, and that they have different sprinting styles that suit one another. "We are not two friends, but we are colleagues that have respect for each other and work well together. He goes well on a slow, steady sprint lead-up while I am more explosive. We have different programmed races; if we are racing together maybe we can be even more successful at achieving results. But it is good how it is."
After Tirreno, Napolitano will make a switch over to the boards for the Track World Championships, March 30, where his goal will be to win the rainbow jersey in the Scratch. He will have ten days of recovery and training before the start of the Tour de Romandie, followed by the Giro d'Italia, where he will work for Damiano Cunego.
He indicated that the will be no problems in helping Cunego win the Giro. "I raced with a team of climbers in the Ruta del Sol and here in Murcia, where my heaviest teammate, other than the sprinters, was 60 kilograms. ... I can take the team leader up to the front in the dangerous finishes, in the last three kilometres, not leaving him to fight over wheels."
Casper takes Driedaagse van West-Vlaanderen
Casper in the leader's jersey
Photo ©: Luc Claessen

Yesterday, Frenchman Jimmy Casper finished eighth in the final stage of the three-day Driedaagse van West-Vlaanderen to maintain and win the overall. The Unibet.com rider ended with five seconds over Belgian Wouter Weylandt of Quickstep-Innergetic, winner of stage three, in the overall classification. Weylandt won the bunch sprint after all attempts at breakaways were reeled in.
Stefan Van Dijck (Wiesenhof-Felt) rounded out the top-three overall in Belgium, with Niko Eeckhout (Chocolade Jacques-Topsport Vlaanderen), winner in 2006, finishing fourth.
"After today's win I have more faith in myself and I believe my teammates have too," explained the 22 year-old Weylandt after his stage win. "It's the most important win of my career."
Haedo and Breschel with Murcia close call
It was a very close call for Team CSC's Matti Breschel and Juan José Haedo during the final stage of Vuelta a Murcia. Just as the two riders had lined themselves up perfectly for the finish Unibet's Jeremy Hunt went down directly in front of them, and they both had to take a quick detour to the pavement to avoid crashing.
"It was very unfortunate because both Matti and JJ were perfectly positioned for the finishing sprint," said Kim Andersen via team-csc.com. "Luckily they both reacted fast and avoided what would otherwise have been a bad crash. At least they were in position, and as a sprinter you don't always get to show what you're capable of.
"I would've liked to have seen Jens going for the stage win the other day, but he proved that he's going to be a valuable rider for us in Tirreno-Adriatico, where I think, he'll be able to get a really good result," added Kim Andersen.
Garzelli leads Acqua & Sapone in Tirreno
The "Red Team," Acqua & Sapone-Caffč Mokambo, has announced its eight-man line up for the 2007 Tirreno-Adriatico, March 14 - 20. The team, based in Le Marche, will be led by 2000 Giro d'Italia winner Stefano Garzelli, who will have the support of Dario Andriotto, Alexandr Arekeev, Gabriele Balducci, Massimo Codol, Simone Masciarelli, Giuseppe Muraglia and Michele Scarponi. Directing the team will be Bruno Cenghialta and Franco Gini.
"I believe that we will have tough team that will be able to fight for stages and the overall victory," confirmed Cenghialta. "Garzelli and Scarponi left the Vuelta a Murcia in optimum condition, and this Tirreno-Adriatico is adapted well to their abilities; a very tense and challenging parcours that leaves us high hopes."
"Our team has good organization, we have selected eight men that are able to be protagonists in all of the stages," added Gini. "Balducci will be our man for the sprints, Arekeev and Masciarelli for the tense finales, and Garzelli, together with Scarponi, can have a chance for the final overall."
33 year-old Garzelli confirmed Gini and Cenghialta's plan. "I am very satisfied with my form, I believe that all is in place to have a great Tirreno-Adriatico," he said. "It is a very challenging course. I will particularly keep an eye on the stage to San Giacomo, where, together with my teammate Scarponi, we are able to play tactical games with our adversaries."
Caisse d'Epargne for Tirreno-Adriatico
Spain-based Caisse d'Epargne will race the Corsa dei Due Mari without Alejandro Valverde. Director Sportif José Luis Jaimerena will take a crew of eight men to Tirreno-Adriatico, with Iván Gutiérrez likely to be the hot favourite after winning Tour Méditerranéen in February.
Riders for the 2007 Tirreno-Adriatico are David Arroyo, Eric Berthou, Vladimir Efimkin, Imanol Erviti, Marco Fertonani, Iván Gutiérrez, Pablo Lastras and Alexei Markov.
Eisel looking for more
By Susan Westemeyer
Bernhard Eisel after 2006 Roubaix
Photo ©: Hedwig Kröner

Bernhard Eisel is looking to do great things this year for his new team, T-Mobile, but knows it won't be easy. "Of course the pressure increases, especially the pressure I put on myself," he told the news agency apa. "So far things have been going well, but if I knew that Paris-Roubaix would go well then I would feel a lot better." He finished fifth in the Hell of the North last season.
Since changing to T-Mobile, Eisel has also changed his preparations and is now working with sport scientist Sebastian Weber. He is now training more intensively, whereas before he tried to find his form though racing. "Victories are the best proof of improvement," he summarised.
Eisel has brought in the only win so far this season for the T-Mobile men's team, winning the second stage of Volta ao Algarve and he subsequently wore the leader's jersey for a day. Those successes were good for his self-confidence, he noted, but he wants to win more and bigger races.
The Austrian sprinter will be starting Tirreno-Adriatico this week, to be followed by Milan-Sanremo, Ronde van Vlaanderen and Paris-Roubaix. He also hopes to be on T-Mobile's Tour de France squad.
Ullrich's attorney calls for Scharping resignation
By Susan Westemeyer
Jan Ullrich's attorney, Peter-Michael Diestel, has criticised the "campaign" against his client. "With the dismissal of the case against Dr. Fuentes, it becomes obvious what an unspeakable campaign has been brought on in Germany against Jan Ullrich for his athletic successes," said Diestel, according to the Maerkische Allgemeine newspaper.
"It is time that Herr Rudolf Scharping steps down, take his leave from German cycling and pardon himself to Jan Ullrich. All of those who have taken part in a disgusting way in the campaign against Jan Ullrich should, if they have even a bit of decency in them, approach him."
Johan Museeuw to ride London-Paris
The Lion of Flanders, Johan Museeuw, will join over two hundred other riders on this year's London-Paris Cycle Tour taking place in advance of the 2007 Tour de France. The former World Champion and winner of many Classics has been keeping himself in shape since his retirement two years ago and will join the Irishman Sean Kelly on the road to Paris.
"We were bowled over when Johan expressed an interest in riding," says Tour organizer Sven Thiele. "Johan and Sean are dream additions to the event and Johan's understanding of the concept and his instant support of our chosen charities was quite overwhelming. I'm thrilled."
Museeuw Bikes will also be donating specially prepared children's bicycles to the London-Paris supported Charities; Christel House, Schools for Children of Cambodia and Morning Star Children's Centre.
"Johan Museeuw is one of the all time greats in cycling and it will be a huge honour to ride alongside him and Sean into Paris, it's certainly the nearest I'll get to riding with the greats!" said cycling commentator David Harmon. "The whole concept of the Tour is terrific and it really shows when cycling legends want to come along for the ride."
The 2007 London-Paris Cycle Tour starts with a 150 kilometre stage from Hampton Court to Portsmouth on June 28, followed by an overnight transfer to St Malo. The following two stages will cover at total 450 kilometres of undulating terrain into Paris, arriving at Versailles on June 30th. The tour is known for being sociable, where international riders can mix and ride the 600 kilometres with full support and rolling road closures.
(All rights reserved/Copyright Knapp Communications Pty Limited 2007)