Recently on Cyclingnews.com
Australian National Championships - C4
Lake Macquarie, New South Wales, Australia, May 5, 2007
Young backs up World Cup with national title
New Australian BMX Champion Khalen Young.
Photo ©: Derrick Mellish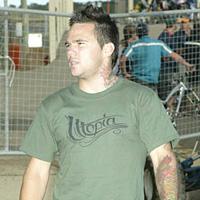 Khalen Young won his first Australian BMX title in Newcastle just weeks after winning the first round of the UCI Supercross World Cup in Madrid, Spain. The 23 year-old originally from Perth rode from the inside lane and edged ahead of 33 year-old Wade Bootes and Luke Madill, currently ranked fourth in the world, who finished second and third respectively.
After being away from the sport for four years, Young has only been training for the last six months and is focused on gaining selection for the sport's debut in the Olympic Games next yea rin Beijing. Young recently moved his base to Sydney to train with the BMX High Performance Squad and was confident heading into the weekend's national titles having taken the World Cup lead in Spain last month.
"I kind of went into the race thinking I was going to win," explained Young, who had an advantage by having first choice of lanes. "It's the kind of track where you need to get the inside lane."
Shannon Burnett leads out
Photo ©: Andrew Sawatske

Queensland's Michael 'Tiger' Robinson lead in the first straight but was unable to use it to full advantage from the outside lanes. Lane choice was the important ingredient. "If you miss the start you're at the back of the pack," noted Young. "Everyone's a contender but I noticed Tiger got a good start. We kind of banged the turn but once you get out it was kind of easy."
Asked if his recent international success had made him a target, Young replied: "I don't think I was a marked man. Everyone's a contender now days, everyone's so fast. You've got to watch out for everyone now days."
Competition to make the final was fierce with many of the top riders coming unstuck. Defending National Champion, Kamakazi, didn't make it out of the semifinals when he was caught up in a crash while Australian Mountain Bike Downhill Champion, Jared Graves, was sent over the edge of the track in the final.
The national championships also doubled as the national series' final round, which saw Madill take out the men's National Probikx Series title.
Bailey sets up Olympic dream
Bailey leads confidently
Photo ©: Derrick Mellish

In the women's race 26 year-old Tanya Bailey from Perth won by a tyre after a late challenge by Melissa Mankowski, who was riding in her first elite national championship race.
"I got out of the gate really good and lead to the first corner again. I knew I had to hang on but I was a bit nervous," Bailey admitted. A slight loss of speed in the second straight allowed Mankowski to gain some ground.
"I just hung on then," she added. "I knew she'd make a charge in the last straight. Going over the last jump I knew she was catching me but then I put a couple of pedals in and we evened up again."
Time to untangle.
Photo ©: Andrew Sawatske

Bailey proved her recent move to Sydney has paid off when she secured herself another National title for the Probikx Series. "I've been trying hard to work towards Olympic selection," said Bailey, "and now it's looking a lot better for me."
Both Bailey and Young now gain automatic selection for the upcoming World BMX Championships in Canada in July. "I just can't wait to go to the Worlds now and give those girls a bit of a run for their money," added Bailey.
Defending women's National Champion Krystal Cranfield finished in a creditable third place.
Photography
For a thumbnail gallery of these images, click here
Images by Andrew Sawatske/www.hitidephotography.com.au
Images by Derrick Mellish
Results
Elite Men
 
1 Khalen Young (Liverpool City, NSW)                 
2 Wade Bootes (Nerang, Qld)                          
3 Luke Madill (Penrith, NSW)                         
4 Scott Taylor (Cockburn, WA)                        
5 Jamie Gray (Beenleigh, Qld)                        
6 Mark Taylor (Cockburn, WA)                         
7 Michael Robinson (Nerang, Qld)                     
8 Jared Graves (Toowoomba, Qld)                      
 
Elite Women 
 
1 Tanya Bailey (Wanneroo, WA)                        
2 Melissa Mankowski (Moranbah, Qld)                  
3 Krystal Cranfield (Centenary Plains, Qld)          
4 Tanya Thiele (Bundaberg, Qld)                      
5 Nicole Callisto (Wanneroo, WA)                     
6 Kylie Patroni (Wanneroo, WA)                       
7 Kelly Percy (Redlands, Qld)                        
 
Junior Men
 
1 Christopher Westwood (Lake Macquarie, NSW)         
2 Dirk Winter (Sunshine Coast, Qld)                  
3 Matthew Willoughby (Happy Valley, SA)              
4 Steven Janssen (Nerang, Qld)                       
5 Ryan Nicholls (Cairns, Qld)                        
6 Ashley Pemberton (Townsville, Qld)                 
7 Ashley Mccutcheon (Warrnambool, Vic)               
8 Joshua Webb (Terrigal, NSW)                        
 
Junior Women
 
1 Caroline Buchanan (Tuggeranong, ACT)               
2 Ziggy Callan (Lilydale, Vic)                       
3 Caitlyn Ward (Harbour City, Qld)                   
4 Catherine Hopkins (Hills, WA)                      
5 Caitlin Willmott (Macarthur, NSW)                  
6 Caetlyn Hubert (Maitland Tenambit, NSW)            
7 Grace Ireland (Liverpool City, NSW)                
 
Elite 30+ Masters 
 
1 Brett Scruse (Manly, WArringah, NSW)               
2 Jade Mcpherson (Wanneroo, WA)                      
3 Karl Mustchin (Wanneroo, WA)                       
4 Simon Anderson (Geelong, Vic)                      
5 Warren Casey (Castle Hill, NSW)                    
6 Paul Tomkinson (The Cove, SA)                      
7 Peter Trenwith (Happy Valley, SA)                  
8 Daniel Galea (Frankston, Vic)                      
 
16 Boys 
 
1 Sam Willoughby (Happy Valley, SA)                  
2 Joshua Callan (Lilydale, Vic)                      
3 Anthony Dean (Cross Keys, SA)                      
4 Aidan Nemet (Tuggeranong, ACT)                     
5 Michael Chasteauneuf (Eastfield, Vic)              
6 Justin Braybon (Happy Valley, SA)                  
7 Justin Myers (Happy Valley, SA)                    
8 Kurt Nicholls (Cairns, Qld)                        
 
16 Girls 
 
1 Rachel Bracken (Townsville, Qld)                   
2 Lauren Reynolds (Bunbury, WA)                      
3 Cherie Simpson (Byford, WA)                        
4 Courtney Taylor (Blue Mountains, NSW)              
5 Kate Warren (Southlake, NSW)                       
6 Erin Butler (Canberra, ACT)                        
7 Shayanne Clarke (Clarence Valley, NSW)             
8 Erin Anderson (Knox, Vic)                          
 
15 Boys 
 
1 Matthew Dunsworth (Knox, Vic)                      
2 Adam Sanderson (Lake Macquarie, NSW)               
3 Trent Evans (Hills, WA)                            
4 Benjamin Clarke (Macarthur, NSW)                   
5 Ryan Faux (Mackay Pioneer, Qld)                    
6 Kyle Horton (Shepparton, Vic)                      
7 Andrew Schultz (Southside, WA)                     
8 Jacob Page (Centenary Plains, Qld)                 
 
15 Girls 
 
1 Kirsten Dellar (Tom Price, WA)                     
2 Kate Fischmann (Nerang, Qld)                       
3 Talia Smith (Cross Keys, SA)                       
4 Laura Western (Wanneroo, WA)                       
5 Ashley Wyatt (Mackay Pioneer, Qld)                 
6 Krystal Russon (Bayside, Qld)                      
7 Breanna Gould-Goldsworthy (Lake Macquarie, NSW)    
8 Amy Buckley (Sawtell, NSW)                         
 
14 Boys 
 
1 Adam Shields (Mackay Pioneer, Qld)                 
2 Graeme Mudd (Maitland Tenambit, NSW)               
3 Shannon Burnett (Cockburn, WA)                     
4 Zac Lorenz (Nerang, Qld)                           
5 Thomas Rowe (Cross Keys, SA)                       
6 Alexander Ulyate (Nerang, Qld)                     
7 Brandon Mcqueen (Toowoomba, Qld)                   
8 Darryn Goodwin (Hills, WA)                         
 
14 Girls
 
1 Melinda Mcleod (Mackay Pioneer, Qld)               
2 Lacey Oliver (Nerang, Qld)                         
3 Prue Harvey (Blue Lake, SA)                        
4 Jackie Mattioli (Wanneroo, WA)                     
5 Rhiannon Simpson (Southlake, NSW)                  
6 Raquel Watson (Cross Keys, SA)                     
7 Hannah Parkinson (Southlake, NSW)                  
8 Sophie Webb (Terrigal, NSW)                        

Final Probikx series standings

Elite Men
 
1 Luke Madill (Penrith, NSW)                     1013 pts
2 Wade Bootes (Nerang, Qld)                       941
3 Khalen Young (Liverpool City, NSW)              845
4 Jared Graves (Toowoomba, Qld)                   735
5 Michael Robinson (Nerang, Qld)                  625
6 Scott Taylor (Cockburn, WA)                     541
7 Billy Jolliffe (Terrigal, NSW)                  498
8 Brian Kirkham (Port Augusta, SA)                472
9 Daniel Johnstone (Terrigal, NSW)                431
10 Alexander Cameron (Liverpool City, NSW)        425
11 Kamakazi (Nerang, Qld)                         404
12 Jamie Gray (Beenleigh, Qld)                    357
13 Todd Pascoe (Townsville, Qld)                  333
14 Cale Mcculloch (Cockburn, WA)                  315
15 Joel Clark (Sunshine Coast, Qld)               284
16 Marc Willers (Cambridge, NZl)                  221
17 Bill Hobbs (Wanneroo, WA)                      214
18 Thomas Hubert (Maitland Tenambit, NSW)         199
19 Mark Taylor (Cockburn, WA)                     190
19 Sifiso Nhlapo (South Africa RSA)               190
21 Leigh Darrell (Canberra, ACT)                  178
22 Blake Schofield (Wanneroo, WA)                 159
23 James Dixon (Rockingham, WA)                   152
24 Terry Scarr (Liverpool City, NSW)              152
25 Joel Kugener (Rangiora, NZl)                   150
26 Kane Gill (Hills, WA)                          142
27 Matthew Cameron (New Plymouth, NZl)            135
28 Andrew Gillett (Rockingham, WA)                128
29 Warwick Stevenson (Liverpool City, NSW)        127
30 Samuel Baber (Nerang, Qld)                     127
31 Matthew Hill (Nerang, Qld)                     125
32 Alex Cossell (Nerang, Qld)                     121
33 Steven Wong (Hong Kong of China, HKg)          121
34 Anthony Bork (Centenary Plains, Qld)           119
35 Brock Murray (Cockburn, WA)                    114
36 Michael Fenwick (Happy Valley, SA)             108
37 Gavin Turner (Blue Mountains, NSW)             107
38 Julian Lim (Beenleigh, Qld)                     98
39 Timothy Ferguson (Wellington, Vic)              95
40 Michael Wallin (Walkerston, Qld)                88
41 Ben Clark (Tamworth, NSW)                       87
42 Alex Hunter (Hong Kong of China, HKg)           81
42 Jonathan Stavrianakos (Wanneroo, WA)            81
44 Takuro Nishioka (Japan JPN)                     80
45 Mitchell Scarr (Liverpool City, NSW)            75
46 Callum Gifford (Manukau, NZl)                   63
46 Tony Wilcock (Tauranga, NZl)                    63
46 Jarrod Royal (Nerang, Qld)                      63
49 Ronnie Dugdell (Cairns, Qld)                    58
50 Adam Carey (Border, Vic)                        58
50 Luke Strom (Blue Mountains, NSW)                58
52 Ryan Jedrzejczyk (Liverpool City, NSW)          56
52 Alex Lloyd (Penrith, NSW)                       56
54 Nigel Adamson (Cambridge, NZl)                  50
55 Brett Wallin (Walkerston, Qld)                  48
56 Gavin Jedrzejczyk (Liverpool City, NSW)         40
57 Daniel Laird (Southern Districts, WA)           39
58 Tim Ferguson (Cambridge, NZl)                   38
59 Jayden Dinmore (Nerang, Qld)                    32
59 Timothy Dunn (Blue Mountains, NSW)              32
61 Dane Booker (Terrigal, NSW)                     31
61 Jason Kelly (Hamilton, NZl)                     31
61 Rhys Telford (New Plymouth, NZl)                31
64 Jonathan Hoare (South Eastern, Vic)             27
64 Frank Penrose (Southlake, NSW)                  27
66 Jade Mcpherson (Wanneroo, WA)                   20
67 Kiel Dellow (Macarthur, NSW)                    17
 
Elite Women
 
1 Tanya Bailey (Wanneroo, WA)                    1037 pts
2 Melissa Mankowski (Moranbah, Qld)               884
3 Nicole Callisto (Liverpool City, NSW)           600
4 Tanya Thiele (Bundaberg, Qld)                   446
5 Sarah Walker (Rotorua, NZl)                     440
6 Krystal Cranfield (Harbour City, Qld)           422
7 Kylie Patroni (Wanneroo, WA)                    208
8 Rachael Sheridan (Liverpool City, NSW)          189
9 Serena Kastermans (Papakura, NZl)               160
10 Chaye Lang (Wanneroo, WA)                      119
11 Angela Wooding (The Cove, SA)                  102
12 Kelly Percy (Redlands, Qld)                     88
13 Jill Kintner (United States of America USA)     58
14 Lisa Horlor (Hamilton, NZl)                     46
 
Junior Men
 
1 Matthew Willoughby (Happy Valley, SA)          1017 pts
2 Steven Janssen (Nerang, Qld)                    887
3 Dirk Winter (Sunshine Coast, Qld)               874
4 Joshua Webb (Terrigal, NSW)                     735
5 Ashley Pemberton (Townsville, Qld)              602
6 Michael Vockenson (Suncoast Hinterland, Qld)    480
7 Ben Davis (Byford, WA)                          474
8 Luke Bracken (Townsville, Qld)                  413
9 Christopher Westwood (Lake Macquarie, NSW)      392
10 Luke Londema (Happy Valley, SA)                369
11 Nicholas Cameron (Liverpool City, NSW)         320
12 Ashley Mccutcheon (Warrnambool, Vic)           247
13 Jasper Gaffney (Sunshine Coast, Qld)           245
14 Jye Danielson (Mackay Pioneer, Qld)            190
15 Chris Fleming (Suncoast Hinterland, Qld)       181
16 Tye Booker (Terrigal, NSW)                     175
17 Aaron Wheatland (Mildura, SA)                  173
18 Jarrad Smith (Byford, WA)                      157
19 Ryan Nicholls (Cairns, Qld)                    151
20 Scott Walsh (Lake Macquarie, NSW)              143
21 Dylan Prince (Byford, WA)                      139
22 Lindsay Truscott (Hills, WA)                   121
23 Graeme Riggs (Harbour City, Qld)               108
24 Kristofer Ulyate (Nerang, Qld)                  94
25 Aaron Hattin (Nerang, Qld)                      86
25 Michael Jobson (Blue Mountains, NSW)            86
27 Mark Dixon (Rockingham, WA)                     85
28 Luke Manera (Wanneroo, WA)                      84
29 Karl Ballintyne (Blue Lake, SA)                 83
29 Tom Siinmaa (Knox, Vic)                         83
29 Kristopher Twentyman (Liverpool City, NSW)      83
32 Adam Thaler (Southlake, NSW)                    81
33 Cameron Ainger (Southside, WA)                  76
34 Axel Jones (Hamilton, NZl)                      59
35 John Rowe (Eastern Goldfields, WA)              58
35 Zachary Webb (Sunset Coast Waiuku, NZl)         58
37 Derrick Mellish (Sunset Coast Waiuku, NZl)      51
38 Joshua Eden (Happy Valley, SA)                  50
39 Tim Mores (Rockingham, WA)                      50
40 Cameron Taylor (Blue Mountains, NSW)            48
41 Joshua Cardy (Hills, WA)                        42
41 Simon Eames (Tom Price, WA)                     42
41 Steven Meads (Wanneroo, WA)                     42
44 Joshua Beaumont (Southern City TAS)             37
45 Benn Ross (Sunbury, Vic)                        34
46 Matthew Davies (Christchurch City, NZl)         31
46 Michael Williams (Papakura, NZl)                31
48 Brendan Spann (Proserpine, Qld)                 23
49 Zac Lennon (Blue Lake, SA)                      12
 
Junior Women
 
1 Caroline Buchanan (Tuggeranong, ACT)           1108 pts
2 Ziggy Callan (Lilydale, Vic)                   1029
3 Grace Ireland (Liverpool City, NSW)             656
4 Catherine Hopkins (Hills, WA)                   567
5 Caitlyn Ward (Harbour City, Qld)                454
6 Victoria Hill (New Plymouth, NZl)               292
7 Caetlyn Hubert (Maitland Tenambit, NSW)         208
8 Chantelle Dean (Cross Keys, SA)                  99
9 Caitlin Willmott (Macarthur, NSW)                89
10 Kylee Cross (Mackay Pioneer, Qld)               82
11 Alyce Patroni (Wanneroo, WA)                    74
12 Keiarra Seccombe (Sawtell, NSW)                 56