NBL Gator National - C3
Sarasota, Florida, USA, March 31, 2007
Warwick Stevenson takes dominant UCI points win
By Jerry Landrum in Sarasota, Florida.
Warwick was securely out front
Photo ©: Jerry Landrum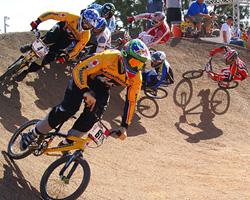 Former UCI Elite Men's World Champion Warwick Stevenson sent a strong message as he crushed the elite's men field at the National Bicycle League's UCI points race in Sarasota, Florida on Saturday. Stevenson, who doesn't even show up on the UCI's world ranking in the elite men category, made his way easily through what many regarded as a world cup caliber turnout of BMX riders to decisively win the final.
"This is such a big win for me," said a thrilled Stevenson. "After breaking my wrist just seven weeks ago, having surgery and coming back against such a strong field of great riders I'm just psyched to be able to win this one."
The elite men's winner made it interesting by coming back from a badly broken wrist, just seven short weeks ago. Stevenson's non-invasive surgery, performed by Dr. Mark Sanders, secured the bone with a locked plate and screws - enabling Stevenson to forgo lengthy casting and immediately resume the normal range of motion of daily activities.
How it unfolded
Elite men's winner, Warwick Stevenson, crosses the finish line
Photo ©: Jerry Landrum

The 32-man elite men's field was one of the strongest in recent memory, with a very strong representation of Australia's best, featuring Luke Madill, Khalen Young, and Jared Graves. Along with Graves, who is one of the strongest four cross riders in the world, Czech four cross superstar Michal Prokop was in attendance. Prokop who took Second at the 2006 UCI BMX Supercross Series was eliminated in his semi-final, Graves on the other hand never made it out of the motos.
Warwick started off the day with first place finishes in his first two qualifying rounds using his trade mark strong first straight power to get out in front of the pack in to turn one. He never once relinquished the lead in the first two qualifying motos, exhibiting skillful bike handling skills although the Sarasota track was not a particularly difficult track, favoring Stevenson's strength and power. In moto three, the final qualifying heat, Stevenson got out front, pulled over to the side, letting the others go by and playfully bantered with spectators as he had already scored enough points to make the final, and conserved his energy, while playing mind games with his rivals.
As the race moved on to the semi-qualifier, Warwick lined up on the gate with a 'who's who' of international BMX. Stevenson lined up in gate three with current series points leader, Argentine Cristian Becerine in gate two and the Netherlands' super strong Robert De Wilde in gate four. The semi was again a strong one for Warwick as he got the lead quickly in to turn one, with Becerine and De Wilde close behind.
Junior women's winner Amanda Geving (USA) leads Amanda Carr (USA)
Photo ©: Jerry Landrum

The final lined up as one of the strongest in recent memory, with UCI Supercross Series winner Donny Robinson (USA), '06 BMX World Champion Javier Colombo (Argentina), worlds runner up Randy Stumpfhauser (USA), De Wilde, Matt Pohlkamp (USA), Becerine, and Warwick's Australian High Performance Teammate Kahlen Young. With Warwick way out in gate eight, the least desirable starting position, "Podge" had his work cut out for him.
With the drop of the gate Warwick was off to yet another strong start, with only Pohlkamp and Colombo, who were in gate one and two respectively, in contention going in to turn one. With the first turn action a little crazy behind the three leaders, Warwick powered out and ran away with the race from there, with a five bike length lead over hard-charging Kuwahara team mate Pohlkamp.
The other two podium finishers, second placed Pohlkamp and third placed Colombo, had interesting stories to tell. Pohlkamp's placing represents a strong UCI Season so far, with no wins, but consistent finishes across the series so far, while Colombo broke a podium dry spell with his strong finish at the number three spot.
Elite men's podium (L-R): Matt Pohlkamp (USA), Warwick Stevenson (Aus)
Photo ©: Jerry Landrum

Other riders who were looking strong on the day were Arturs Matisons, one of several Latvian riders making the trip to Sarasota. Brandon Meadows and Jason Richardson of the USA turned in great performances, both just missing out on the final in last straight crashes, allowing Australia's Young to advance to the final. Randy Stumpfhauser and Donny Robinson from the US High Performance team both got squeezed in the final, Robinson in the first straight and Stumpfhauser in the first turn where he got hung up at the top of the turn. Arnaud Dubois was also looking good, adding a Belgian flavour to the event.
Current UCI World Points leader, Mike Day (USA), had a rough day at the track, not making it out of his motos.
Warwick finished off the day with a second place finish in the elite open race, behind Texan training partner and US High Performance team member Kyle Bennett.
Elite women's winner Gabriela Diaz showing her
Photo ©: Jerry Landrum

In elite women's racing action Gabriela Diaz (Argentina) took a her first win of the season, after a long winter which feature a lot of training and no racing. Diaz, a two time UCI Elite Women's World Champion, who probably spends more time training than any other rider in her class, looked strong all day against a good field of elite women's riders. The race was highlighted by the appearance of Aneta Hladikova (Czech Republic) and Vilma Rimsaite (Lithuania) and a good turn out of local riders, such as Kim Hayashi, Stephanie Barragan and Krystal Hime.
Photography
For a thumbnail gallery of these images, click here
Images by Jerry Landrum/www.bmxmania.com
Results
Elite Men
 
1 Warwick Stevenson (Aus)     
2 Matt Pohlkamp (USA)         
3 Javier Colombo (Arg)        
4 Cristian Becerine (Arg)     
5 Randy Stumpfhauser (USA)    
6 Robert De Wilde (Ned)       
7 Khalen Young (Aus)          
8 Donny Robinson (USA)        
 
Elite women
 
1 Gabriela Diaz (Arg)         
2 Vilma Rimsaite (Ltu)        
3 Rachel Smith (USA)          
4 Aneta Hladikova (Cze)       
5 Krystal Hime (USA)          
6 Kim Hayashi (USA)           
7 Afton Schrimpf (USA)        
8 Stephanie Barragan (USA)    
 
Junior men
 
1 Joey Bradford (USA)         
2 Nick Long (USA)             
3 Toms Mankus (Lat)           
4 Kristaps Konrads (Lat)      
5 Mauricio Sarmeinto (Col)    
6 James Brown (Can)           
7 Liam Phillips (GBr)         
8 Logan Collins (USA)         
 
Junior women
 
1 Amanda Geving (USA)         
2 Amanda Carr (USA)           
3 Madison Pitts (USA)         
4 Erika Short (USA)           
5 Joyce Seesing (Ned)