UCI BMX World Championships - C1
Victoria, BC, Canada, July 26 - 29, 2007
2005 results Results Photography
Bennett, Reade take Elite world titles
By Rob Jones
Kyle Bennett (USA)
Photo ©: Rob Jones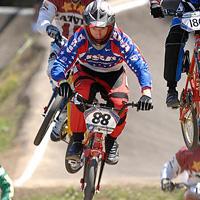 With just over a year to go before BMX makes its Olympic debut in Beijing, everyone had a chance at the 2007 BMX World Championships to see who will likely to be contending for medals in China. Judging by the speed she showed winning the women's event, Shanaze Reade of Great Britain will be strong favourite. On the men's side, Kyle Bennett took the men's title - just one of an extremely talented-filled USA. Yvan Lapraz (Switzerland) took the Junior Men's title, and will move up the elite category next season, while Magalie Pottier (France) won the Junior women's after favoured Amanda Geving (USA) crashed while leading.
Held in Victoria, British Colombia at the Juan de Fuca sports complex - right next to the 1994 Commonwealth Games velodrome - the track was a traditional design, rather than the Super Cross style with a big opening jump which is expected to be used in Beijing. This caused some scratching of heads, especially when the women didn't do the big jumps on the second and third straights which the men did. Despite that, the racing was very fast, with numerous lead changes and crashes keeping everyone guessing on who would ultimately win.
Another interesting factor was the appearance of some top mountain bike Downhill and 4 Cross stars, all of which started out in BMX, such as Mickal Prokop (Czech Republic), Jill Kintner (USA), Jared Graves (Australia) and the legendary Anne-Caroline Chausson (France). How would these pros - many of whom originally came from BMX - fare against the top BMXers?
Australian Khalen Young finished
Photo ©: Rob Jones

At this point, the advantage goes to the BMX regulars...but only just. Chausson was bike lengths ahead of her competitors as she worked her way through the elimination rounds, only to crash out in the second corner of the women's final as she was moving up to second place, unfortunately taking down her two French teams as well. However, she will certainly be a force to reckon with. Kintner didn't fare quite as well, finishing fifth in the semi-final, where only the top four move on, as she seemed less confident on the bumps in the finishing straight.
"I heard something behind me," explained Reade after the final, "and I thought Chausson was catching me. But then after the corner I was able to look behind and saw that they (the French riders) had crashed, and I thought 'Oh my god, I'm the world champion'. For me this has been an up and down year of racing, and when I heard that Anne-Caro was coming back, and wasn't too sure that I could do it."
Reade is a first year Elite, after winning the Junior title last year, and has also generated some interest from the British track program because of her truly explosive speed out of the gates. The youngsters success on track, which includes a world women's team sprint title with compatriot Victoria Pendelton, means she's leaving her Olympic options open. "Well, I've never done a match sprint, or even a flying 200 (metre) at this point, but I don't want to rule anything out," she said.
Great Britain's Shanaze Reade
Photo ©: Rob Jones

On the men's side, Prokop was one of the top performers, just like Chausson, exploding out of the gate and well in front for his early runs. In the semi-final he got a slightly slower start, but was moving up on the second straight when his chain broke, sending him crashing to the ground and ending his chances of a BMX rainbow jersey to go with his 4X one. Graves also ran into difficulty in his semi-final and didn't make the final eight.
In the men's final, Bennett, who is coming back from a seven month enforced layoff after damaging his ACL rotator cuff, was stunned by his win, since he was not one of the favourites. While riders such as Jason Richardson and Kyle Cushman crashed out in earlier rounds, Bennett moved steadily on, and then had an extremely good start to take the lead in the men's final through the first corner and then on to win by more than three bike lengths.
The former two-time world champion was almost in tears after his run, as other competitors hugged and congratulated him. "It's been a long road back," he admitted. "I had no idea how I would do here, but I was definitely on my game today; racing against these guys brings the best out of you. But right now, I am still trying to take it all in."
Behind Bennett, Australia's Khalen Young was moving up through the final corner and straight, and with another 20 metres it might have been a different result. "I knew Khalen was coming up and I was getting tired, so out of the last turn I just tucked my head down and went for it," said Bennett. "This is definitely my biggest world title win after all I have had to come back from, and now that the Olympics are a factor, everyone has stepped it up."
Race Notes
Chasing from the back
Photo ©: Rob Jones

- The Worlds had strong spectator support, but fell through in a number of areas:
CBC was providing live TV coverage in the West (and online for the rest of the world) for the last three hours of the races, but due to delays dropped the coverage just before the Finals. The reason for the delays? A number of close finishes which required further scrutiny, and occasional long delays with timing or crashes when riders had to be evacuated from the course.
The organiser fell well short of budget expectations, after a very slow start in sponsorship solicitation (they had problems also with a late start to attracting volunteers). The organiser was so far behind that they were not able to run the test event earlier in the year and other organisers had to step in. The budget problems could be seen in the lack of amenities for officials, media, VIPs, etc. In fact officials had to almost stage a mini protest before they were feed while out on the course all day (they ended up getting pieces of sub sandwiches by the second day, after someone raided the volunteer area).
However, despite these problems, the event went off pretty much problem free, with perfect weather and excellent racing.
Photography
For a thumbnail gallery of these images, click here
Images by Rob Jones/www.canadiancyclist.com
Results
Elite Men

1 Kyle Bennett (USA)              
2 Khalen Young (Aus)              
3 Randy Stumpfhauser (USA)        
4 Steven Cisar (USA)              
5 Pablo Gutierrez (Fra)           
6 Danny Caluag (USA)              
7 Augusto Castro (Col)            
8 Jarrett Kolich (USA)            

Elite Women

1 Shanaze Reade (GBr)             
2 Sarah Walker (NZl)              
3 Jana Horakova (Cze)             
4 Cyrielle Convert (Fra)          
5 Willy Kanis (Ned)               
6 Amélie Despeaux (Fra)           
7 Anne-Caroline Chausson (Fra)    
8 Latticia Corguelle (Fra)        

Junior Men

1 Yvan Lapraz (Swi)               
2 Joey Bradford (USA)             
3 Logan Collins (USA)             
4 Jasper Verkuijl (Ned)           
5 Nicholas Long (USA)             
6 Vincent Pelluard (Fra)          
7 Tom Skujins (Lat)               
8 Kristopher Fox (USA)            
 
Junior Women

1 Magalie Pottier (Fra)           
2 Maria Eugenia Ruarte (Arg)      
3 Lieke Klaus (Ned)               
4 Dana Sprengers (Ned)            
5 Caroline Buchanan (Aus)         
6 Romana Labounkova (Cze)         
7 Joyce Seessing (Ned)            
8 Amanda Geving (USA)