Recently on Cyclingnews.com
Pacific Oceania Ranking Series Round 5 - C3
Knox, Victoria, Australia, January 21, 2006
Missing favourites cause a stir
Jared Graves plies his mountain cross
Photo ©: Evan Jeffery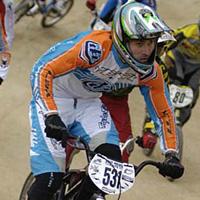 After winning the last UCI round on the Gold Coast earlier this month, Australian BMX stalwart Wade Bootes was knocked out during the heats at round five in Victoria, making way for fellow Queenslander Jared Graves to take victory. The Toowoomba resident took a convincing victory in Sunday's race, leading from flag to flag.
"I felt quick down all the straights," said an elated Graves. "I've got a lot of confidence after betting Bubba Harris (2005 BMX World Champ from USA) a few weeks ago."
Penrith's Luke Madill didn't live up to his status as favourite for the event, finishing in second behind Graves. Liverpool resident Khalen Young blazed by Kiwi rival Marc Willers on the final straight to take the final podium position.
Kiwi, Sarah Walker was too strong
Photo ©: Evan Jeffery

Despite his early knock out, Bootes maintains the National Probikx Series lead by 38 points from Madill in second and Michael Robinson in third overall. In the UCI rankings New Zealand's Matthew Cameron leads the way on 36 points with Queensland's Michael Robinson the top Australian, nine points behind Cameron in second and New South Welshman Billy Jolliffe in third with 23 points.
In the Elite Women's category New Zealander Sarah Walker was too strong for Australia's Tanya Bailey and Melissa Mankowski. Walker, the UCI series leader at just 19 years of age, took a similar victory to her male counterpart Graves, getting out front early and preventing Bailey from making a move.
Mankowski suffered a sprained foot from a crash in yesterday's heat, but put the pain out of her mind to ride home in third place, gaining valuable UCI points.
Nicole Callisto on the side line
Photo ©: Evan Jeffery

Despite losing ground in the UCI standings to Mankowski in the last two rounds, Walker continues to hold a convincing lead on 54 points to Mankowski's 32. New Zealand's Lisa Horlor holds third in the standings with 27 points.
Perth's Nicole Callisto had a double blow on the weekend when a knee injury saw her sidelined from competition, which resulted in her losing the Australian Probikx National Championship lead. Bailey now leads in the standings on 207 points with Mankowski in second on 377 while Callisto now sits in third on 339.
There is concern in the High Performance Training squad for Callisto who had a case of deja-vu when she badly injured the same knee on the same day last year. The injury required major knee reconstruction and saw her miss the entire 2006 season.
Photography
For a thumbnail gallery of these images, click here
Images by Evan Jeffery/www.evanjeffery.com.au
Results

Elite Men
 
1 Jared Graves (Toowoomba, Qld)                   
2 Luke Madill (Penrith, NSW)                      
3 Khalen Young (Liverpool City, NSW)              
4 Marc Willers (Cambridge, NZl)                   
5 Scott Taylor (Cockburn, WA)                     
6 Billy Jolliffe (Terrigal, NSW)                  
7 Michael Robinson (Nerang, Qld)                  
8 Brian Kirkham (Port Augusta, SA)                
 
Elite Women
 
1 Sarah Walker (Rotorua, NZl)                     
2 Tanya Bailey (Wanneroo, WA)                     
3 Melissa Mankowski (Moranbah, Qld)               
4 Krystal Cranfield (Centenary Plains, Qld)       
5 Rachael Sheridan (Liverpool City, NSW)          
6 Serena Kastermans (Papakura, NZl)               
7 Lisa Horlor (Hamilton, NZl)                     
 
Junior Men
 
1 Matthew Willoughby (Happy Valley, SA)           
2 Steven Janssen (Nerang, Qld)                    
3 Joshua Webb (Terrigal, NSW)                     
4 Luke Bracken (Townsville, Qld)                  
5 Ben Davis (Byford, WA)                          
6 Ashley Pemberton (Townsville, Qld)              
7 Michael Vockenson (Suncoast Hinterland, Qld)    
8 Nicholas Cameron (Liverpool City, NSW)          
 
Junior Women
 
1 Caroline Buchanan (Tuggeranong, ACT)            
2 Ziggy Callan (Lilydale, Vic)                    
3 Victoria Hill (New Plymouth, NZl)               
4 Grace Ireland (Liverpool City, NSW)             
5 Catherine Hopkins (Hills, WA)                   
 
16 Boys
 
1 Sam Willoughby (Happy Valley, SA)               
2 Michael Chasteauneuf (Eastfield, Vic)           
3 Joshua Callan (Lilydale, Vic)                   
4 Kurt Nicholls (Cairns, Qld)                     
5 Anthony Dean (Cross Keys, SA)                   
6 Justin Braybon (Happy Valley, SA)               
7 Aidan Nemet (Tuggeranong, ACT)                  
8 Justin Myers (Happy Valley, SA)                 
 
16 Girls
 
1 Rachel Bracken (Townsville, Qld)                
2 Cherie Simpson (Byford, WA)                     
3 Lauren Reynolds (Bunbury, WA)                   
4 Petra Brown (Eastern Goldfields, WA)            
5 Erin Anderson (Knox, Vic)                       
6 Courtney Taylor (Blue Mountains, NSW)           
 
15 Girls
 
1 Melinda Mcleod (Mackay Pioneer, Qld)            
2 Lacey Oliver (Nerang, Qld)                      
3 Kirsten Dellar (Tom Price, WA)                  
4 Talia Smith (Cross Keys, SA)                    
5 Ashleigh Cragg (Canberra, ACT)                  
6 Olivia Clark (Sunbury, Vic)                     
7 Jade Parker (Eastfield, Vic)                    
8 Jacinta Rice (Sawtell, NSW)                     
 
15 Boys
 
1 Brendan Abel (Caboolture, Qld)                  
2 Benjamin Clarke (Macarthur, NSW)                
3 Ryan Henderson (Tuggeranong, ACT)               
4 Kevin Watson (Nerang, Qld)                      
5 Shaun Gray (Cairns, Qld)                        
6 Ryan Faux (Mackay Pioneer, Qld)                 
7 Matthew Dunsworth (Knox, Vic)                   
8 Jacob Page (Centenary Plains, Qld)              
 
14 Boys
 
1 Shannon Burnett (Cockburn, WA)                  
2 Thomas Rowe (Cross Keys, SA)                    
3 Graeme Mudd (Maitland Tenambit, NSW)            
4 Corey Bagnall (Southlake, NSW)                  
5 Daniel Notely-Cole (Nerang, Qld)                
6 Joshua Hamilton (The Cove, SA)                  
7 Jack Sutton (Terrigal, NSW)