Pacific Oceania Ranking Series - C3
Nerang, Queensland, Australia, January 6, 2006
Bootes puts Olympic Selectors on notice
Wade Bootes from Nerang BMX Club
Photo ©: John McBain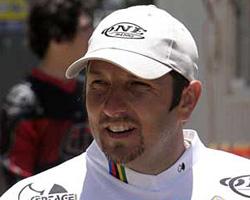 Wade Bootes has put selectors for the 2008 Beijing Olympics on notice by winning the Pacific Oceania Ranking Series UCI Round 4 at Nerang on the Gold Coast today. The 31 year-old rider dominated after the first corner to win the elite men's final. With the event doubling as an Australian national series race, Bootes also retains the lead in the Hog's Breath Café Probikx National Tour by a massive 120 points.
"In today's competition everyone has a chance," explained Bootes. Newly announced as the Talent ID coach for BMX Australia, the Queenslander has been kept busy with his new position. "Working with those kids keeps me energized."
Despite being one of the older riders in Australia and a father of two, Bootes plans to push ahead to make one of the top three male spots for the Olympic debut in Beijing. "Hopefully I can hang in there," he said. "Until they beat me I'm not quitting!"
Melissa Mankowski (#65) and Nicole Callisto (#55)
Photo ©: John McBain

Fellow Nerang Club member, Michael Robinson took second place but looked unlikely to make the final. An official decision after the sem-finals relegated unlucky Adelaide rider, Brian Kirkham to last place in the semi-final gave Robinson a berth in the final race. Now in third place, Robinson is the highest ranked Australian in the Pacific-Oceania UCI rankings.
Sydney's Khalen Young made a remarkable comeback to the sport with a creditable third place. The 22 year-old has impressed High Performance Coach, Sean Dwight. "Khalen's focused on an Olympic berth," explained Dwight. "He needs to make the World Championships selection for Canada in July first."
World Championship finalist, Billy Jolliffe finished in fourth with national champion Kamakazi placing in fifth. Jared Graves was satisfied with seventh in his first BMX race of the season but Luke Madill was disappointed to finish in eighth.
Free sticker throw
Photo ©: Matthew Setright

The Elite Women's racing was dominated by the High Performance riders with Melissa Mankowski making a strong move in the final to win. The BMX Junior Cyclist of the Year award winner has now won her first national race as an elite rider. Second was 2005 World Junior Champion, Nicole Callisto who still leads the Probikx series by 40 points from third placed Tanya Bailey.
New Zealand's top rider, Sarah Walker placed fourth ahead of Australia's champion Krystal Cranfield.
Junior men's Steven Janssen used his home track advantage to win ahead of Ashley Pemberton.
The Junior Women's field was competitive with Caroline Buchanan winning her first race in the series just ahead of series leader Ziggy Callan.
Photography
For a thumbnail gallery of these images, click here
Images by John McBain
Images by Matthew R Setright/Flashshots
Results

Elite Men 

1 Wade Bootes (QLD)
2 Michael Robinson (QLD)
3 Khalen Young (NSW)
4 Billy Jolliffe (NSW)
5 Marc Willers (NZL)
6 Kamakazi (QLD)
7 Jared Graves (QLD)
8 Luke Madill (NSW)
9 Daniel Johnstone (NSW)
10 Cale Mcculloch (WA)
11 Todd Pascoe (QLD)
12 Joel Kugener (NZL)
13 Joel Clark (QLD)
14 Samuel Baber (QLD)
15 Scott Taylor (WA)
16 Brian Kirkham (SA)
17 Sifiso Nhlapo (RSA)
18 Michael Fenwick (SA)
19 Matthew Hill (QLD)
20 Alexander Cameron (NSW)
21 Terry Scarr (NSW)
22 Matthew Cameron (NZL)
23 Tim Ferguson (NZL)
24 Thomas Hubert (NSW)
25 Tony Wilcock (NZL)
26 Takuro Nishioka (JPN)
27 Steven Wong (HKG)
28 Anthony Bork (QLD)
29 Callum Gifford (NZL)
30 Timothy Dunn (NSW)
31 Jayden Dinmore (QLD)
32 Gavin Turner (NSW)
33 Ben Price (VIC)

Elite Women 
 
1 Melissa Mankowski (QLD)
2 Nicole Callisto (WA)
3 Tanya Bailey (WA)
4 Sarah Walker (NZL)
5 Krystal Cranfield (QLD)
6 Serena Kastermans (NZL)
7 Tanya Thiele (QLD)
8 Lisa Horlor (NZL)
9 Rachael Sheridan (NSW)

Junior Men 
 
1 Steven Janssen (QLD)
2 Ashley Pemberton (QLD)
3 Ben Davis (WA)
4 Dirk Winter (QLD)
5 Matthew Willoughby (SA)
6 Michael Vockenson (QLD)
7 Jasper Gaffney (QLD)
8 Christopher Westwood (NSW)
9 Ashley Mccutcheon (VIC)
10 Axel Jones (NZL)
11 Joshua Webb (NSW)
12 Matthew Davies (NZL)
13 Kristofer Ulyate (QLD)
14 Michael Williams (NZL)
15 Luke Bracken (QLD)
16 Chris Fleming (QLD)
17 Jye Danielson (QLD)
18 Graeme Riggs (QLD)
19 Nicholas Cameron (NSW)
20 Brendan Spann (QLD)
21 Aaron Hattin (QLD)
22 Zachary Webb (NZL)
23 Derrick Mellish (NZL)

Junior Women 
 
1 Caroline Buchanan (ACT)
2 Ziggy Callan (VIC)
3 Grace Ireland (NSW)
4 Caitlyn Ward (QLD)
5 Caetlyn Hubert (NSW)
6 Victoria Hill (NZL)