Pacific Oceania Ranking Series #6 - C3
Adelaide, South Australia, Australia, February 24-25, 2006
Kamakazi wins as field crashes
Elite Menís winner Kamakazi
Photo ©: Rachel Burke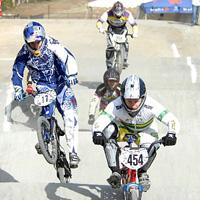 A Steven Bradbury style finish has allowed Australian National BMX Champion Kamakazi to win his first National Probikx Series race this season. Kamakazi was in fourth position when a crash involving the leading three riders gave him an easy victory in the series' sixth round.
The crash involved leading rider Khalen Young who was tangled up with New Zealand rider Marc Willers and Luke Madill. An earlier altercation for Jared Graves took him out of the lead but he recovered, with the help of the bingle, to ride cross the line in second.
South Australian rider Brian Kirkham finished third while Michael Robinson returned to racing after an appendix operation to claim fourth. Queenslander Jamie Gray took fifth place ahead of the crash victims Madill, Young and Willers who rode across the line in sixth, seventh and eighth respectively.
Tanya Bailey rounds the last corner
Photo ©: Rachel Burke

In the National Probikx Series standings the top three positions remained unchanged with Madill leading Wade Bootes and Young in third.
The women's race involved a series of three races for points and New Zealander Sarah Walker proved too strong, wining the event from Perth's Tanya Bailey while Queenslander Melissa Mankowki took third. Another New Zealand rider, Serena Kastermans, was fourth.
In the women's national Probikx Series standings the women's top three places went unchanged with Bailey retaining the lead. Mankowski continues to hold second place in the standing while Nicole Callisto, who has been sidelined after knee surgery, retains her third spot.
Luke Madill studying the form of his rivals
Photo ©: Rachel Burke

The junior men's event saw Matthew Willoughby maintain his series lead by winning the event, while Canberra's Caroline Buchanan won from Ziggy Callan but the latter retains the junior women's series lead.
In the 16 boys South Australian Sam Willoughby won and retains his National Champbikx. Western Australian, Lauren Reynolds (Bunbury) won the 16 girls race.
Photography
For a thumbnail gallery of these images, click here
Images by Rachel Burke/www.maximumattack.biz
Results
Elite Men
 
1 Kamakazi                
2 Jared Graves            
3 Brian Kirkham           
4 Michael Robinson        
5 Jamie Gray              
6 Luke Madill             
7 Khalen Young            
8 Marc Willers            
9 Wade Bootes             
10 Billy Jolliffe         
11 Michael Fenwick        
12 Sifiso Nhlapo          
13 Cale Mcculloch         
14 Todd Pascoe            
15 Scott Taylor           
16 Daniel Johnstone       
17 Matthew Cameron        
18 Julian Lim             
19 Steven Wong            
20 Alexander Cameron      
21 Jarrod Royal           
22 Nigel Adamson          
23 Alex Hunter            
 
Elite Women 
 
1 Sarah Walker            
2 Tanya Bailey            
3 Melissa Mankowski       
4 Serena Kastermans       
5 Angela Wooding          
6 Kylie Patroni           
 
Junior Men 
 
1 Matthew Willoughby      
2 Joshua Webb             
3 Dirk Winter             
4 Steven Janssen          
5 Aaron Wheatland         
6 Luke Londema            
7 Christopher Westwood    
8 Joshua Eden             
9 Jasper Gaffney          
10 Nicholas Cameron       
11 Zac Lennon             
12 Karl Ballintyne        
 
Junior Women 
 
1 Caroline Buchanan       
2 Ziggy Callan            
3 Victoria Hill           
4 Grace Ireland           
5 Catherine Hopkins       
 
16 Girls 
 
1 Lauren Reynolds         
2 Cherie Simpson          
3 Rachel Bracken          
4 Erin Butler             
 
16 Boys 
 
1 Sam Willoughby          
2 Joshua Callan           
3 Anthony Dean            
4 Justin Braybon          
5 Tatsumi Matsushita      
6 Tyler Green             
7 Justin Myers            
 
15 Girls 
 
1 Kirsten Dellar          
2 Lacey Oliver            
3 Ashleigh Cragg          
4 Talia Smith             
5 Olivia Clark            
 
15 Boys 
 
1 Trent Evans             
2 Brendan Abel            
3 Benjamin Clarke         
4 David Haydon            
5 Ryan Henderson          
6 Robert Londema          
7 Andrew Schultz          
8 Kevin Watson            
9 Dylan Gale              
10 Joshua Wallis          
11 Joel Eden              
12 Jake Foster            
13 Steven Stewart         
 
14 Boys
 
1 Thomas Rowe             
2 Graeme Mudd             
3 Brent Welhan            
4 Corey Bagnall           
5 Brandon Mcqueen         
6 Christopher Lathwell