UCI BMX Supercross World Cup - C2
Adelaide, South Australia, Australia, April 11-12, 2008
BMX winner lays claim to an Olympic berth
The menís podium: Maris Strombergs, David Herman
Photo ©: Evan Jeffery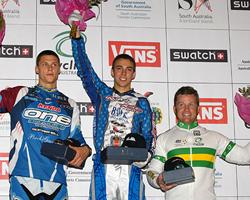 USA youngster David Herman not only made his first final but won the UCI BMX World Cup Supercross in Adelaide. The 19 year old 'dark horse' of the strong American men's team blitzed the field beating Latvian. Maris Strombergs. Third was Australian BMX Olympic hopeful, Kamakazi from Queensland. Fellow Australian finalists Luke Madill and Jared Graves finished sixth and eighth respectively.
All top three riders were finalists for the first time and keen to prove that they deserve to be their nation's chosen riders when the Olympic teams are nominated after the World Championships in Taiyuan in early June.
For Herman, to make a final and win from an outside lane was particularly exciting.
"I slammed my bike on the ground," Herman said. "I was really happy. There was some hugging. I gave Bubba Harris a hug as he made the semi which is good for him. We're a cheerful group over here.
Another way of looking
Photo ©: Evan Jeffery

"I am 19 and many people think I am heading for the next Olympics [London]," he added. "That's what people think I should be going for but I'm here and I've been working hard.
"The main reason I did so well was that I wasn't expecting to do so well," he said. "I wasn't nervous. I was the most nervous for my first moto and then I was relaxed."
Surprisingly, Herman was the only USA rider to make the final, even though fellow team-mate Donny Robinson claimed the fastest time trail. Favourites, Robinson and Mike Day (USA) both failed to make the final.
Strombergs was a little disappointed with his second place but it was the Australian, Kamakazi, who received the applause from the large Adelaide crowd.
Arielle Martin (USA) performed
Photo ©: Evan Jeffery

"I was pretty lucky to get to the final," said Kamakazi. "This is only my second Supercross and first final so I'm thrilled."
In the women's race world number one rider Sarah Walker from New Zealand claimed victory. The 19 year-old punched the air at the finish line after a fall in the first race of the day saw her avoid injury.
"I thought I would not be walking off the track after that but my day got better," Walker said. "My gates hadn't been good all day. I chose a wide lane and got a free run into the first corner."
This World Cup Supercross was the first race of the season for the women. "It has been a long time, I have ridden on this sort of track since our last Supercross in October last year," pointed out Walker.
Second was the improving Arielle Martin from the United States while Canadian rider Samantha Cools placed third. Australian National Champion Tanya Bailey claimed fourth while team-mate Nicole Callisto finished a creditable seventh.
Photography
For a thumbnail gallery of these images, click here
Images by Evan Jeffery/www.evanjeffery.com.au
Results

Elite Men 
 
1 David Herman (USA)                     0.30.45
2 Maris Strombergs (Latvia)              0.00.28
3 Kamakazi (Australia)                   0.00.48
4 Michal Prokop (Czech Republic)         0.00.67
5 Raymon Van Der Biezen (Netherlands)    0.01.03
6 Luke Madill (Australia)                0.01.20
7 Emilio Falla (Equador)                 0.01.49
8 Jared Graves (Australia)               0.05.95
 
Elite Women 
 
1 Sarah Walker (New Zealand)             0.34.65
2 Arielle Martin (USA)                   0.00.27
3 Samantha Cools (Canada)                0.01.59
4 Tanya Bailey (Australia)               0.02.13
5 Jill Kintner (USA)                     0.02.22
6 Amanda Geving (USA)                    0.02.54
7 Nicole Callisto (Australia)            0.04.65
8 Maria Gabriela Diaz (Argentina)        0.07.42