2009 UCI Track Cycling World Championships - CM
Pruszkow, Poland, March 25-29, 2009
Main Page Results Overall standings Previous Stage Next Stage
Stage 4 - March 27: Men: Team pursuit qualifying; Women: Sprint (200m TT, 1/16, 1/8, 1/8 repechage)
Danes are great again
By Gerry McManus in Pruszkow, Poland
The Danes proved to be great
Photo ©: Gerry McManus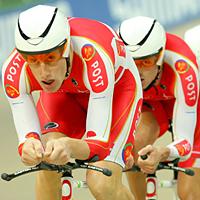 The Danish team claimed the only sub-four minute time in qualification for the men's 4,000m team pursuit. Casper Jorgensen, Jens-Erik Madsen, Michael Mørkøv and Alex Rasmussen recorded 3:59.892 to make it into the gold medal final against Australia. The Australian quartet of Jack Bobridge, Dennis Rohan, Leigh Howard and Cameron Meyer recorded 4:00.581 and it will surely be an exciting final.
Australia just edged out favourites Great Britain out of the gold medal final. Lacking Olympic gold medallist Bradley Wiggins as their motor, the British squad went down to three men after Jonathan Bellis dropped off at the three kilometre mark, and could only manage a 4:00.818. They will meet up with the team from New Zealand for the bronze medal final.
Pendleton shows her form
Current World Champion Victoria Pendleton showed that she is still a force to be reckoned with when she went quickest in the 200m qualification time trial for the Women's Sprint taking place today. Belarusian Olga Panarina held top spot on the leader board for quite some time before the top riders started slicing bits off her 11.176 second time. Simona Krupeckaite (Lithuania) headed the leader board with 11.134 before Pendleton blasted round the track to record the only sub 11 second time of 10.971.
Pendleton cruised through to the quarter finals beating Yvonne Hijenaar (Netherlands) in two straight rides and Krupeckaite easy despatched Italian Elisa Frisoni into the repechage round.
Guo Shuang (China), Panarina, Lyubov Shulika (Ukraine) and Willy Kanis (Netherlands) also made it safely through.
Hijenaar and Kaarle McCulloch won their respective repechage heats to go into the next round. McCulloch's heat win was impressive with the Aussie going onto the front and teasing her opponents to attack and she easily held off the challenge from first Miriam Welte (Germany) and then the Italian Frisoni.
The competition continues this evening with more women's sprints, the women's scratch race, men's kilometre, and the men's team pursuit final.
Photography
For a thumbnail gallery of these images, click here
Images by Gerry McManus/www.gerrymcmanus.co.uk
Results
Men's Team Pursuit
Qualifying

1 Denmark                             3.59.892 (60.027 km/h)
 Casper Jorgensen (Denmark)                   
 Jens Erik Madsen (Denmark)                   
 Michael Mørkøv (Denmark)                     
 Alex Rasmussen (Denmark)                     

2 Australia                           4.00.581
 Jack Bobridge (Australia)                    
 Rohan Dennis (Australia)                     
 Leigh Howard (Australia)                     
 Cameron Meyer (Australia)                    

3 Great Britain                       4.00.818
 Jonathan Bellis (Great Britain)              
 Steven Burke (Great Britain)                 
 Edward Clancy (Great Britain)                
 Peter Kennaugh (Great Britain)               

4 New Zealand                         4.01.186
 Westley Gough (New Zealand)                  
 Peter Latham (New Zealand)                   
 Marc Ryan (New Zealand)                      
 Jesse Sergent (New Zealand)                  

5 Spain                               4.04.485
 Sergi Escobar Roure (Spain)                  
 David Muntaner Juaneda (Spain)               
 Antonio Tauler Llull (Spain)                 
 Eloy Teruel Rovira (Spain)                   

6 Germany                             4.07.262
 Robert Bengsch (Germany)                     
 Henning Bommel (Germany)                     
 Patrick Gretsch (Germany)                    
 Roger Kluge (Germany)                        

7 Netherlands                         4.08.667
 Levi Heimans (Netherlands)                   
 Geert Jan Jonkman (Netherlands)              
 Arno Van Der Zwet (Netherlands)              
 Sipke Zijlstra (Netherlands)                 

8 Ukraine                             4.08.736
 Volodymyr Diudia (Ukraine)                   
 Lyubomyr Polatayko (Ukraine)                 
 Mykhaylo Radionov (Ukraine)                  
 Vitaliy Shchedov (Ukraine)                   

9 Belgium                             4.08.825
 Dominique Cornu (Belgium)                    
 Ingmar De Poortere (Belgium)                 
 Stijn Steels (Belgium)                       
 Maarten Vlasselaer (Belgium)                 

10 Colombia                           4.10.111
 Juan Esteban Arango Carvajal (Colombia)      
 Arles Antonio Castro Laverde (Colombia)      
 Edwin Alcibiades Avila Vanegas (Colombia)    
 Carlos Alberto Uran Arroyabe (Colombia)      

11 People's Republic of China         4.10.886
 Libin Chen (People's Republic of China)      
 Wei Li (People's Republic of China)          
 Teng Ma (People's Republic of China)         
 Xuelong Qu (People's Republic of China)      

12 France                             4.11.544
 Arnaud Depreeuw (France)                     
 Julien Duval (France)                        
 Ronan Guinaudeau (France)                    
 Mickael Jeannin (France)                     

13 Poland                             4.13.454
 Dawid Glowacki (Poland)                      
 Piotr Kasperkiewicz (Poland)                 
 Adrian Kurek (Poland)                        
 Jakub Sredzinki (Poland)                     

DNS Russian Federation                        
 Valery Kaikov (Russian Federation)           
 Leonid Krasnov (Russian Federation)          
 Vladimir Shchekunov (Russian Federation)     
 Stanislav Volkov (Russian Federation)        

Women's Sprint
Qualifying

1 Victoria Pendleton (Great Britain)           0.10.971 (65.627 km/h)
2 Simona Krupeckaite (Lithuania)               0.11.134
3 Lyubov Shulika (Ukraine)                     0.11.148
4 Shuang Guo (People's Republic of China)      0.11.154
5 Olga Panarina (Belarus)                      0.11.176
6 Willy Kanis (Netherlands)                    0.11.226
7 Kristina Vogel (Germany)                     0.11.382
8 Kaarle Mcculloch (Australia)                 0.11.431
9 Clara Sanchez (France)                       0.11.477
10 Lisandra Guerra Rodriguez (Cuba)            0.11.498
11 Jinjie Gong (People's Republic of China)    0.11.514
12 Huang Ting Ying (Chinese Taipei)            0.11.536
13 Yvonne Hijgenaar (Netherlands)              0.11.573
14 Elisa Frisoni (Italy)                       0.11.586
15 Miriam Welte (Germany)                      0.11.594
16 Sandie Clair (France)                       0.11.613
17 Olga Streltsova (Russian Federation)        0.11.631
18 Lulu Zheng (People's Republic of China)     0.11.634
19 Monique Sullivan (Canada)                   0.11.702
20 Jessica Varnish (Great Britain)             0.11.775
21 Wai See Lee (Hong Kong, China)              0.11.901
22 Gintare Gaivenyte (Lithuania)               0.11.908
23 Diana Maria Garcia Orrego (Colombia)        0.12.112
24 Renata Dabrowska (Poland)                   0.12.506
DNS Anna Meares (Australia)                            
 
1/16 Final
 
Heat 1 
1 Victoria Pendleton (Great Britain)           0.12.552
2 Renata Dabrowska (Poland)                            
 
Heat 2 
1 Simona Krupeckaite (Lithuania)               0.11.866
2 Diana Maria Garcia Orrego (Colombia)                 
 
Heat 3 
1 Lyubov Shulika (Ukraine)                     0.12.287
2 Gintare Gaivenyte (Lithuania)                        
 
Heat 4 
1 Shuang Guo (People's Republic of China)      0.12.006
2 Wai See Lee (Hong Kong, China)                       
 
Heat 5 
1 Olga Panarina (Belarus)                      0.11.767
2 Jessica Varnish (Great Britain)                      
 
Heat 6 
1 Willy Kanis (Netherlands)                    0.12.265
2 Monique Sullivan (Canada)                            
 
Heat 7 
1 Kristina Vogel (Germany)                     0.12.009
2 Lulu Zheng (People's Republic of China)              
 
Heat 8 
1 Kaarle Mcculloch (Australia)                 0.12.488
2 Olga Streltsova (Russian Federation)                 
 
Heat 9 
1 Clara Sanchez (France)                       0.11.957
2 Sandie Clair (France)                                
 
Heat 10 
1 Miriam Welte (Germany)                       0.12.363
2 Lisandra Guerra Rodriguez (Cuba)                     
 
Heat 11 
1 Elisa Frisoni (Italy)                        0.12.110
2 Jinjie Gong (People's Republic of China)             
 
Heat 12 
1 Yvonne Hijgenaar (Netherlands)               0.12.041
2 Huang Ting Ying (Chinese Taipei)                     
 
1/8 Final
 
Heat 1 
1 Victoria Pendleton (Great Britain)           0.11.904
2 Yvonne Hijgenaar (Netherlands)                       
 
Heat 2 
1 Simona Krupeckaite (Lithuania)               0.11.853
2 Elisa Frisoni (Italy)                                
 
Heat 3 
1 Lyubov Shulika (Ukraine)                     0.12.007
2 Miriam Welte (Germany)                               
 
Heat 4 
1 Shuang Guo (People's Republic of China)      0.11.561
2 Clara Sanchez (France)                               
 
Heat 5 
1 Olga Panarina (Belarus)                      0.11.486
2 Kaarle Mcculloch (Australia)                         
 
Heat 6 
1 Willy Kanis (Netherlands)                    0.12.231
2 Kristina Vogel (Germany)                             
 
1/8 Repechage
 
Heat 1 
1 Yvonne Hijgenaar (Netherlands)               0.12.191
2 Clara Sanchez (France)                               
3 Kristina Vogel (Germany)                             
 
Heat 2 
1 Kaarle Mcculloch (Australia)                 0.12.038
2 Elisa Frisoni (Italy)                                
3 Miriam Welte (Germany)