2009 Australian Senior Track Championships - CN
Super-Drome, Adelaide, Australia, February 3-8, 2009
Main Page Results Overall standings Previous Day
Day 6 - February 8: Men: Omnium, Kilo; Women: Omnium, 500m TT
Tomic triumphs for gold number three
Josie Tomic (Western Australia)
Photo ©: John Veage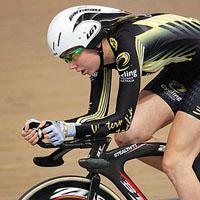 A triple junior world champion in 2007, Josephine Tomic today demonstrated her pertinacity to triumph in the inaugural elite women's omnium for her third gold medal of the Australian Track Cycling Championships at Adelaide's Super-drome.
The omnium is the 'ironman' of track cycling events with competitors contesting five events in one day of racing. Points are awarded for their placing in each of the events with the rider amassing the lowest tally claiming the win.
Tomic, who earlier in the Championships won the individual pursuit and was a member of the victorious West Australian trio that set an Australian record in the team pursuit, today won the individual pursuit and scratch rounds, was second in the flying 200m, third in the 500m time trial and fourth in the points race to finish with an aggregate of eleven points.
"I am really excited, I came in here hoping to win the pursuit and team pursuit, so to come away with this is a bonus," said Tomic. "I scratched myself from the scratch race last night so I could get to bed early and prepare for this, it was just a bit of a fun event but I wanted to put my hand up as I would like to ride this at the World Championships."
Only three points behind Tomic was Sydney's Ashlee Ankudinoff who finished on 14 points after three second placing's and two fourths. Tasmania's Laura McCaughey claimed the bronze medal on 25 points.
Lang takes men's omnium
Richard Lang has been a consistent performer
Photo ©: John Veage

New South Wales' Richard Lang claimed his first Australian title taking out the elite men's omnium. Lang placed third in the kilometre time trial and flying 200m, first in the scratch race and second in the individual pursuit, to carry a three point advantage over Victorians Trevor Griffiths and James Langedyk heading into the final points race.
Despite numerous attempts by the Victorian duo to take a lap on the field Lang maintained his composure and his form to finish in second place for a final tally of 11 points.
Lang was thrilled to win his first national champion's jersey.
"You need to be an all rounder and can't have any weaknesses," said Lang. "In the last points race with the two Victorians 'one-twoing' me, it was tough, but I got through.
"I never thought I would pull this off today, it's such a great honour, such a great team effort and such an incredible feeling".
Langedyk claimed the silver medal with 15 points, edging out his team mate Griffiths who took home the bronze medal with 16 points.
Megan has Dunn it in the U19 omnium
Megan Dunn has been another rider in good form.
Photo ©: John Veage

In the U19 women's omnium Dubbo's Megan Dunn, who won three gold medals at last year's Junior World Championships in South Africa, claimed three wins (500m time trial, points race and individual pursuit) across the five rounds plus a second place in the scratch race and fourth in the flying 200m to give her a tally of nine points. Dunn's win added a second gold to her trophy cabinet after her victory in Wednesday's U19 points race.
"It was a very hard day, five events in one day, and it [my performance] sounded a lot better than it was, but I got through and I'm very happy with my result," said Dunn. "It was hard racing and it didn't come easy.
"Points race is my favourite but the omnium is a very new event for women so I am very happy I have taken it out."
West Australian Melissa Hoskins, who this week claimed gold medals in the U19 keirin and the open women's team pursuit, finished the omnium with 14 points to collect the silver medal while Tasmania's Sarah Cure, with 18 points, claimed the bronze medal.
Not surprisingly 17-year-old Queenslander Michael Hepburn was awarded the 'Ride of the Series' for his spectacular performance in setting a World Record in the U19 men's 3km individual pursuit. He rode the time in qualifying before going onto win the gold medal in the final.
The teenage sensation collected another gold medal today with a win in the U19 men's omnium. Hepburn won the points race and individual pursuit rounds, was second in the kilometre time trial and flying 200m and fourth in the scratch race for a total of 10 points.
"I'm pretty excited with the win, it was a hard day and I didn't get the best sleep last night so didn't feel the best out there as I am fatigued from a pretty hard week," said Hepburn. "I came here for the pursuit, and that means a lot to me, but the omnium is so special because it is a mixture of so many events, so it's a lot of fun."
Tasmanian Luke Ockerby recovered from a crash in the final points race to outsprint South Australian Dale Parker across the line and clinch the silver medal with 15 points one less than Parker's 16 point bronze medal performance.
South Australian Annette Edmondson was awarded the 'Champion of Champions' title for the second straight year based on her haul of three gold medals (sprint, 500m time trial and scratch race) and one silver medal (keirin) in the U19 women's events. The Para-cycling 'Champion of Champions' award went to LC1 cyclist Victorian Michael Gallagher who won gold in both the kilometre time trial and the individual pursuit.
The 'Robina Joy Trophy', awarded to the most successful state based on placings in men's events, was claimed by Victoria.
Meares simply 'Super'
Anna Meares rode her first 500m time trial
Photo ©: John Veage

The 2004 Olympic Champion Anna Meares reconfirmed her status in her pet event with an emphatic win in the 500 metre time trial on the final day of competition at the 2009 Australian Track Championships at Adelaide's Super-drome.
Meares returned to training just four weeks ago after taking a well earned break in the wake of her successful Beijing Olympic Games campaign, and on day one of competition won a silver medal in the team sprint and added the sprint crown on Thursday night and the bronze medal in the keirin a day later.
Today the World Record holder covered the 500 metre distance in 34.554 seconds, only twelve hundredths of a second shy of the Australian Championship record she set in 2007.
"I am more than happy, far more than happy with this time," said Meares. "I kind of did the figures in my head after the team sprint and I thought at best 34-5 was what I was capable of but I would be pleased with anything 34."
With the time trials scheduled as the first event in the omnium championships, it resulted in an unusually early start time for all competitors.
"It is nice to be finished at 10am in the morning, but getting started for that time is a bit tough, but surprisingly it felt really good," said Meares. "I took my time this morning and slowly woke up instead of rushing and it worked well.
Defending champion New South Wales' Kaarle McCulloch (34.838 seconds) took the silver medal clocking a faster time than she did to claim the 2008 title last year in Sydney.
"I wasn't really expecting to do that sort of a time today considering my wrist [injury] and I lost all the time in the first lap, so I am pretty happy with my second lap," said McCulloch. "But I can't be too disappointed with coming second to Anna, of course I would have loved to have defended my title, but it's only the first start I have done in three weeks, and I am pretty confident that I am going to get faster as the season progresses."
Meares' Queensland team mate Emily Rosemond (35.759secs) took third place and her third medal of the week after winning team sprint gold and keirin silver.
Perkins win's men's time trial
Shane Perkins won the kilo
Photo ©: John Veage

Victoria's Shane Perkins rode a blistering individual time trial to claim his fourth gold medal of the Championships. He had already claimed gold in the team sprint, sprint and keirin at the event and today Perkins averaged 58.31km/hour to record 1min1.736secs, shattering Shane Kelly's 2004 Australian Championship record of 1min02.832sec by more than a second.
"I came into the week really wanting to have a good run through the sprint and hopefully do a good time there," said Perkins. "I don't really train for the kilo, I trained for the sprint, but I guess training these days enables you to ride the kilo, so why not have a crack.
"I wasn't expecting that [time], was hoping to go better than the Victorian titles 1:2 dead, so I am very, very pleased to come off with that time."
Perkins' teammate and defending champion Joel Leonard took the silver medal (1min03.020sec), with West Australia's Scott Sunderland (1:03.137 minute) in third place.
South Australia's Annette Edmondson successfully defended her U19 time trial crown, to win her third gold medal of the week in the process.
Edmondson's time of 36.530 seconds was more than a second faster than the time of West Australia's Holly Williams who recorded 37.679sec. Victorian Naomi Pinto took bronze in 37.793 seconds.
"I didn't do as fast a time as I had hoped but the conditions were not as fast as they have been and I think I under-geared a bit, but it's still a great way to finish the week," said Edmondson, who added to her sprint and scratch race titles.
The home town favourite was pleased to bounce back for the win after having to settle for silver in last night's keirin in front of rowdy group of school friends.
"I had so much fun last night, and they did too," said Edmondson. "They really brightened my night and they are already planning for the next time they can come out."
Edmondson is now hoping for selection in the Australian team to contest the Junior World Championships to be held in Moscow in July. At last year's Championships she came home with silver in the sprint.
"I am actually very excited about the training coming up, usually I look forward to a big break but I am very motivated this year," said Edmondson. "I am looking to get up there and win the sprint and hopefully go one better than last year."
Glasspool takes win in the men's U19
In the men's U19 kilometre time trial final South Australia's Jamie Glasspool won gold in 1:4.793, just under a second outside the All Comers record he set at the Australian Youth Olympic Festival last month.
Queensland's Michael Hepburn, who set a World Record on the way to winning the individual pursuit earlier in the week, collected the silver medal in a time of 1:06.888 with Victorian triple gold medallist Maddison Hammond claiming bronze in a time of 1:6.908.
Glasspool was relieved to come through for the win after the disappointment of his South Australian team not progressing to the final in the team sprint due to Matthew Glaetzer crashing in qualifying.
"I have been pretty disappointed the last two days, the team sprint was a bit frustrating and I was not happy with my keirin ride, so to bounce back with this, I am really happy," said Hammond. "I wanted to come out and ride a really good time as I have been really cautious all week, with everything based on this ride and it has all paid off, so it is really great."
Photography
For a thumbnail gallery of these images, click here
Images by John Veage
Results

Women 500m time trial Omnium round
 
1 Emily Rosemond (QLD)                      0.35.759
2 Laura McCaughey (TAS)                     0.36.457
3 Josephine Tomic (WA)                      0.37.510
4 Ashlee Ankudinoff (NSW)                   0.37.893
5 Belinda Goss (TAS)                        0.38.504
6 Sarah Kent (WA)                           0.38.557
7 Elizabeth Georgouras (NSW)                0.38.662
8 Helen Kelly (VIC)                         0.38.868
9 Malindi MacLean (NZL)                     0.39.261
10 Jessie MacLean (ACT)                     0.39.272
11 Nikki Butterfield (QLD)                  0.39.644
12 Nicole Whitburn (VIC)                    0.39.846
13 Rebecca Werner (SA)                      0.40.000
14 Rebecca Barwick (ACT)                    0.41.305
 
Women 500m time trial final
 
1 Anna Meares (QLD)                         0.34.554
2 Kaarle McCulloch (NSW)                    0.34.838
3 Emily Rosemond (QLD)                      0.35.759
4 Kerrie Meares (QLD)                       0.36.091
5 Cassandra Kell (NSW)                      0.36.812
6 Jessica Laws (VIC)                        0.37.464
7 Stephanie Morton (SA)                     0.37.730
8 Elizabeth Georgouras (NSW)                0.38.662
9 Jessie MacLean (ACT)                      0.39.272
10 Davina Summers (WA)                      0.40.693
11 Rebecca Barwick (ACT)                    0.41.305
12 Holly McClellan (WA)                     0.41.466
DNS Apryl Eppinger (PHI)                            
 
Women 200m sprint Omnium round
 
1 Emily Rosemond (QLD)                      0.11.841
2 Josephine Tomic (WA)                      0.12.171
3 Laura McCaughey (TAS)                     0.12.179
4 Ashlee Ankudinoff (NSW)                   0.12.184
5 Elizabeth Georgouras (NSW)                0.12.271
6 Belinda Goss (TAS)                        0.12.453
7 Sarah Kent (WA)                           0.12.559
8 Malindi MacLean (NZL)                     0.12.679
9 Jessie MacLean (ACT)                      0.12.879
10 Rebecca Barwick (ACT)                    0.13.153
11 Nikki Butterfield (QLD)                  0.13.243
12 Helen Kelly (VIC)                        0.13.269
13 Nicole Whitburn (VIC)                    0.13.343
14 Rebecca Werner (SA)                      0.13.529
 
Women 10km points race Omnium round
 
1 Nikki Butterfield (QLD)                         10 pts
2 Ashlee Ankudinoff (NSW)                          9
3 Laura McCaughey (TAS)                            8
4 Josephine Tomic (WA)                             5
5 Helen Kelly (VIC)                                5
6 Jessie MacLean (ACT)                             3
7 Elizabeth Georgouras (NSW)                       3
8 Sarah Kent (WA)                                  1
9 Rebecca Barwick (ACT)                             
10 Rebecca Werner (SA)                              
11 Nicole Whitburn (VIC)                            
DNS Malindi MacLean (NZL)                           
 
Women 2000m individual pursuit Omnium round
 
1 Josephine Tomic (WA)                      2.28.400
2 Ashlee Ankudinoff (NSW)                   2.30.100
3 Sarah Kent (WA)                           2.30.300
4 Laura McCaughey (TAS)                     2.31.100
5 Helen Kelly (VIC)                         2.31.700
6 Jessie MacLean (ACT)                      2.34.000
7 Elizabeth Georgouras (NSW)                2.37.600
8 Nikki Butterfield (QLD)                   2.38.600
9 Nicole Whitburn (VIC)                     2.42.800
10 Rebecca Barwick (ACT)                    2.43.100
11 Malindi MacLean (NZL)                    2.43.200
12 Rebecca Werner (SA)                      2.46.200
DNS Emily Rosemond (QLD)                            
 
Women 5km scratch race Omnium round
 
1 Josephine Tomic (WA)                              
2 Ashlee Ankudinoff (NSW)                           
3 Malindi MacLean (NZL)                             
4 Nikki Butterfield (QLD)                           
5 Jessie MacLean (ACT)                              
6 Emily Rosemond (QLD)                              
7 Nicole Whitburn (VIC)                             
8 Helen Kelly (VIC)                                 
9 Rebecca Werner (SA)                               
10 Elizabeth Georgouras (NSW)                       
11 Rebecca Barwick (ACT)                            
12 Sarah Kent (WA)                                  
13 Laura McCaughey (TAS)                            
DNS Belinda Goss (TAS)                              
 
Women Omnium final after 3 rounds
 
1 Josephine Tomic (WA)                      3.18.100
2 Ashlee Ankudinoff (NSW)                   3.20.200
3 Laura McCaughey (TAS)                     3.19.800
4 Nikki Butterfield (QLD)                   3.31.500
5 Sarah Kent (WA)                           3.21.400
6 Jessie MacLean (ACT)                      3.26.200
7 Elizabeth Georgouras (NSW)                3.28.500
8 Helen Kelly (VIC)                         3.23.900
9 Nicole Whitburn (VIC)                     3.36.000
10 Rebecca Barwick (ACT)                    3.37.600
11 Rebecca Werner (SA)                      3.39.800
DNF Emily Rosemond (QLD)                            
DNF Belinda Goss (TAS)                              
DNF Malindi MacLean (NZL)                           
 
Women U19 500m time trial Omnium round
 
1 Megan Dunn (NSW)                          0.38.044
2 Sarah Cure (TAS)                          0.38.693
3 Melissa Hoskins (WA)                      0.38.711
4 Rebecca Stevenson (QLD)                   0.38.929
5 Shannon McCurley (VIC)                    0.39.479
6 Isabella King (WA)                        0.39.567
7 Caitlin Todd (ACT)                        0.39.627
8 Catherine Culvenor (ACT)                  0.39.746
9 Amy Cure (TAS)                            0.40.046
10 Carly McCoombe (VIC)                     0.40.348
11 Chloe Geyer (NSW)                        0.41.083
12 Hayley Grant (QLD)                       0.41.318
 
Women U19 500m time trial final
 
1 Annette Edmondson (SA)                    0.36.530
2 Holly Williams (WA)                       0.37.679
3 Naomi Pinto (VIC)                         0.37.793
4 Teegan Morton (WA)                        0.38.299
5 Melzy Feltham (VIC)                       0.38.521
6 Sinead Cosgrove (NSW)                     0.38.643
7 Sarah Cure (TAS)                          0.38.693
8 Samantha Wood (WA)                        0.39.306
9 Shannon McCurley (VIC)                    0.39.479
10 Caitlin Todd (ACT)                       0.39.627
11 Catherine Culvenor (ACT)                 0.39.746
12 Amy Cure (TAS)                           0.40.046
13 Harriet Kossmann (TAS)                   0.40.082
14 Hayley Grant (QLD)                       0.41.318
 
Women U19 200m sprint Omnium round
 
1 Melissa Hoskins (WA)                      0.12.524
2 Sarah Cure (TAS)                          0.12.565
3 Isabella King (WA)                        0.12.755
4 Megan Dunn (NSW)                          0.12.783
5 Shannon McCurley (VIC)                    0.12.975
6 Amy Cure (TAS)                            0.13.012
7 Carly McCoombe (VIC)                      0.13.173
8 Catherine Culvenor (ACT)                  0.13.235
9 Chloe Geyer (NSW)                         0.13.681
10 Hayley Grant (QLD)                       0.13.843
11 Caitlin Todd (ACT)                       0.13.845
 
Women U19 10km points race Omnium round
 
1 Megan Dunn (NSW)                                17 pts
2 Melissa Hoskins (WA)                            10
3 Shannon McCurley (VIC)                           6
4 Sarah Cure (TAS)                                 6
5 Amy Cure (TAS)                                   5
6 Hayley Grant (QLD)                                
7 Chloe Geyer (NSW)                                 
8 Carly McCoombe (VIC)                              
DNF Catherine Culvenor (ACT)                     -20
DNF Caitlin Todd (ACT)                           -20
DNF Isabella King (WA)                           -20
 
Women U19 5km scratch race Omnium round
 
1 Isabella King (WA)                                
2 Megan Dunn (NSW)                                  
3 Shannon McCurley (VIC)                            
4 Sarah Cure (TAS)                                  
5 Melissa Hoskins (WA)                              
6 Carly McCoombe (VIC)                              
7 Hayley Grant (QLD)                                
8 Amy Cure (TAS)                                    
9 Chloe Geyer (NSW)                                 
10 Caitlin Todd (ACT)                               
11 Catherine Culvenor (ACT)                         
 
Women U19 1500m individual pursuit Omnium round
 
1 Megan Dunn (NSW)                          1.53.900
2 Amy Cure (TAS)                            1.54.900
3 Melissa Hoskins (WA)                      1.55.200
4 Shannon McCurley (VIC)                    1.55.700
5 Carly McCoombe (VIC)                      1.56.500
6 Sarah Cure (TAS)                          1.57.800
7 Isabella King (WA)                        1.58.600
8 Chloe Geyer (NSW)                         2.02.600
9 Hayley Grant (QLD)                        2.05.300
10 Caitlin Todd (ACT)                       2.07.200
11 Catherine Culvenor (ACT)                 2.12.700
 
Women U19 Omnium final after 5 rounds
 
1 Megan Dunn (NSW)                          2.44.700
2 Melissa Hoskins (WA)                      2.46.400
3 Sarah Cure (TAS)                          2.49.100
4 Shannon McCurley (VIC)                    2.48.200
5 Amy Cure (TAS)                            2.47.900
6 Carly McCoombe (VIC)                      2.50.000
7 Chloe Geyer (NSW)                         2.57.400
8 Hayley Grant (QLD)                        3.00.500
DNF Isabella King (WA)                              
DNF Caitlin Todd (ACT)                              
DNF Catherine Culvenor (ACT)                        
 
Men 1000m time trial Omnium round
 
1 Scott Sunderland (WA)                     1.03.100
2 James Langedyk (VIC)                      1.06.100
3 Richard Lang (NSW)                        1.06.500
4 Luke Davison (NSW)                        1.06.700
5 Trevor Griffiths (VIC)                    1.07.100
6 Jay Callaghan (QLD)                       1.07.300
7 Adrian Hanson (TAS)                       1.07.500
8 Sean Boyle (SA)                           1.07.800
9 Thomas Robinson (TAS)                     1.08.300
10 David Miller (SA)                        1.09.200
11 Thomas Palmer (ACT)                      1.11.900
 
Men 1000m time trial final
 
1 Shane Perkins (VIC)                       1.01.700
2 Joel Leonard (VIC)                        1.03.000
3 Scott Sunderland (WA)                     1.03.100
4 Steven Sansonetti (VIC)                   1.04.400
5 Jackson-Leigh Rathbone (NSW)              1.04.900
6 Ben Sanders (VIC)                         1.05.600
7 Jay Callaghan (QLD)                       1.07.300
8 David Miller (SA)                         1.09.200
9 Thomas Palmer (ACT)                       1.11.900
10 Joshua Clarke (WA)                       1.14.400
 
Men 200m sprint Omnium round
 
1 Scott Sunderland (WA)                     0.10.749
2 Trevor Griffiths (VIC)                    0.11.002
3 Richard Lang (NSW)                        0.11.093
4 Luke Davison (NSW)                        0.11.143
5 Thomas Palmer (ACT)                       0.11.160
6 James Langedyk (VIC)                      0.11.184
7 Adrian Hanson (TAS)                       0.11.366
8 David Miller (SA)                         0.11.408
9 Jay Callaghan (QLD)                       0.11.497
10 Sean Boyle (SA)                          0.11.525
11 Thomas Robinson (TAS)                    0.11.887
 
Men 15km points race Omnium round
 
1 Thomas Robinson (TAS)                           19 pts
2 Richard Lang (NSW)                              14
3 James Langedyk (VIC)                            11
4 Trevor Griffiths (VIC)                          10
5 Sean Boyle (SA)                                  7
6 Adrian Hanson (TAS)                              3
7 Thomas Palmer (ACT)                              2
8 Luke Davison (NSW)                                
DNF Jay Callaghan (QLD)                             
DNF David Miller (SA)                               
DNF Scott Sunderland (WA)                           
 
Men 3000m individual pursuit Omnium round
 
1 James Langedyk (VIC)                      3.26.400
2 Richard Lang (NSW)                        3.27.000
3 Trevor Griffiths (VIC)                    3.31.300
4 Adrian Hanson (TAS)                       3.32.200
5 Thomas Palmer (ACT)                       3.33.000
6 Luke Davison (NSW)                        3.33.100
7 Sean Boyle (SA)                           3.36.900
8 Thomas Robinson (TAS)                     3.38.200
9 Jay Callaghan (QLD)                       3.39.900
10 Scott Sunderland (WA)                    3.45.900
11 David Miller (SA)                        3.54.200
 
Men 5km scratch race Omnium round
 
1 Richard Lang (NSW)                                
2 Trevor Griffiths (VIC)                            
3 James Langedyk (VIC)                              
4 Adrian Hanson (TAS)                               
5 Thomas Palmer (ACT)                               
6 Thomas Robinson (TAS)                             
7 Luke Davison (NSW)                                
8 Sean Boyle (SA)                                   
9 Scott Sunderland (WA)                             
10 Jay Callaghan (QLD)                              
11 David Miller (SA)                                
 
Men Omnium final after 5 rounds
 
1 Richard Lang (NSW)                        4.44.600
2 James Langedyk (VIC)                      4.43.700
3 Trevor Griffiths (VIC)                    4.49.400
4 Adrian Hanson (TAS)                       4.51.000
5 Luke Davison (NSW)                        4.51.000
6 Thomas Palmer (ACT)                       4.56.100
7 Thomas Robinson (TAS)                     4.58.400
8 Sean Boyle (SA)                           4.56.300
DNF Scott Sunderland (WA)                           
DNF Jay Callaghan (QLD)                             
DNF David Miller (SA)                               
 
Men U19 1000m time trial Omnium round
 
1 Dale Parker (SA)                          1.06.800
2 Michael Hepburn (QLD)                     1.06.900
3 Luke Ockerby (TAS)                        1.07.300
4 Alex Carver (NSW)                         1.07.700
5 Jonathan Dunlop (WA)                      1.08.100
6 Samuel Brett (TAS)                        1.08.400
7 Patrick Drapac (VIC)                      1.08.700
8 Jordan Kerby (QLD)                        1.08.800
9 Jordan Van Der Togt (WA)                  1.09.100
10 Edward Bissaker (ACT)                    1.09.600
11 Gavin Sittampalam (VIC)                  1.10.200
12 Aaron Donnelly (NSW)                     1.10.300
13 Scott McPhee (SA)                        1.10.900
14 John-Paul Orchison (ACT)                 1.15.900
 
Men U19 1000m time trial final
 
1 James Glasspool (SA)                      1.04.800
2 Michael Hepburn (QLD)                     1.06.900
3 Maddison Hammond (VIC)                    1.06.900
4 Peter Loft (TAS)                          1.07.100
5 Matthew Glaetzer (SA)                     1.07.200
6 Luke Ockerby (TAS)                        1.07.300
7 Nathan Corrigan-Martella (VIC)            1.07.500
8 Aaron Box (VIC)                           1.07.600
9 Aaron Cooper (VIC)                        1.08.300
10 Samuel Brett (TAS)                       1.08.400
11 Matthew Vermunt (NZL)                    1.08.400
12 Jordan Kerby (QLD)                       1.08.800
13 Brendan J Cole (NSW)                     1.08.900
14 Edward Bissaker (ACT)                    1.09.600
15 Mitchell Mulhern (QLD)                   1.09.800
16 Mitchell Bullen (NSW)                    1.10.000
17 Jamie Green (NSW)                        1.12.100
18 Benjamin Wibberley (WA)                  1.12.900
19 Jonathan Bathe (WA)                      1.13.500
20 John-Paul Orchison (ACT)                 1.15.900
 
Men U19 200m sprint Omnium round
 
1 Luke Ockerby (TAS)                        0.11.348
2 Michael Hepburn (QLD)                     0.11.380
3 Patrick Drapac (VIC)                      0.11.515
4 Samuel Brett (TAS)                        0.11.527
5 Edward Bissaker (ACT)                     0.11.579
6 Jonathan Dunlop (WA)                      0.11.602
7 Dale Parker (SA)                          0.11.615
8 Gavin Sittampalam (VIC)                   0.11.700
9 Alex Carver (NSW)                         0.11.780
10 Jordan Van Der Togt (WA)                 0.11.807
11 Jordan Kerby (QLD)                       0.11.820
12 Aaron Donnelly (NSW)                     0.12.230
13 Scott McPhee (SA)                        0.12.511
 
Men U19 15km points race Omnium round
 
1 Michael Hepburn (QLD)                           17 pts
2 Alex Carver (NSW)                               15
3 Aaron Donnelly (NSW)                             9
4 Luke Ockerby (TAS)                               7
5 Dale Parker (SA)                                 5
6 Gavin Sittampalam (VIC)                          5
7 Edward Bissaker (ACT)                            3
8 Jordan Kerby (QLD)                               3
9 Samuel Brett (TAS)                               2
10 Scott McPhee (SA)                                
DNS Jordan Van Der Togt (WA)                        
 
Men U19 2000m individual pursuit Omnium round
 
1 Michael Hepburn (QLD)                     2.13.400
2 Dale Parker (SA)                          2.14.900
3 Samuel Brett (TAS)                        2.20.500
4 Luke Ockerby (TAS)                        2.20.600
5 Alex Carver (NSW)                         2.21.200
6 Jordan Kerby (QLD)                        2.21.800
7 Aaron Donnelly (NSW)                      2.22.800
8 Scott McPhee (SA)                         2.23.800
9 Gavin Sittampalam (VIC)                   2.24.500
10 Jordan Van Der Togt (WA)                 2.26.500
11 Edward Bissaker (ACT)                    2.26.700
DNS Patrick Drapac (VIC)                            
 
Men U19 5km scratch race Omnium round
 
1 Dale Parker (SA)                                  
2 Jordan Van Der Togt (WA)                          
3 Luke Ockerby (TAS)                                
4 Michael Hepburn (QLD)                             
5 Alex Carver (NSW)                                 
7 Aaron Donnelly (NSW)                              
8 Jordan Kerby (QLD)                                
9 Samuel Brett (TAS)                                
10 Edward Bissaker (ACT)                            
11 Jonathan Dunlop (WA)                             
12 Scott McPhee (SA)                                
13 Gavin Sittampalam (VIC)                          
14 Patrick Drapac (VIC)                             
 
Men U19 Omnium final after 3 rounds
 
1 Michael Hepburn (QLD)                     3.31.700
2 Luke Ockerby (TAS)                        3.39.300
3 Dale Parker (SA)                          3.33.300
4 Jonathan Dunlop (WA)                      1.19.700
5 Alex Carver (NSW)                         3.40.700
6 Samuel Brett (TAS)                        3.40.400
7 Jordan Kerby (QLD)                        3.42.400
8 Aaron Donnelly (NSW)                      3.45.300
9 Edward Bissaker (ACT)                     3.47.900
10 Gavin Sittampalam (VIC)                  3.46.300
11 Scott McPhee (SA)                        3.47.100
DNF Jordan Van Der Togt (WA)                3.47.400
DNF Patrick Drapac (VIC)                    1.20.200