2009 Australian Senior Track Championships - CN
Super-Drome, Adelaide, Australia, February 3-8, 2009
Main Page Results Overall standings Previous Day Next Day
Day 4 - February 6: Men: U19 Keirin, Team sprint, Points race; Women: Team pursuit, Keirin, U19 Scratch race; Para: Time trial
High temperatures make for hot racing
The Western Australian trio
Photo ©: John Veage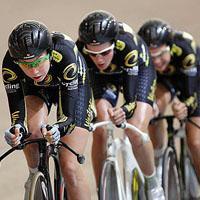 The fact it was edging towards 40 degrees inside Adelaide's Superdrome didn't seem to phase West Australians Sarah Kent, Josephine Tomic and U19 rider Melissa Hoskins who smashed the Australian, Australian Championship and All Comers records to win gold in the 3km team pursuit.
The trio clocked a time of 3:26.853, swamping their Victorian opponents (Helen Kelly, Chloe McConville and Nicole Whitburn) with a stunning display of speed and precision. West Australia overtook Victoria a kilometre from home and continued on in a bid to set the record.
The time they rode was 4.4sec off the world record time of Great Britain set at last year's World Championships in Manchester.
"That is really good especially for a state team; a new Australian record and four seconds faster than we have ever gone at the World Cups or Oceania, so it shows some really good signs for the Worlds," said Tomic. "We do a lot of teams pursuit training back home and the three of us are really good friends and we know how each other rides - I guess we just work so well together."
"Absolutely stoked, that teams pursuit is probably one of my biggest highlights ever," said Kent. "it was absolutely amazing to do that with Mel [Hoskins] and Josie [Tomic] out there today.
"We definitely wanted to break the Australian record, but realistically our goal was a 3.28 - even then I thought that would be great - so when we crossed the line we were all amazed."
In the ride off for the bronze medal Tasmanian sisters Amy and Sarah Cure and Harriet Kossman (3:08.792), who are all U19 riders, defeated South Australia (Aimee Alsbury, Sophie Ootes and U19 rider Sinead Noonan) who posted a time of 3:40.497.
The heat didn't stop the men from averaging 49km/h for the elite 40km, 160 lap, points race. Victoria's Glenn O'Shea, who won the points race at the UCI World Cup round in Melbourne in November was a man on a mission collecting the maximum points in the first three of the 16 sprints. South Australian prodigy Jack Bobridge took out the fourth sprint before he, O'Shea and Dale Scarfe (NSW) combined to lap the field to collect a bonus 20 points each.
That sparked a flurry of attacks with West Australian Michael Freiburg slugging it out on his own to lap the field at the 81 lap mark. American James Carney and 2008 triple junior World Champion Luke Davison did the same at 54 to go but Freiburg countered with another solo attack hot on their wheels and scored his second lap at 52 laps to go.
But with both O'Shea and Bobridge well ahead on points from the intermediate sprints and their lap bonus the pressure was on for anyone who wanted to figure in the medals and O'Shea and Bobridge were not slowing down. 40 laps from home only two points separated the top three riders with O'Shea on 46, Freiburg 45 and Bobridge 44.
2008 dual junior World Champion, Thomas Palmer, from the ACT decided he'd have a go late in the race and lapped the field as the race headed into the final three sprints. But O'Shea had no intention of relinquishing his lead and cemented the gold medal by taking enough points on the second last sprint to give him an unassailable tally of 56 points and leaving Bobridge, Freiburg and Carney to fight it out for the minor medals on the final sprint across the line.
"It was nice to not have too much pressure on me in the last few laps, but I had to make sure the other two guys didn't slip away and take any laps," said O'Shea. "Michael (Freiburg) took two really quick laps so I just had to watch them and then go on the front and keep the pace high.
"It was pretty tough and aggressive, the sprints were very tough," said O'Shea. "That was as hard as any points score I have ridden ever at World Cups or anywhere, it was on for the whole way.
"I knew I could win sprints and take laps as well, so that's why I took that early lap to give me the good buffer."
Glenn O'Shea (l) and Jack Bobridge
Photo ©: John Veage

Bobridge rose to the challenge in front of a home crowd to collect the five points and the silver medal with a total of 52 points, with Freiburg finishing on 48 points to edge out Carney (47 points) for the bronze medal.
"I am really happy with what I did tonight as I was not confident as the whole bike felt a bit weird after not riding the points position for so long," said Bobridge who has been concentrating on pursuit preparation ahead of the Championships. "It came to the first sprint and they sprinted and they left me where I was, I got left behind, so I had to learn pretty quickly how to sprint again.
"After that, I started to get the rhythm back and it was pretty good from then on."
In the elite men's team sprint Victoria claimed their third straight title with Jason Niblett, Shane Perkins and Joel Leonard posting 44.948sec for the three lap event to down the ACT trio of Alex Bird, Beijing Olympian Daniel Ellis and Thomas Palmer, who finished in 46.05.
The teams were separated by only four thousandths of a second after the first lap with Bird a whisker faster than Niblett. But Perkins blazed through the second lap in 12.887sec against Ellis' 13.020. The final lap however was the one that clinched the win with reigning Australian kilometre champion Leonard bringing it home for Victoria.
"The start that we false started, that felt the best, but that's racing," said Niblett referring to the first final attempt that saw Leonard pull his foot from the pedal forcing a restart by both teams. "I am not much of a starter really, I have always been chasing Daniel Ellis at second wheel, so first wheel is a change.
"I have only done about four starts in four years and I struggled to get out of the blocks there, so maybe for next year I will have to do some training," said Niblett. "It is always good to go under 18 seconds, but 18.0 is good after only a few starts out of the gate in training, so I can't complain."
The men's team sprint winners
Photo ©: John Veage

Perkins was thrilled to collect another win for the week adding to the sprint crown he won on Wednesday night.
"Two gold medals, I am very happy with the way I am riding and tonight, the guys rode really well and it was great to come away with another gold," said Perkins.
Leonard was also happy with the performance but admits the heat took it's toll.
"With my time trial I am used to the long distances and bringing it home, but the heat really made it tough out there and I am just glad we held on for the win."
The battle for bronze was won by NSW (Paul Fellows, Andrew Taylor and Peter Lewis) who rode 46.838 to defeat Queensland's Jay Callaghan, Byron Davis and BMX rider Michael Robinson (47.922).
A powerful burst in the final straight saw Queensland's Kerrie Meares overcome teammates Emily Rosemond and sister Anna to claim her second Australian women's keirin title.
"I have done my best here, I made a few little mistakes but that's what happens and that is what makes the champion on the day," said Kerrie, who paired with Rosemond to win the womens team sprint title earlier in the week.
Anna held the position behind the derny (motor pacer) and after the bike pulled off Apryl Eppinger attacked. Anna countered two laps from home but it turned out to be a little too much too soon Kerrie powered on the final straight to pass her sister and hold off a surging Rosemond on the line to give Queensland a clean sweep of the podium.
"I wasn't sure who won there, I know it was very tight, but I am definitely happy," said Kerrie who last claimed the title in 2006. "I did a lot of thinking and went through all the scenarios of what could happen and it turned out to be really good racing after she (Anna) really picked up the speed of the race."
Former Olympic speed skater Rosemond was overjoyed with claiming her second medal of the week and sharing the podium with her teammates.
"In between these girls is a nice place to be, every bit of experience I am getting along the road is helping," said Rosemond. "They have the years of experience on me, I know I am physically very fit at the moment, but tactically they have years on me, and I can only get better."
Kerrie Meares edges out Emily Rosemond
Photo ©: John Veage

Competing in only her second keirin race since her crash at the Los Angeles World Cup round in January 2008 in which she fractured a vertebrae in her neck Anna was content with bronze.
"I had full intention to go out the front and I didn't care about anyone else's plans as I figure at the front there are less opportunities to get caught up in anything," said Meares who now has a full collection of medals from the Championships following her sprint win and team sprint silver. "I really felt the loss of the pressure on the pedals with half a lap to go, but I am actually pretty pleased with how long I went and how long I lasted.
"I am not particularly fussed with the keirin and I still have a lot of things to work on to get comfortable playing with other girls."
After winning gold in the sprint less than twenty four hours earlier, Victoria's Maddison Hammond doubled up to take the mens U19 keirin crown in spectacular fashion.
South Australia's Matthew Glaetzer launched a blistering attack on the field with two laps to go gaining a lead of almost the length of the straight, however a ferocious chase by Hammond reeled in the hometown favourite with only centimetres to spare.
"I didn't think he would open up the gap that quickly, but I just seemed to have enough to bring him back there at the end," said Hammond, the son of 1982 Commonwealth Games cyclist Gary Hammond. "This is just unbelievable, it's a dream come true. I hardly got any sleep last night because of the sprint and I definitely won't be getting any tonight."
Glaetzer held on to win silver, with Hammond's Victorian team mate Aaron Box claiming bronze.
South Australia's Annette Edmondson, who won sprint gold earlier in the week, displayed her versatility on the velodrome by winning the womens U19 scratch race.
Wednesday's points race champion Megan Dunn (NSW) and Melissa Hoskins (WA), who claimed gold in the teams pursuit earlier in the night, launched numerous attacks during the race, but none were successful and it came down to a bunch sprint where Edmondson prevailed.
"I was tossing and turning whether do this with the keirin tomorrow, but I thought what the heck and it all turned out great," said Edmondson, who claimed four gold medals at last month's Australian Youth Olympic Festival in Sydney.
"I was so happy with the pace, I was thinking I could handle this and I was lucky to have enough left in the end for the sprint and luckily it all worked out OK."
U19 omwne's individual pursuit champion Tasmania's Amy Cure, added scratch race silver, while Dunn took home the bronze.
Double golds for Para-cyclists
Beijing Paralympians Jayme Paris and Michael Gallagher and South Australian Claire Maclean each claimed their second Para-cycling gold medal of the 2009 Australian Track Cycling Championships at the Adelaide Super-Drome.
With all individual events featuring only one competitor, finishing times were compared against world standards to calculate which medals were to be awarded.
Sydneysider Paris, who won bronze in the Beijing Paralympics time trial today covered the 500m distance in 48.452 to win the CP3 category.
"Coming off Beijing a few months ago and then here and not having much between, I didn't expect too much, but I was only two seconds off my personal best today, so I am happy with how I went," said Paris.
West Australian Claire Maclean won gold in the LC1 womens 500m in 43.231.
Beijing Paralympic gold medallist Gallagher of Victoria claimed his fourth consecutive LC1 mens one kilometre time trial crown (1:10.831), whilst fellow Victorian Mitchell Gourlay took the LC1 U19 gold in 1min19.992sec. Tasmanian Ryan Hughes posted a time of 1:16.400 on his way to winning gold in the LC2 event.
In the tandem category, the South Australian pair of Felicity Johnson and Katie Parker (1min11.773sec) took gold in the VI Womens kilometre final and West Australia's Samuel Harding and Jonathan Dunlop's time of 1min9.606sec was enough to secure gold for them in the VI U19 event.
In the VI Men kilometre tandem final, Queenslanders Benjamin Macfie and Todd Dawson (1min09.408sec) were too strong for Steven Kemp and Michael Holie of South Australia (1:17.154).
Tonight's finals actions will feature the women's 3km team pursuit, men's team sprint, women's keirin, men's points race and in junior events U19 men's keirin and U19 women's scratch race.
Photography
For a thumbnail gallery of these images, click here
Images by John Veage
Results
Women

Team pursuit qualifying

1 West Australia       3.31.478
    Sarah Kent
    Josephine Tomic 
    Michaela Anderson
 
2 Victoria             3.42.033
   Helen Kelly 
   Chloe Mcconville 
   Nicole Whitburn 
 
3 South Australia      3.43.048
   Aimee Alsbury 
   Sophie Ootes 
   Sinead Noonan
 
4 Tasmania             3.43.282
   Amy Cure 
   Sarah Cure
   Harriet Kossmann 
 
Team pursuit final

For gold

1 West Australia             3.26.900
   Sarah Kent                          
   Josephine Tomic                     
   Melissa Hoskins 
 
2 Victoria                   lapped        
   Helen Kelly                         
   Chloe McConville                    
   Nicole Whitburn                     
 
For bronze

1 Tasmania                   3.38.800                        
   Amy Cure    
   Sarah Cure                    
   Harriet Kossmann 
 
2 South Australia            3.40.500         
   Aimee Alsbury              
   Sophie Ootes                        
   Sinead Noonan             
 
Women keirin round 1 repechage
 
Heat 1
1 Kaarle McCulloch (NSW)     0.12.180
2 Apryl Eppinger (PHI)               
3 Davina Summers (WA)                
4 Rebecca Halliday (WA)              
5 Holly McClellan (WA)               
 
Heat 2
1 Emily Rosemond (QLD)       0.12.475
2 Stephanie Morton (SA)              
3 Cassandra Kell (NSW)               
4 Jessica Laws (VIC)                 
 
Women keirin final
 
1 Kerrie Meares (QLD)        0.12.086
2 Emily Rosemond (QLD)               
3 Anna Meares (QLD)                  
4 Kaarle McCulloch (NSW)             
5 Stephanie Morton (SA)              
6 Apryl Eppinger (PHI)                          
 
Women scratch race final
 
1 Annette Edmondson (SA)     9.42.000
2 Amy Cure (TAS)                     
3 Megan Dunn (NSW)                   
4 Shannon McCurley (VIC)             
5 Melissa Hoskins (WA)               
6 Carly McCoombe (VIC)               
7 Sinead Cosgrove (NSW)              
8 Kendelle Hodges (VIC)              
9 Sarah Cure (TAS)                   
10 Sinead Noonan (SA)                
11 Isabella King (WA)                
12 Harriet Kossmann (TAS)            
13 Chloe Geyer (NSW)                 
14 Michaela Anderson (WA)            
15 Hayley Grant (QLD)     

Men

Team sprint qualification
 
1 Victoria                             0.45.229       
   Joel Leonard            
   Jason Niblett                       
   Shane Perkins                       
 
2 Australian Capital Territory         0.46.437  
   Alex Bird                
   Daniel Ellis                        
   Thomas Palmer                       
 
3 New South Wales                      0.46.745
   Paul Fellows               
   Peter Lewis                         
   Andrew Taylor                       
 
4 Queensland                           0.48.274
   Jay Callaghan              
   Byron Davis                         
   Michael Robinson                    
 
5 South Australia                      0.48.886      
   Benjamin Cheney             
   David Miller                        
   Michael Wellman                     

Team sprint final

For gold

1 Victoria                             0.44.948
   Joel Leonard             
   Jason Niblett                     
   Shane Perkins                     

2 Australian Capital Territory         0.46.005
   Alex Bird                 
   Daniel Ellis                       
   Thomas Palmer                      
 
For bronze

3 New South Wales                      0.46.838
   Paul Fellows               
   Peter Lewis                        
   Andrew Taylor                     

4 Queensland                           0.47.922
   Jay Callaghan             
   Byron Davis                       
   Michael Robinson                  
 
Men points race final
 
1 Glenn O'Shea (VIC)               56 pts
2 Jack Bobridge (SA)               52
3 Michael Freiberg (WA)            48
4 James Carney (USA)               47
5 Luke Davison (NSW)               40
6 Dale Scarfe (NSW)                31
7 Thomas Palmer (ACT)              26
8 Ben Grenda (TAS)                  8
9 Travis Meyer (WA)                 6
10 Thomas Robinson (TAS)            4
11 James Langedyk (VIC)             3
DNF Joshua Clarke (WA)               
DNF Leigh Howard (VIC)            -10
DNF Richard Lang (NSW)            -17
DNF Sean Boyle (SA)               -18
DNS Rohan Dennis (SA)                

Men U19

Keirin round 1
 
Heat 1
1 Aaron Cooper (VIC)         0.11.921
2 Matthew Glaetzer (SA)              
3 Mitchell Bullen (NSW)              
4 John-Paul Orchison (ACT)           
5 Jordan Van Der Togt (WA)           
 
Heat 2
1 Benjamin Wibberley (WA)    0.12.153
2 Maddison Hammond (VIC)             
3 Matthew Vermunt (NZL)              
4 Brendan J Cole (NSW)               
5 Rhyse Carpenter (SA)               
 
Heat 3
1 Aaron Box (VIC)            0.11.560
2 James Glasspool (SA)               
3 Jonathan Bathe (WA)                
4 Jamie Green (NSW)                  
5 Ethan O'dell (QLD)                 
 
Keirin round 2

Heat 1
1 Maddison Hammond (VIC)     0.11.350
2 Aaron Box (VIC)                    
3 Jamie Green (NSW)                  
4 Jordan Van Der Togt (WA)           
5 Aaron Cooper (VIC)                 
6 Matthew Vermunt (NZL)              
 
Heat 2
1 Mitchell Bullen (NSW)      0.11.255
2 James Glasspool (SA)               
3 Matthew Glaetzer (SA)              
4 Jonathan Bathe (WA)                
5 Brendan J Cole (NSW)               
6 Benjamin Wibberley (WA)            

M19 Keirin final
 
1 Maddison Hammond (VIC)     0.11.350
2 Matthew Glaetzer (SA)              
3 Aaron Box (VIC)                    
4 James Glasspool (SA)               
5 Mitchell Bullen (NSW)              
6 Jamie Green (NSW)

Para time trials

CP3 Women 500m Time Trial Final
 
1 Jayme Paris (NSW)                0.48.452
 
LC1 Women 500m Time Trial Final
 
1 Claire McLean (WA)               0.43.231
 
VI Women 1000m Tandem Time Trial Final
 
1 Felicity Johnson (SA)            1.11.800
 Katie Parker (SA)                         
 
LC3 Men 1000m Time Trial Final
 
1 Simon Richardson (GBR)           1.19.100
 
LC2 Men 1000m Time Trial Final
 
1 Ryan Hughes (TAS)                1.16.400
 
LC1 M19 1000m Time Trial Final
 
1 Mitchell Gourley (VIC)           1.19.900
 
LC1 Men 1000m Time Trial Final
 
1 Michael Gallagher (VIC)          1.10.800
 
VI M19 1000m Tandem Time Trial Final
 
1 Samuel Harding (WA)              1.09.600
 Jonathan Dunlop (WA)                      
 
VI Men 1000m Tandem Time Trial Final
 
1 Queensland                       1.09.400
    Benjamin Macfie                           
    Todd Dawson                               
 
2 South Australia                  1.17.200
    Steven Kemp                               
    Michael Hoile