Track World Cup 08-09 Round 2 - CDM
Melbourne, Australia, November 20-22, 2008
Main Page Results Overall standings Previous Session Next Session
Session 2 - November 20: Men: Individual pursuit, Team sprint, Points race; Women: Sprint, Individual pursuit, Scratch race
Local riders claw back pride
By Les Clarke in Melbourne
O'Shea takes points race in sensational fashion
Glen O'Shea of Australia stormed around Hisense Arena to win gold
Photo ©: Shane Goss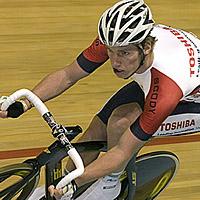 A last lap dash dictated the outcome in a thrilling men's points race, as Glenn O'Shea used his Madison experience to tactically outmanoeuvre gallant efforts from Korea's Joon Yong Seo.
It was a great spectacle, and after O'Shea's early-race heroics in taking two laps he rode with tactical nous to secure the win. Along the way during the 120-lap event, O'Shea benefited from some help from a friend. Countryman Cameron Meyer, who secured fourth in the points race at the Beijing Olympics, was a marked man from the start. Despite early efforts to take a lap on the field, his attempts were countered, and actually led to the attack which saw O'Shea gain a lap's advantage.
Meyer explained the scenario. "I actually wanted to unleash a bit at the end, but Glenno was in a good spot, and the Spanish guy was always on my wheel. If I took him around he would have won."
O'Shea, a former national Madison champion, who has successfully been racing a couple of six-day events, praised Meyer's assistance. "We have respect for each other and we've raced against each other and when he came to help me out in the end there I needed him. It was good of him and I would have done the same for him."
It was Meyer's status as a marked man that gave O'Shea the freedom to take two laps on the field. "I used that freedom well to get a few early laps and I tried to just pick up points along the way. It worked out well - I was hurting at the end. I was trying to out-position him a bit and I knew he [Seo] was going to try and get me in some of the sprints, but with three to go and Cam there to take the front position I just tried to get into a good spot. I knew I could hold him off in a sprint.
"I've got the Madison on Saturday night, which is my main goal for the meet - hopefully I continue the way I've started. Then I've got some time at home before the next world cup - hopefully Beijing - then off to world titles to do the Madison with Leigh [Howard].
"It's a highlight for me, especially in front of a home crowd, which makes it pretty special. I felt pretty good yesterday in training and I said, 'I'm feeling pretty good, let's see what happens…' I also knew I had a bit more freedom than Cam, which is why I went out aggressively early, trying to take advantage of it. I didn't really have any expectations coming into the race as the Madison is the main goal for me this meet."
Rowsell's killer kilo
Joanna Rowsell of Great Britian powers towards a gold medal
Photo ©: Shane Goss

While Great Britain's women only had one representative in Melbourne for the individual pursuit, Jo Rowsell made her number count as she improved on bronze in Manchester with gold in Victoria's capital.
With an amazing fight back performance, Rowsell countered Josie Tomic's early assault and overcame a deficit reaching just over 1.3 seconds to win by .491 seconds. "I didn't see the splits," said Rowsell afterwards. "I wasn't sure of the time difference, but I knew after the qualifying that she was faster in the first kilo but I had the fastest last kilo. He [Shane Sutton] didn't give that detailed instructions, just to ride like I did this morning; just do my best. You can't do any better than that."
As for the prospect of an all-British podium in the next few world cup rounds, Rowsell said, "We'll have to see how it goes. Obviously the team has been quite dominant recently and we had the advantage that it was our home World Cup and we had a big team there, but there are only three of us here so we'll try and do the best we can between us."
Tomic was noticeably suffering after the finish. "I woke up this morning and had a bit of a cold or something… I don't know what it is, yet. After the qualifying I was ok, although after that [the final] I was shattered. I had no energy, so an easy day tomorrow and I'll be alright."
Speaking about her ability to rapidly build a commanding lead, Tomic said, "It's just my natural style - starting that way is a result of having just coming up from the juniors and doing two kilometres, where I'm used to going out harder and I die in the last kilo… so I have to work on that. It's about my fourth 3000m pursuit. I've got to be happy with a silver medal in a world cup, and it can only get better from here.
"Everyone tells me to control it, but I guess with the 2000m I could afford to do that - go out hard for six laps and then I'd have two laps left just to hold onto it. I always got away with it. It's just about practice and training for it; I've definitely got to work on it."
Good cop, even better cop in women's scratch race
Elizabeth Armitstead of Great Britian (white) attacked on the bell-lap in the women's scratch race
Photo ©: Shane Goss

Again, alas, God Save the Queen reigned supreme in the women's scratch race, as Lizzie Armistead maintained her success in the event with a win in Melbourne. With teammate Katie Conclough keeping watch over the front of the field like a sentinel, Armistead had the ability to move into position over the last three laps and take a commanding win.
After 'owning' the race in Manchester, Armistead explained that, "I thought I might be quite marked and Katie could go. We'd try a few things, and if that worked then that's great, I could chase. Fortunately Katie got on the front and did a perfect job. The only pressure I felt was [what] I put on myself - I wanted to perform to the same level. I just see it as an opportunity, really.
"It was definitely good to see Jo on the podium before me. I feel completely privileged to come into this team structure and I feel very lucky to be part of this set up - it's the best one in the world."
Conclough revealed her tactics to Cyclingnews. "I wanted to make it an attacking race, but nobody was going so I thought I'd just do the best I could. I wanted to make sure I shut the main attack [from world champion Eleonora Van Dijk] down because I knew what she could do. I thought she was probably pretty tired after her two IPs, though." At 18, Conclough is another young Brit on the rise and also paid tribute to the excellent organisation she's made her way into.
Bloc party for Ukrainian sprinter
Lyubov Shulika from the Ukraine (l) sprinted to gold
Photo ©: Shane Goss

With the absence of World Cup regulars such as Anna Meares in Melbourne, it seemed as though the women's sprint would be an open affair; the finals for gold and bronze were anything but, however.
Ukraine's Lyubov Shulika was matched against German Christin Muche. In both encounters Shulika was simply too smart and strong for Muche, and won by clear margins on both occasions.
It was closer in the ride-off for bronze, although the net effect was the same as Kerrie Meares took the match before a third heat was required over countrywoman and emerging sprinter, Kaarle McCulloch.
Terrific Toshiba taste gold in men's team sprint
Australian gold in the men's teams sprint (L-R): Daniel Ellis, Jason Niblett and Scott Sunderland
Photo ©: Shane Goss

Having posted the fastest time on its way to the final, the Toshiba men's team sprint outfit dominated Japan's squad in the gold medal decider. They began with a 17.795 first lap and carried the advantage through to a final time of 44.744.
After the finish, the 'elder' of the team, Daniel Ellis, explained how he's now regarded as a sprinter to look up to. "I've had plenty of people come up and tell me that - I don't know whether to take it in a good way or bad way! Am I getting old, or…?
"Going to the Olympics was good because I can come back and tell the guys what it's like and share my experiences with them. We've had some of the legends like Shane Kelly and Ryan Bayley come through and now they're starting to slow down. We've got a lot of guys like Jason, Scott and myself coming through; we're a new breed - we've just got to go out there and show the world we can mix it with the best."
In relation to the team's first split, Ellis said, "For the preparation we've had, and at this time of the season, I'm definitely happy with it and the coaching staff is too."
Jason Niblett, when asked about that same split, said that, "It's the start of the season, every country's in the same boat, but it looks like we're a little bit ahead at the moment. Also, Worlds are at the end of March, so we've got a long way to go and each person in the team sprint has their own thing to work on.
"We've still got about half a second we could make up, if not more. When all the big teams are at the Worlds, we should be in the mix; if we keep on plugging away we'll be able to get there and be around the top as well."
The national men's sprinting squad has had to endure criticism over recent seasons for a lack of results, and Niblett explained it. "[Men's sprinting] is definitely revamped - just recently our national coach Martin Barras stood down and went to women's road, which sort of hit us hard. We all had a soft spot for Martin and he did some big things - he saved my career, and I was very close to him. At the same time, we've got to move on and still get the results. We've definitely got some young talent on board with the men's sprinting."
Bobridge secures pursuit gold in style
Jack Bobridge rides towards the fastest time
Photo ©: Shane Goss

After posting the fastest pursuit qualifying time of 4.21.971 and heading into the final as an overwhelming favourite, Australia's Jack Bobridge proved his rapidly-improving pedigree with a dominant performance during the night's last race.
Quickly establishing an authoritative lead, Bobridge overtook opponent Alexei Markov just after the halfway point of the race. Markov had raced the 30km points race earlier in the evening, and it showed when he succumbed to Bobridge's smooth, powerful display. "I controlled my first kilo a lot better in the final than in qualifying, and that was my goal," said the young South Australian after his win.
From that point Bobridge was out to beat the clock, which he stopped at 4.22.192, although it became noticeably more difficult in the last kilometre, as he explained with a chuckle. "The last three laps definitely hurt, which was just an outcome of this morning's ride. I think I went a bit too deep [in qualifying], so it's all still a learning curve for me.
He added that, "I learnt so much more from the two rides today; next time I can only get better. I'm looking forward to my next ride. By that point [last kilo] it gets pretty hard to hear anything, to be honest, with the wind and the like. All you can hear is your legs screaming, although winning on your home turf is better than winning anywhere else, I think."
Photography
For a thumbnail gallery of these images, click here
Images by Shane Goss/www.licoricegallery.com
Images by Andrew White/www.fyxomatosis.com
Results
Men's Individual Pursuit final

For gold
1 Jack Bobridge (Australia)             4.22.192
2 Alexei Markov (Russian Federation)    (lapped)

For bronze
1 Vitaliy Shchedov (Ukraine)            
2 Eloy Teruel Rovira (Spain)            (lapped)

Team sprint final
 
1 Toshiba           0.44.744 (60.343 km/h)
  Daniel Ellis          
  Jason Niblett          
  Scott Sunderland      
 
2 Japan             0.45.479
  Kazuya Narita         
  Yudai Nitta            
  Kazunari Watanabe     
 
3 Ukraine           0.45.687
  Yevhen Bolibrukh      
 Yuriy Tsyupyk          
  Andriy Vynokurov      
 
4 Russia            0.45.971
  Denis Dmitriev        
  Sergey Kucherov        
  Pavel Yakushevskiy    

Men's Points race final

1 Glenn O'Shea (Australia)              59 pts (49.522 km/h)
2 Joon Yong Seo (Korea)                 59
3 Eloy Teruel Rovira (Spain)            56
4 Jason Christie (New Zealand)          44
5 Kazuhiro Mori (Japan)                 33
6 Cameron Meyer (Australia)             32
7 Alexei Markov (Russian Federation)    30
8 Rafal Ratajczyk (Poland)              26
9 Ho Ting Kwok (Hong Kong)              25
10 Jesper Morkov (Denmark)              24
11 Alex Buttazzoni (Italy)              23
12 Andreas Graf (Austria)               22
13 Alexey Lyalko (Kazakhstan)           21
14 King Wai Cheung (Hong Kong, China)    8
15 Roman Kononenko (Ukraine)             7
16 Tristan Marquet (Switzerland)         3
17 Iban Leanizbarrutia Cruz (Spain)       
18 Boonratanathanakorn (Thailand)         
19 Carlos Pulgarin Vergara (Colombia)     
20 Amir Rusli (Malaysia)                  
21 Karl Christian König (Germany)          
DNS Jose Fernando Antogna (Argentina)     

Women's Individual pursuit final

Gold medal ride
1 Joanna Rowsell (Great Britain)     3.41.183 (48.828 km/h)
2 Josephine Tomic (Australia)        3.42.692

Bronze medal ride
3 Lada Kozlikova (Czech Republic)    3.40.793
4 Eleonora Van Dijk (Netherlands)    3.43.028


Women's scratch race final

1 Elizabeth Armitstead (Great Britain)         
2 Annalisa Cucinotta (Italy)                   
3 Evgeniya Romanyuta (Russian Federation)      
4 Leire Olaberria Dorronsoro (Spain)           
5 Malindi Maclean (New Zealand)                
6 Rebecca Quinn (United States)                
7 Belinda Goss (Australia)                     
8 Ah Reum Na (Korea)                           
9 Rochelle Gilmore (Australia)                 
10 Kelly Druyts (Belgium)                      
11 Shelley Olds (United States)                
12 Andrea Wolfer (Switzerland)                 
13 Tess Downing (Australia)                    
14 Eleonora Soldo (Italy)                      
15 Thatsani Wichana (Thailand)                 
16 Penny Day (New Zealand)                     
17 Anastasiya Chulkova (Russian Federation)    
18 Ana Usabiaga Balerdi (Spain)                
19 Theresa Cliff-Ryan (United States)          
20 Ju Mi Lee (Korea)                           
21 Eleonora Van Dijk (Netherlands)             
22 Charlotte Becker (Germany)                  
23 Katie Colclough (Great Britain)             
DNF Lesya Kalitovska (Ukraine)                 

Women's sprint 

Semifinals

Heat 1

Race 1
1 Christin Muche (Germany)          0.12.491
2 Kaarle McCulloch (Australia)                 
 
Race 2
1 Christin Muche (Germany)          0.12.714
2 Kaarle McCulloch (Australia)                  

Heat 2

Race 1
1 Lyubov Shulika (Ukraine)          0.11.960 
2 Kerrie Meares (Australia)                 
 
Race 2
1 Lyubov Shulika (Ukraine)          0.12.178
2 Kerrie Meares (Australia)             

Women's sprint final

For Gold

Race 1
1 Lyubov Shulika (Ukraine)          0.12.081
2 Christin Muche (Germany)
 
Race 2
1 Lyubov Shulika (Ukraine)          0.12.213
2 Christin Muche (Germany)

For Bronze

Race 1
1 Kerrie Meares (Australia)         0.12.329 
2 Kaarle McCulloch (Australia)                 
 
Race 2
1 Kerrie Meares (Australia)         0.12.221
2 Kaarle McCulloch (Australia)