Track World Cup 08-09 Round 2 - CDM
Melbourne, Australia, November 20-22, 2008
Main Page Results Overall standings Previous Session Next Session
Session 4 - November 21: Men: Kilometre, Keirin, Team pursuit, Scratch race; Women: Team Sprint, Points race,
Boilovers the order of the day
By Les Clarke in Melbourne
Sounds like silver for Sunderland
Michael D'Almeida from France charges towards a gold medal
Photo ©: Shane Goss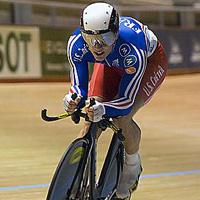 It might not be a part of the Olympic track cycling schedule anymore, but the kilo remains one of the best spectacles in a velodrome. And the men's 1000m time trial in Melbourne didn't disappoint, with France's Mikaël D'Almeida taking the win with a solid 1.02.238.
Australian Scott Sunderland started ahead of D'Almeida in the ride-off order and set the toughest mark for the Frenchman. The talented West Australian blazed out of the blocks in his typical style and posted a time of 1.02.492, which looked good enough to win the event. It wasn't however, and D'Aimeida's performance was all that stood between Sunderland and a gold medal.
"I am very happy with second," said Sunderland, who has been knocking on the door at this level for some years now. "I went out there and rode a personal best, and I wasn't exactly feeling the best I have ever felt before - at the start I felt a bit crook in the guts."
And he had reason to be pleased, considering he broke his collarbone in August when in racing in the United States of America before damaging his hamstring in a strange training accident in the gym.
"I took a month off for my collarbone and two weeks off with my hamstring, so I haven't had the ideal preparation for the event," he said. "I'm rapt to do a personal best.
"It has been a pretty long slog for me, I am really tired after Oceanias last week," he said. "To do these times at the start of the season is very exciting and just coming out of injury shows I can still improve quite a lot in the lead up to worlds."
Favourites beaten in points race
Michael D'Almeida from France charges towards a gold medal
Photo ©: Shane Goss

If one word was used to sum up the women's 20km points race, it would certainly be cagey. With the big name riders all watching for attacks, Evgeniya Romanyuta and Leire Olaberria took the initiative and scavenged points from most of the sprints on offer to finish the race in first and second place respectively.
After her success in the Manchester round, the pre-race favourite was undoubtedly Great Britain's Elizabeth Armistead. Following a crash in qualifying however, the winner of last night's scratch race found herself nursing a deep cut on the arm and following the progress of countrywoman Katie Conclough from the sidelines.
That left Conclough, Germany's Charlotte Becker plus Australians Belinda Goss and Rochelle Gilmore as the main threats in the final. Each of this quartet fell into the trap of looking for the definitive move whilst trying to pick up points in each sprint. That left Olaberria and Romanyuta free to fly under the radar, which they definitely did as they took maximum points from two and three intermediate sprints respectively.
Olaberria led for the second half of the race, although much like last night's men's race, the final sprint decided the outcome, as the Russian rider prevailed by a single point. Goss rounded out the podium, trailing her Spanish rival by four points in the final reckoning.
Dutch courage in team sprint
The women's sprint podium (l-r): Kerrie Meares and Emily Rosemond (Aus, silver), Yvonne Hijgenaar and Willy Kanis (Neth, gold),
Photo ©: Shane Goss

After qualifying fastest in the afternoon session, the Dutch pairing of Yvonne Hijgenaar and Willy Kanis carried on their merry way with a 34.191 in the final and an appearance on the top step of the podium in the Hisense Arena.
Matched against the Australian duo of Kerrie Meares and Emily Rosemond, who posted a time of 34.621 and found the challenge a little too tough to overcome at this stage of the season, despite riding personal bests.
"I've done personal bests, so I'm not that disappointed," said Meares. "Knowing that I have a lot to improve on for the rest of the season I'm looking forward to seeing what I can bring out within myself, and to the best of my ability. Compared to the last few seasons I'm going a lot better now.
"I'm injury-free, and really looking after my body," she added. "I've worked a lot on style and technique - I've become a lot more efficient rider compared to what I used to be, and therefore the times I've got are a lot faster."
Meares continued by saying that, "I'm working a lot with my coach Peter Davison from Queensland Academy of Sport, and little sis has given me quite a few pointers which have helped me out a lot as well. I've been very lucky getting that help and support."
Aussie quartet harmonises
Leigh Howard from Australia takes the final sprint
Photo ©: Shane Goss

Having qualified with a time of 4.03.483, the Australian quartet of Jack Bobridge, Mark Jamieson, Rohan Dennis and Luke Durbridge totally dominated the men's team pursuit final in what was only their second ride in that particular configuration.
Riding with poise, consistency and power to overcome the Spanish challenge of Unai Elorriaga, David Muntaner, Toni Tauler and Eloy Teruel, Jamieson and Bobridge pulled the strings on the front of the Aussie train. The foursome caught their Iberian opponents after three kilometres although didn't post a time - in passing the Spaniards the Australian team was derailed and couldn't continue onto the finish proper. It was a slight hiccup in what was a great performance overall, and had they finished it would most likely have been close to 4.01.
One of the notable stories to come from the event was the emergence of yet another Australian national team pursuit rider for the future - Luke Durbridge. "Today was my first senior TP," said Durbridge. "I've ridden one junior worlds one - in Capetown this year, which we won - although this was my first senior ride.
"I've definitely got some areas I've got to work on like the rest of the guys in the team, but we've got riders like Jack Bobridge and Jamo teaching us," he added. "I've still got one more year left in the juniors, so next year I can hopefully got to junior worlds again. The team's got some serious potential there and we've just got to work on it."
One of those 'older' riders, Bobridge - still only 19 himself - said he was happy with the efforts of Durbridge and Dennis. "To have the younger guys ride the time they did was awesome, so to come out and be on pace for a 4.01, was fantastic," he said.
As for the prospects for the future of this team, Durbridge was optimistic and realistic. "We're all so young and look at the Great Britain team, which is obviously the role model - they're all a bit older than us, and we're all riding around that 4.03-4.02 pace," he said. "We can really only go up from here and we're all young, so I'm looking forward to the future with this group."
King Awang reigns in Melbourne
Malaysia's Azizulhasni Awang salutes the crowd
Photo ©: Shane Goss

There were two riders the crowd kept a keen eye on in the men's keirin - François Pervis and Shane Perkins. As the pair made their respective ways to the final with commanding rides, they proved why they were the centre of attention.
While spectators eagerly anticipated the match up between Australian and Frenchman, it was a 66kg flier that caught the pair napping and stole the win. Azizulhasni Awang made his move with half a lap remaining, punching through the gap between Perkins and Pervis on the inside, and Greece's Christos Volikakis on the far side.
"I wanted to prove that size doesn't matter," said Awang. He then praised the efforts of his Australian coach, John Beasley, and credited him with helping develop the tactical nous necessary to make a move such as his race-winning one.
"When I've trained with John, he does very good training and has helped me improve with my racing," he said. "The two guys cut in front of me and I was stuck, so I couldn't wait any more and made a move."
Beasley himself knew Awang's size wasn't really an issue. "I know how fast he is, but I think he surprised a few of the others, although they should know who he is by now because he's been on the world scene for 12 months and he's been getting better and better," he said. "He likes to train hard."
The Victorian, who has helped the Malaysian team immensely, added: "We've pretty much got everything that we want and need - we've just done the budget for the next four years and we've got a lot of work in front of us. We've got great support from Malaysia and they're backing us 100 per cent - I've just got to come up with the goods."
Kwok cracks the win
Hong Kong's Ho Ting Kwok takes a peek at the scoreboard
Photo ©: Shane Goss

With a field including Garmin-Chipotle professional Chris Sutton, local boy Leigh Howard and Russian Alexei Markov, the men's scratch race was always going to be a fast and tight encounter. Over the relatively short distance of 15km this proved to be the case.
The race's first big move was initiated by Polish rider Rafal Ratajczyk, who countered Karl-Christian König's early attempt to breakaway, in the process dragging the German, plus Angel Dario Colla, Kazuhiro Mori, Ho Ting Kwok and Toni Tauler with him.
This group was successful in taking a lap from the field with 42 laps remaining, although Howard had managed to trail the break and retain parity with the leaders, thus setting up the prospect of a hectic finale.
Hong Kong rider Ho Ting Kwok had other ideas however, and when Sutton went off the front in a bid to take back a lap, Kwok followed. When the Australian and his fellow escapees made it back around to the field with 28 laps remaining, Kwok had become the leader and only needed to prevent anyone else from joining him on two laps' advantage to secure the win.
This he did, although Howard wasn't aware of it at the finish. He sprinted hard for what he thought was the win, and after taking prime position in the bunch kick celebrated as such. That gave way to a little disappointment. "One was leading out the faster one," said Howard of the Hong Kong riders' tactics and the general confusion surrounding them. "I was happy with my kick at the finish though. CJ did an awesome job at the end - he rode with a lot of control out there, which was fantastic."
Sutton's leadout was so good that the commissaires decided it amounted to collusion, and he was punished by being relegated, while Howard was fined and remained on the podium. "He [Howard] got second - on the podium - which was what we wanted. We actually thought he won it, so to say it was collusion was a bit of a joke, really," said Sutton after the decision was announced. "I mean, I didn't hand sling him or anything. I just got quicker and lead him out in the sprint."
Sutton rode superbly in the finale and said afterwards that, "I felt alright - it was a good hitout. I've got the Madison tomorrow so it's all pretty good. I rode Oceania's last week and I felt like I was coming up pretty well; I went for it over the last five laps on the front, and as you've just heard we got done for a bit of collusion.
"Leigh Howard and Glenn O'Shea have been over in Europe riding the three-day races for amateurs and Leigh's got some good leg speed at the moment.
Howard confirmed that he is indeed feeling up to the challenge of going head-to-head in tomorrow night's Madison against Sutton and Cameron Meyer. "I'm pretty confident for the Madison tomorrow," said Howard. "We've both [Howard and O'Shea] taken very good results the last two nights - him first and me second. That gives us confidence going into tomorrow. The six-day stuff has been fantastic - I love the small track but you've got to come back to reality with the big ones."
Photography
For a thumbnail gallery of these images, click here
Images by Shane Goss/www.licoricegallery.com
Results
Men

Kilometre final

1 MichaŰl d'Almeida (Fra) France                         1.02.238 (57.842 km/h)
2 Scott Sunderland (Aus) Team Toshiba                    1.02.492
3 Wen Hao Li (Chn) China                                 1.03.189
4 Yevhen Bolibrukh (Ukr) Ukraine                         1.03.241
5 Michael Seidenbecher (Ger) Germany                     1.03.389
6 Quentin Lafargue (Fra) Cofidis                         1.03.451
7 Joel Leonard (Aus) Australia                           1.03.457
8 Steven Sansonetti (Aus) Bike Technologies Australia    1.03.612
9 Edward Dawkins (NZl) New Zealand                       1.03.835
10 Yudai Nitta (Jpn) Japan                               1.03.972
11 Clemens Selzer (Aut) Austria                          1.05.046
12 David Alonso Castillo (Spa) Spain                     1.05.320
13 Seong Tae Kim (Kor) Korea                             1.05.424
14 Christian Ranneries (Den) Denmark                     1.07.948

Keirin finals

For gold
1 Azizul Hasni Awang (Mas) Malaysia                       
2 Andriy Vynokurov (Ukr) Ukraine                          
3 Franšois Pervis (Fra) Cofidis                           
4 Shane Perkins (Aus) Australia                           
5 Kazunari Watanabe (Jpn) Japan                           
REL Christos Volikakis (Gre) Greece                       
 
Place seven through twelve
7 Simon Van Velthooven (NZl) New Zealand                  
8 Thierry Jollet (Fra) France                             
9 Matthias John (Ger) Germany                             
10 Qi Tang (Chn) China                                    
11 Won Gu Jun (Kor) Korea                                 
12 Clemens Selzer (Aut) Austria                           
 
Place 13 through 16
13 Hodei Mazquiaran Uria (Spa) Spain                      
13 Pavel Yakushevskiy (Rus) Russia                        
15 Adrian Sansonetti (Aus) Bike Technologies Australia    
15 Daniel Ellis (Aus) Team Toshiba                        

Scratch final

1 Ho Ting Kwok (HKg) Hong Kong Pro Cycling   

One lap behind
2 Leigh Howard (Aus) Team Toshiba                  
3 Jason Christie (NZl) New Zealand                 
4 Rafal Ratajczyk (Pol) Poland                     
5 Alexei Markov (Rus) Russia                       
6 Angel Dario Colla (Arg) Argentina                
7 Sun Jae Jang (Kor) Korea                         
8 Kazuhiro Mori (Jpn) Japan                        
9 Karl Christian K÷nig (Ger) Germany               
10 Sergiy Lagkuti (Ukr) Ukraine                    
11 Thurakit Boonratanathanakorn (Tha) Thailand     
12 Toni Tauler Llull (Spa) Spain      

Two laps behind
13 Andrea Pinos (Ita) Italy                        
14 Georg Tazreiter (Aut) Austria                   
15 Carlos Pulgarin Vergara (Col) Colombia          
16 Christian Ranneries (Den) Denmark               
17 Akmal Amrun (Mas) Malaysia                      
18 Iban Leanizbarrutia Cruz (Spa) Cespa Euskadi    
19 Alexey Lyalko (Kaz) Kazakhstan                  
20 Lo´c Perizzolo (Swi) Switzerland

One lap behind
REL Christopher Sutton (Aus) Australia             

Two laps behind
DNF King Wai Cheung (HKg) Hong Kong                

Women

Points race final

1 Evgeniya Romanyuta (Russian Federation)    16 pts
2 Olaberria Dorronsoro (Spain)               15
3 Belinda Goss (Toshiba)                     11
4 Rebecca Quinn (United States)              10
5 Annalisa Cucinotta (Italy)                  7
6 Jolien D'hoore (Belgium)                    7
7 Lada Kozlikova (Czech Republic)             6
8 Charlotte Becker (Germany)                  5
9 Andrea Wolfer (Switzerland)                 5
10 Ah Reum Na (Korea)                         4
11 Katie Colclough (Great Britain)            1
12 Wan Yiu Wong (Hong Kong, China)            1
13 Shelley Olds (United States)                
14 Rochelle Gilmore (Australia)                
15 Debora Galvez Lopez (Spain)                 
16 Tess Downing (Australia)                    
17 Eleonora Soldo (Italy)                      
18 Chanpeng Nontasin (Thailand)                
19 Kelly Druyts (Belgium)                      
20 Anastasiya Chulkova (Russian Federation)    
21 Ashlee Ankudinoff (Australia)               
22 Ju Mi Lee (Korea)                         20 pts
DNF Malindi Maclean (New Zealand)              
DNS Josephine Tomic (Australia)                

Team sprint final

For gold
1 Netherlands                0.34.191 (52.645 km/h)
  Yvonne Hijgenaar       
  Willy Kanis            
 
2 Australia                  0.34.621
  Kerrie Meares          
  Emily Rosemond         
 
For bronze
1 Korea                      0.35.788
  Jin Gu Hyon            
  Won Gyeong Kim         
 
2 Thailand                   0.37.114
  Watinee Luekajorn      
  Jutatip Maneephan