Track World Cup 08-09 Round 1 - IM
Manchester, Great Britain, October 31-November 2, 2008
Main Page Results Overall standings Previous Session
Session 6 - November 2: Men's International Keirin
Crampton cashes in on Britain's golden weekend
By Ben Atkins in Manchester
Matt Crampton takes the victory
Photo ©: Gerry McManus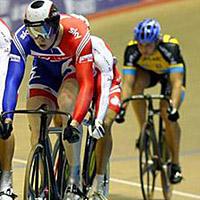 Great Britain's Matt Crampton has taken the title, and the big money prize, in the 5th JKA International Keirin Event capping an unprecedentedly successful weekend for the host nation. He took the lead early on and used the endurance that earned him fourth place in the Kilometre at this year's World Championships to hold off a strong challenge from Olympic silver medallist Ross Edgar (Sky+ HD).
"Good," he smiled to Cyclingnews as he warmed down on the rollers. "The money's going to be really handy!"
Despite the confidence gained by taking bronze in yesterday's sprint, Crampton revealed that he had approached the event to see how far he could go rather than put too much pressure on himself. "This morning I was just like: 'don't think about the final, just get through that first round'," he explained, "and then it's like: at least I've won something'; I was just trying to get through it."
As a strong kilometre rider Crampton realised that he would have to use that endurance over a number of laps against the potential better acceleration of his rivals. "I knew I'd have to go pretty long," he said, "and it paid off."
Despite this endurance though, Crampton was almost overhauled by Edgar in the final straight, but just managed to hang on to take the prize from his compatriot. "He came really strong," he smiled, "I don't know if he got pushed up, but I just had enough at the end I guess."
"That was my first individual medal in a World Cup," he said of yesterday's sprint bronze, "and another one here, so I'm well chuffed."
The race for the consolation of seventh was taken by the Netherlands' Teun Mulder after the World Kilometre champion was relegated from the second round for entering the sprinter's lane when another rider was already there. Sprint gold medallist Jason Kenny (Sky+ HD) and Andriy Vynokurov (Ukraine) were both disqualified from that race for overtaking the derny before it had pulled off.
Qualifiers: Fastmen in line for JKA prize money
Aussie Shane Perkins wins his heat
Photo ©: Gerry McManus
The big prize money on offer has once again attracted a big field to the JKA International Keirin event. The racing began well – once again – for the home team as Great Britain's Matt Crampton took the first race from Kazunari Watanabe of Japan; the second went to Michael Almeida (US Creteil) from World Kilometre champion Teun Mulder of the Netherlands.
Fresh from racing in Japan, Olympic silver medallist Ross Edgar (Sky+ HD) struck out with more than two laps to go in heat three to take the win, with teammate Jason Kenny – who appears to have recovered from yesterday's crash – following him home.
The repechages saw Denis Dmitriev (Russia), Christos Volikakis (Greece) and Adam Ptacnik (Czech Republic) go through in the first race, and Shane Perkins (Australia) – who also seems to have recovered from yesterday's crash – go through with Denis Spicka (Czech Republic) and Andriy Vynokurov (Ukraine).
"Not too bad," said Perkins of the after-affects of yesterday's sprint final crash, "it just took a little bit to get warmed up and get a bit of the soreness out with the warm up, but the first race was almost the warm up because I was pretty tired this morning. It's all right, I don't feel it too much while I'm out there, but I'm guessing on the plane flight home I'm definitely going to feel it."
"He's going really well," he said of Edgar's first round dominance, "just coming off Japan as well, and obviously he and Jason Kenny are just in a class of their own.
"They raced well, and obviously two of them in the heat sort of helps, gives them more confidence and they sort of help each other out. That always helps, but you can't take away from the good form they've got either."
Looking forward to the later rounds, Perkins felt good about his chances, especially with the added incentive attached to this competition. "My legs are feeling better now I've had a couple of rides and see how we go," he said. "Hopefully we can get in the final and, you know, there's money up for grabs."
Photography
For a thumbnail gallery of these images, click here
Images by Gerry McManus/www.gerrymcmanus.co.uk
Results
Round one
 
Heat 1
1 Matthew Crampton (GBr) Great Britain           
2 Kazunari Watanabe (Jpn) Japan                  
3 Kazuya Narita (Jpn) Japan                      
4 Denis Spicka (Cze) Czech Republic              
5 Hodei Mazquiaran Uria (Spa) Cespa Euskadi      
6 Andriy Vynokurov (Ukr) Ukraine                 
 
Heat 2
1 Michaël D'almeida (Fra) Us Creteil             
2 Teun Mulder (Ned) Netherlands                  
3 Christos Volikakis (Gre) Greece                
4 Adam Ptacnik (Cze) Czech Republic              
5 Yudai Nitta (Jpn) Japan                        
6 Seiichiro Nakagawa (Jpn) Japan                 
 
Heat 3
1 Ross Edgar (GBr) Team Sky + Hd                 
2 Jason Kenny (GBr) Team Sky + Hd                
3 Shane Perkins (Aus) Australia                  
4 José Antonio Escuredo Raimondez (Spa) Spain    
5 Denis Dmitriev (Rus) Russia                    
6 Hiroyuki Inagaki (Jpn) Japan                   
 
Round one repechage
 
Heat 1
1 Denis Dmitriev (Rus) Russia                    
2 Christos Volikakis (Gre) Greece                
3 Adam Ptacnik (Cze) Czech Republic              
4 Hodei Mazquiaran Uria (Spa) Cespa Euskadi      
5 Kazuya Narita (Jpn) Japan                      
6 Seiichiro Nakagawa (Jpn) Japan                 
 
Heat 2
1 Shane Perkins (Aus) Australia                  
2 Denis Spicka (Cze) Czech Republic              
3 Andriy Vynokurov (Ukr) Ukraine                 
4 Hiroyuki Inagaki (Jpn) Japan                   
5 Yudai Nitta (Jpn) Japan                        
6 José Antonio Escuredo Raimondez (Spa) Spain   
 
Second round

Heat 1 
1 Matthew Crampton (GBr) Great Britain    
2 Ross Edgar (GBr) Team Sky + Hd          
3 Adam Ptacnik (Cze) Czech Republic       
4 Jason Kenny (GBr) Team Sky + Hd         
5 Andriy Vynokurov (Ukr) Ukraine          
REL Teun Mulder (Ned) Netherlands         
 
Heat 2 
1 Michaël d'Almeida (Fra) Us Creteil      
2 Shane Perkins (Aus) Australia           
3 Christos Volikakis (Gre) Greece         
4 Denis Spicka (Cze) Czech Republic       
5 Denis Dmitriev (Rus) Russia             
REL Kazunari Watanabe (Jpn) Japan         

Finals 

Final 1­6 
1 Matthew Crampton (GBr) Great Britain    
2 Ross Edgar (GBr) Team Sky + Hd          
3 Adam Ptacnik (Cze) Czech Republic       
4 Shane Perkins (Aus) Australia           
5 Christos Volikakis (Gre) Greece         
6 Michaël d'Almeida (Fra) Us Creteil      
 
Final 7­12 
7 Teun Mulder (Ned) Netherlands           
8 Denis Spicka (Cze) Czech Republic       
9 Kazunari Watanabe (Jpn) Japan           
10 Denis Dmitriev (Rus) Russia            
DSQ Jason Kenny (GBr) Team Sky + Hd       
DSQ Andriy Vynokurov (Ukr) Ukraine