Track World Cup 08-09 Round 1 - CDM
Manchester, Great Britain, October 31-November 2, 2008
Main Page Results Overall standings Previous Session Next Session
Session 3 - November 1: Men: Qualifying: Sprint (200m TT, 1/8 final, 1/4 final, 5th-12th final), Team Pursuit, Points race; Women: Qualifying: Scratch race, Team Sprint
British challenged in more qualifiers
By Ben Atkins in Manchester
British dominance continues in qualification for a number of key events, but the home teams did not have everything go their own way as competition from overseas riders increases. Team GB qualified first in the the men's team pursuit, sprinter Jason Kenny cruised through the men's sprint qualifiers, and Chris Newton won his points race heat, but the women failed to show the same dominance. The Germans came out on top in the women's team sprint qualifier, and the points race heats both went to foreign riders.
Great Britain cruises to sub-4 lead
Joy for Geraint Thomas and the British team
Photo ©: Gerry McManus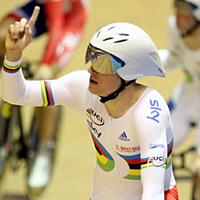 The Great Britain team of Stephen Burke, Ed Clancy, Rob Hayles and Geraint Thomas thrilled the local Manchester crowd with a qualification time of 3:59.541; more than six seconds slower than the World record set at the Olympic Games in Beijing but still more than 3 seconds faster than second best team Denmark.
Surprisingly, as he's been a regular member of the Great Britain team for many years, this was the first time that Hayles has crossed the finish line as a member of a sub-4 minute team. "The only other times that they've done sub[4] when I was in the team was either two years ago at the World Cup here," he explained to Cyclingnews, "where I bailed at three-quarter distance in both of them.
"Having done my job. Having got them to speed..." he added with a laugh.
"The other times were Athens – and I only rode the final in Athens, where we went slower, and the other times I've not been in the team: Palma, Worlds this year, or when I've been away at Cofidis."
It was that last part of the race that he usually misses that turned out to be the toughest for Hayles. Despite this, the GB stalwart was pleased to justify his selection after an enforced absence from the World Championships and missing the Olympic games. "The last quarter really hurt," he continued, "they normally do, but I think I did myself justice, which is what I intended doing here. The last couple of years pretty much every time I've got on the track I've not done myself justice – for whatever reason – an so I've taken a pretty mental battering. I was in a bit of a state before that; not so much nerves – or I suppose it was – I was up for it obviously, but very apprehensive not knowing what to expect."
"I'm pretty happy with that; the whole team was happy – Ed and G – that was seven or six seconds slower than they went two months ago, but they were over the moon with that."
First to start was the Lokomotiv team from Russia, and its time of 4:07.125 was good enough to stand until the penultimate team Denmark – the Olympic silver medallist – bettered it by over four seconds. From the very first lap of Great Britain's ride though it was clear that the home nation was going to take the fastest time and meet the Danes in this evening's final.
Starting just before Denmark the Netherlands team finished just over seven tenths of a second behind Lokomotiv, but did enough to qualify fourth and so both teams will meet in this evening's race for bronze.
Germany fastest in women's team sprint
The German pair of Christin Muche and Miriam Welte set the fastest qualification time for the women's team sprint in 34.452 seconds, more than a tenth of a second faster than Great Britain in second place. The British – Anna Blyth and Jess Varnish – rode their qualification race on the opposite side of the track from the Germans, Blyth actually rode a faster second lap than Muche, but the German had almost half a second's lead, which was too big to overcome. The two teams will meet again in the final for gold and silver.
"We are [happy with the time]," said Welte to Cyclingnews after qualification, "the first lap was okay and Cristin – we had a good change – and so she could do a good second lap and we are pretty happy with it."
Rather than feeling intimidated about the prospect of going up for the gold medal against the Great Britain team – albeit the second-string one – on its home track, Welte was confident that they were capable of bettering the local team again in this evening's final. "Yes, sure," she laughed. "We want to beat them."
This weekend is the first positive step for Welte on the long road to next March's World Championship in Pruskov, Poland. "I had the European championships in September and I had two weeks out," she explained, "so it's a good beginning now. The next World Cup for me is Cali [in Colombia] and the preparation is good and I'm looking good."
The teams from Russia and Poland will meet in the race for bronze after recording the third and fourth fastest times respectively.
Women's scratch qualification sees late crash
Katie Colclough (100% ME)
Photo ©: Gerry McManus

The biggest incident in the women's scratch race qualification happened on the final bend of the second heat as Switzerland's Andrea Wolfer came down heavily, bringing down Marta Tagliaferro of Italy. Tagliaferro was up quickly, but Wolfer left the track on a stretcher; luckily though, the Swiss rider – who rides on the road for the Bigla team – walked away from the track with just bruises.
Rebecca Quinn of South Bay Wheelmen – one of only two US riders present – finished 4th in the second heat, managing to avoid Wolfer's crash. "[The race was] good, not too bad," she told Cyclingnews, "just take control and get through safely and make it to the final."
With 11 of the 16 riders going through to the final, Quinn's strategy in the heat was simple: "Just qualify," she said, "get through and open the legs up a little bit. Just see how everybody's going and then let it fly in the final."
The plan for the final will be just as simple: "Just hopefully get ahead of the game; good positioning and just let it all hang out."
Probably the biggest names to miss out on qualification were Svetlana Paulikaite of Lithuania and Charlotte Becker of Germany. The latter dropping off well before the finish, tired from having ridden both the pursuit and points races yesterday.
Kenny in Pole as British rule without dominance
Aussie Shane Perkins hopes to end Britain's dominance
Photo ©: Gerry McManus

After qualifying fastest with a 200m time of 10.138, Olympic silver medallist Jason Kenny (Sky+ HD) has made his way to the semi-final stages of the men's sprint where he will face compatriot Matt Crampton of the Great Britain team. Kenny advanced by getting some kind of revenge over Cofidis' Francois Pervis, who beat him so narrowly in last night's Keirin final.
It wasn't all plain sailing for the home riders though as second fastest qualifier David Daniell – winner of last night's kilometre time trial – was knocked out by Frenchman Michael D'Almeida of US Creteil in the quarter finals and Craig MacLean (Plowman Craven) was beaten one round earlier by Germany's Mathias Stumpf.
Facing D'Almeida in the semi-finals is Shane Perkins of Australia, who will be keen to put an end to the current British dominance should he get past the Frenchman.
"I hope so," he told Cyclingnews, "that's the plan anyway; just got to get past this guy first. We got two rounds here, maybe three, just keep going along and see how we go."
Passing through the qualification rounds undefeated has given Perkins confirmation that his season is starting well. "I'm pretty happy with the way we're going," he confirmed. "We've been doing a lot of hard work in the off season and it's paying off."
With this confidence, Perkins feels that he should be able to get past D'Almeida and on to face one of the two Britons. "I'll get out there and give him a run for his money," he said, "and hopefully I can come out on top and get into the final."
"I haven't raced since the Worlds here, so obviously it was a little bit nerve-wracking, but I've pulled it all together and it's come together pretty well. I'm just happy with the way everything's going, yeah."
On the question of Australian sprinting being able to rise again and take on the current dominance of the British, Perkins was bullish: "Obviously it's going to take some time to get it all back together, but we'll get there," he said defiantly.
Two different heats see Points qualification
Evan Oliphant on the banking
Photo ©: Gerry McManus

As in the women's event yesterday, two very different races decided qualification for this evening's points race final. The first was cagey and tight, but fast with the placings decided by just a few points; the second slower, but more open with laps taken – and Italian rider Elia Viviani taking three.
Iljo Keisse is the latest Belgian six-day king, but found the shorter 15km race very different to his usual racing. "It was difficult coming out of the six-days," he told Cyclingnews, "riding smaller gears – small cranks – and now: big gear, big cranks and it really hurt.
"It's really different, the six-days are more on speed, the programme is much longer so it's not so hard as a 20 or 40 minute race. It's really totally different."
Keisse is not riding this event for fun though, but with the World championships in March in mind. He has taken the decision to miss one of his usual events to ride this race.
"Normally, I was riding in the Dortmund six-day at this moment," he explained, "but I need to take points at the World Cups for the Worlds, so I'm coming to Manchester to take as much points as possible so that I only have to do one World Cup, and I can concentrate on the six-days for the rest of the season."
As something of a track celebrity though, the young Gent native is not finding things as easy as one might think; his celebrity making him something of a marked man.
"Of course it's not always an advantage when you're in the six-days," said the Belgian, "because then your name is a little bit bigger and that's what all track cyclists see on cycling web sites and the results from the six-days, so they know me and of course they don't let me go that easy."
Photography
For a thumbnail gallery of these images, click here
Images by Gerry McManus/www.gerrymcmanus.co.uk
Results
Men's Sprint

Qualifying

1 Jason Kenny (GBr) Team Sky + Hd                                           0.10.14 (71.019 km/h)
2 David Daniell (GBr) Great Britain                                         0.10.17
3 Shane Perkins (Aus) Australia                                             0.10.17
4 Lukasz Kwiatkowski (Pol) Poland                                           0.10.25
5 Matthew Crampton (GBr) Great Britain                                      0.10.25
6 Craig Maclean (GBr) Plowman Craven Racing Team                            0.10.26
7 Michaël D'almeida (Fra) Us Creteil                                        0.10.27
8 Andriy Vynokurov (Ukr) Ukraine                                            0.10.30
9 François Pervis (Fra) Cofidis                                             0.10.32
10 Kazunari Watanabe (Jpn) Japan                                            0.10.34
11 Mathias Stumpf (Ger) Germany                                             0.10.35
12 Wen Hao Li (Chn) China                                                   0.10.43
13 Adam Ptacnik (Cze) Czech Republic                                        0.10.45
14 Teun Mulder (Ned) Netherlands                                            0.10.46
15 Sebastian Doehrer (Ger) Germany                                          0.10.47
15 Quentin Lafargue (Fra) Cofidis                                                  
17 Qi Tang (Chn) Max Success Pro Cycling                                    0.10.47
18 Andrea Guardini (Ita) Italy                                              0.10.61
19 Charlie Conord (Fra) Us Creteil                                          0.10.62
20 Hodei Mazquiaran Uria (Spa) Cespa Euskadi                                0.10.65
21 Christopher Sellier (Tri) Trinidad &Tobago                               0.10.70
22 Pavel Yakushevskiy (Rus) Russia                                          0.10.72
23 Gaddy Chaid (RSA) South Africa                                           0.10.73
24 David Alonso Castillo (Spa) Spain                                        0.10.73
25 Maciej Bielecki (Pol) Poland                                             0.10.75
26 Zafeirios Volikakis (Gre) Greece                                         0.10.76
27 Yuriy Tsyupyk (Ukr) Ukraine                                              0.10.78
28 Vasileios Galanis (Gre) Greece                                           0.10.79
29 Stoyan Vasev (Rus) Russia                                                0.10.80
30 Juan Peralta Gascon (Spa) CalapieReyno de Navarra                        0.10.81
31 Itmar Esteban Herraiz (Spa) Catalunya                                    0.10.99
32 David Askurava (Geo) Georgia                                             0.11.00
33 Pablo Galan Carrasco (Spa) Spain                                         0.11.06
34 Jean Christiaan Smith (RSA) Willie Engelbrecht Track Development Team    0.11.38
35 Michal Rohon (Svk) Slovakia                                              0.11.40
36 Roman Jajcay (Svk) Slovakia                                              0.11.78
DNS Luca Ceci (Ita) Italy                                                          
DNS Cédric Stoller (Swi) Switzerland                                               

1/8 Final
 
Heat 1
1 Jason Kenny (GBr) Team Sky + Hd                                           0.11.06
2 Quentin Lafargue (Fra) Cofidis                                                   
 
Heat 2
1 David Daniell (GBr) Great Britain                                         0.10.95
2 Sebastian Doehrer (Ger) Germany                                                  
 
Heat 3
1 Shane Perkins (Aus) Australia                                             0.10.70
2 Teun Mulder (Ned) Netherlands                                                    
 
Heat 4
1 Adam Ptacnik (Cze) Czech Republic                                         0.11.10
2 Lukasz Kwiatkowski (Pol) Poland                                                  
 
Heat 5
1 Matthew Crampton (GBr) Great Britain                                      0.10.68
2 Wen Hao Li (Chn) China                                                           
 
Heat 6
1 Mathias Stumpf (Ger) Germany                                              0.10.71
2 Craig Maclean (GBr) Plowman Craven Racing Team                                   
 
Heat 7
1 Michaël D'almeida (Fra) Us Creteil                                        0.10.46
2 Kazunari Watanabe (Jpn) Japan                                                    
 
Heat 8
1 François Pervis (Fra) Cofidis                                             0.10.76
2 Andriy Vynokurov (Ukr) Ukraine        

Quarterfinals
 
Heat 1
1 Jason Kenny (GBr) Team Sky + Hd                                           0.10.82   0.10.96
2 François Pervis (Fra) Cofidis                                                    
 
Heat 2
1 Michaël D'almeida (Fra) Us Creteil                                        0.10.79   0.10.77
2 David Daniell (GBr) Great Britain                                                
 
Heat 3
1 Shane Perkins (Aus) Australia                                             0.10.63   0.10.47
2 Mathias Stumpf (Ger) Germany                                                     
 
Heat 4
1 Matthew Crampton (GBr) Great Britain                                      0.10.73   0.10.79
2 Adam Ptacnik (Cze) Czech Republic                                                
 
Quarterfinals B
 
Heat 1
1 Quentin Lafargue (Fra) Cofidis                                            0.10.89
2 Andriy Vynokurov (Ukr) Ukraine                                                   
 
Heat 2
1 Kazunari Watanabe (Jpn) Japan                                             0.11.25
REL Sebastian Doehrer (Ger) Germany                                                
 
Heat 3
1 Teun Mulder (Ned) Netherlands                                                    
DNS Craig Maclean (GBr) Plowman Craven Racing Team                                 
 
Heat 4
1 Wen Hao Li (Chn) China                                                    0.10.87
2 Lukasz Kwiatkowski (Pol) Poland                                                  
 
Semifinals B
 
Heat 1
1 Wen Hao Li (Chn) China                                                    0.10.89
2 Quentin Lafargue (Fra) Cofidis                                                   
 
Heat 2
1 Kazunari Watanabe (Jpn) Japan                                             0.11.11
2 Teun Mulder (Ned) Netherlands                                                    
 
Finals B
 
Heat 2
9 Kazunari Watanabe (Jpn) Japan                                             0.10.92
10 Wen Hao Li (Chn) China                                                          
 
Heat 1
11 Teun Mulder (Ned) Netherlands                                            0.11.14
12 Quentin Lafargue (Fra) Cofidis                                                  
 
5th - 8th
 
5 David Daniell (GBr) Great Britain                                         0.10.80
6 François Pervis (Fra) Cofidis                                                    
7 Adam Ptacnik (Cze) Czech Republic                                                
8 Mathias Stumpf (Ger) Germany                                                     
                                            
Women's Team Sprint

1 Germany                                                                   0.34.45
 Christin Muche (Ger) Germany                                                      
 Miriam Welte (Ger) Germany                                                        
2 Great  Britain                                                            0.34.58
 Anna Blyth (GBr) Great Britain                                                    
 Jessica Varnish (GBr) Great Britain                                               
3 Russia                                                                    0.35.26
 Victoria Baranova (Rus) Russia                                                    
 Swetlana Grankowskaja (Rus) Russia                                                
4 Poland                                                                    0.35.92
 Renata Dabrowska (Pol) Poland                                                     
 Marta Janowiak (Pol) Poland                                                       
5 New  Zealand                                                              0.37.57
 Natasha Hansen (NZl) New Zealand                                                  
 Malindi Maclean (NZl) New Zealand                                                 
6 Calapie­Reyno  De  Navarra                                                0.39.48
 Camila Ayala (Arg) CalapieReyno de Navarra                                        
 Cinthia Martinez (Uru) CalapieReyno de Navarra                                    
DNS China                                                                          
 Jinjie Gong (Chn) China                                                           
 Lulu Zheng (Chn) China                                                            

Men's Team Pursuit

Qualifying

1 Great Britain                          3.59.54 (60.114 km/h)
 Steven Burke (GBr) Great Britain               
 Edward Clancy (GBr) Great Britain              
 Thomas Geraint (GBr) Great Britain             
 Robert Hayles (GBr) Great Britain              
2 Denmark                                4.02.80
 Michael Faerk Christensen (Den) Denmark        
 Casper Jorgensen (Den) Denmark                 
 Daniel Kreutzfeldt (Den) Denmark               
 Jenserik Madsen (Den) Denmark                  
3 Lokomotiv                              4.07.12
 Artur Ershov (Rus) Lokomotiv                   
 Valery Kaykov (Rus) Lokomotiv                  
 Leonid Krasnov (Rus) Lokomotiv                 
 Vladimir Shchekunov (Rus) Lokomotiv            
4 Netherlands                            4.07.83
 Ismaël Kip (Ned) Netherlands                   
 Pim Ligthart (Ned) Netherlands                 
 Peter Schep (Ned) Netherlands                  
 Wim Stroetinga (Ned) Netherlands               
5 Ukraine                                4.08.70
 Roman Kononenko (Ukr) Ukraine                  
 Lyubomyr Polatayko (Ukr) Ukraine               
 Vitaliy Shchedov (Ukr) Ukraine                 
 Sergiy Lagkuti (Ukr) Ukraine                   
6 Germany                                4.08.89
 Robert Bengsch (Ger) Germany                   
 Henning Bommel (Ger) Germany                   
 Marcel Kalz (Ger) Germany                      
 Roger Kluge (Ger) Germany                      
7 Spain                                  4.09.75
 Pablo Aitor Bernal Rosique (Spa) Spain         
 Unai Elorriaga Zubiaur (Spa) Spain             
 David Muntaner Juaneda (Spa) Spain             
 Eloy Teruel Rovira (Spa) Spain                 
8 Russia                                 4.10.16
 Kirill Baranov (Rus) Russia                    
 Ivan Kovalev (Rus) Russia                      
 Alexander Petrovskiy (Rus) Russia              
 Sergey Kolesnikov (Rus) Russia                 
9 Belgium                                4.10.32
 Kenny De Ketele (Bel) Belgium                  
 Ingmar De Poortere (Bel) Belgium               
 Tim Mertens (Bel) Belgium                      
 Maarten Vlasselaer (Bel) Belgium               
10 Colombia                              4.11.29
 Juan Esteban Arango Carvajal (Col) Colombia    
 Arles Antonio Castro Laverde (Col) Colombia    
 Weimar Alfonso Roldan Ortiz (Col) Colombia     
 Jaime Suaza Lopez (Col) Colombia               
11 Team 100% Me                          4.13.48
 Mark Christian (GBr) Team 100% Me              
 Andrew Fenn (GBr) Team 100% Me                 
 Luke Rowe (GBr) Team 100% Me                   
 Erick Rowsell (GBr) Team 100% Me               
12 Poland                                4.14.28
 Piotr Kasperkiewicz (Pol) Poland               
 Adrian Kuriek (Pol) Poland                     
 Pawel Brylowski (Pol) Poland                   
 Dawid Glowacki (Pol) Poland                    
13 Italy                                 4.14.44
 Omar Bertazzo (Ita) Italy                      
 Alex Buttazzoni (Ita) Italy                    
 Davide Cimolai (Ita) Italy                     
 Elia Viviani (Ita) Italy  


Men's Points Race


Qualifying

Heat 1
1 Chris Newton (GBr) Great Britain                                            10 pts
2 Leonid Krasnov (Rus) Lokomotiv                                               8
3 Eloy Teruel Rovira (Spa) Spain                                               7
4 Pim Ligthart (Ned) Netherlands                                               6
5 Mykhaylo Radionov (Ukr) Comanche Professional Team                           4
6 Walter Fernando Perez (Arg) Argentina                                        3
7 Vojtech Hacecky (Cze) Czech Republic                                         2
8 Ho Ting Kwok (HKg) Hong Kong Pro Cycling                                     1
9 Jozef Zabka (Svk) Slovakia                                                    
10 Nolan Hoffman (RSA) South Africa                                           -9 
11 Olaf Pollack (Ger) Germany                                                 -13
12 Damien Gaudin (Fra) Bouygues Télécom                                       -16
13 Sergei Sakavets (Blr) Belarus                                              -17
DNF Inaki Anzizar (Spa) CalapieReyno de Navarra                                 
DNF Tomasz Krysztofik (Pol) Alks Stal Grudziaduz                                
 
Heat 2
1 Elia Viviani (Ita) Italy                                                    66 pts
2 King Wai Cheung (HKg) Hong Kong                                             45
3 Glenn O'shea (Aus) Team Toshiba                                             41
4 Ivan Kovalev (Rus) Russia                                                   28
5 Jesper Morkov (Den) Denmark                                                 27
6 Roman Kononenko (Ukr) Ukraine                                               25
7 Carlos Herrero (Spa) Catalunya                                              24
8 Iljo Keisse (Bel) Belgium                                                   24
9 Evan Oliphant (GBr) Plowman Craven Racing Team                              23
10 Ronan Guinaudeau (Fra) France                                              22
11 Jiri Hochmann (Cze) Asc Dukla Praha                                        20
12 Lukasz Bujko (Pol) Poland                                                   9
13 Weimar Alfonso Roldan Ortiz (Col) Colombia                                  6
14 Tristan Marquet (Swi) Switzerland                                           3
DNF Iban Leanizbarrutia Cruz (Spa) Cespa Euskadi                                
DNF Abdul Quayum Davids (RSA) Willie Engelbrecht Track Development Team


Women's Scratch Race


Qualifying    

Heat 1
1 Pascale Jeuland (Fra) France                                                  
2 Kelly Druyts (Bel) Belgium                                                    
3 Annalisa Cucinotta (Ita) Italy                                                
4 Malindi Maclean (NZl) New Zealand                                             
5 Lucy Martin (GBr) Great Britain                                               
6 Katie Colclough (GBr) Team 100% Me                                            
7 Amy Pieters (Ned) Netherlands                                                 
8 Ana Usabiaga Balerdi (Spa) Cespa Euskadi                                      
9 Camila Ayala (Arg) CalapieReyno de Navarra                                    
10 Tara Whitten (Can) Canada                                                    
11 Wan Yiu Wong (HKg) Hong Kong                                                 
12 Debora Galvez Lopez (Spa) Spain                                              
13 Svetlana Paulikaite (Ltu) Lithuania                                          
14 Tatsiana Sharakova (Blr) Belarus                                             
15 Charlotte Becker (Ger) Germany                                               
 
Heat 2
1 Alena Amialyusik (Blr) Belarus                                                
2 Alexandra Greenfield (GBr) Great Britain                                      
3 Leire Olaberria Dorronsoro (Spa) Spain                                        
4 Rebecca Quinn (USA) South Bay Wheelmen                                        
5 Evgeniya Romanyuta (Rus) Russia                                               
6 Rochelle Gilmore (Aus) HpTeschner                                             
7 Elizabeth Armitstead (GBr) Team 100% Me                                       
8 Jolien D'hoore (Bel) Belgium                                                  
9 Jarmila Machacova (Cze) Czech Republic                                        
10 Shelley Olds (USA) Proman Racing Team                                        
11 Malgorzata Wojtyra (Pol) Poland                                              
12 Cinthia Martinez (Uru) CalapieReyno de Navarra                               
13 Maria Clara Alvarez (Arg) Argentina                                          
REL Elke Gebhardt (Ger) Germany                                                 
DNF Marta Tagliaferro (Ita) Italy                                               
DNF Andrea Wolfer (Swi) Switzerland