Track World Cup 08-09 Round 1 - CDM
Manchester, Great Britain, October 31-November 2, 2008
Main Page Results Overall standings Next Session
Session 1 - October 31: Men: Qualifying: Keirin, Individual pursuit, Scratch race; Women: Qualifying: Sprint (200m TT, 1/8 final, 1/4 final, 5th-12th finals), Individual pursuit, Points race
Brits pick up where they left off in Manchester
By Ben Atkins in Manchester
Houvenaghel on her way to the final
Photo ©: Gerry McManus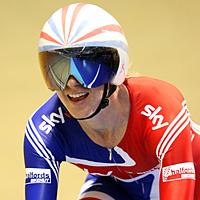 The British team might have largely sent its B-squad to the first round of the UCI World Cup, but that did not stop them from dominating in the first session of the weekend. Olympic champions Victoria Pendleton, Wendy Houvenaghel and Jason Kenny cruised through the qualifying rounds in their respective events, but new faces also stepped up to the challenge.
Ed Clancy, a mainstay of the British team pursuit squad, put in the fastest men's individual pursuit qualifying ride, and Matthew Crampton emerged victorious in his heat of the keirin first round. Olympic champion Bradley Wiggins skipped his signature event, choosing to dabble in the scratch race instead.
With many of the Olympians taking a late summer break and choosing to start the World Cup rounds later, the door was wide open for new faces from all countries to have a chance at the medals in Manchester.
Pendleton cruises through
After qualifying fastest, World and Olympic champion Victoria Pendleton (Team Sky+ HD) made short work of the first two knockout rounds and advanced almost effortlessly past to this evening's semi-final stages. Despite posting a time two-tenths of a second slower than the one she posted in Beijing, Pendleton was 0.15 of a second faster than the next fastest: Zheng Lulu of China.
"It's been very hard, training – the last couple of weeks especially I think," Pendleton told Cyclingnews after her first knockout round. "I lost a lot of form very quickly after the [Olympic] games. It's a bit of a comedown when you achieve something you've set out to do your whole life, and you're like 's__t, what do I do now?'"
Despite the difficulty after meeting her season's – and life's – objectives, Pendleton knows that a partisan Manchester crowd will help motivate her this weekend. "There's going to be massive crowds the next few days," she continued, "which makes a huge difference; they'll help spur me on.
"It's hard for me now; I can't go under the radar!" she laughed.
"It's a lot faster than I expected really," she said of her qualification time of 11.162. "I'm pretty pleased with that. I was thinking about 11.3, based on my training times over the last couple of weeks, so I'm well chuffed with that; it's a big surprise."
Anna Blyth fights back
Photo ©: Gerry McManus

"These are go faster stripes," she joked of her World champion's rainbow skinsuit, "that's what it feels like!"
All but one of the quarter-finals were settled in two rounds, with only one of those going against qualification. Pendleton dispatched Germany's Miriam Welte 2-0, Zheng Lulu deposed France's Virginie Cueff, and it was Lyubov Shulika of the Ukraine that reversed the seedings with a victory over China's Gong Jinjie.
The one contest to go the full three races saw Great Britain's Anna Blyth come back from one race down to beat Swetlana Grankowskaja of Russia – the only sprinter here, besides Pendleton, who raced in Beijing.
Crashes mar exciting Keirin first round
In the men's keirin, a crash on the final bend of heat 1 saw Denis Dmitriev of Russia come down as Kail Kuczynski powered to victory. A rather more serious crash occurred in heat 6 when Craig MacLean (Plowman Craven) was adjudged to have moved off his line causing Juan Antonio Escuredo of Spain to touch his back wheel. The Spaniard came down heavily on the banking and stayed down for a while before leaving the track on a stretcher.
In the heats in between World kilometre champion Teun Mulder of the Netherlands made it look all too easy over a field that included Barry Forde of Barbados. British Olympic sprint silver medallist Jason Kenny of the new Sky+ HD team cruised through to take victory in heat 3; while heat 4 saw a close and exciting battle between Cofidis' Francois Pervis and Great Britain's Matt Crampton with the Briton coming out on top. Ukrainian Andriy Vynokurov won a close heat 5 over Sebastian Doehrer of Germany.
"I felt that I was pushed down a bit by the French guy [Charlie Conord, US Creteil)]," MacLean told Cyclingnews after hearing of his disqualification, "but looking at the video there was probably room.
"I think that by the time the crash happened I was well outside the red [line], I think had Jose held his line and not tried to push me out I think it would have been all right. It's just one of those things; just an accident in racing. There was no intent there, certainly not on my part."
Unfortunately for MacLean, he was unable to make it through to the next round, losing out in the second of three repecharge heats in a close sprint with Doehrer and Denis Spicka of the Czech Republic. The first heat saw Pervis go through along with Hodei Mazquiaran of Cespa-Euskadi, and the third saw Christos Volikakis of Greece and Denis Dmitriev of Russia qualify despite a long charge for the line from Italian Andrea Guardini.
Houvenaghel accelerates to final
Whitten on a fast ride
Photo ©: Gerry McManus

Great Britain's Olympic silver medallist Wendy Houvenaghel bucked the trend followed by virtually all of the riders who went to Beijing by recording a personal best time in qualification for the women's individual pursuit final, more than eight seconds faster than second placed Tara Whitten of Canada. Spurred on by her home crowd, the Ulsterwoman scorched around the track to finish only a second slower than the British record set by team-mate Rebecca Romero in Beijing.
For Whitten, second place marks a positive first step in this track season. "I'm really happy with my ride," she told Cyclingnews, "it's a big improvement on where I was last year and so that was what I was looking for. I've been focusing on the track season; I've been road racing in the summer, but with a view to the track season.
"In Canada we don't have any world class tracks so I haven't had the opportunity to train that much. Hopefully this winter we're going to do some more training camps on some world-class facilities."
Despite looking at an eight second qualifying deficit to Houvenaghel, the Canadian is looking forward to going head-to-head with the Olympic silver medallist, who is racing in front of her home crowd. "It's going to be loud!" she laughed. "Actually, I'm really excited, there's going to be a lot of energy, so it should be fun."
Riding for the 100% Me team, Houvenaghel's 19-year-old compatriot Jo Rowsell qualified in third place and will ride for the bronze medal against Charlotte Becker of Germany.
Becker is coming off a long road season riding for the Nürnberger Versicherung team: "Very, very long yeah," she agreed. "I've had a season of about three years I think! No break."
Despite that long season, Becker managed to post a qualification time not far off her own personal best. "I think, because I am not in the road season," she continued, "my best time in the road season in the middle of the year was 3:40, so I'm happy about this time. I thought I am not able to [ride] for a 3:42, and my coach is standing on this time, and I did it."
Clancy steps into the breach
Clancy grits his teeth to claim top spot
Photo ©: Gerry McManus
Great Britain's Ed Clancy, for so long one of the mainstays of the team pursuit squad stepped up to ride a rare individual race and qualified with by far the fastest time.
"Wiggo [Bradley Wiggins], him [pointing to Geraint Thomas] or probably even Burkie [Olympic silver medallist Stephen Burke] could have got up and gone fastest," said Clancy modestly, "but somebody had to do it so I thought I'd take one for the team. I don't want to big myself up, you know, he [Thomas] could have got up half cut and done the same."
Despite being the fastest of the men here, Clancy is under no illusions over his abilities compared to his team-mates, but doesn't rule out concentrating on the solo event in future. "It's easy to say I've done that with no training and Bradley was only a few seconds quicker," he admitted, "but three or four seconds quicker than that is quite a big gain. In three or four years time for 2012 it's maybe something I'll have a look at, but for now I'll just want to ride with the boys in the team pursuit; that's what I enjoy doing."
Clancy will meet Vitaliy Shchedov of Ukraine in the gold medal final, but the Briton will start as overwhelming favourite after posting a time over four seconds faster. Only just over a tenth of a second slower than Shchedov, Valery Kaykov of Lokomotiv will face Eloy Teruel of Spain in the race for bronze. Like Clancy, Kaykov starts with the psychological advantage of having ridden four seconds faster than his opponent.
Road mileage counts in Women's points qualification
The first of two heats of the women's points race qualifying was a cagey affair with no riders able to dominate. By winning the first sprint and coming second in the fourth and final one Rochelle Gilmore of HP-Teschner qualified in first position. This comes after a week of illness for the Australian and an injury picked up in a track event in Colombia.
"You know when you're on the bike and you just block everything out?" she said to Cyclingnews. "Then when I got off the bike: chest, throat, legs, head, everything. But I got through the heat okay, I feel alright on the bike."
"I think the final's going to be a lot faster," she continued, "you saw in the second heat they took laps and rode the race a lot differently. I've still got a little bit of speed from road sprinting during the season but I think the final's definitely going to be won on laps, not points."
Lizzie Armitstead of 100% Me took a very different second heat in dominant fashion, winning the first and third sprints and being one of four riders to take a lap. "I think it's just because a lot of the girls were just thinking about the sprints," she said, "so I got the first sprint and thought 'sorted!' I had Alex in the group and I saw a number of riders get off the front and I didn't want them to get away because then there will be more people who've got points.
"I just thought I'd do a bit on the front to inspire a few people to do a bit of work and then I was off the front!" she laughed. "It [getting the lap] wasn't planned."
"It was quite dodgy actually," she said of the race. "There was quite a lot of girls sprinting up the outside; it was very twitchy."
Photography
For a thumbnail gallery of these images, click here
Images by Gerry McManus/www.gerrymcmanus.co.uk
Results
Men's Keirin

Heat 1 
1 Kamil Kuczynski (Pol) Poland                                       
2 Itmar Esteban Herraiz (Spa) Catalunya                                    
3 Wen Hao Li (Chn) China                                                   
DNF Denis Dmitriev (Rus) Russia                                            
 
Heat 2 
1 Teun Mulder (Ned) Netherlands                                            
2 Barry Forde (Bar) Barbados                                               
3 Juan Peralta Gascon (Spa) CalapieReyno de Navarra                        
4 Cédric Stoller (Swi) Switzerland                                         
5 Denis Spicka (Cze) Czech Republic                                        
 
Heat 3 
1 Jason Kenny (GBr) Team Sky + Hd                                          
2 Christos Volikakis (Gre) Greece                                          
3 Hodei Mazquiaran Uria (Spa) Cespa Euskadi                                
4 Ivan Trebaticky (Svk) Slovakia                                           
5 Andrea Guardini (Ita) Italy                                              
 
Heat 4 
1 Matthew Crampton (GBr) Great Britain                                     
2 François Pervis (Fra) Cofidis                                            
3 Qi Tang (Chn) Max Success Pro Cycling                                    
4 David Askurava (Geo) Georgia                                             
5 Christopher Sellier (Tri) Trinidad &Tobago                               
 
Heat 5 
1 Andriy Vynokurov (Ukr) Ukraine                                           
2 Sebastian Doehrer (Ger) Germany                                          
3 Jean Christiaan Smith (RSA) Willie Engelbrecht Track Development Team    
4 Kazunari Watanabe (Jpn) Japan                                            
 
Heat 6 
1 Charlie Conord (Fra) Us Creteil                                          
2 Gaddy Chaid (RSA) South Africa                                           
REL Craig Maclean (GBr) Plowman Craven Racing Team                         
DNF José Antonio Escuredo Raimondez (Spa) Spain                            
 
Repechage
 
Heat 1 
1 François Pervis (Fra) Cofidis                                            
2 Hodei Mazquiaran Uria (Spa) Cespa Euskadi                                
3 Kazunari Watanabe (Jpn) Japan                                            
4 Cédric Stoller (Swi) Switzerland                                         
5 Christopher Sellier (Tri) Trinidad &Tobago                               
6 Itmar Esteban Herraiz (Spa) Catalunya                                    
7 Gaddy Chaid (RSA) South Africa                                           
 
Heat 2 
1 Sebastian Doehrer (Ger) Germany                                          
2 Denis Spicka (Cze) Czech Republic                                        
3 Craig Maclean (GBr) Plowman Craven Racing Team                           
4 Barry Forde (Bar) Barbados                                               
5 Qi Tang (Chn) Max Success Pro Cycling                                    
6 Wen Hao Li (Chn) China                                                   
7 Ivan Trebaticky (Svk) Slovakia                                           

Heat 3 
1 Christos Volikakis (Gre) Greece                                          
2 Denis Dmitriev (Rus) Russia                                              
3 Juan Peralta Gascon (Spa) CalapieReyno de Navarra                        
4 Andrea Guardini (Ita) Italy                                              
5 David Askurava (Geo) Georgia                                             
6 Jean Christiaan Smith (RSA) Willie Engelbrecht Track Development Team    
DNS José Antonio Escuredo Raimondez (Spa) Spain   

Men's scratch race qualifying

Heat 1
1 Mykhaylo Radionov (Ukr) Comanche Professional Team    
2 Leigh Howard (Aus) Team Toshiba                       
3 Sébastien Turgot (Fra) Bouygues Télécom               
4 Stanislav Volkov (Rus) Lokomotiv                      
5 Erik Mohs (Ger) Germany                               
6 Bradley Wiggins (GBr) Great Britain                   
7 Martin Hacecky (Cze) Czech Republic                   
8 Tim Mertens (Bel) Belgium                             
9 King Wai Cheung (HKg) Hong Kong                       
10 Wim Stroetinga (Ned) Netherlands                     

One lap behind
11 Maxime Bally (Swi) Switzerland                       
12 Sebastian Donadio (Arg) Argentina                    
13 Tomasz Krysztofik (Pol) Alks Stal Grudziaduz         
14 Dean Edwards (RSA) South Africa                      
15 Carlos Herrero (Spa) Catalunya                       
16 Iban Leanizbarrutia Cruz (Spa) Cespa Euskadi         

Men's Individual pursuit

Qualifying
 
1 Edward Clancy (GBr) Great Britain              4.19.80
2 Vitaliy Shchedov (Ukr) Ukraine                 4.23.80
3 Valery Kaykov (Rus) Lokomotiv                  4.23.90
4 Eloy Teruel Rovira (Spa) Spain                 4.27.90
5 Ingmar De Poortere (Bel) Belgium               4.29.70
6 Adrian Kuriek (Pol) Poland                     4.30.20
7 Mark Christian (GBr) Team 100% Me              4.30.50
8 Davide Cimolai (Ita) Italy                     4.31.30
9 Arno Van Der Zwet (Ned) Netherlands            4.31.80
10 Damien Gaudin (Fra) Bouygues Télécom          4.35.20
11 Jaime Suaza Lopez (Col) Colombia              4.35.80
12 Matti Pajari (Fin) Finland                    4.41.00
13 Carlos Herrero (Spa) Catalunya                4.44.10
14 Sergei Sakavets (Blr) Belarus                 4.48.90
Women's Sprint
Qualifying

1 Victoria Pendleton (GBr) Team Sky + Hd                            0.11.16 (64.504 km/h)
2 Lulu Zheng (Chn) China                                            0.11.31
3 Jinjie Gong (Chn) China                                           0.11.34
4 Anna Blyth (GBr) Great Britain                                    0.11.38
5 Swetlana Grankowskaja (Rus) Russia                                0.11.48
6 Lyubov Shulika (Ukr) Ukraine                                      0.11.49
7 Wai Sze Lee (HKg) Hong Kong                                       0.11.55
8 Miriam Welte (Ger) Germany                                        0.11.59
9 Monique Sullivan (Can) Canada                                     0.11.61
10 Virginie Cueff (Fra) France                                      0.11.64
11 Christin Muche (Ger) Germany                                     0.11.69
12 Victoria Baranova (Rus) Russia                                   0.11.73
13 Diana Maria Garcia Orrego (Col) Colombia                         0.11.84
14 Jessica Varnish (GBr) Great Britain                              0.11.86
15 Natasha Hansen (NZl) New Zealand                                 0.11.90
16 Helena Casas Roige (Spa) Spain                                   0.11.91
17 Renata Dabrowska (Pol) Poland                                    0.12.00
18 Huang Ting Ying (Tpe) Chinese Taipei                             0.12.03
19 Alzbeta Pavlendova (Svk) Slovakia                                0.12.44
20 Marta Janowiak (Pol) Poland                                      0.12.47
21 Xiao Juan Diao (HKg) Hong Kong                                   0.12.54
22 Joanne Van Der Westhuizen (RSA) South Africa                     0.12.98
 
1/8 Final
 
Heat 1
1 Victoria Pendleton (GBr) Team Sky + Hd                            0.12.22
2 Helena Casas Roige (Spa) Spain                                           
 
Heat 2
1 Lulu Zheng (Chn) China                                            0.12.25
2 Natasha Hansen (NZl) New Zealand                                         
 
Heat 3
1 Jinjie Gong (Chn) China                                           0.12.16
2 Jessica Varnish (GBr) Great Britain                                      
 
Heat 4
1 Anna Blyth (GBr) Great Britain                                    0.11.98
2 Diana Maria Garcia Orrego (Col) Colombia                                 
 
Heat 5
1 Swetlana Grankowskaja (Rus) Russia                                0.12.59
2 Victoria Baranova (Rus) Russia                                           
 
Heat 6
1 Lyubov Shulika (Ukr) Ukraine                                      0.12.13
2 Christin Muche (Ger) Germany                                             
 
Heat 7
1 Virginie Cueff (Fra) France                                       0.12.02
2 Wai Sze Lee (HKg) Hong Kong                                              
 
Heat 8
1 Miriam Welte (Ger) Germany                                        0.12.41
2 Monique Sullivan (Can) Canada                                            
 
B quarterfinal
 
Heat 1 
1 Monique Sullivan (Can) Canada                                     0.12.48
2 Helena Casas Roige (Spa) Spain                                           
 
Heat 2 
1 Wai Sze Lee (HKg) Hong Kong                                       0.12.72
2 Natasha Hansen (NZl) New Zealand                                         
 
Heat 3 
1 Christin Muche (Ger) Germany                                      0.12.26
2 Jessica Varnish (GBr) Great Britain                                      
 
Heat 4 
1 Diana Maria Garcia Orrego (Col) Colombia                          0.12.16
2 Victoria Baranova (Rus) Russia                                           

B semifinal
 
Heat 1 
1 Diana Maria Garcia Orrego (Col) Colombia                          0.12.36
2 Monique Sullivan (Can) Canada                                            
 
Heat 2 
1 Christin Muche (Ger) Germany                                      0.12.43
2 Wai Sze Lee (HKg) Hong Kong                                              

Quarterfinal 
  
Heat 1  
1 Victoria Pendleton (GBr) Team Sky + Hd                            0.11.87  0.11.98
2 Miriam Welte (Ger) Germany                                                
  
Heat 2  
1 Lulu Zheng (Chn) China                                            0.11.92  0.11.90
2 Virginie Cueff (Fra) France                                               
  
Heat 3  
1 Lyubov Shulika (Ukr) Ukraine                                      0.12.09  0.12.34
2 Jinjie Gong (Chn) China                                           REL
  
Heat 4  
1 Anna Blyth (GBr) Great Britain                                    0.11.95  0.12.37
2 Swetlana Grankowskaja (Rus) Russia                                0.12.04 

5th-8th Final
 
5 Swetlana Grankowskaja (Rus) Russia              0.12.06
6 Jinjie Gong (Chn) China                                
7 Miriam Welte (Ger) Germany                             
8 Virginie Cueff (Fra) France                            
 
B final
 
Heat 1
1 Monique Sullivan (Can) Canada                         
DNS Wai Sze Lee (HKg) Hong Kong                         
 
Heat 2
1 Christin Muche (Ger) Germany                   0.11.97
2 Diana Maria Garcia Orrego (Col) Colombia               
Women's individual pursuit
Qualifying
 
1 Wendy Houvenaghel (GBr) Great Britain                             3.28.9 (51.707 km/h)
2 Tara Whitten (Can) Canada                                         3.37.0
3 Joanna Rowsell (GBr) Team 100% Me                                 3.38.1
4 Charlotte Becker (Ger) Germany                                    3.41.9
5 Tatsiana Sharakova (Blr) Belarus                                  3.44.8
6 Pascale Jeuland (Fra) France                                      3.47.8
7 Jolien d'Hoore (Bel) Belgium                                      3.48.7
8 Svitlana Galyuk (Ukr) Ukraine                                     3.49.3
9 Edyta Jasinska (Pol) Poland                                       3.50.9
10 Ana Usabiaga Balerdi (Spa) Cespa Euskadi                         4.02.8 
Women's points race qualifying

Heat 1
1 Rochelle Gilmore (Aus) HpTeschner                    8 pts
2 Charlotte Becker (Ger) Germany                       7
3 Kelly Druyts (Bel) Belgium                           6
4 Katie Colclough (GBr) Team 100% Me                   5
5 Leire Olaberria Dorronsoro (Spa) Spain               5
6 Rebecca Quinn (USA) South Bay Wheelmen               4
7 Shelley Olds (USA) Proman Racing Team                3
8 Annalisa Cucinotta (Ita) Italy                       3
9 Lucy Martin (GBr) Great Britain                      2
10 Amy Pieters (Ned) Netherlands                       1
11 Xiao Juan Diao (HKg) Hong Kong                       
12 Svetlana Paulikaite (Ltu) Lithuania                  
13 Svitlana Galyuk (Ukr) Ukraine                        
14 Camila Ayala (Spa) CalapieReyno de Navarra           
15 Maria Clara Alvarez (Arg) Argentina                  
DNS Alena Amialyusik (Blr) Belarus                      
 
Heat 2
1 Elizabeth Armitstead (GBr) Team 100% Me             30 pts
2 Wan Yiu Wong (HKg) Hong Kong                        23
3 Alexandra Greenfield (GBr) Great Britain            22
4 Elke Gebhardt (Ger) Germany                         21
5 Evgeniya Romanyuta (Rus) Russia                      7
6 Jarmila Machacova (Cze) Czech Republic               5
7 Jolien D'hoore (Bel) Belgium                         3
8 Gema Pascual Torrecilla (Spa) Spain                  3
9 Malgorzata Wojtyra (Pol) Poland                      3
10 Malindi Maclean (NZl) New Zealand                   2
11 Aksana Papko (Blr) Belarus                          2
12 Marta Tagliaferro (Ita) Italy                       2
13 Andrea Wolfer (Swi) Switzerland                     1
14 Pascale Jeuland (Fra) France                         
15 Lesya Kalitovska (Ukr) Ukraine                       
16 Ana Usabiaga Balerdi (Spa) Cespa Euskadi               
17 Cinthia Martinez (Spa) CalapieReyno de Navarra