Recently on Cyclingnews.com
Tales from the peloton, November 3, 2008
When does brilliance become boring?
By Daniel Friebe, Procycling magazine
Great Britain atop the podium – a familiar picture at track events
Photo ©: Gerry McManus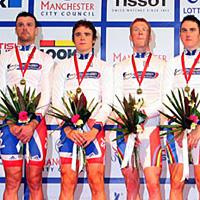 It's Saturday lunchtime, the second day of three in round one of the Track World Cup, and I'm sitting in the middle of the Manchester velodrome wondering whether to commit suicide, heresy or maybe both at the same time.
OK, sod it, here goes: what I'm actually wondering is whether this is the biggest sporting no-contest I've ever seen.
Now, don't get me wrong, no quibbles with the calibre of the venue, the organization, the audience volume or the standard of the performances. As they say in these parts, that's all sound as a pound. And when I say no-contest, it's not even intended as a negative remark, really it's not. You only have to look around at the packed stands and hark the sounds of patriotic fervor to see that paying punters are having a very good time indeed.
So let's call it a nice problem, but a problem it remains: the Brits are simply too good at this track lark. Last night they swept up five out of seven events, and today their dominance could be even more complete. It perhaps wouldn't be so bad - or so good - but Chris Hoy, Rebecca Romero, and Mark Cavendish, to name but three, aren't even here. Hell, yesterday one of the men widely credited with turning track cycling into these islands' private plaything, Shane Sutton, said that he and his colleagues "would not have done their job properly" if a new sprinting weapon of mass destruction had not rolled off the Team GB production line to replace Hoy by London and 2012.
It's ironic that such an observation should come from an Aussie. Sutton's countrymen used to dictate terms in much the same way that the Brits do now, but where once the green on their jerseys stood for the envy they elicited in other teams, and gold for their sizeable medal stash, of late it's been the other way around. In Beijing, Australia could muster just a single track cycling medal - Anna Meares's silver in the Women's sprint - while Brits helped themselves to seven golds.
I dare say that the Aussies will rise from the ashes, but others might not. The track team from that noblest of cycling nations, Italy, is regarded as a national embarrassment. They can take heart from the fact that, just over a decade ago, similar terms were employed about the sport in this country in a House of Commons debate, but where the Italians will find their equivalent of the lottery millions that fast-tracked Hoy et al to the top is a moot point. It is a quite shocking indictment on the Italian Cycling Federation that the country with more road professionals than any other didn't even qualify for the men's team pursuit in Beijing. Today, while Britain led qualifying in that event with their "A" quartet, and the British Under 23s finished in a respectable 11th, four Italian pursuiters you've never heard of trailed in dead last.
Queen Victoria on the podium again
Photo ©: Gerry McManus

Witnessing the carnage from the trackside today, even one of the key architects of the British success, Chris Boardman, said he was both mystified and concerned at the other nations' ability to keep up. "I've just been talking about that to [British Cycling Performance Director] Dave Brailsford," Boardman told me. "[British success] could have a twin effect. On the one hand, you have countries like New Zealand and Denmark that have realized what you can achieve if you dedicate yourself to it, but then you could have other countries who just decide that it's not worth it. I think there will be some negative aspects to it, but then that can't be a reason for us to take the foot off the gas..."
Boardman agreed that, in the short-term, Sky's £1.25 million-per-year investment in British track cyclists may put even more daylight between them and the competition, but suggested that it may help to narrow the gulf in the long-term. "It might do for track cycling what Greg LeMond did for road cycling, when he suddenly started earning the kind of money that used to get paid to baseball players," he said. "If that's the case, it'll be a big incentive for countries and riders to get involved in the track. There are already lots of new velodromes popping up in different parts of the world..."
Young Jess Varnish shows that Great Britain has the talent to not get stopped anytime soon
Photo ©: Gerry McManus

Boardman picked out Denmark as one of the few nations which appears to have been galvanized by the challenge of keeping pace. It may be no coincidence that their coach, Heiko Salzwedel, was once an key figure in the British Federation.
Salzwedel looked mildly dismayed after seeing his team pursuiters thrashed by Guess Who tonight, but, speaking a few minutes later, the German rejected the notion that the Brits are literally killing track cycling. "I have never seen a team in any sport show the same professionalism and commitment as the British track cycling team is at the moment, and I think that's great for the sport," Salzwedel said. "It's not just about money, either; my team has a Mickey Mouse budget compared to the British team, but that doesn't mean we can't show the same level of professionalism as them, and aspire to beat them.
"The Germans, the French, the Australians, the Russians - none of them are resigned to the British dominance. Even the Italians - they've just won bronze in the team pursuit at the European Under 23 championships," he continued. "And as for us, in Denmark, okay, the British beat us easily in the team pursuit here and in Beijing, but when we here for the World Championships in March, we'd have beaten them if we hadn't had such a young and inexperienced team."
Salzwedel was clearly quite excited by the topic. After our initial conversation, which he ended by assuring me that the Russians have plans "to not just beat Great Britain, but destroy them on home turf in 2012", he sought me out in the media pen for a few closing thoughts. "If you think back to Beijing," he said, "I don't think there's ever been so much attention on track cycling. You had Tony Blair in the velodrome, Bernie Ecclestone, even the Prince of Denmark. And look at the people here! I think track cycling has a very bright future indeed."
"Another reason why it'll be tough for Britain is that, while other countries may not have the same resources to devote to every discipline, they can focus on one or two, like we in Denmark have done with the madison and the team pursuit," he concluded. "The Italians now look like they're doing the same. So, yes, it's going to be very very difficult indeed for the British to maintain this dominance."
Great Britain's Chris Newton in action in the Men's Point Race Saturday in Manchester
Happy Chris Newton won the points race at the Track World Cup
Photo ©: Gerry McManus

Stirring stuff, then, even if its message was rather drowned out, appropriately enough, by the near sell-out crowd applauding yet another British victory. That made it five for the evening, and Chris Newton hadn't even matter-of-factly rode off with the Points Race to make it six out of six yet. At one stage I was afraid the national anthem wouldn't play because they'd worn out the CD.
About five hours had passed since my initial sweeping judgement about this not being a proper contest. Meanwhile, over in Antigua, England's crickets were donning their pyjamas and taking their positions for another sporting showcase which has been branded "meaningless" in some quarters of the media.
Twenty million dollars can buy a lot of hype, about three hours of cricket but no guarantees of entertainment. Most people here in Manchester today had paid less than £20 to watch another gilded day for British cycling, and, even if a true "contest" it may not have been, they at least seemed sure they'd had a mighty fine day out.
For more great in-depth features and interviews, subscribe to Procycling and find out more details about a free two-hour DVD featuring the best stages of the last 20 years of the Tour de France!
Photography
For a thumbnail gallery of these images, click here
Images by Gerry McManus/www.gerrymcmanus.co.uk