2008 UCI Track Cycling World Championships - CM
Great Britain, March 26-30, 2008
Day 1 - March 26: Women's 500m time trial
Guerra Rodriguez claims Gold
By Ben Atkins in Manchester
Lisandra Guerra Rodriguez (Cuba)
Photo ©: CJ Farquharson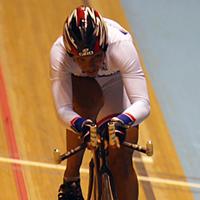 Lisandra Guerra Rodriguez of Cuba has taken the first rainbow jersey of this year's championships with a time of 34.021. The overall World Cup winner was fastest in all the split times and eventually finished .045 seconds ahead of Simona Krupeckaite (Lithuania).
"I am very happy," said the new World champion to. "Firstly because this is my favourite discipline, and secondly because my oldest coach - who means a lot to me - travelled from Canada to here to see me. That was very good for me. Also, my coach and me worked very hard to obtain the title this year.
"I waited three years to win this," she continued. "It has been difficult because I have been training after the World Championships in Vienna as a junior. I entered in the elite and was third in 2006 in France in the 500 metres. Last year in Palma I was second, and this year I got first year. It is a nice step forward."
"After today I will have a little rest and then come back and train for the Olympics," she added. Of course the only event for the fast women at this year's Olympic Games will be the Sprint.
Simona Krupeckaite (Lithuania)
Photo ©: CJ Farquharson

With the exception of the reigning champion Anna Meares, who is at home in Australia recovering from a crash, and a few others, the running order of the Women's 500m was more or less the finishing order of last year's championships in reverse. Most of the earlier starters were consistently going a good half second faster than last year.
Sandie Clair of France started steadily but accelerated in her second lap to record a time of 34.253, which was to stand for a long time until the top favourites took their turns.
Lithuanian Krupeckaite, fourth in Mallorca last year, was slightly slower than Clair at half way, but proved even faster than the Frenchwoman in the final 250 metres to take the lead - and a guaranteed medal - with only two riders remaining.
2007 bronze medallist Natallia Tsylinskaya (Belarus) was unable to replicate anything like the same form, and could be seen to be weaving above the red line several times during her second lap and her time was way down as a result.
Guerra Rodriguez was last rider off and was almost two-tenths of a second quicker than the next fastest over lap one and, although she faded slightly in lap two, she'd done enough to overhaul Krupeckaite. Interestingly, by using tri-bars, the Cuban bucked the trend, whereby riders with sprinters bars tended to go faster in the first lap before fading and those with tri-bars tended to get faster in the second lap.
Great Britain's best medal hope Shanaze Reade blitzed the first lap in the second fastest time - until Guerra Rodriguez smashed it - but faded in the second lap to finish in a provisional fifth with 34.702. She would eventually slip to seventh.
Results
1 Lisandra Guerra Rodriguez (Cuba)            0.34.02 (52.908 km/h)
2 Simona Krupeckaite (Lithuania)              0.34.07
3 Sandie Clair (France)                       0.34.25
4 Willy Kanis (Netherlands)                   0.34.25
5 Jinjie Gong (People's Republic of China)    0.34.45
6 Miriam Welte (Germany)                      0.34.67
7 Shanaze Reade (Great Britain)               0.34.70
8 Natallia Tsylinskaya (Belarus)              0.34.72
9 Anna Blyth (Great Britain)                  0.34.79
10 Yvonne Hijgenaar (Netherlands)             0.34.90
11 Lulu Zheng (People's Republic of China)    0.34.99
12 Kaarle Mcculloch (Australia)               0.35.03
13 Lyubov Shulika (Ukraine)                   0.35.27
14 Diana Maria Garcia Orrego (Colombia)       0.35.50
15 Virginie Cueff (France)                    0.35.52
16 Jutatip Maneephan (Thailand)               0.37.54