Track World Cup 07-08 Round 4 - CDM
Copenhagen, Denmark, February 15-17, 2008
Main Page Results Overall standings Previous Race Next Race
Race 5 - February 17: Men: Qualifying: Sprint, Madison; Women: Qualifying: Team pursuit, Keirin
By Gerry McManus in Copenhagen
Men's sprint qualifying
Sireau goes fastest and safely into quarterfinal
Kévin Sireau (France) went quickest in the 200m flying start qualification session – quarterfinals next
Photo ©: Gerry McManus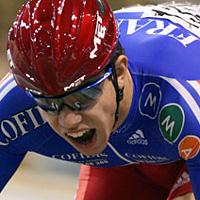 Kevin Sireau (France) went quickest in the 200m flying start qualification session in the morning session setting the best time of 10.092.
Andriy Vynokurov (Ukraine) had set the best early time with Britain's Jason Kenny taking second place with his ride. Kenny was replaced in second first by Craig McLean (GBr) and then by Aussie Mark French as they failed to meet Vynokurov's time.
Stefan Nimke (Germany) then went top with 10.304. Double World Champion Chris Hoy showed his form had not dropped from winning the Keirin yesterday and recorded 10.234 to go top of the leader board until Sireau put his fast ride in.
World Cup leader Mickael Bourgain (Cofidis-France) couldn't quite match Sireau's speed but did enough for second place moving Hoy into third
There were no surprises for the top riders in the second round bar Aussie Mark French being eliminated by Azizulhasni Awang (Malaysia). Sireau beat Mattias John by coming round the German with ease in the home straight. Fellow Frenchman Michael did the same, as did Chris Hoy in the next run.
Young sprinter Jason Kenny (SIS) won the all-British battle against Craig MacLean, who will be one of the favourites to come back into the quarterfinals via the repechage.
Women's team pursuit qualifying
German women pursuing gold
German women pursuing gold
Photo ©: Gerry McManus

Germany qualified fastest and easily made it to the gold meda final of the women's team pursuit in a time of 3.33.852. World Cup leaders Ukraine were a little off the pace and only finished third to go into the bronze medal ride-off where it meet Belarus.
Germans Elke Gebhardt, Verena Joos and Alexandra Sontheimer were fastest at all of the time checks and they even looked to ease up at the end with three seconds in hand over the Netherlands, who will has to raise its game if it wants to take the World Cup victory.
Women's Keirin
World champion takes control
Pendleton wins easily
Photo ©: Gerry McManus

Keirin World Champion Victoria Pendleton (SIS - GBr) easily won her heat in the qualifying round. She made move her towards fifth place in the string and then was able to watch the action around. More importantly, she was able to react quickly and came the long way around on the outside winning comfortably with Sandie Clair (France) in second place.
Jennie Reed won her heat well. The USA rider hit the front with a lap to go and held off all the challengers in an impressive display of strength.
Willy Kanis won her heat as did German Dana Gloss. A surprise contestant was Marianne Vos (Netherlands), who is not known as a track sprinter; she came fourth in her heat and looked very nervous in the repechage – won by Britain's Anna Blyth – and failed to reach the next round.
Men's Madison
Australia storms
Australia confirms
Photo ©: Gerry McManus

Australia made sure of making the final when it did a stormer in heat one and took a lap out of the rest of the field. Cameron and Travis Meyer took off mid-race and were never in danger of being caught, and they eventually reached the tail end of the field.
The Dutch team of former World Champion Peter Schep and Wim Stroetinga finished second with seven points. Belgium finished third. Great Britain had a small scare when Tour de France rider Geraint Thomas came down in a crash, but the Welshman recovered and even managed to take a point in the final sprint.
The home crowd had something to cheer about in heat two. The Danish team of Michael Morkov and Alex Rasmussen finished highest on points and qualified in fourth spot. Both riders were fired up and spent a lot of energy trying to break away to lap the field. Then USA, Spain and Argentina did exactly the same to secure entry into the final.
Sun Jae Jang (Korea) hits the deck
Photo ©: Gerry McManus

Bobby Lea and Pearce Colby of the USA were on fire, and look like they will be gunning for medals later tonight after they won the heat. Asier Maeztu Billelabeitia and Antonio Miguel Parra from Spain showed that there their country's penchant for the Madison continues.
Sun Jae Jang (Korea) recovered and remounted after a fall in heat two. Not particularly important, but we thought we would point you to the painful looking photos.
Photography
For a thumbnail gallery of these images, click here
Images by Gerry McManus/www.gerrymcmanus.co.uk
Results
Men's sprint
 
Qualifying
 
1 Kévin Sireau (France)                                     0.10.09
2 Mickaël Bourgain (Fra) Cofidis                            0.10.19
3 Chris Hoy (Great Britain)                                 0.10.23
4 Stefan Nimke (Ger) www.rad-net.de                         0.10.30
5 Andriy Vynokurov (Ukraine)                                0.10.34
6 Ross Edgar (GBr) ScienceInSport.com                       0.10.35
7 Mark French (Australia)                                   0.10.37
8 Craig Maclean (Great Britain)                             0.10.37
9 Jason Kenny (GBr) ScienceInSport.com                      0.10.38
10 Azizulhasni Awang (Malaysia)                             0.10.39
11 Teun Mulder (Netherlands)                                0.10.41
12 Shane Perkins (Australia)                                0.10.43
13 Kazunari Watanabe (Japan)                                0.10.43
14 Wen Hao Li (People's Republic of China)                  0.10.47
15 Adam Duvendeck (United States Of America)                0.10.47
16 Matthias John (Ger) www.rad-net.de                       0.10.48
17 Travis Smith (Canada)                                    0.10.49
18 Roberto Chiappa (Italy)                                  0.10.50
19 Carsten Bergemann (Germany)                              0.10.51
20 Ricardo Lynch (Jamaica)                                  0.10.53
21 Tim Veldt (Netherlands)                                  0.10.55
22 Damian Zielinski (Poland)                                0.10.56
23 Denis Dmitriev (Russian Federation)                      0.10.56
24 Josiah Ng Onn Lam (Malaysia)                             0.10.59
25 Adam Ptacnik (Czech Republic)                            0.10.60
26 Didier Henriette (Fra) Cofidis                           0.10.63
27 Lae Seon Choi (Korea)                                    0.10.64
28 Kiyofumi Nagai (Japan)                                   0.10.66
29 Alvaro Alonso Rubio (Spain)                              0.10.66
30 Denis Spicka (Czech Republic)                            0.10.68
31 Rene Enders (Germany)                                    0.10.72
32 Qi Tang (People's Republic of China)                     0.10.73
33 Sergey Kucherov (Russian Federation)                     0.10.74
34 Hassan Ali Varposhti (Islamic Republic of Iran)          0.10.75
35 Jiren Wei (Chn) Hong Kong Pro Cycling                    0.10.77
36 Qiming Wang (Chn) Hong Kong Pro Cycling                  0.10.77
37 Yuriy Tsyupyk (Ukraine)                                  0.10.79
38 Giddeon Massie (USA) Cody Racing team                    0.10.81
39 Vasileios Reppas (Greece)                                0.10.83
40 Athanasios Mantzouranis (Greece)                         0.10.85
41 Hodei Mazquiaran Uria (Spain)                            0.10.88
42 Kasper Lindholm Jessen (Denmark)                         0.10.95
43 Alfredo Moreno Cano (Spa) Catalunya                      0.11.01
44 Itmar Esteban Herraiz (Spa) Catalunya                    0.11.04
45 Clemens Selzer (Austria)                                 0.11.06
46 David Alonso Castillo (Spa) Illes Balears                0.11.12
47 Farshad Fahrsinejadian (Islamic Republic of Iran)        0.11.15
48 Ahmed Ahmed Metin (Bulgaria)                             0.11.28
49 Daniel Novikov (Estonia)                                 0.11.31
50 Risto Aaltio (Finland)                                   0.11.32
51 Haitz Larrinaga (Spa) Cespa-Euskadi                      0.11.58
 
1 / 8 Final
 
Heat 1
1 Kévin Sireau (France)                                     0.11.34
2 Matthias John (Ger) www.rad-net.de                               
 
Heat 2
1 Mickaël Bourgain (Fra) Cofidis                            0.11.22
2 Adam Duvendeck (United States Of America)                        
 
Heat 3
1 Chris Hoy (Great Britain)                                 0.10.87
2 Wen Hao Li (People's Republic of China)                          
 
Heat 4
1 Kazunari Watanabe (Japan)                                 0.10.87
2 Stefan Nimke (Ger) www.rad-net.de                                
 
Heat 5
1 Andriy Vynokurov (Ukraine)                                0.10.86
2 Shane Perkins (Australia)                                        
 
Heat 6
1 Ross Edgar (GBr) ScienceInSport.com                       0.11.05
2 Teun Mulder (Netherlands)                                        
 
Heat 7
1 Azizulhasni Awang (Malaysia)                              0.11.24
2 Mark French (Australia)                                          
 
Heat 8
1 Jason Kenny (GBr) ScienceInSport.com                      0.10.81
2 Craig Maclean (Great Britain)                                    
 
Semifinal B
 
Heat 1
1 Craig Maclean (Great Britain)                             0.10.70
2 Shane Perkins (Australia)                                        
 
Heat 2
1 Mark French (Australia)                                   0.10.86
REL Teun Mulder (Netherlands)                                      
 
B final
 
Heat 1
1 Shane Perkins (Australia)                                 0.10.98
2 Teun Mulder (Netherlands)                                        
 
Heat 2
1 Craig Maclean (Great Britain)                             0.10.69
2 Mark French (Australia)                                          
 
5th-8th final
 
1 Jason Kenny (GBr) ScienceInSport.com                      0.10.74
2 Kazunari Watanabe (Japan)                                        
3 Ross Edgar (GBr) ScienceInSport.com                              
REL Azizulhasni Awang (Malaysia)                                   
 
Women's keirin
 
Round 1
 
Heat 1
1 Willy Kanis (Netherlands)                                        
2 Diana Maria Garcia Orrego (Colombia)                             
3 Anna Blyth (Great Britain)                                       
4 Virginie Cueff (France)                                          
5 Huang Ting Yin (Chinese Taipei)                                  
6 Helena Casas Roige (Spain)                                       
 
Heat 2
1 Jennie Reed (United States Of America)                           
2 Oksana Grishina (Russian Federation)                             
3 Elisa Frisoni (Italy)                                            
4 Olga Panarina (Ukraine)                                          
5 Lenka Valova (Czech Republic)                                    
6 Miriam Welte (Germany)                                           
 
Heat 3
1 Victoria Pendleton (GBr) ScienceInSport.com                      
2 Sandie Clair (France)                                            
3 Valentina Alessio (Italy)                                        
4 Jane Gerisch (Germany)                                           
5 Lisandra Guerra Rodriguez (Cuba)                                 
6 Yvonne Hijgenaar (Netherlands)                                   
 
Heat 4
1 Dana Glöss (Ger) www.rad-net.de                                  
2 Jinjie Gong (Chn) Giant Pro Cycling                              
3 Christin Muche (Ger) www.rad-net.de                              
4 Marianne Vos (Ned) DSB Bank                                      
5 Nancy Contreras Reyes (Mexico)                                   
 
Repechage
 
Heat 1
1 Anna Blyth (Great Britain)                                       
2 Lisandra Guerra Rodriguez (Cuba)                                 
3 Miriam Welte (Germany)                                           
4 Marianne Vos (Ned) DSB Bank                                      
 
Heat 2
1 Elisa Frisoni (Italy)                                            
2 Helena Casas Roige (Spain)                                       
3 Jane Gerisch (Germany)                                           
REL Lenka Valova (Czech Republic)                                  
 
Heat 3
1 Olga Panarina (Ukraine)                                          
2 Valentina Alessio (Italy)                                        
3 Huang Ting Yin (Chinese Taipei)                                  
 
 
Heat 4
1 Christin Muche (Ger) www.rad-net.de                              
2 Yvonne Hijgenaar (Netherlands)                                   
3 Nancy Contreras Reyes (Mexico)                                   
4 Virginie Cueff (France)                                          
 
Women's team pursuit qualifying
 
1 Germany                                                   3.33.90
 Elke Gebhardt (Germany)                                           
 Verena Joos (Germany)                                             
 Alexandra Sontheimer (Germany)                                    
 
2 Netherlands                                               3.36.90
 Yvonne Hijgenaar (Netherlands)                                    
 Eleonora Van Dijk (Netherlands)                                   
 Marlijn Binnendijk (Netherlands)                                  
 
3 Ukraine                                                   3.38.20
 Svetlana Galuk (Ukraine)                                          
 Lyubov Shulika (Ukraine)                                          
 Lyudmyla Vypyraylo (Ukraine)                                      
 
4 Belarus                                                   3.39.10
 Alena Amialiusik (Belarus)                                        
 Aksana Papko (Belarus)                                            
 Tatsiana Sharakova (Belarus)                                      
 
5 Korea                                                     3.43.00
 Song Hee Han (Korea)                                              
 Min Hye Lee (Korea)                                               
 Hyo Seong Noh (Korea)                                             
 
6 Russia                                                    3.43.20
 Anastasiay Chulkova (Russian Federation)                          
 Alena Prudnikova (Russian Federation)                             
 Elena Tchalykh (Russian Federation)                               
 
Men's Madison Qualifying
 
Heat 1
1 Cameron Meyer / Travis Meyer (Australia)                        3 pts

One lap behind

2 Peter Schep / Wim Stroetinga (Netherlands)                      7 pts
3 Kenny De Ketele / Tim Mertens (Belgium)                         6
4 Carlos Alzate Escobar / Juan Pablo Forero Carreno (Colombia)    6
5 Miquel Alzamora Riera / Antonio Tauler Llull (Illes Balears)    5
6 Thomas Gerraint / Robert Hayles (Great Britain)                 5
7 Hayden Godfrey / Hayden Roulston (New Zealand)                  5
8 Alois Kankovsky / Petr Lazar (Czech Republic)                   3
9 Ivan Kovalev / Alexey Shmidt (Russia)                           3
10 Samuele Marzoli / Marco Villa (Italy)                          1
11 Martin Gilbert / Ryan Mckenzie (Canada)                         
12 Jérôme Neuville / Christophe Riblon (France)                    
13 Artur Ershov / Valery Kaykov (Lokomotiv)                        

Two laps behind

14 Sergiy Lagkuti / Vasyl Yakovlev (Ukraine)                       
DNF Ilya Chernyshov / Alexey Kolessov (Kazakhstan)                 
DNF Chun Kai Feng / Po Hung Wu (Chinese Taipei )                   
 
Heat 2
 
1 Bobby Lea / Colby Pearce (United States)                        5 pts
2 Asier Maeztu Billelabeitia / Antonio Miguel Parra (Spain)       3
3 Juan Esteban Curuchet / Walter Fernando Perez (Argentina)        

One lap behind

4 Michael Morkov / Alex Rasmussen (Denmark)                       8 pts
5 Rafal Ratajczyk / Mariusz Wiesiak (Poland)                      8
6 Jonathan Bellis / Peter Kennaugh (Team 100% Me)                 7
7 Roland Garber / Andreas Graf (Austria)                          5
8 Martin Blaha / Milan Kadlec (ASC Dukla Praha)                   3
9 Henning Bommel / Marcel Kalz (Germany)                          3
10 Sun Jae Jang / Jung Hwan Youm (Korea)                          2
11 Jose Aravena / Marco Arriagada (Chile)                          
12 Siarhei Daubniuk / Yury Yurchanka (Belarus)                     
13 Kazuhiro Mori / Reona Sumi (Japan)                              
14 Inaki Anzizar / Tomas Margalef Dolara (Reyno De Navarra)        

Two laps behind

15 Carlos Calcerrada / Milton Wynants Vazquez (Uruguay)            
DNF Damyan Filipov / Martin Yankov (Bulgaria)