Track World Cup 07-08 Round 4 - CDM
Copenhagen, Denmark, February 15-17, 2008
Main Page Results Overall standings Previous Race Next Race
Race 3 - February 16: Men: Qualifying: Team pursuit, Scratch, Keirin; Women: Qualifying: Team sprint, Points race
By Gerry McManus in Copenhagen
Men's Team Pursuit
Great Danes break the record
The Danish team
Photo ©: Gerry McManus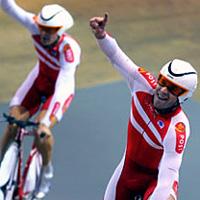 The Danish men's team broke its own national record on its way to qualify fastest and reach the gold medal final against World Cup leaders Great Britain.
The Danish team of Michael Faerk Christianson, Casper Jorgensen, Jens-Erik Madsen and Alex Rasmussen started fast and continued in that vein to record 4.03.474 for 4000m. They took a second off their national record and were just under that amount in front of the young British team youngsters Ed Clancy, Geraint Thomas and experienced Paul Manning and Chris Newton.
The Dutch team took third place to line up a bronze medal ride off against a young Australian team.
Women's team sprint qualifying
Kanis leads the way for quick Dutch time
Hijenaar hangs on
Photo ©: Gerry McManus
The Dutch duo of Willy Kanis and Yvonne Hijenaar signalled its intent to sweep all ahead when it qualified quickest in the women's team sprint event. World Cup sprint winner Kanis went off like a rocket and Hijenaar had to do was finished off the job nicely. The World Cup leaders of British Team Science in Sport had set the target early on as they started second of five teams.
This was the first track competition for BMX and Track World Champion Shanaze Reade, and she was half a second down on the first lap time of Kanis. Pendleton's second lap time was the quickest on the grid and she almost made up all the lost time finishing .025 seconds down to set up a compelling final in the evening.
Fair play to Hijenaar – there is not many who could hold onto Kanis for that first lap and have anything left to finish with.
The French team faces the German trade team of www.rad-net.de in the bronze ride off.
Men's Keirin
No surprises in first round
Chris Hoy...clear winner
Photo ©: Gerry McManus

Britain's Chris Hoy moved easily into the second round in the Keirin. If he was disappointed in the British team sprint result last night then it certainly didn't show as he eased up to cross the finish line three bike lengths ahead of Toshiaki Fushimi of Japan. Frenchmen Arnaud Tournant and Gregory Bauge both won their heats, as did Italian Roberto Chiappa. Dutchman Tuen Mulder and German Stefan Nimke will have to qualify through the repechage.
Scratch race qualifiers – business as usual
Top riders through to final
Bobby Lea was the most unlucky in heat one when he attacked to lap the field almost from the gun. The USA rider just caught the tail end when the main field decided to race; he yo-yoed off the back for a while and was eventually dropped and failed to finish. Korea's Sun Jae Jang crossed the line first.
Ireland's David O'Loughlin took no chances going with a late attack in heat two and holding on to win the bunch gallop. World Champion Kam-Po Wong (Hong Kong) was safely in the top eight to qualify.
Michael Friedman won the third heat to give the USA a representative in the final.
Women's points race qualifying
Marianne Vos (DSB Bank – Netherlands) did just enough to qualify for the final, finishing in 10th place with just two points in heat one, while the victory taken by Hong Kong's Wan Yiu Wong.
Anastasiay Chulkova won heat two and had to work hard to ensure qualification. The Russian girl had only two points before the final sprint and was not guaranteed a final place with that tally.
Photography
For a thumbnail gallery of these images, click here
Images by Gerry McManus/www.gerrymcmanus.co.uk
Results
Men's team pursuit qualifying 
  
1 Denmark                                             4.03.50 (59.143 km/h)
 Michael Faerk Christensen (Denmark)                          
 Casper Jorgensen (Denmark)                                   
 Jens-Erik Madsen (Denmark)                                   
 Alex Rasmussen (Denmark)                                     
  
2 Great Britain                                       4.04.40 (58.929 km/h)
 Edward Clancy (Great Britain)                                
 Thomas Gerraint (Great Britain)                              
 Paul Manning (Great Britain)                                 
 Chris Newton (Great Britain)                                 
  
3 Netherlands                                         4.08.00 (58.075 km/h)
 Levi Heimans (Netherlands)                                   
 Jenning Huizenga (Netherlands)                               
 Peter Schep (Netherlands)                                    
 Niki Terpstra (Netherlands)                                  
  
4 Australia                                           4.09.00 (57.83 km/h)
 Matthew Harley Goss (Australia)                              
 Cameron Meyer (Australia)                                    
 Travis Meyer (Australia)                                     
 Luke Roberts (Australia)                                     
  
5 France                                              4.10.10 (57.573 km/h)
 Damien Gaudin (France)                                       
 Christophe Riblon (France)                                   
 Nicolas Rousseau (France)                                    
 Fabien Sanchez (France)                                      
  
6 Spain                                               4.10.40 (57.501 km/h)
 Sergi Escobar Roure (Spain)                                  
 Asier Maeztu Billelabeitia (Spain)                           
 Antonio Miguel Parra (Spain)                                 
 David Muntaner Juaneda (Spain)                               
  
7 Germany                                             4.11.70 (57.207 km/h)
 Robert Bartko (Germany)                                      
 Daniel Becke (Germany)                                       
 Henning Bommel (Germany)                                     
 Patrick Gretsch (Germany)                                    
  
8 Colombia                                            4.12.40 (57.048 km/h)
 Carlos Eduardo Alzate Escobar (Colombia)                     
 Juan Esteban Arango Carvajal (Colombia)                      
 Arles Antonio Castro Laverde (Colombia)                      
 Jairo Perez Suarez (Colombia)                                
  
9 Russia                                              4.13.10 (56.902 km/h)
 Ivan Kovalev (Russian Federation)                            
 Alexei Markov (Russian Federation)                           
 Alexander Petrovskiy (Russian Federation)                    
 Alexey Usov (Russian Federation)                             
  
10 LOKOMOTIV                                          4.15.00 (56.461 km/h)
 Artur Ershov (Rus) Lokomotiv                                 
 Valery Kaykov (Rus) Lokomotiv                                
 Alexander Riabkin (Rus) Lokomotiv                            
 Vladimir Shchekunov (Rus) Lokomotiv                          
  
11 Belgium                                            4.17.10 (56.014 km/h)
 Dominique Cornu (Belgium)                                    
 Kenny De Ketele (Belgium)                                    
 Davy Tuytens (Belgium)                                       
 Tim Mertens (Belgium)                                        
  
12 Korea                                              4.17.50 (55.922 km/h)
 Dong Hyun Choi (Korea)                                       
 Sun Jae Jang (Korea)                                         
 Joon Yong Seo (Korea)                                        
 Jung Hwan Youm (Korea)                                       
  
13 Ireland                                            4.21.10 (55.156 km/h)
 Paul Healion (Ireland)                                       
 Martyn Irvine (Ireland)                                      
 Brian Kenneally (Ireland)                                    
 Dermot Nally (Ireland)                                       
  
14 Kazakhstan                                         4.30.70 (53.187 km/h)
 Andrey Bozhko (Kazakhstan)                                   
 Alexey Kolessov (Kazakhstan)                                 
 Aexandr Kozyrenko (Kazakhstan)                               
 Sergey Kuzin (Kazakhstan)                                    
  
Men's keirin 
  
Round 1 
  
Heat 1 
1 Chris Hoy (Great Britain)                                   
2 Toshiaki Fushimi (Japan)                                    
3 Shane Perkins (Australia)                                   
4 Kasper Lindholm Jessen (Denmark)                            
5 Yahui Gao (Chn) Hong Kong Pro Cycling                       
  
Heat 2 
1 Arnaud Tournant (Fra) Cofidis                               
2 Sergiy Borisov (Russian Federation)                         
3 José Antonio Escuredo Raimondez (Spain)                     
4 Lae Seon Choi (Korea)                                       
5 Travis Smith (Canada)                                       
  
Heat 3 
1 Gregory Bauge (France)                                      
2 Teun Mulder (Netherlands)                                   
3 Stefan Nimke (Ger) www.rad-net.de                           
4 Itmar Esteban Herraiz (Spa) Catalunya                       
5 Damian Zielinski (Poland)                                   
  
Heat 4 
1 Roberto Chiappa (Italy)                                     
2 Carsten Bergemann (Germany)                                 
3 Haitz Larrinaga (Spa) Cespa-Euskadi                         
4 Yong Feng (People's Republic of China)                      
5 Ahmed Ahmed Metin (Bulgaria)                                
  
Heat 5 
1 Andriy Vynokurov (Ukraine)                                  
2 Christos Volikakis (Greece)                                 
3 Giddeon Massie (USA) Cody Racing team                       
4 Mahmoud Parash (Islamic Republic of Iran)                   
5 David Alonso Castillo (Spa) Illes Balears                   
  
Heat 6 
1 Ross Edgar (GBr) ScienceInSport.com                         
2 Josiah Ng Onn Lam (Malaysia)                                
3 Ricardo Lynch (Jamaica)                                     
4 Adam Duvendeck (United States Of America)                   
5 Clemens Selzer (Austria)                                      
  
Men's scratch race qualifying 
  
Heat 1 
1 Sun Jae Jang (Korea)                                        
2 Ho Ting Kwok (Chn) Hong Kong Pro Cycling                    
3 Angel Dario Colla (Argentina)                               
4 David Muntaner Juaneda (Spain)                              
5 Jérôme Neuville (France)                                    
6 Travis Meyer (Australia)                                    
7 Hayden Godfrey (New Zealand)                                
8 Roger Kluge (Ger) Team Focus                                
9 Alexey Shmidt (Russian Federation)                          
10 Marco Villa (Italy)                                        
11 Marcel Kalz (Germany)                                      
12 Alexander Aeschbach (Switzerland)                          
13 Carlos Herrero (Spa) Catalunya                             
14 Siarhei Daubniuk (Belarus)                                 
15 Vasyl Yakovlev (Ukraine)                                   
DNF Alois Kankovsky (Czech Republic)                          
DNF Bobby Lea (United States Of America)                      
  
Heat 2 
1 David O'loughlin (Irl) Pezula Racing                        
2 Vadim Shaekhov (Uzb) Uzbekistan Pro Cycling                 
3 Wim Stroetinga (Netherlands)                                
4 Daniel Kreutzfeldt (Denmark)                                
5 Jose Aravena (Chile)                                        
6 Andreas Mueller (Austria)                                   
7 Kam-Po Wong (Hong Kong, China)                              
8 Kazuhiro Mori (Japan)                                       
9 Ioannis Tamouridis (Greece)                                 
10 Leonid Krasnov (Rus) Lokomotiv                             
11 Ilya Chernyshov (Kazakhstan)                               
12 Vladimir Tuychiev (Uzbekistan)                             
13 Iban Leanizbarrutia Cruz (Spa) Cespa-Euskadi               
14 Po Hung Wu (Chinese Taipei)                                
15 Damyan Filipov (Bulgaria)                                  
16 Stephen Pelaez (Philippines)                               
DNF Miquel Alzamora Riera (Spa) Illes Balears                 
DNF Samuels Oneil (Jamaica)                                   
  
Heat 3 
1 Michael Friedman (USA) Team Slipstream                      
2 Tim Mertens (Belgium)                                       
3 Martin Blaha (Cze) ASC Dukla Praha                          
4 Martin Gilbert (Canada)                                     
5 Rafal Ratajczyk (Poland)                                    
6 Pim Ligthart (Ned) DSB Bank                                 
7 Juan Esteban Arango Carvajal (Colombia)                     
8 Dermot Nally (Ireland)                                      
9 Tomas Margalef Dolara (Spa) Navarra                         
10 King Wai Cheung (Chn) Giant Pro Cycling                    
11 Mahammad Alakbarov (Azerbaijan)                            
12 Oleksandr Martynenko (Rus) ISD-Sport Donetsk               
13 Kenneth Williams (USA) Cody Racing team                    
14 Carlos Calcerrada (Uruguay)                                
  
Women's team sprint qualifying 
  
1 Netherlands                                         0.34.15 (52.713 km/h)
 Yvonne Hijgenaar (Netherlands)                               
 Willy Kanis (Netherlands)                                    
  
2 SCIENCEINSPORT.COM                                  0.34.17 (52.683 km/h)
 Victoria Pendleton (GBr) ScienceInSport.com                  
 Shanaze Reade (GBr) ScienceInSport.com                       
  
3 France                                              0.34.71 (51.858 km/h)
 Sandie Clair (France)                                        
 Clara Sanchez (France)                                       
  
4 WWW.RAD-NET.DE                                      0.35.08 (51.315 km/h)
 Dana Glöss (Ger) www.rad-net.de                              
 Christin Muche (Ger) www.rad-net.de                          
  
5 China                                               0.35.14 (51.22 km/h)
 Shuang Guo (People's Republic of China)                      
 Lulu Zheng (People's Republic of China)                      
  
6 Germany                                             0.35.64 (50.505 km/h)
 Jane Gerisch (Germany)                                       
 Miriam Welte (Germany)                                       
  
7 Italy                                               0.35.83 (50.235 km/h)
 Valentina Alessio (Italy)                                    
 Elisa Frisoni (Italy)                                        
  
8 Ukraine                                             0.36.09 (49.879 km/h)
 Olga Panarina (Ukraine)                                      
 Lyudmyla Vypyraylo (Ukraine)                                 
  
9 Czech Republic                                      0.37.03 (48.614 km/h)
 Lada Kozlikova (Czech Republic)                              
 Lenka Valova (Czech Republic)                                
  
Women's points race qualifying 
  
Heat 1 
1 Wan Yiu Wong (Hong Kong)                                  5 pts 
2 Aksana Papko (Belarus)                                    5 
3 Jarmila Machacova (Czech Republic)                        5 
4 Cathy Moncassin Prime (France)                            5 
5 Trine Schmidt (Denmark)                                   3 
6 Belem Guerrero Mendez (Mexico)                            3 
7 Jianling Wang (People's Republic of China)                3 
8 Kele Murdin (USA) Proman Cycling Team                     3 
9 Min Hye Lee (Korea)                                       2 
10 Marianne Vos (Ned) DSB Bank                              2 
11 Leire Olaberria Dorronsoro (Spa) Cespa-Euskadi           2 
12 Elke Gebhardt (Germany)                                  2 
13 Annalisa Cucinotta (Italy)                               1 
14 Alena Prudnikova (Russian Federation)                    1 
15 Marlijn Binnendijk (Netherlands)                         1 
16 Kate Cullen (GBr) Braveheartfund.org                       
17 Kelly Druyts (Belgium)                                     
18 Gema Pascual Torrecilla (Spain)                            
19 Lyudmyla Vypyraylo (Ukraine)                               
20 Louise Moriarty (Irl) Pezula Racing                        
21 Neva Day (USA) South Bay Wheelmen                          
22 Julia Bradley (Can) Team R.A.C.E.                      -19 
  
Heat 2 
1 Anastasiay Chulkova (Russian Federation)                  7 pts 
2 Gina Grain (Canada)                                       6 
3 Monia Baccaille (Italy)                                   5 
4 Yoanka Gonzalez Perez (Cuba)                              5 
5 Yan Li (Chn) Giant Pro Cycling                            5 
6 Pascale Jeuland (France)                                  3 
7 Eleonora Van Dijk (Netherlands)                           3 
8 Lada Kozlikova (Czech Republic)                           2 
9 Rebecca Quinn (United States Of America)                  2 
10 Theresa Cliff-Ryan (USA) Verducci Breakaway Racing       2 
11 Song Hee Han (Korea)                                     2 
12 Debora Galvez Lopez (Spain)                              1 
13 Alena Amialiusik (Belarus)                               1 
14 Shelley Olds (USA) Proman Cycling Team                     
15 Eneritz Iturriagaechevarria Mazaga (Spa) Cespa-Euskadi     
16 Andrea Wolfer (Switzerland)                                
17 Eleonora Soldo (Ita) Safi Pasta                            
18 Christy King (USA) South Bay Wheelmen                      
19 Martina Ruzickova (Cze) ASC Dukla Praha                    
20 Iona Wynter (Jamaica)                                      
21 Stephanie Roorda (Can) Team R.A.C.E.                       
22 Svetlana Paulikaite (Lithuania)                            
23 Alexandra Sontheimer (Germany)