2007 UCI Track Cycling World Championships - CM
Spain, March 29-April 1, 2007
Countdown to Beijing: First stop Majorca
By Shane Stokes in Majorca
The brand new Palma Arena
Photo ©: Palma Arena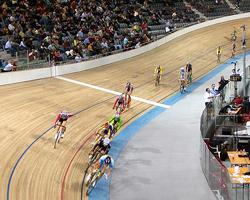 With just over a year to go to the Beijing Olympics, the world's best track riders will clash this week in the Palma Arena on the Spanish island of Majorca. The Games are still a long way off but important psychological boosts can be gained by a good showing here, as well as the considerable honour of world championship medals.
Housed in a brand new velodrome in the north of Palma, the 2007 World Track Cycling Championships will get underway at 10am on Thursday morning with the 200 metre time trial for the newly-reintroduced omnium series. Last held almost 40 years ago, it will see the competing riders fight it out in a range of events during the day, specifically a 200m flying start time trial, a 5km scratch race, a 3km individual pursuit (seeding riders on their results in the scratch race), a 15km points race and a kilometre time trial.
The winner will be determined by points, with the lowest cumulative number getting gold. Winners in each event get one point, with two points going for second and so on. Ben Kersten (Australia), Charles Bradley Huff (USA) and Dimitri De Fauw (Belgium) will be among the 18 riders who will scrap it out.
Qualifying and finals for the men's and women's team sprint also feature on day one, as does the individual pursuit. Last year's champions Grégory Bauge, Mickaël Bourgain and Arnaud Tournant are here once again and likely to ride for France, and should once again be up against 2006 silver and bronze medallists Great Britain and Australia. Germany took second in the last round of the World Cup in Manchester and will also be in the chase.
Anna Meares (Australia)
Photo ©: Mitch Friedman

This year sees the introduction of the women's team sprint, with 11 teams of two riders going up against each other. Last month the Dutch pairing of Yvonne Hijgenaar and Willy Kanis beat Great Britain for gold in Manchester, but with former individual sprint champ Victoria Pendleton replacing Anna Blyth in pairing up with Shanaze Reade, they will be hoping to come out on top. Australia took bronze on that occasion and will once again feature Anna Meares and Kristine Bayley here in Palma.
In addition to the 3000 metre individual pursuit featured as part of the omnium, the customary 4000 metre men's qualifiers and finals will be run off on Friday. Germany's Robert Bartko triumphed last year in Bordeaux with a time of 4'23.473 and is here once again, going against fourth-place finisher Fabien Sanchez (France) in the eleventh and last heat. Silver medallist Jens Mouris (France) will square up against Mark Jamieson (Australia) in his own qualifier.
Last year's third place finisher Paul Manning (Great Britain) will not take part this time round, but Olympic champion Bradley Wiggins' scorching form means that Great Britain is the favourite to take gold. He hasn't ridden the championships since winning in 2003 but showed his great condition last month when he set a scorching pace of 4'17.864 in Manchester. The Cofidis pro is clearly the rider to beat.
Bradley Wiggins (Great Britain)
Photo ©: AFP

Also worth mentioning is the participation of David O'Loughlin, sixth in the world rankings. He is the first Irish entrant since Phil Collins and Declan Lonergan back in 1996, marking an overdue return for the country.
On Friday, Great Britain and arch-rivals Australia will clash in the team pursuit. One year ago the latter came out on top, with the Ukraine taking bronze. However, Manchester World Cup champions Great Britain are the likely favourites here, especially as Australia have chosen youth over experience in order to further their long-term development.
The race will be followed by the women's individual pursuit. Defending champion Sarah Hammer (USA), 2006 silver medallist Olga Slyusareva (Russia) and Katie Mactier (Australia), third last year and victor in 2005 are all in Palma, setting things up for a very interesting clash.
The women's sprint follows and here Belarus' 2006 world champion Natallia Tsylinskaya, the 2005 winner Victoria Pendelton (Great Britain), second twelve months ago, bronze medallist Shuang Guo (China) and others will go in qualifying.
Theo Bos (Netherlands)
Photo ©: AFP

That leaves the men's keirin and scratch races to be disputed before day two draws to a close. Theo Bos (Netherlands) took one of his two 2006 gold medals here; Spaniard José Antonio Escuredo Raimondez was runner up last year but should enjoy great support in Majorca, adding strength to his bid to go one better, while Frenchman Arnaud Tournant will seek to improve on his bronze. He showed great form in the Manchester World Cup and will be highly motivated to do well here.
His compatriot Jérome Neuville has a title to defend in the men's scratch race. Angel Colla (Argentina) and Ioannis Tamouridis (Greece) want to equal or better their silver and bronze medals from last time round. T-Mobile sprinter Greg Henderson has been released by his team for the championships and will be keen to come out on top, thus repeating his 2004 win.
Bos and the other fastmen will be back in action again on Saturday when they ride the qualifying rounds of the men's sprint. Craig Maclean (Great Britain) and Stefan Nimke (Germany) were on the podium last time round and are back for more. Tournant bettered Chris Hoy (Great Britain) in Manchester and both he, Hoy and the bronze medallist from the World Cup, Mickaël Bourgain of France, will also be in the mix.
The female sprinters will similarly be in action, completing the programme started one day earlier when they ride the semi-finals and final. The women's 5km scratch race qualifier and 10km final then follow; Maria Luisia Calle Williams, Gina Grain (Canada) and Olga Slyusareva (Russia) are back and aiming to once again take the medals.
Llaneras and Galvez
Photo ©: AFP

The last two events on what is a very busy day's programme are the women's 500m TT qualifying and final, plus the men's points race 15km qualifying and 40km final. Multiple champion Natallia Tsylinskaya (Belarus) will be aiming to add to her glittering collection in the former, while 2004 champ Anna Meares (Australia) will want to bounce turn the tables after taking silver the past two years. 2006 bronze medallist Lisandra Guerra Rodriguez (Cuba) also has an eye on the top spot of the podium.
Home hero Joan Llaneras considered retirement after the death of his Madison partner - and fellow world champion - Isaac Galvez during the Gent six day last Autumn, but the Mallorcan had a change of mind and is certain to be cheered on strongly by the crowd in the points race. Hayden Roulston is a likely starter for the New Zealand team and will also earn a lot of attention, given that he was diagnosed with a serious heart condition last autumn but has now returned to racing, apparently cured. Former world champion Chris Newton (Great Britain) is motivated, and so too last year's medallists Peter Schep (Netherlands), Rafal Ratajczyk (Poland) and Vasili Kiryienka (Belarus).
Russian powerhouse Mikhail Ignatiev is taking time out from a busy European road schedule with Tinkoff Credit Systems to represent his country in Majorca. Widely regarded as one of the most outstanding up-and-coming endurance riders in the world, Ignatiev could be a formidable force in either the points or scratch races, and may also partner his Tinkoff teammate Nikolai Trussov in the Madison.
Vera Carrara (Italy)
Photo ©: Mitch Friedman

The final day of racing from this year's track worlds will take place on April 1st but there will be little room for joking around, given the medals and world titles at stake. The top men's sprinters will finish out their duels with the running of the semi-finals and final for the sprint, and the women will also be hitting top speed as they go through the various rounds of the keirin. Christian Muche (Germany), Clara Sanchez (France) and Shuang Guo (China) were best twelve months ago and all are back once more.
The 10 kilometre qualifying round and the 25 kilometre final of the women's points race will follow, with Vera Carrara (Italy) looking for her third title in succession while another multiple champ, Olga Slusareva (Russia), will be out to deny her and get back to the top of the podium after two years of silver medals.
That leaves just two races before the end of the 2007 World Track Championships; the 1 kilometre time trial and the 50 kilometre Madison final. Chris Hoy (Great Britain), Theo Bos (Netherlands) and Stefan Nimke (Germany) have all previously topped the podium in the first event and must be watched if they take part, while Joan Llaneras will hope to honour his fallen partner Isaac Galvez by winning the Madison for a second year in a row.
This time round, he will be riding the race with Carlos Torrent. Henderson and Roulston will give New Zealand a strong chance of success, while Lyubomyr Polatayko and Volodymyry Rybin (Ukraine) plus the Argentinean duo of Juan Esteban Curuchet and Walter Fernando Perez medalled last year and are back for more. 2005 champion Rob Hayles (Great Britain) is thought likely to pair up with Geraint Thomas for their crack at gold.