2006 Australian Senior Track Championships - CN
Adelaide, South Australia, February 6-11, 2006
Main Page Results Previous Day Next Day
Day 3 - February 8: AWD tandem pursuit final, Men sprint finals, Men U19 sprint finals, Women 10km scratch , Women sprint 200m qualifying, Women team sprint, Women U19 sprint 200m qualifying
Session 6: Bayley upstaged as Kersten wins sprint gold
By John Michael Flynn in Adelaide
Ben Kersten (NSW)
Photo ©: John Veage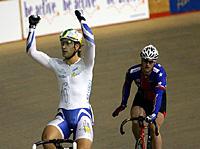 In what might best be described as a 'reality check' dual Olympic Gold Medalist Ryan Bayley came to the realization he still has plenty of hard yakka in front of him to reach peak form ahead of the Melbourne Commonwealth Games, after suffering a shock defeat in the men's sprint at the Australian track cycling championships in Adelaide.
Bayley was upstaged by in-form New South Welshman Ben Kersten, a specialist one kilometre time trialist, who on paper at least should have been easy prey for the rider dubbed 'flyin' Ryan'.
Matched up in a best of three semi-final (effectively the gold medal ride-off, as the second semi-final featured two visiting U.S.A. cyclists who were not in contention for the Australian title), it took only two rounds for Kersten to assert his dominance, with the help of Bayley's tactical blunders.
"I rode his race, the first time I did give too much distance and I let him jump before me," Bayley lamented after tonight's wake up call. "The second ride I just completely screwed up, I wanted to stay in front, he came past, I head butted him and I made a few mistakes there, and then just couldn't catch him.
"Taking nothing away from Benny; he's absolutely on fire, full credit to him, he won fair and square."
Kersten's sprint victory brought his second gold medal for the championships, coming on the back of Monday night's win in the one kilometre time trial. But the rider who has endured more than his even share of selection dilemmas wasn't about to entertain the thought of changing focus for the Commonwealth Games, having already secured his place in the Australian track team.
"I'd never ride the sprint anyway," was the newly crowned Australian sprint champion's direct reply.
Kersten qualified his statement, pointing out what was already obvious to Ryan Bayley. "It's not my race, so I'm not expected to win and I was just trying to do my best," Kersten said. "Watching Ryan out there through the championship you could tell he's not himself."
Ryan Bayley
Photo ©: John Flynn

Bayley is presently enduring a difficult climb back to the pinnacle of the sport, following a series of injuries, most notably his nasty rib breaking fall at the 2005 Rockhampton Cup on Wheels. Tonight the Western Australian was his own biggest critic, but there are signs Bayley's best form might not be too far off.
"The time last night 10.5 seconds (in the 200 metre flying sprint qualifier) that I did shows that I'm on my way," Bayley said while reassuring himself. "With no speed, I've done a 10.5, so by the time Comm Games come around I should be able to do 10.2 without a problem."
The cyclist who reached Aussie hero status following his gold medal winning feats in Athens knows the eyes of a nation will be on him in Melbourne. And Australia's premier track sprinter isn't overly concerned just yet.
"I know the mistakes I made, and I know where I've gotta be, and for me Commonwealth Games is where I've gotta be and where I've gotta put my mark," Bayley said. "I'd rather make mistakes here than in front of how many thousands of people on TV and make a complete arse of myself. I don't mind making an arse of myself here."
No Surprise as Sunderland wins under 19 sprint
Scott Sunderland (WA)
Photo ©: John Veage

In the under 19 men's sprint, Scott Sunderland was a clear standout, but some tough opposition from the ACT's Daniel Ellis in the semi final and Queensland's Byron Davis in the final ensured the Western Australian would have to work for his medal. Having already won gold in Monday night's Under 19 kilo event, Sunderland was almost upstaged by a resurgent Davis in the second best-of-three gold medal ride-off.
"I actually thought that I was controlling it, so I was sort of surprised if you know what I mean," Sunderland said of Davis's tactics. "I didn't get too stressed out when he overtook me, I got back the gap and had a good run over the top."
Davis, who has shown improvement with every race at the National Championships, was left to wonder what anyone could do to beat Sunderland. "Scott's definitely better this year," Davis admitted. "I just wanted to give him a race so I'm pretty happy."
Meares and Macpherson win gold for Queensland in team sprint
Kerrie Meares (Qld)
Photo ©: John Veage

Commonwealth Games Champion Kerrie Meares confirmed her build-up for Melbourne was right on track after teaming up with Chloe Macpherson to win gold for Queensland in the women's team sprint.
Meares, from Rockhampton, and Macpherson, from Mackay, put the normally intense rivalries of their Central Queensland sister cities aside, teaming up to form a combination almost as deadly as if the Meares sisters had been racing together.
With sister Anna preferring to rest her suspect back from a race requiring a standing start, Kerrie Meares had a more than worthy replacement in Macpherson, as the Queenslanders took on New South Wales in the final.
"Fabulous, we sat there thinking we've gotta at least win one gold medal between us at these National Championships," Meares said. "So we knuckled down for this one, it's been good fun,"
The former champion BMX racer, who last year won the World Junior Keirin Championship, Macpherson continued her successful transition to the track by finishing off the team sprint with a devastating turn of speed.
"This is my first Senior Track Nationals and to come out and win the gold in the team sprint with Kerrie is fantastic," Macpherson said post-race. Tonight's result comes on the back of Chloe's bronze medal performance in the 500 metre time trial, but the young Queenslander will need to step up to another level again in tomorrow's women's sprint.
Bates breakaway brings gold in scratch race
Kate Bates
Photo ©: John Flynn

The final event on day three of the Australian Track Cycling Championships produced another standout performance, this time in the women's ten kilometre scratch race. Recently crowned Australian Road Race Champion Kate Bates made it two National Championship jerseys in the space of two months, when her breakaway effort around the half way mark of the race proved decisive.
Bates made her move chasing down an attack from a visiting Malaysian cyclist, but then found herself off the front, in clear space, and pinned her ears back. The bunch appeared to take its time responding to Bates' move. South Australian Alexis Rhodes one of the few competitors who made any effort to bridge the gap. Testing her endurance skills, Australia's Road Race Champion then dug deep as she tried and almost succeeded in lapping the field.
"I didn't do it easy by any means," Bates told Cyclingnews post race. "I really want to target the scratch race at the World Championships in a couple of years, all these things are a step along the way."
Bates campaign at the national track championships isn't over yet. The current dual national champion is hatching a plan to expand her wardrobe further with the addition of another green and gold jersey, not to mention the jewellery to match.
"I'd love a gold medal in the points race," Bates admitted. "There's no question that I'm targeting that."
Session 5: Anna Meares qualifies fastest for women's sprint
Rockhampton's golden girls in Commonwealth Games warm-up
By John Michael Flynn in Adelaide
The Meares sisters
Photo ©: John Veage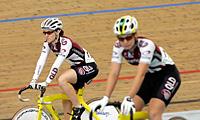 After sitting out her pet event, the 500 metre time trial, due to a niggling back injury, World and Olympic Champion Anna Meares made a stunning return to racing this afternoon, qualifying fastest for the women's sprint at the 2006 Australian Track Cycling Championships. Meares completed her flying 200 metre sprint qualifier in a time of 11.656 seconds, with U.S. Champion Jennie Reed (11.711) in second and sister Kerrie (11.737) qualifying third fastest.
"I think it'll be really good having this racing leading into Melbourne," Meares revealed after her sizzling qualifying effort. "I mean, all season I've done two sprint competitions: that was Oceania's and Manchester in December, and even there you know, having eight months out of racing and not having the practice under my belt, I made a lot of mistakes."
The scene is now set for an enthralling series of match races and finals when the women's sprint comes to a climax tomorrow night.
Along with the Meares sisters, the presence of U.S. Champion Jennie Reed, Monday's 500 metre time trial winner Kristine Bayley and World Junior Keirin Champion Chloe Macpherson, will ensure the racing is first class.
"Absolutely, and I think it's probably one of the best fields we've had at national's for a couple of years," Anna told Cyclingnews. "I think it's fantastic too to see the depth of women's sprinting in particular, you know it's getting better and better each year. As the juniors step up, they're coming in with no fear chasing us girls. I think it's fantastic, pushing us to our limits as well."
Anna's sister Kerrie was grinning from ear to ear at the prospect of tomorrow night's finals. The reigning Commonwealth Games champion was pleased with her qualifying time, after being pipped for gold in the 500 metre time trial on Monday night.
"Good actually, better than I thought I would go considering the time trial I did," Kerrie admitted. "I wasn't sure how I was going to go. Probably the quickest flying hundred I've done for the whole season in training so I'm not complaining."
Commonwealth Games an exciting prospect for the Meares family
Anna Meares (Qld)
Photo ©: John Veage

It seems almost incredible having raised one daughter who is a Commonwealth Games Champion, and another who has won World and Olympic Titles, but Kerrie and Anna Meares' mum and dad have never seen their daughters race at the top level.
The Meares sisters were raised at Middlemount, three hours drive outside of the regional cycling mecca of Rockhampton in Central Queensland. The family endured years of marathon road trips to get their daughters to Friday night races and Sunday training sessions as the champion sisters rose through the ranks. It also meant waving goodbye to the girls when they went away to State, National and World Championships.
That's all about to change, and perhaps the reason the Meares sisters seem so excited at these Championships, is the prospect of racing in front of family at next month's Commonwealth Games for the first time.
"Mum and dad have been nervous for the last twelve months," a jovial Anna Meares told Cyclingnews. "They've been planning the trip to Melbourne, they've never seen us compete past state championship level, so it's going to mean a lot to them seeing us doing what they've sacrificed a lot for us to be able to do."
"They just love their country life, used to the slow life and for me it's going to be an eye opener for them coming to Melbourne," Anna Meares added.
Dead heat in men's sprint
There was a dead heat
Photo ©: Swiss Timing

Another highlight of the afternoon program was a rare dead heat in the men's sprints involving Victoria's Shane Perkins and USA's Christian Stahl.
Commissaires called for the magnifying glass to separate the pair in a photo finish, but closer examination revealed the two riders were indeed dead level. The U.S. has brought a handful of its leading sprinters to Adelaide in the leadup to the Sydney World Cup event, with Stahl and compatriot Michael Blatchford expected to feature during the week of racing.
Photography
For a thumbnail gallery of these images, click here
Session 6
Images by John Veage
Images by John Flynn/Cyclingnews.com
Session 5
Images by John Veage
Images by Swiss Timing
Images by John Flynn/Cyclingnews.com
Results
Session 6
Open Women Team Sprint 

Qualification
 
1 Chloe Macpherson (Qld)                        35.322 (50.96 km/h)
  Kerrie Meares
2 Elizabeth Georgouras (NSW)                    35.738
  Kaarle Mcculloch
3 Kristine Bayley (WA)                          36.609
  Sophie Cape
4 Kate Scott (SA)                               37.615
  Sue Ann Woodwiss
5 Josephine Butler (WA)                         37.642
  Samsiah Rice
6 Theresa Cliff-Ryan (ACT)                      37.777
  Jennifer Loutit
 
Final
 
For gold & silver
 
1 Chloe Macpherson (Qld)                        35.198 (51.14 km/h)
  Kerrie Meares
2 Elizabeth Georgouras (NSW)                    35.569
  Kaarle Mcculloch
 
For bronze
 
3 Kristine Bayley (WA)                          36.350 (49.52 km/h)
  Sophie Cape
4 Kate Scott (SA)                               37.630
  Sue Ann Woodwiss
 
M19  Sprint 
 
Semi-finals
 
Heat 1
 
1 Scott Sunderland (WA)                         11.630   11.617
2 Daniel Ellis (ACT)
 
Heat 2
 
1 Byron Davis (Qld)                             11.461   11.609
2 Mark Glowacki (SA)
 
Final
 
For gold and silver
 
1 Scott Sunderland (WA)                         11.305   11.490
2 Byron Davis (Qld)
 
For bronze
 
3 Daniel Ellis (ACT)                            11.893   13.706
4 Mark Glowacki (SA)
 
Men sprint
 
Semi-finals
 
Heat 1
 
1 Christian Stahl (USA)                                  11.157  11.236
2 Michael Blatchford (USA)                      11.298
 
Heat 2
 
1 Ben Kersten (NSW)                             10.930   11.032
2 Ryan Bayley (WA)
 
Final
 
For gold & silver
 
1 Ben Kersten (NSW)                             11.172   11.316
2 Christian Stahl (USA)
 
For bronze
 
3 Ryan Bayley (WA)                              10.931   10.998
4 Michael Blatchford (USA)
 
M19 3000m Tandem Pursuit

Final
 
1 Joshua Yates (WA)                             3.48.600 (47.24 km/h)
  Byron Page
 
Women 10km Scratch Race
 
1 Katherine Bates (NSW)                         12.49
2 Jessica Berry (Vic)
3 Belinda Goss (Tas)
4 Skye-Lee Armstrong (NSW)
5 Uracca Leow Huay Sim (Mas)
6 Noor Azian Alias (Mas)
7 Kerry Cohen (WA)
8 Anouska Edwards (Qld)
9 Leeanne Manderson (WA)
10 Liz Young (Qld)
11 Amanda Spratt (NSW)
12 Rahna Demarte (Vic)
13 Alexis Rhodes (SA)
14 Laura Mccaughey (Tas)
DNF Theresa Cliff-Ryan (ACT)
DNF Sue Ann Woodwiss (SA)

Session 5

M19 Sprint
 
Quarter Finals
 
Heat 1
 
1 Scott Sunderland (WA)         12.000   11.960
2 Oliver Saare (WA)
 
Heat 2
 
1 Byron Davis (Qld)             11.527   11.604
2 Jason Holloway (WA)
 
Heat 3
 
1 Jeremy Hogg (Qld)                      11.984
2 Mark Glowacki (SA)            12.353            11.456
 
Heat 4
 
1 Daniel Ellis (ACT)            11.376   11.524
2 Patrick Bolan (NSW)
 
For 5th - 8th
 
5 Patrick Bolan (NSW)           11.120
6 Jason Holloway (WA)
7 Oliver Saare (WA)
8 Jeremy Hogg (Qld)
 
Men Sprint
 
Quarter Finals
 
Heat 1
 
1 Michael Blatchford (USA)      11.035   10.797
2 Alex Bird (ACT)
 
Heat 2
 
1 Ryan Bayley (WA)              11.051   11.070
2 Sean Dwight (NSW)
 
Heat 3
 
1 Ben Kersten (NSW)             11.154   11.285
2 Kial Stewart (ACT)
 
Heat 4
 
1 Christian Stahl (USA)         10.978   11.282   11.760
2 Shane Perkins (Vic)           Dead Heat
 
For 5th - 8th
 
5 Kial Stewart (ACT)              11.454
6 Alex Bird (ACT)
7 Shane Perkins (Vic)
8 Sean Dwight (NSW)
 
W19 200m Sprint
 
Qualification
 
1 Kaarle Mcculloch (NSW)        12.085 (59.58 km/h)
2 Samsiah Rice (WA)             12.309
3 Josephine Butler (WA)         12.363
4 Jessica Hume (NSW)            12.533
5 Kira Mason (SA)               12.925
 
Women 200m Sprint
 
Qualification
 
1 Anna Meares (Qld)             11.656 (61.77 km/h)
2 Jennie Reed (USA)             11.711
3 Kerrie Meares (Qld)           11.737
4 Kristine Bayley (WA)          11.879
5 Chloe Macpherson (Qld)        11.990
6 Elizabeth Georgouras (NSW)    11.994
7 Laura Mccaughey (Tas)         12.098
8 Jennifer Loutit (ACT)         12.741
9 Sue Ann Woodwiss (SA)         13.139