2006 Australian Senior Track Championships - CN
Adelaide, South Australia, February 6-11, 2006
Main Page Results Previous Day Next Day
Day 2 - February 7: Men U19 sprint 200m qualifying & round 1, Men sprint 200m qualifying & round 1, Women U19 2000m IP, Women 3000m IP, Men 4000m IP, AWD IP, Men U19 25km points
Session 4: Commonwealth Games 'dress rehearsal' - World Champion Mactier wins pursuit gold
By John Michael Flynn in Adelaide
Pursuit gold medalists
Photo ©: John Veage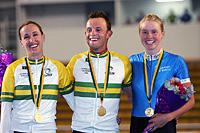 In what presents itself as a perfect form guide for the same event at next month's Commonwealth Games in Melbourne, World Champion Katie Mactier scored a confidence boosting victory over her good friend and close rival Kate Bates in the final of the 3000 metre Individual Pursuit at the 2006 Australian Track Cycling Championships in Adelaide.
Bates, the reigning National Pursuit Champion and recently crowned Australian Road Race Champion, was always facing a difficult assignment against a rider she is used to 'versing' perhaps more than anyone. And once again it was Mactier who looked the stronger of the two in the premier track endurance event. Both riders are sure things to contest the pursuit at the Commonwealth Games and Mactier in particular will go into the event brimming with confidence.
"It's probably a dress rehearsal for how the Commonwealth Games are gonna turn out," Mactier predicted post-race. "It wouldn't surprise me if the two of us go through to the gold/silver. Kate and I spend a lot of time together and we're pretty lucky to have each other. And we're good mates too."
World Champion Katie Mactier
Photo ©: John Veage

The result was hardly unexpected given the stature of both riders at World Championship level. Mactier believes she is capable of going significantly faster than tonight's times (her heat time was 3.33.219) and will work with coach John Beazley on doing just that between now and when the Commonwealth Games comes to her home town.
"I would like to think that I can certainly improve on tonight, " Mactier admitted. "I certainly haven't tapered, we're racing a bit tired. It's an event that I'm very passionate about and I'm still trying to perfect it, I've got a long way to go."
When Cyclingnews caught up with Kate Bates during her warm down, there were obvious signs the current work load was definitely having an impact. An exhausted Bates conceded the training regime of coach Ian Mackenzie, plus the tension of the National Championships, was making life tough.
Kate Bates
Photo ©: John Flynn

"I think it's a bit like that for all of us," Bates said. "Ian Mackenzie has a vision for us that includes Commonwealth Games and then World's and this is just a stepping stone. It's always hard to come and race when you're feeling a little bit flogged but it'll do us all the world of good."
Like Mactier, Bates has lofty goals for the up-coming Commonwealth Games and is sure to feature both on the track and on the road, where her credentials and form make the New South Wales rider an automatic selection. "I think I'm capable of a lot in the pursuit and the points race and it's been years and years coming," Bates revealed with determination in her tone. "I think Macca ( Ian Mackenzie) has high hopes for me to step on top of the podium this year instead of coming in second and third."
Rhodes in remarkable return
Alex Rhodes
Photo ©: John Flynn

As difficult as it is to upstage a final featuring the best in the world, the bronze medal ride-off in the Women's 3000 metre pursuit was deserving of equal top billing as South Australia's Alexis Rhodes came head to head once again with Australian cycling great Kathy Watt.
Rhodes, whose return to racing this year has bordered on miraculous, drew immediate applause from the Adelaide Superdrome crowd, simply for being there. Six months ago, the South Australian would have been at incredibly long odds just to return to the venue as a spectator. The athlete who was placed in a medically induced coma after sustaining horrific injuries in the A.I.S. women's cycling accident, went about her business with little fuss in the match-up against the veteran Watt for bronze.
A case of another day, another race, another box ticked off in one of sport's truly inspiring comebacks. "It' always nice, I've gotten bronze a couple of years in a row now," Rhodes told Cyclingnews. "In the qualifying I was more just trying to post as fast a time as I could. In the final, I came in two seconds quicker than her (Watt) and I knew if I had her half way that I'd be fine."
Fine indeed! The bronze medal result for Rhodes comes on top of her reclaiming the Australian criterium title and now, against all odds, the Commonwealth Games are firmly in her sights.
Likely, though not an absolute certainty to feature in Australia's six member Commonwealth Games road race team, the Alice Springs raised cyclist tonight pedaled herself into obvious contention for Australia's third vacant spot in the 3000 metre pursuit in Melbourne.
"Well hopefully I've cemented my spot for that, but I mean it's still up to the coaches and selectors," Alexis said. "I guess I'll find out in a couple of weeks."
Rhodes' message to the Commonwealth Games team selectors couldn't be stronger. Her recent performances have come on the back of one of the most disrupted preparations in sporting history, and Alex plans to get much better yet. "Just because I had a pretty interrupted start to the season, so hopefully I'll just keep getting stronger and stronger," Rhodes said with determination. "Probably because I'm going to improve the most of anyone between now and then (Commonwealth Games), well that's my theory anyway."
Mark Jamieson wins men's pursuit; Tight contest for team pursuit
Mark Jamieson
Photo ©: John Veage

In the men's individual pursuit, the gold medal winning performance of Mark Jamieson all but ensured the Tasmanian a place in the event at next month's Commonwealth Games. The result carried great significance for 'Jamo' who was backing up after winning the same event at the 2005 and 2003 National championships.
"Nothing's been finalised but after today I would hope I'm a starter in the individual pursuit," Jamieson told Cyclingnews. "But the team pursuit is such an on-edge thing, for example, we've got six guys there and no matter what combination we put together, we're a formidable team."
Tonight's final of the individual pursuit was a typical example of the situation the Australians find themselves in. Jamieson was matched up against another World Champion in Western Australia's Peter Dawson, who is also a contender for a berth in the individual pursuit.
"Jamo's a great competitor," Dawson admitted after coming off second best. "I just went out with an objective to race my first two k at a schedule. I haven't raced individual pursuit since 2002, this is my first real crack at it."
Both cyclists are desperate to represent their country at the Commonwealth Games, an event which carries great sporting prestige for Australian athletes. But perhaps even more significantly, for Jamieson, is that Melbourne is the city where he won a junior World Championship and where the atmosphere surrounding Australia's track cycling team will be at fever pitch.
"For me Melbourne holds a special place in my heart, that's where I won my Junior World Pursuit and I know so many people in Melbourne," he said.
The reality is someone may have to miss out among the six pursuitists named for Australia. Peter Dawson is hoping his silver medal performance at the National Championships will help his cause. "I mean there's six of us in the squad, any of the six in the squad could race the individual pursuit at a given time," Dawson said. "Obviously the team pursuit is gonna be goal number one. I don't think anyone's a certainty, but obviously I've got my foot fairly solidly in the door."
Under 19 Women's pursuit
Peta Mullens (Vic)
Photo ©: John Veage

The final of the Under 19 2000 metre Women's Pursuit turned out to be an all-Victorian affair, with emerging track and road talent Tess Downing taking on a relative newcomer to the sport in Peta Mullens.
The former triathlete, who is coached at the Victorian Institute of Sport by Hilton Clarke, scored what could be described as an upset. The young Victorian perhaps more surprised than anyone else.
"I'm not used to winning really," Mullens confessed shortly before climbing onto the podium to receive her gold medal. "I've never got a gold medal , this is my first one and this is what I've been working for."
Dual gold for Cameron Meyer
Cameron Meyer
Photo ©: John Flynn

Capping off the program on the second day of the Australian Track Cycling Championships, the under 19 men's 25 kilometre points event produced some of the best racing yet. Just as they had done in the final of the individual pursuit, Western Australia's Cameron Meyer and Queenslander Hayden Josefski fought a tough duel, with plenty of help from their State teammates.
Clearly the best in their age group in the track endurance discipline, Meyer and Josefski were both involved in breakaway efforts during the race, the pair joining forces at one stage to secure their places on the podium.
"I think that was harder than the pursuit," Meyer revealed after winning his second gold medal for the championships. Didn't think I'd go in that many breaks but just happened to go across to anyone that moved, Leigh went and Hayden went and I just went with it."
Victorian Leigh Howard, racing his first championship in the under 19's, didn't feature as prominently as he may have hoped, but rocketed home to take the final sprint of the night. Hayden Josefski's constant presence at the front end of the race, scoring enough points for a silver medal.
"Yeah I was pretty impressed with my ride," Josefski said. "You've got guys like Cameron out there, backing up to run second in the pointscore, it was good."
Josefski is eager to go one better than silver before his national track championships campaign is over and rates the team pursuit as his best chance of securing the ultimate result.
Session 3: Mactier qualifies fastest; Rhodes continues remarkable comeback
By John-Michael Flynn in Adelaide
Katie Mactier
Photo ©: John Flynn

In a sign her form is moving in the right direction heading into the Commonwealth Games, Victorian Katie Mactier qualified fastest for the Women's 3000 metre pursuit on day two of the Australian Senior Track Cycling Championships at the Adelaide Superdrome.
But Mactier wouldn't have minded her performance being upstaged by courageous South Australian Alexis Rhodes, who continued her remarkable comeback from the shocking injuries suffered in last year's A.I.S. Women's Road Cycling tragedy.
Rhodes qualified in third place for the 3000 m women's pursuit after being matched up against one of the toughest of all opponents, Australian cycling great Kathy Watt. The pair will go head to head again tonight in the ride-off for bronze, while Mactier, who qualified in a time of 3.33.29 will face up against Kate Bates in the race for gold.
"That's a good time I think, I had a little bit more in the tank," Mactier said at the end of the qualifying session. "We're all training hard and I've got a massive campaign ahead with the Commonwealth Games and three weeks following defending my world title."
In the men's pursuit, Tasmanian Mark Jamieson and Western Australia's Peter Dawson will fight it out for gold.
Photography
For a thumbnail gallery of these images, click here
Session 4
Images by John Veage
Images by John Flynn/Cyclingnews.com
Session 3
Images by John Veage
Images by John Flynn/Cyclingnews.com
Results
W19 2000m Individual Pursuit
 
Qualification
 
1 Peta Mullens (Vic)             2.26.817 (49.04 km/h)
2 Tess Downing (Vic)             2.28.700
3 Josephine Tomic (WA)           2.29.493
4 Grace Sulzberger (Tas)         2.30.730
5 Courtney Le Lay (Qld)          2.32.063
6 Loren Rowney (Qld)             2.32.493
7 Lisa Friend (Vic)              2.34.339
8 Laura Meisel-Dennis (ACT)      2.34.480
9 Carlee Taylor (SA)             2.38.018
10 Tiffany Cromwell (SA)         2.41.280
11 Therese Rhodes (SA)           2.42.406
12 Kylie Hansen (WA)             2.43.118
13 Kira Mason (SA)               2.43.334
14 Rebecca Macpherson (WA)       2.47.109
 
W19 2000m Individual Pursuit Final
 
Gold & Silver Medals
 
1 Peta Mullens (Vic)             2.28.317 (48.54km/h)
2 Tess Downing (Vic)             2.29.818 (48.06km/h)
 
Bronze Medal
 
3 Josephine Tomic (WA)           2.30.485 (47.85km/h)
4 Grace Sulzberger (Tas)         2.32.392 (47.25km/h)
 
Women 3000m Individual Pursuit
 
Qualification
 
1 Katie Mactier (Vic)            3.33.219 (50.65 km/h)
2 Katherine Bates (NSW)          3.37.565
3 Alexis Rhodes (SA)             3.41.692
4 Kathryn Watt (Vic)             3.43.508
5 Amanda Spratt (NSW)            3.47.143
6 Anouska Edwards (Qld)          3.48.489
7 Jessie Maclean (ACT)           3.52.994
8 Liz Young (Qld)                3.54.510
9 Belinda Goss (Tas)             3.55.017
10 Uracca Leow Huay Sim (Mas)    3.59.040
11 Noor Azian Alias (Mas)        4.07.326
 
Women 3000m Individual Pursuit Final
 
Gold & Silver Medals
 
1 Katie Mactier (Vic)            3.35.397 (50.14km/h)
2 Katherine Bates (NSW)          3.39.801 (49.14km/h)
 
Bronze Medal
 
3 Alexis Rhodes (SA)             3.43.569 (48.31km/h)
4 Kathryn Watt (Vic)             3.45.581 (47.88km/h)
 
Men 4000m Individual Pursuit
 
Qualification
 
1 Mark Jamieson (Tas)            4.24.965 (54.35 km/h)
2 Peter Dawson (WA)              4.27.711
3 Richard England (Vic)          4.28.045
4 Michael Ford (Vic)             4.29.860
5 Miles Olman (Qld)              4.29.881
6 Zakkari Dempster (Vic)         4.30.575
7 Robert Lyte (NSW)              4.31.459
8 Sean Finning (Vic)             4.31.616
9 Phillip Thuaux (NSW)           4.31.707
10 Ashley Hutchinson (Qld)       4.32.113
11 Stephen Wooldridge (NSW)      4.35.390
12 Matthew Goss (Tas)            4.39.800
13 Kyle Bateson (Qld)            4.44.883
14 Amirrudin Jamaludin (Mas)     4.57.446
 
Men 4000m Individual Pursuit Final
 
Gold & Silver Medals
 
1 Mark Jamieson (Tas)            4.25.356 (54.27km/h)
2 Peter Dawson (WA)              4.30.061 (53.32km/h)
 
Bronze Medal
 
3 Richard England (Vic)          4.30.655 (53.20km/h)
4 Michael Ford (Vic)             4.31.944 (52.95km/h)
 
M19 Sprint
 
Qualification
 
1 Scott Sunderland (WA)          0.10.760 (66.91 km/h)
2 Byron Davis (Qld)              0.10.912
3 Jeremy Hogg (Qld)              0.10.986
4 Daniel Ellis (ACT)             0.11.023
5 Patrick Bolan (NSW)            0.11.097
6 Mark Glowacki (SA)             0.11.204
7 Jason Holloway (WA)            0.11.218
8 Oliver Saare (WA)              0.11.343
9 Lachlan Plane (Qld)            0.11.351
10 Abe Macdonald (Vic)           0.11.377
11 Jeff Hopkins (NSW)            0.11.404
12 James Langedyk (Vic)          0.11.442
13 Takashi Sakamoto (Jpn)        0.11.637
14 Anthony Rix (Vic)             0.11.696
15 Nicholas Spratt (NSW)         0.11.698
16 Hayato Iizuka (Jpn)           0.11.812
17 Shota Miki (Jpn)              0.12.263
 
LC1 Men 4000m Individual Pursuit
 
Qualification
 
1 Michael Gallagher (Vic)        4.48.747 (49.87 km/h)
2 Peter Brooks (NSW)             4.57.926
 
LC1 Women 3000m Individual Pursuit Final
 
1 Claire McLean (WA)             4.05.754 (43.95km/h)
 
LC2 Women 3000m Individual Pursuit Final
 
1 Angela Fleming (SA)            3.34.416 (50.37km/h)
 
LC3 Women 3000m Individual Pursuit Final
 
1 Jane Armstrong (WA)            4.41.678 (38.34km/h)
 
CP4 Men 3000m Individual Pursuit Final
 
1 Trent Deacon (Tas)             3.43.685 (48.28km/h)
2 Christopher Scott (Qld)        3.44.486 (48.11km/h)
 
LC1 Men 4000m Individual Pursuit Final
 
1 Michael Gallagher (Vic)        4.52.186 (49.28km/h)
2 Peter Brooks (NSW)             Caught
 
Men Sprint Qualification
 
1 Michael Blatchford (USA)         10.492 (68.62km/h)
2 Ryan Bayley (WA)                 10.560 (68.18km/h)
3 Ben Kersten (NSW)                10.602 (67.91km/h)
4 Christian Stahl (USA)            10.616 (67.82km/h)
5 Shane Perkins (Vic)              10.765 (66.88km/h)
6 Kial Stewart (ACT)               10.780 (66.79km/h)
7 Mohd Rizal Tisin (Mas)           10.848 (66.37km/h)
8 Giddeon Massie (USA)             10.874 (66.21km/h)
9 Sean Dwight (NSW)                10.877 (66.19km/h)
10 Mohd Hafis Sufian (Mas)         10.928 (65.89km/h)
11 Ben Barczewski (USA)            10.945 (65.78km/h)
12 Junaidi Mohd Nasir (Mas)        10.965 (65.66km/h)
13 Alex Bird (ACT)                 11.067 (65.06km/h)
14 Benjamin Simonelli (Qld)        11.092 (64.91km/h)
15 Gary Ryan (ACT)                 11.127 (64.71km/h)
16 Steven Sansonetti (Vic)         11.277 (63.85km/h)
17 Mohd Faisal Mohd Noh (Mas)      11.281 (63.82km/h)
18 William Draffen (Qld)           11.539 (62.40km/h)
19 David Miller (SA)               11.543 (62.38km/h)
20 Daniel Robb (SA)                11.620 (61.96km/h)
21 Jordan Roberts (SA)             11.936 (60.32km/h)
22 Brenden Savage (ACT)            12.096 (59.52km/h)
23 Stuart Warren (NT)              13.129 (54.84km/h)
 
Men Sprint Round 1
 
Heat 1
 
1 Michael Blatchford (USA)         13.159
2 Brenden Savage (ACT)
 
Heat 2
 
1 Ryan Bayley (WA)                 12.027
2 Jordan Roberts (SA)
 
Heat 3
 
1 Ben Kersten (NSW)                11.972
2 Daniel Robb (SA)
 
Heat 4
 
1 Christian Stahl (USA)            11.658
2 David Miller (SA)
 
Heat 5
 
1 Shane Perkins (Vic)              11.507
2 William Draffen (Qld)
 
Heat 6
 
1 Kial Stewart (ACT)
DNS Steven Sansonetti (Vic)
 
Heat 7
 
1 Sean Dwight (NSW)                11.369
2 Gary Ryan (ACT)
 
Heat 8
 
1 Alex Bird (ACT)                  11.369
2 Benjamin Simonelli (Qld)
 
M19 25km Points Race Final
 
1 Cameron Meyer (WA)               23 pts
2 Hayden Josefski (Qld)            17
3 Jack Bobridge (SA)               11
4 Leigh Howard (Vic)               10
5 Travis Meyer (WA)                10
6 Duane Johansen (WA)               7
7 Dale Scarfe (NSW)                 6
8 Alexander Smyth (Vic)             5
9 Aaron Jones (Tas)                 4
10 James Langedyk (Vic)             4
11 Thomas Robinson (Tas)            3
12 Richard Lang (NSW)               2
13 Joshua Edwards (Qld)             2
14 Reuben Meneaud-Young (SA)        1
15 Joel Lewis (Qld)                 0
16 Christos Winter (SA)             0
17 Matt King (NT)                   0
18 Justin Tomlinson (NSW)         -17
DNF Yuta Sunaga (Jpn)               0
DNF David Trott (NT)                0
DNF William Robinson (Tas)          0