2006 Australian Senior Track Championships - CN
Adelaide, South Australia, February 6-11, 2006
Day 1 - February 6: Under 19 men 3000m pursuit qualifying, AWD 1000m & 500m TTs, , Women 500m TT, Men 1km TT, Men U19 IP, Women U19 500m TT , Men U19 1km TT
Session 2: Adelaide 'Night-Meares' herald arrival of new cycling siblings
Session 2 winners
Photo ©: John Veage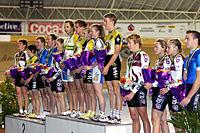 By John Flynn in Adelaide
When the evening program commenced at the Adelaide Superdrome with the staging of the women's 500 metre time trial, the focus quickly turned from the Meares sisters to another pair of cycling siblings, the Bayleys of Western Australia.
Chasing a breakthrough senior National Championship, Flyin' Ryan's sister Kristine emerged from the shadow of her Olympic Champion brother, recording the first (and what would turn out to be the only) sub 36 second time for the night in the 500 metre time trial. It was left to Queenslanders Chloe Macpherson and Kerrie Meares to lay down the challenge, and Macpherson, the junior keirin world champion, showed her arrival in the senior ranks wasn't before time, with a bronze medal winning ride of 36.27 seconds.
Weeks away from lodging her Commonwealth Games gold medal defence, Kerrie Meares then made a mess of the start, all but giving the 500 metre time trial national title away to Bayley.
"I was a little bit optimistic with my gear, my start was a little bit off too," Meares told Cyclingnews post-race. "Nearly collected the lap board, I still gave it everything I had, considering the circumstances."
Kristine Bayley (WA)
Photo ©: John Veage

In the end Meares clocked 36.061 seconds, well outside her best, but coming at a time when Australia's track cycling team is in the midst of solid training, the objective being to suffer now and taper closer to the Commonwealth Games.
"I reckon my legs blew up with maybe a quarter of a lap to go," Kerrie admitted. "Maybe if I'd tried a smaller gear I might have spun out so I'm not sure. We're still training, even though it's national's, we're training through national's so a little bit tired."
There was also no taking away from the performance of Kristine Bayley, with Meares among the first to congratulate her regular National Team training partner following the race.
"Oh it really hurt, I've got a massive headache now my legs are really sore," Bayley said upon snaring gold. "I'm so happy, I've been chasing a senior national title for a few years now."
The result, due in no small part to the assistance and inspiration provided by brother. "Huge inspiration, he's not racing tonight so he's helped me out with my bike and everything like that, just seeing the things he's done has pushed me to train a lot harder."
Kersten wins the kilo
Ben Kersten (NSW)
Photo ©: John Veage

It was a night when pain faces weren't hard to come by among Australia's track cycling elite, and New South Wales sprinter Ben Kersten was certainly wearing his. Officially at least, there was nothing riding on Kersten's performance at the Adelaide Super-Drome, given he had already been named in Australia's Commonwealth Games team. But the presence of his rivals, Victorian Joel Leonard (who controversially missed Commonwealth Games selection) and the emerging Grant Irwin from Queensland, ensured Kersten would have to be close to his best on the night.
At it turned out 'close' was the best Kersten could manage, with the current heavy training program taking its toll physically and mentally. "Pretty tired and shagged," Kersten admitted post race. "No reason to have a day off for national's, making it non-selection."
And what of the Commonwealth Games selections? "I don't feel there's any pressure on me that I took his (Joel Leonard's) spot," Kersten said. The New South Welshman, who has met all selection requirements, added, "I don't think that I should be looked at as the one that stole his spot."
Under 19's on show
Cameron Meyer
Photo ©: John Flynn

The talk among coaches at the 2006 Australian Senior Track Cycling Championships was of the talent on show in the Under 19 men's division at this year's event.
The afternoon program, which saw the heats of the Under 19 3000 metre pursuit, proved a perfect prelude of what was to come. The gold medal ride off between Queensland's Hayden Josefski and Western Australia's Cameron Meyer turned out to be one of the races of the championships so far. Josefski's tactic of going out hard early, proving almost the perfect foil for Meyer's strong back end to the race.
Unable to reproduce the same sizzling speed of his sub 3 minute 20 second effort during the heats, Meyer still had enough left in the tank to chase down the Queenslander and put himself in contention for the same event at the World Championships.
"Very hard, didn't feel as good in that one as I did in the heat," Meyer later admitted. "But I knew if I held with him until four to go that I could roll over the top of him."
Josefski's silver medal effort provided yet another podium performance for the talented Queenslander, who continues to excel on both the track and the road. "I'm happy to just make it to the final," Josefski said. "I knew I had tough competition trying to stay with him at the end I knew he'd come home pretty quick, just ended up running out of legs."
More medals headed west
Scott Sunderland
Photo ©: John Flynn

The final event of the night at the Adelaide Super-Drome brought together another quality field in the under 19 division to contest the 1000 metre time trial. Among the emerging talents on show, Victoria's 2005 Under 17 track sensation Leigh Howard, Queenslanders Byron Davis and Jeremy Hogg and Western Australian powerhouse Scott Sunderland.
In a fitting finale, it was Sunderland, who as expected burnt up the track, his gold medal winning ride of 1.05.027, more than a second faster than Hogg and Howard. Better still it was a 'leave it all out there' ride from the gutsy Western Australian, who collapsed post-race and very clearly used every ounce of energy his legs could muster.
"I was trying not to black out half way through that last lap," Sunderland whispered as he tried to regather his composure. "Going into the third lap I thought I was finishing, then I realized I had one more to go and I thought that can't be good, so I started to dig deep and breathe and kept going."
Sunderland will be a warm favourite going into the Under 19 men's sprint at these championships.
Another five days of racing lie ahead at the Australian Senior Track Cycling Championships, which continue until Saturday night at the Adelaide Super-Drome.
Session 1 - Pursuit pacesetters set the mark at Australian Track Nationals
By John Flynn in Adelaide
Cameron Meyer (WA)
Photo ©: John Veage

The Australian Senior Track Cycling Championships began in sensational fashion at the Adelaide Superdrome this afternoon, when Western Australian Cameron Myer edged below the elusive 3 minute 20 second barrier in the heats of the under 19 3000 metre individual pursuit.
Seasoned track insiders were hailing it one of the best performances since Bradley McGee made his way through the junior ranks, as Meyer rocketed home in a time of 3 minutes 19.632 seconds - averaging along the way a slick 54.1 kilometres per hour.
Meyer collapsed after finishing the all-out effort, the Western Australian knowing all along he would have to ride out of his skin with Queensland's Hayden Josefski breathing down his neck. Josefski earlier clocked a time 3.22.72, setting the scene for an exciting gold medal ride off.
But there were other impressive performances with Queensland's Joel Lewis and South Australian Jack Bobridge also very much on the pace.
Jane Armstrong (WA)
Photo ©: John Veage

An exhausted Myer, from the Midlands Cycling Club in Perth, wasn't expecting the result and faces a tough assignment against Josefski in tonight's gold medal ride off. "I'm not really a natural pursuitist," Meyer told Cyclingnews. "But I've been working on it this year to try to go well at Nationals.
It was a big afternoon for the Western Australians at the Adelaide Superdrome. In the Athletes with disabilities events, which are also being staged at the championships, Perth's Jane Armstrong, set a world record in the LC3 500 metre time trial.
Meares out with injury
Anna Meares
Photo ©: John Flynn

Breaking news at the track is that World Record Holder and Olympic Champion Anna Meares won't be contesting tonight's 500 metre Time Trial for women.
Meares who was planning ride for a fourth consecutive National Title in her pet event is still feeling the effects of what's described as a disk injury in her back.
"It was a really hard decision," Meares told Cyclingnews. "Would have been four in a row, I really really wanted to ride tonight.
The injury occurred in July of last year, and it was aggravated by the Olympic Champion in the gym, shortly after the Manchester World Cup. But Meares is adamant she will contest the Melbourne Commonwealth Games.
"It's just precautionary me not riding the time trial tonight," the World Record holder in the 500 metre time trial said. "If I'm gonna break my back I wanna do it in Melbourne."
Meares' sister Kerrie will go into the 500 metre time trial as favourite, with big improvement expected from fellow Queensland Chloe Macpherson.
Photography
For a thumbnail gallery of these images, click here
Session 2
Images by John Veage
Images by John Flynn/Cyclingnews.com
Session 1
Images by John Veage
Images by John Flynn/Cyclingnews.com
Results
Session 2

Women 500m Time Trial
 
1 Kristine Bayley (WA)          0.35.882 (50.16 km/h)
2 Kerrie Meares (Qld)           0.36.061
3 Chloe Macpherson (Qld)        0.36.267
4 Rahna Demarte (Vic)           0.36.893
5 Elizabeth Georgouras (NSW)    0.36.946
6 Laura Mccaughey (Tas)         0.37.446
7 Kate Scott (SA)               0.38.435
8 Jennifer Loutit (ACT)         0.38.512
9 Theresa Cliff-Ryan (ACT)      0.38.850
10 Sue Ann Woodwiss (SA)        0.38.996
11 Jessie Maclean (ACT)         0.40.764
 
Men 1000m Time Trial
 
1 Ben Kersten (NSW)             1.03.039 (57.11 km/h)
2 Joel Leonard (Vic)            1.03.953
3 Adrian Sansonetti (Vic)       1.05.839
4 Grant Irwin (Qld)             1.06.187
5 Steven Sansonetti (Vic)       1.06.209
6 Mohd Rizal Tisin (MAS)        1.06.635
7 Mark Jamieson (Tas)           1.06.874
8 Mohd Hafis Sufian (MAS)       1.06.951
 
M19 3000m Individual Pursuit
 
Finals
 
For gold and silver
 
1 Cameron Meyer (WA)            3.23.270 (53.13 km/h)
2 Hayden Josefski (Qld)         3.26.195
 
For bronze
 
3 Leigh Howard (Vic)            3.24.238 (52.88 km/h)
4 Jack Bobridge (SA)            3.27.590
 
W19 500m Time Trial
 
1 Kaarle Mcculloch (NSW)        0.36.702 (49.04 km/h)
2 Josephine Butler (WA)         0.37.938
3 Courtney Le Lay (Qld)         0.38.251
4 Samsiah Rice (WA)             0.38.298
5 Lisa Friend (Vic)             0.38.571
6 Loren Rowney (Qld)            0.39.611
7 Laura Meisel-Dennis (ACT)     0.39.810
8 Kira Mason (SA)               0.40.252
9 Carlee Taylor (SA)            0.41.160
 
M19 1000m Time Trial
 
1 Scott Sunderland (WA)         1.05.027 (55.36 km/h)
2 Leigh Howard (Vic)            1.06.502
3 Jeremy Hogg (Qld)             1.06.554
4 Byron Davis (Qld)             1.07.049
5 James Langedyk (Vic)          1.07.323
6 Lachlan Plane (Qld)           1.07.339
7 Alexander Smyth (Vic)         1.07.545
8 Thomas Robinson (Tas)         1.08.687
9 Anthony Rix (Vic)             1.08.812
10 Mark Glowacki (SA)           1.08.829
11 Takahiro Matsukawa (Jpn)     1.08.936
12 Jack Rhodes (SA)             1.09.893
13 Nicholas Spratt (NSW)        1.09.930
14 Hayato Iizuka (Jpn)          1.10.440
15 William Robinson (Tas)       1.10.491
16 Richard Lang (NSW)           1.10.814
17 Reuben Meneaud-Young (SA)    1.11.208
18 Travis Frisby (SA)           1.11.833
19 Shota Miki (Jpn)             1.12.403

Session 1

M19 3000m Individual Pursuit
 
Qualification
 
1 Cameron Meyer (WA)            3.19.632  (54.10 km/h)
2 Hayden Josefski (Qld)         3.22.723
3 Leigh Howard (Vic)            3.23.401
4 Jack Bobridge (SA)            3.23.589
5 Travis Meyer (WA)             3.26.362
6 Ricky Peoples (Vic)           3.27.491
7 Joel Lewis (Qld)              3.27.517
8 Angus Morton (NSW)            3.28.612
9 Alexander Smyth (Vic)         3.29.003
10 Joshua Edwards (Qld)         3.30.113
11 Matthew Pettit (NSW)         3.30.390
12 Takashi Sakamoto (JPN)       3.30.716
13 Douglas Repacholi (WA)       3.32.149
14 William Ford (Vic)           3.32.831
15 Duane Johansen (WA)          3.33.287
16 Malcolm Rudolph (Qld)        3.33.343
17 Yuta Sunaga (JPN)            3.33.697
18 Dale Scarfe (NSW)            3.33.821
19 Christos Winter (SA)         3.35.702
20 Thomas Robinson (Tas)        3.36.484
21 William Robinson (Tas)       3.36.634
22 Masato Fuwa (JPN)            3.36.864
23 Reuben Meneaud-Young (SA)    3.38.526
24 Aaron Jones (Tas)            3.41.861
25 Justin Tomlinson (NSW)       3.42.715
26 Matt King (NT)               3.42.987
27 David Trott (NT)             3.58.048
28 Travis Frisby (SA)           4.00.315
 
Men 1000m Tandem Time Trial
 
1 Ben Demery (NSW)              1.06.052  (54.50 km/h)
  Shaun Hopkins                          
 
2 Benjamin Holmes (Qld)         1.10.462
  Benjamin Macfie                        
 
Women 1000m Tandem Time Trial
 
1 Lindy Hou (NSW)               1.13.160  (49.21 km/h)
  Janelle Lindsay                        
 
2 Vicki-Lynne Birks (SA)        1.18.367
  Felicity Johnson                       
 
LC1 Men 1000m Time Trial
 
1 Michael Gallagher (Vic)       1.10.733 (50.90 km/h)
2 Peter Brooks (NSW)            1.12.189
 
 
CP4 Men 1000m Time Trial
 
1 Trent Deacon (Tas)            1.13.680 (48.86 km/h)
2 Christopher Scott (Qld)       1.14.004
 
 
M19 1000m Tandem Time Trial
 
1 Byron Page (WA)               1.12.416 (49.71 km/h)
 Joshua Yates                           
 
LC1 Women 500m Time Trial
 
1 Claire McLean (WA)            0.42.904 (41.95 km/h)
 
LC2 Women 500m Time Trial
 
1 Angela Fleming (SA)           0.44.380 (40.56 km/h)
 
LC3 Women 500m Time Trial
 
1 Jane Armstrong (WA)           0.47.279 (38.07 km/h)
 
CP4 W19 500m Time Trial
 
1 Jayme Paris (NSW)             0.48.838 (36.86 km/h)