Recently on Cyclingnews.com
2006 UCI Track Cycling World Championships - CM
France, April 13-16, 2006
Women's sprint
Tsylinskaya shapes up as favourite
By Mal Sawford in Bordeaux
Natallia Tsylinskaya (Belarus)
Photo ©: Mitch Friedman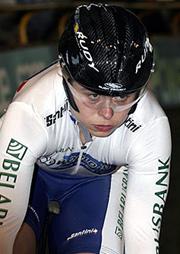 As she had in the 500 metre time trail, first year senior rider Lisandra Guerra Rodriguez (Cuba) belied her ranking, setting an impressive opening qualifying time of 11.428. None of the next nine riders came close to Guerra's time, until Simona Krupeckaite's (Lithuania) 11.365. French star Clara Sanchez and Elisa Frisoni (Italy) both came close to Krupeckaite's time, with China's Shuang Guo more successful with her 11.268. Time trial winner Natallia Tsylinskaya made all the women look sluggish, however, when she came close to breaking the 11 second barrier, stopping the clock in 11.052, a time that neither of Australia's Meares sisters, Tamilia Abassova (Russia) or defending champion Victoria Pendleton (Britain) could get close to.
The top four qualifiers were rewarded with byes, with the remaining riders into the 1/16 rounds. Guerra, Pendleton, Christin Muche (Germany), Dana Gloess (Germany) and Frisoni had relatively easy wins, while Lei Zhang (China), Jennie Reed (USA) and Anna Meares had to work a little harder to come out on top.
In the 1/8 round, of the top seeds, Tsylinskaya was untroubled by Meares, who commented later that "she came past me like a train", and Sanchez rode away from Reed. Also moving into the quarter finals were Guo, who just held off a late charge from Muche; Krupeckaite who came out on top after a last lap drag race with Gloess; Guerra who looked very impressive when she surged past Zhang, and Pendleton who was in a different class to Frisoni.
Reed made amends in the repechage round, riding strongly from the front to hold off Frisoni and Meares to progress. The final rider to move through was Gloess, who just held off her teammate after Zhang had made the early running.
Results
Qualifying 200m TT
 
1 Natallia Tsylinskaya (Belarus)             11.052 (65.146 km/h)
2 Shuang Guo (China)                         11.268
3 Simona Krupeckaite (Lithuania)             11.365
4 Clara Sanchez (France)                     11.414
5 Lizandra Guerra (Cuba)                     11.428
6 Victoria Pendleton (Great Britain)         11.432
7 Elisa Frisoni (Italy)                      11.444
8 Yvonne Hijgenaar (Netherlands)             11.507
9 Tamilia Abassova (Russia)                  11.558
10 Dana Gloss (Germany)                      11.589
11 Magdalena Sara (Poland)                   11.622
12 Anna Meares (Australia)                   11.625
13 Jinjie Gong (China)                       11.657
14 Christin Muche (Germany)                  11.703
15 Diana Maria Garcia Orrego (Colombia)      11.729
16 Jennie Reed (USA)                         11.755
17 Zhang Lei (China)                         11.777
18 Kerrie Meares (Australia)                 11.805
19 Céline Nivert (France)                    11.869
20 Miriam Welte (Germany)                    12.074
DNS Nancy Contreras (Mexico) 

1/16 finals
 
Heat 1
 
1 Lizandra Guerra (Cuba)                    11.803
2 Miriam Welte (Germany)                          
 
Heat 2
 
1 Victoria Pendleton (Great Britain)        12.373
2 Céline Nivert (France)                          
 
Heat 3
 
1 Elisa Frisoni (Italy)                     12.605
2 Kerrie Meares (Australia)                       
 
Heat 4
 
1 Zhang Lei (China)                         12.387
2 Yvonne Hijgenaar (Netherlands)                  
 
Heat 5
 
1 Jennie Reed (USA)                         12.469
2 Tamilia Abassova (Russia)                       
 
Heat 6
 
1 Dana Gloss (Germany)                      11.936
2 Diana Maria Garcia Orrego (Colombia)            
 
Heat 7
 
1 Christin Muche (Germany)                  12.393
2 Magdalena Sara (Poland)                         
 
Heat 8
 
1 Anna Meares (Australia)                   12.113
2 Jinjie Gong (China)   

1/8 Finals

Heat 1
 
1 Natallia Tsylinskaya (Belarus)            11.539
2 Anna Meares (Australia)                         
 
Heat 2
 
1 Shuang Guo (China)                        11.917
2 Christin Muche (Germany)                        
 
Heat 3
 
1 Simona Krupeckaite (Lithuania)            11.825
2 Dana Gloss (Germany)                            
 
Heat 4
 
1 Clara Sanchez (France)                    12.120
2 Jennie Reed (USA)                               
 
Heat 5
 
1 Lizandra Guerra (Cuba)                    11.634
2 Zhang Lei (China)                               
 
Heat 6
 
1 Victoria Pendleton (Great Britain)        12.265
2 Elisa Frisoni (Italy)  

1/8 final repechage

Heat 1
 
1 Jennie Reed (USA)                         12.278
2 Elisa Frisoni (Italy)                           
3 Anna Meares (Australia)                         
 
Heat 2
 
1 Dana Gloss (Germany)                      12.040
2 Christin Muche (Germany)      
3 Zhang Lei (China)   

1/4 Finals

Heat 1

1 Natallia Tsylinskaya (Belarus   11.581    11.623
2 Dana Gloss (Germany)

Heat 2

1 Shuang Guo (China)              12.282    12.052
2 Jennie Reed (USA)

Heat 3

1 Victoria Pendleton (Great Bri   11.991             11.626
2 Simona Krupeckaite (Lithuania)            11.576

Heat 4

1 Clara Sanchez (France)                    11.628   11.788
2 Lizandra Guerra (Cuba)          11.752

For 5th-8th
 
5 Simona Krupeckaite (Lithuania)             12.170 (59.161 km/h)
6 Dana Gloss (Germany)                       
7 Jennie Reed (USA)                          
8 Lizandra Guerra (Cuba)

Semi-finals

1 Natallia Tsylinskaya (Belarus)              11.445  11.648
2 Clara Sanchez (France)

1 Victoria Pendleton (Great Britain)          12.027  11.882
2 Shuang Guo (China)

Finals

For gold and silver

1 Natallia Tsylinskaya (Belarus)              11.386  11.426
2 Victoria Pendleton (Great Britain)

For bronze

3 Shuang Guo (China)                          11.851  11.643
4 Clara Sanchez (France)