2006 UCI Track Cycling World Championships - CM
France, April 13-16, 2006
Men's keirin
Dutch strong in qualifying rounds
By Mal Sawford in Bordeaux
Keirin action
Photo ©: Mitch Friedman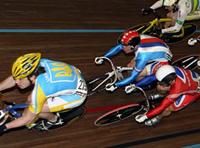 Dutch Defending champion Teun Mulder moved easily though to the second round of the keirin, after 2001 champion Ryan Bayley (Australia) was forced to make his move a long way from home in the opening heat. Mulder cruised past in the final bend, with an equally patient Jamie Staff on his wheel, sending the Olympic champion to the repechage.
Theo Bos matched his teammate's effort by winning the second heat, after backing off early leader Mickael Bourgain a lap and a half from home, before making his move just before the final bend. Travis Smith (Canada) held Bos' wheel, and both passed Bourgain in the home straight to move through.
French 'veteran' Arnaud Tournant was awarded the win in the third heat after crossing the line second three lengths behind Jamaican Ricardo Lynch. Lynch fell foul of the commissaires at the Melbourne Commonwealth Games in the sprint rounds, but was relegated here for diving past the bunch on the duck boards, promoting third placed Jose Escuredo into the second round.
The final heat saw lanky Matthew Crampton (Great Britain) lead out strongly once the derny swung off. He wasn't able to hold off Rene Wolff (Germany) in the final bend, but had done enough to claim second and move through.
Roberto Chiappa won the first of four repechage rounds, by keeping Bayley on his hip for the last lap after young Aussie Shane Perkins had set the early pace. Bourgain took the second heat after flying past Shane Kelly (Australia) at the bell. In the third heat, Cedric Stoller (Switzerland) thought the sprinters lane had opened nicely a lap from home and dived underneath to take the win, and unlike Lynch, this time the commissaires agreed. Lukasz Kwiatkowski (Poland) took the final heat by a comfortable margin, opening a two length lead when he hit out in the back straight, and pulled away to the line.
Results
Round 1

Heat 1
 
1 Teun Mulder (Netherlands)            10.764
2 Ross Edgar (Great Britain)                 
3 Ryan Bayley (Australia)                    
4 Jose Alberto Sochon Gudiel (Guatemala)     
5 Andriy Vynokurov (Ukraine)                 
6 Damian Zielinski (Poland)                  
7 Ivan Vrba (Czech Republic)                 
 
Heat 2
 
1 Theo Bos (Netherlands)               10.751
2 Travis Smith (Canada)                      
3 Mickaël Bourgain (France)                  
4 Cédric Stoller (Switzerland)               
5 Shane John Kelly (Australia)               
6 Alvaro Alonso Rubio (Spain)                
7 Michael Seidenbecher (Germany)             
 
Heat 3
 
1 Arnaud Tournant (France)             11.011
2 José Antonio Escuredo Raimondez (Spain)    
3 Kazunari Watanabe (Japan)                  
4 Adam Ptacnik (Czech Republic)              
5 Shane Perkins (Australia)                  
6 Maximilian Levy (Germany)                  
REL Ricardo Lynch (Jamaica)                  
 
Heat 4
 
1 René Wolff (Germany)                 11.092
2 Matt Crampton (Great Britain)              
3 Lukasz Kwiatkowski (Poland)                
4 Vladimir Kiriltsev (Russia)                
5 Mario Contreras (Mexico)                   
6 Kasper Jensen (Denmark)                    
7 Josiah Ng On Lam (Malaysia)                
8 Roberto Chiappa (Italy)                    

Round 1 repechage

Heat 1
 
1 Roberto Chiappa (Italy)              10.555
2 Ryan Bayley (Australia)                    
3 Ivan Vrba (Czech Republic)                 
4 Vladimir Kiriltsev (Russia)                
5 Alvaro Alonso Rubio (Spain)                
6 Shane Perkins (Australia)                  
 
Heat 2
 
1 Mickaël Bourgain (France)            10.511
2 Shane John Kelly (Australia)               
3 Adam Ptacnik (Czech Republic)              
4 Damian Zielinski (Poland)                  
5 Josiah Ng On Lam (Malaysia)                
 
Heat 3
 
1 Cédric Stoller (Switzerland)         10.709
2 Ricardo Lynch (Jamaica)                    
3 Kazunari Watanabe (Japan)                  
4 Andriy Vynokurov (Ukraine)                 
5 Kasper Jensen (Denmark)                    
 
Heat 4
 
1 Lukasz Kwiatkowski (Poland)          10.607
2 Michael Seidenbecher (Germany)           
3 Mario Contreras (Mexico)                 
4 Jose Alberto Sochon Gudiel (Guatemala)    
5 Maximilian Levy (Germany) 

Round 2

Heat 1
 
1 Teun Mulder (Netherlands)            10.752
2 Lukasz Kwiatkowski (Poland)                
3 José Antonio Escuredo Raimondez (Spain)    
4 René Wolff (Germany)                       
5 Travis Smith (Canada)                      
6 Roberto Chiappa (Italy)                    
 
Heat 2
 
1 Theo Bos (Netherlands)               11.105
2 Mickaël Bourgain (France)                  
3 Arnaud Tournant (France)                   
4 Ross Edgar (Great Britain)                 
5 Matt Crampton (Great Britain)              
6 Cédric Stoller (Switzerland)   

Finals

For 1st-6th
 
1 Theo Bos (Netherlands)                     
2 José Antonio Escuredo Raimondez (Spain)    
3 Arnaud Tournant (France)                   
4 Mickaël Bourgain (France)                  
5 Teun Mulder (Netherlands)                  
REL Lukasz Kwiatkowski (Poland)             
 
For 7th-12th
 
7 Roberto Chiappa (Italy)                    
8 Cédric Stoller (Switzerland)               
9 Ross Edgar (Great Britain)                 
10 Matt Crampton (Great Britain)             
11 René Wolff (Germany)                      
12 Travis Smith (Canada)