2006 UCI Track Cycling World Championships - CM
France, April 13-16, 2006
Women's individual pursuit
Hammer gets it in nail-biting finish
By Mal Sawford in Bordeaux
World champ Sarah Hammer
Photo ©: Mitch Friedman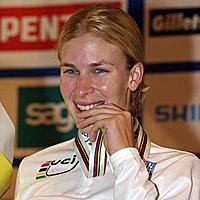 The gold medal final between Sarah Hammer and Olga Slyusareva (Russia) was an exciting affair. Hammer started quickly, and was over a second clear after the first kilometre, but the vastly experienced Russian smoothly began to reel in the deficit after the half way mark. With three laps to go, Slyusareva was within half a second, and only a fraction of a second down at the bell. With the crowd roaring as the result looked like coming down to the wire, Hammer found that little bit extra and kicked away to take the win in 3.37.227. "I didn't come here to lose by a tenth of a second," said Hammer after the finish. "I could tell by the cheers of the crowd she was coming back. I gave everything and more. I still can't believe I am wearing this! [the gold medal]."
Although the fastest qualifier, Hammer had said after her impressive qualifying race that a win probably wouldn't come so soon. "I knew from the world cup times; when the times I did were faster than last years' worlds I knew it was possible, but I didn't want to put too much pressure on myself. That's how it's been all year. I know what I can achieve, and I don't put levels on myself. And neither does my boyfriend or my family and I think that's a big part of my success. I dream, but I dream of what I know I can achieve, not what I think is fantasy."
Hammer had tasted success at junior level, but walked away from the sport in 2002, burnt out after 'racing my bike since I was nine". But a few years in the work force, including early starts in a Bagel shop led her to realise that cycling wasn't so tough after all and she returned to racing in 2005. "I'm blown away," Hammer said after winning. "It's not so hard going to training after I know what it's like to go to a job at 5am that you hate."
Hammer's win could be a big boost for US cycling, according to Colby Pearce, US track endurance coach. "I don't even know the last time the US won a gold medal! I hope this is the start of a new chapter for track cycling in the US, and it'll be in her locker for a long time." Hammer agreed, saying, "Hopefully, this is a kind of a step up for American cycling. Every country needs that - just a bit of a jump start."
Pearce believes the new world champion will be harder to beat in the years to come, and can see room for improvement in her technique. "Sarah's always been a rider who's just been about raw power. Different riders come from different places and I think she comes from a place of a lot of natural strength, so we'll definitely be looking to hone her into a more complete package as a rider. Fortunately we've got a lot of raw power to work with!"
USA's Sarah Hammer
Photo ©: Mitch Friedman
After a disappointing qualifying ride, defending champion Katie Mactier showed she is made of tough stuff with a fast and evenly-paced race to claim the bronze medal in her match against Karen Thurig. Mactier's time would have been good enough for gold had she found that extra fraction of a second in the morning, but the Australian baulked at suggestions that she had made a good recovery since her opening ride. "I don't know if you recover from having missed out on the gold/silver ride off; it's left a big dent, because for twelve months I'm going to have to remember it - I'm no longer the world champion any more. But having said that, it's only made me hungrier to come back next year and try to dominate the race. I was happy with my time in the final - disappointing on one hand that it possibly could have won me the title, but having said that it was probably more of a confidence ride. This morning didn't go as planned, and it's just one of those things," she said.
"I don't know if it's just a combination of having such a massive race only three weeks ago in Melbourne. I wouldn't give it away for the world, but think I kind of came here just a bit emotionally flat. I always give it my best, and unfortunately it wasn't quite there this year," she said, before adding, "I was devastated after that first ride. Let's look at the times; there was like a tenth of a second in it - that's gutting. But you've got to be a professional athlete and I really firmly believe if there was ever a year I was going to make a balls up, it was going to be this year. I don't want it to happen in 2008 when it really is going to count."
Hammer fastest; Mactier fails to qualify
By Mal Sawford in Bordeaux
Sarah Hammer (USA)
Photo ©: Mike Gladu

In something of an upset, defending World Champion Katie Mactier will not feature in tonight's gold medal ride off for the women's individual pursuit. On a cool ten degree morning, Mactier started in the final heat, with the time to beat set by the USA's Sarah Hammer at 3.37.194.
Mactier produced her usual typical fast start, blitzing the opening kilometre in 1.12.657 – over a second quicker than the previous best time set by her teammate Kate Bates. The Australian was still in front at the second kilometre, but faded noticeably over the final laps to finish a disappointing third in 3.37.520, just over a tenth of a second behind Olga Slioussareva (Russia). Joining Mactier in the bronze medal ride off will be Karin Thürig (Switzerland), who qualified two seconds slower.
For the young American at her first world championships, tonight's final offers a chance to win the first track gold for the US women since Rebecca Twigg in 1995. Hammer says she feels no pressure to end the drought, however, "not this year, maybe in the future, like I said, I'm only 22. When we set out the goals at the beginning of the year, me and my boyfriend, my goal was just to get in the medal rides. Fourth place, I would have been satisfied. Although, doing my times at the World Cups, I had a little taste of it, but I never thought I'd have to think about it. But now, I guess I have to think about it!"
Hammer expects to ride much faster in the final; provided the temperature rises. "Yesterday in training, it felt like a different track. Seven degrees is what makes the difference. I definitely didn't feel fast. The track is not fast now, and when I saw my time I didn't think it would be anything spectacular."
Aussie Katherine Bates
Photo ©: Mitch Friedman

It wasn't a great start by the Aussie women. Mactier wouldn't speak to the media after her ride, while Bates, who had finished second to her teammate at the '05 World's and the Commonwealth Games also faded badly and finished in eleventh place. Bates had no explanation for her performance, saying, "I can give you a million excuses, but I was just bad, really bad – not a little bit bad. It's disappointing, but I just didn't have anything today and I don't know why. I'll go back to my room and bang my head against a wall for a while, but I've got a couple more races [at the championships] and a lot more years, that's the nature of the sport. You have to take the lows with the highs and you learn a lot more about getting what you want and where you're at and from these moments.
"I've got the flu from hell, it's cold in here and we're coming off the Commonwealth Games. I sort of have to laugh, that's how bad I was. I don't think it was any one of those things. I just had a shocker!"
Bates doesn't think her rivals in the points or scratch races should read too much into today's times. "If I'd only been a couple of seconds off I'd be more worried," she said. "I always say that when I'm mediocre I get worried. I'm not super consistent: I have really good days or I have really bad days. So I'm not confident I have bad form! After the Commonwealth Games I certainly had pretty high expectations of myself [in the pursuit]. I don't think they were unrealistic, it just didn't happen. So it's back to the drawing board, we'll come back a year later and see if I can get it all together."
In contrast, Thürig was very happy with her ride. "For me it was my goal, just the small final. I didn't do so much, just three weeks of specific training because for me this year is also a year which my main goal is the Ironman. But I just wanted to participate here, it's a great experience for Beijing, if you can race against the girls it's very important; after, you know where you stand."
Thürig was shocked to discover she would not be riding against Slioussareva in her final, and was comparing her splits against the Russian's when Cyclingnews told her her opponent would be Mactier. "Oh really? Oh, oh, really? I didn't know that, OK – against the world champion! I will just do my race. I have to do my race, and really try to fight the last k, because that's the hardest."
Photography
For a thumbnail gallery of these images, click here
Images by Mitch Friedman/www.mitchophoto.com
Results
Qualification

1 Sarah Hammer (USA)                      3.37.194
2 Olga Slyusareva (Russia)                3.37.398
3 Katie Mactier (Australia)               3.37.520
4 Karin Thürig (Switzerland)              3.39.521
5 Wendy Houvenaghel (Great Britain)       3.39.834
6 Emma Davies (Great Britain)             3.41.102
7 Maria Luisa Calle Williams (Colombia)   3.41.442
8 Verena Joos (Germany)                   3.41.760
9 Alison Shanks (New Zealand)             3.44.820
10 Larissa Kleinmann (Germany)            3.45.155
11 Katherine Bates (Australia)            3.45.217
12 Elizaveta Bochkaryova (Ukraine)        3.46.105
13 Kristin Armstrong (USA)                3.46.202
14 Lisa Gatto (Italy)                     3.48.489
15 Gema Pascual Torrecilla (Spain)        3.49.266
16 Jarmila Machacova (Czech Republic)     3.49.379
17 Li Wang (China)                        3.49.940
18 Adrie Visser (Netherlands)             3.50.645
19 Sara Peeters (Belgium)                 3.51.004
20 Leire Olaberria Dorronsoro (Spain)     3.51.488
21 Li Meifang (China)                     3.51.716
22 Yulia Aroustamova (Russia)             3.52.687
23 Tatsiana Sharakova (Belarus)           3.55.897
24 Marina Jaunatre (France)               3.56.621

Finals
 
For gold and silver
 
1 Sarah Hammer (USA)                      3.37.227
2 Olga Slyusareva (Russia)                3.37.544
 
For bronze
 
3 Katie Mactier (Australia)               3.36.123
4 Karin Thürig (Switzerland)              3.42.439