Tech from the 2006 world track championships, April 31, 2006
Look expands partnership with Chinese fed
- like selling coal to Newcastle?
Look's 496
Photo ©: Look

In team France set-up
Photo ©: Mal Sawford

Non-adjustable stem
Photo ©: Mal Sawford

In the last several years the epicenter of world bike manufacturing has moved from Taiwan, which produced the vast bulk of the bikes that fuelled the early-90s mountain bike boom, to mainland China. China has shed its image as the country where millions of heavy, crude Flying Pigeon bikes churn out of bike factories and on to the streets and become the place where your next carbon fiber frame might well be built.
With the increasing sophistication of Chinese bike making, it's no surprise that French frame builder Look is rather pleased to have extended its cooperation with the Chinese bike federation to include road and triathlon bikes.
Look already supplies track frames to the Chinese federation, but as China gears up to host the 2008 Olympic Games in Beijing, the deal has been extended to 2010, Look announced shortly before the world championships in Bordeaux.
And as Look is always very proud to point out, its high-end track frames come from its HQ in Nevers, France.
Look has also announced that it has opened a 200 sq metre store in the heart of Beijing, at the Workers Stadium, and recently sponsored the first event of the China-Look Cup, a stage race of which the final took place in Beijing in the presence of thousands of spectators.
So far, Look's partnership with China on the track has yielded an Olympic silver medal, won by Jonghua Jiang in the women's 500m time trial event at Athens. In Bordeaux the China/Look team added to the tally with two bronze medals, both won by Shuang Guo in the women's sprint and keirin.
Look's track crown jewel
Look also works with the US cycling federation, and many other countries, including its native France, of course, as well as Japan, Canada, Poland, Russia, and some individual riders like Australia's Commonwealth games kilo champion and 2006 world's kilo runner-up Ben Kersten. The bike they all use is the 496 Athens model, which first appeared in Sydney just after the track world cup in 2004.
The 496 carried athletes to nine medals at the Athens Olympics, an improvement on the seven won by Look-supported riders in Sydney in 2000, and including a remarkable sweep of the team sprint podium, and Look says it will continue "until 2008 when Look will unveil the new bike for the Beijing Games". Look's development cycle for its track frames is locked to the Olympics, the one event where track cycling steps into the world spotlight for a few days.
The reason for this is simple, according to Jean-Marc Hillairet, manager of Look's research and development department, "As far as Look is concerned, the track has always been a company showcase," he said.
The lessons learned in developing track bikes spin off into the company's other bikes. "The development of a bike such as this one is not just for itself, its specifications are applicable in other fields of competition. This is a permanent research and development laboratory," he said.
Continual improvement in track frames is not easy, though. "Our first difficulty is above all UCI regulations," said Hillairet. "One needs to adhere to a certain number of technical parameters which have to be respected so that the frame really consists of two triangles. Our second constraint was to reduce weight whilst retaining the intrinsic qualities of the previous bike with which we won seven medals at Sydney. The major factors being to retain rigidity and responsiveness whilst also trying to reduce CX (air penetration coefficient)."
Hillairet drew a parallel between the development of Look's track bikes and that of a Formula One car. And for the 496, Look in fact worked with Xavier Gergaud and Alexis Lapouille, aerodynamic engineers for Aero Concept Engineering Company at Magny-Cours.
"Together, we have succeeded in obtaining the best possible compromise: weight, rigidity, aerodynamics," said Hillairet. "Thanks to the computational wind tunnel process we have also succeeded in gaining time in the development of this new bike. Compared with previous years, the behaviour of this frame was immediately appreciated by the athletes. No modifications were necessary. Perfect work which every engineer dreams about."
Gergaud and Lapouille said that the issues in designing an F! car and a top-level track bike were "the same. With Formula 1 or any other type of racing car, the purpose is to gain lap time. With F1 or a track racer, the purpose is to go as fast as possible in a straight line and on the bends. In the two cases, we work using the same composite material."
The two F1 guys were not just hired guns brought in to crunch finite element numbers and fly the wind tunnel, though. For Gergaud and Lapouille working with Look was, "really exciting… We are, ourselves, passionate cyclists. When the opportunity arises to combine an image product with pleasure, and the bike is a high technology example, it is very exciting. Today, we are working in many other fields, still with automobiles, but we really hope to continue our cooperation with Look."
More information: www.lookcycle.com
Joan Llaneras' bike
Photo ©: Kuips

Fork included
Photo ©: Kuips

Tuck me in
Photo ©: Kuips

The head tube
Photo ©: Kuips
Kuips gets on the track
While high-profile track riders were racking up medals in Bordeaux in their usual manner on their Look, Pinarello and BT machines (see previous Tech report from the 2006 Track World's), a new player in track bikes slipped in and landed itself its first gold medal. Spain's Joan Llaneras won the men's Madison, along with Isaac Galvez, aboard a new Kuips track bike.
Kuips hails from the Basque Country region of northern Spain and has added bikes to its line-up of components and Spiuk brand clothing this year, with a range of road and cyclo-cross bikes.
Llaneras' track machine is a new addition for the company. It's made from Kuips Alulite Custom 7005 aluminium tubing, with triple-butted, highly shaped tubes, and uses Kuips' Aero carbon fiber fork.
Llaneras and Galvez
Photo ©: AFP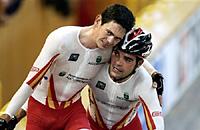 According to Kuips, a size S frame, fork and headset weighs 1348g. The Kuips track frame is available in five sizes from S to XXL.
US importer DPM Sports plans to offer the Kuips track frame in two versions, either as a bare frame "to be fully customized by all the real track junkies", as DPM's Ed Uribe puts it, or as a fully built-up bike with a high-quality track spec.
More information: www.dpmsports.com