2005 UCI Track Cycling World Championships - CM
Los Angeles, CA, USA, March 24-27, 2005
Thunder from Down Under - Australia and New Zealand revved up for LA
Meares kicks off for Australia in LA
Anna Meares
Photo ©: epicimages.us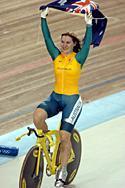 Olympic and World Champion and world record holder, Anna Meares (21), will kick off the Australian 'Cyclones' campaign at the 2005 Track Cycling World Championships in Los Angeles. Meares will line up in defence of her 500m time trial crown at the ADT Event Centre Velodrome on Thursday night (local time), and as the reigning World Champion will be the last rider to post a time.
"I always go into a race trying to win it but I'm not putting too much expectation on myself," said Meares. "The time trial is basically the time trial and you really can't do much planning other than to ride flat out."
Meares said she's been pleased with the reaction of her competitors to her status as Olympic Champion. "Since Athens it's a really nice feeling to have the respect of my rivals," said Meares. "Girls who haven't seen me since Athens have come up to me to congratulate me."
Having achieved her childhood dream of Olympic gold and a sub 34 second (33.952 seconds) time for the 500 metres, Meares has this year opted to concentrate on improving her sprint and keirin racing skills. She claimed bronze in the sprint in Athens but the keirin isn't an Olympic event. "I don't know if it's harder to stay at the top or get to the top," said Meares who was a marked rider in the recent World Cup Series. "It's a different feeling now as I'm the target instead of the underdog and it means I have to race differently."
This is especially true in the sprint where Meares has traditionally liked to race from the front. "No-one wants to let me go from the front anymore," laughed Meares who believes her rivals have unwittingly aided her preparation. "It means I've already had some practice riding from the back and I'm developing that skill as well. I'd like to think that if someone draws Anna Meares in the sprint they shake a little in their shoes because any psychological edge (I can gain) in the sprint is good."
Meares and her teammates agree they share a special bond as members of the world's number one ranked team. "We want to keep improving and keep raising the bar so the rest of the world keeps chasing us," she said. "We're all here as individuals but we're part of the team so we all want the team to perform well which in turn will mean the individuals go well."
Team captain Shane Kelly, 33, who is representing Australia at international level for the 27th time since his senior debut in 1991, agrees the number one status can inspire the team. "To stay the number one nation is in the back of your minds as a group but it's not something we sit down and talk about," said Kelly. "But when you walk into the track and are seen as the number one nation it's a great feeling."
But Kelly acknowledges the top ranking also carries added pressure. "Everyone wants to beat the number one team," said Kelly who after 14 years as a top international cyclist shows no sign of slowing down. "There are a lot of new guys in the Australian team this year which keeps it exciting for me," said Kelly who claimed Olympic bronze in Athens in the keirin. "I get on the track because I love racing."
Kelly will contest the keirin on day two of competition having opted for a year's break from kilometre time trial competition, the event in which he has claimed three world titles, two Commonwealth Games titles and Olympic silver and bronze medals.
Kiwis 'fizzing' for Track World's
The New Zealand team for the Track Cycling World Championships arrived in Los Angeles last weekend, most from the team base in Mexico where they were training at high altitude, while others came from New Zealand where Wellington's fog delayed the departure of a couple of members.
Michael Flynn, BikeNZ's High Performance Director, said the team is "fizzing" and is confident that the entire squad is capable of producing top individual and team performances during the World Championships and expects a number of top six finishes.
Reigning World Champion Greg Henderson is one of the Kiwis to watch as he looks to defend his World Championship title in the Men's 15km Scratch on Saturday night local time.