2005 CQU Rockhampton Cup on Wheels
Queensland, Australia, January 14-15, 2005
Australia's richest two-day track carnival north of Sydney
Ryan Bayley - heads-down full-tilt boogie at the Athens Olympics
Photo ©: Rob Jones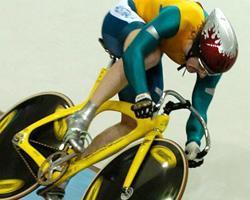 Now in its 45th year, the Rockhampton Cup on Wheels has become one of Australia's leading regional track racing carnivals and for 2005, it should lift its profile even higher with the confirmation that the same cyclists who set the Athens Olympic alight will be racing.
It has been confirmed that dual 2004 Olympic Games gold medallist, Ryan Bayley, will ride the 2005 'Rocky Cup', sponsored by the Central Queensland University.
In addition to Bayley, Athens Olympian and world 2002 sprint champion, Sean "big man" Eadie, will also be racing at the Kenrick Tucker Velodrome over the weekend of January 14-15, 2005.
In addition, the crowd is expected to provide a very warm welcome back to the track for two of Rockhampton's most successful sports stars - Anna and Kerrie Meares.
Anna Meares is the regining world and Olympic champion - and world record holder - in the 500 metre time trial, while her older sister, Kerrie, is making a strong return to the track after injury forced her off the bike for most of 2004.
Kerrie recently 'cleaned up' at the Oceania Track cycling Championships in Melbourne and is enthusiastic about her racing career now her back injury has healed.
Also set to compete will be some of the world's most talented young riders, including Miles Olman, who secured two gold medals at this year's junior world track cycling championships in Los Angeles, as well as Rebecca Ellis, Kate Bates and Sean Hopkins.
These stars of the future are only a selection of the talented riders who have confirmed their attendance in 'Rocky'.
Anna Meares (Aus) on her BT bike, winning gold in Athens
Photo ©: epicimages.us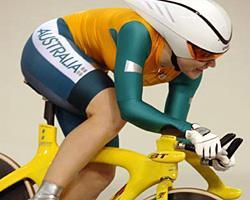 Australia's richest women's track race
The Meares sisters are returning to their stomping ground in a bid to secure victory in what is claimed to be the richest women's track race in Australia - the Herron Todd White Capricornia Cup, offering AUS$3750 in total prizemoney.
Anna and Kerrie have won this event a total of five times (Anna once, Kerrie four times) and Kerrie is still the reigning champion. Best of friends off the track, the sibling rivalry transforms their races into what are becoming the best women's sprint racing in the world.
Overall, there is some AUS$20,000 in prize money on offer at the Central Queensland University Rockhampton Cup on Wheels, which is set to be run two huge days - Friday, January 14 and Saturday, January 15.
Prior to the running of the 'Rocky Cup', the Queensland State Track cycling Championships will be held from January 10.