2005 Australian Senior Track Championships - CN
Adelaide, South Australia, February 7-12, 2005
Main Page Results Previous Day Next Day
Day 5 - February 11: Men team sprint; Men scratch; U19 men keirin; Women sprint; Women points
Anna Meares wins battle of the 'speed sisters' and Bates celebrates triple triumph
A healthy dose of sisterly rivalry
Photo ©: Rachel Burke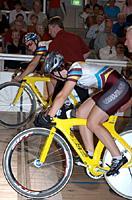 Olympic Games sprint bronze medallist Anna Meares, 21, overcame her sister and Commonwealth Games sprint champion, Kerrie, 22, in the battle of the 'speed sisters' on day five of the 2005 Australian Track Cycling Championships at Adelaide's Super-Drome.
Anna, who was also the silver medallist in the sprint at last year's World Championships and the Olympic and World Champion in 2004 in the 500m time trial, made the first of the best of three races look easy as she led out with power to which Kerrie had no answer. But in the second heat Kerrie, who is coming back from a back injury which ended her 2004 Olympic dream, took the initiative and the lead pushing all the way but failing to hold off Anna's sprint kick in the final straight.
"I was really happy with how I rode those races, normally I've been coming from the back and I thought if I took the front of Kerrie in the first one she might be a bit in two minds as to what I was doing," explained Anna. "She made a slight error in the first race and just didn't have the legs in the second one."
The last time the sisters met at a National Championships was in 2000 in the gold medal final for the U19 sprint crown. That year Anna also triumphed but only after her sister was relegated for dangerous riding which saw both girls hit the deck in a very physical third and deciding race.
"I claim she knocked me off (the bike) and she claims I knocked her off so we agree to disagree...it doesn't often get spoken about actually," said Anna with a grin. "I was very nervous going up against Kerrie because she's a marvellous tactician and when she's got the legs, she's got the legs.
"It's difficult for anyone to come back from as serious an injury as she had and she's come back extremely well and extremely early," said Anna. "She needs to get back out there on the world racing scene and pick up some confidence like she had in the Commonwealth Games (Manchester 2002).
"Ooh I'm certainly looking forward to Melbourne (2006 Commonwealth Games)."
If Anna has her way she'll line up in Melbourne as the reigning sprint World Champion. "What I achieved last year was what I'd set as my goal to achieve over the next four to eight years so now I've had to sit back and think about what I want," she said. "I really want to wear the rainbow jersey (of World Champion) in the sprint and the keirin."
Canadian powerhouse Lori-Anne Muenzer
Photo ©: Rachel Burke

Reigning Olympic sprint champion, Canada's Lori-Anne Muenzer, 38, claimed the bronze medal ahead of 23 year old New Zealander Liz Williams.
"It was great to be back here where I won my first World Cup medal," said Muenzer who claimed silver in Adelaide in 1997 and is here to prepare for next weekend's Sydney World Cup round and the upcoming March World Championships in Los Angeles. "Where else can you go to get this level of competition?"
In the women's 25km points race Sydney's Kate Bates, 22, started as favourite and gave no-one a reason to doubt the outcome as she dominated the early sprints to amass an unbeatable lead heading into the final two sprints. She finished with 33 points while Tasmanian Belinda Goss, 20, rallied hard in the final laps and won the final sprint which gave her a tally of 29 points and moved her ahead of Sydney's Rochelle Gilmore, 23, who took bronze with 25 points.
The gold medal was Bates' third of the Championships and comes a month after she scored the hat-trick at the Manchester World Cup in the same events, scratch race, individual pursuit and points race.
"Bloody oath it's what I wanted," said an exhausted Bates after the 100 lap race. "But saying it is one thing and doing it is another. I'm knackered now, they made me work for that one - it's satisfying," she said. "I wanted to go out and take it hard from the start and sort of say to them 'if you want to beat me you've got to take it off me.' I think maybe I burned the candle a bit too much early because I really suffered at the end."
Christopher Pascoe (NSW)
Photo ©: Rachel Burke

The women put on an exciting show for the appreciative audience but the men's 15km scratch race had everyone on their feet. The frenetic pace of the race meant only eight of the 24 starters were able to go the distance as attack after attack put the pressure on and provided a blur of speed and excitement. In the end it was New South Wales rider Christopher Pascoe, 19, who lit up the track on the bell lap sprinting home for gold ahead of team mate Ben Kersten, 23, and Tasmanian Darren Young, 28. Last week Pascoe along with Christopher Sutton, 20, won the Australian Madison crown and Pascoe has now added the scratch race to his list. Sutton, who didn't contest tonight's event, is one of the favourites for tomorrow's points race, the final event of the six day carnival.
Meantime Kersten, who's versatility this week has so far seen him claim gold in both the kilometre and one lap time trials, silver in the teams pursuit and scratch race and bronze in the teams sprint, has another chance of a medal in tomorrow night's keirin in which he is the Oceania Champion. But with Olympic bronze medallist Shane Kelly, 32, and 2002 World Champion Jobie Dajka, 23, also lining up the result is anyone's guess.
Kelly also picked up gold tonight as the anchor man for the Victorian teams sprint trio. Kelly, Jason Niblett and Joel Leonard posted a gold medal time of 46.738 to defeat Queensland's Adam Simonelli, Grant Irwin and Daniel Rynne who rode 47.803. New South Wales took the bronze in a time of 48.676.
Tonight's medallists.
Photo ©: Rachel Burke

For the U19 riders it was keirin night and Queensland's night as Hayley Wright claimed the women's crown and team mate Jeremy Hogg the men's. It was Wright's second gold to go with her 500m time trial win on day one. Victorians Tess Downing and Peta Mullens rode into silver and bronze while Canberra's Daniel Ellis was second and Jackson-Leigh Rathbone (NSW) third in the U19 men's keirin.
Photography
For a thumbnail gallery of these images, click here
Images by Rachel Burke/www.maximumattack.biz
Results
LC3 & CP4 Men Team Sprint Final 

DSQ Glen Jarvis (Vic) 
    Noel Sens (Vic) 
    Martin Vcelka (Vic)

*Disqualified for not changing over
in the prescribed distance

W19  Keirin Round 1
 
Heat 1
 
1 Chloe Macpherson (Qld)
2 Skye-Lee Armstrong (NSW)
3 Peta Mullens (Vic)
4 Natalie Macfarlan (SA)
5 Renae Horsley (WA)
 
Heat 2
 
1 Bianca Rogers (SA)
2 Jessica Tanner (Vic)
3 Jennifer Loutit (ACT)
3 Jessica Hume (NSW)
5 Kylie Hansen (WA)
 
Heat 3
 
1 Tess Downing (Vic)
2 Hayley Wright (Qld)
3 Amanda Spratt (NSW)
4 Brigette Broad (NZl)
5 Kira Mason (SA)
 
W19  Keirin Round 2
 
1 Skye-Lee Armstrong (NSW)             13.197
2 Hayley Wright (Qld)
3 Peta Mullens (Vid)
 Jennifer Loutit (ACT)
 Jessica Hume (NSW)
 Amanda Spratt (NSW)
 Jessica Tanner (Vic)
 
4 - 7 not awarded due to photo finish malfunction
 
W19  Keirin Final
 
1 Hayley Wright (Qld)                  12.975
2 Tess Downing (Vic)
3 Peta Mullens (Vic)
4 Bianca Rogers (SA)
5 Skye-Lee Armstrong (NSW)
6 Chloe Macpherson (Qld)
 
Women  Sprint Final
 
Gold & Silver Medals
 
1 Anna Meares (Qld)                    12.614    12.556
2 Kerrie Meares (Qld)
 
Bronze Medal
 
3 Lori-Ann Muenzer (CAN)               12.239    12.605
4 Liz Williams (NZl)
 
M19  Keirin Round 1
 
Heat 1
 
1 Daniel Ellis (ACT)                   12.033
2 Joel Davis (Qld)
3 Patrick Bolan (NSW)
4 Duane Johansen (WA)
5 Sean Pontelandolfo (Vic)
 
Heat 2
 
1 Alexander Smyth (Vic)                11.825
2 Benjamin Simonelli (Qld)
3 Scott Sunderland (WA)
4 Tyler Mclachlan (NSW)
5 Gareth Coffee (SA)
6 Benjamin Young (SA)
 
Heat 3
 
1 Jackson-Leigh Rathbone (NSW)         11.660
2 Jeremy Hogg (Qld)
3 Oliver Saare (WA)
4 William Robinson (Tas)
5 Ryan Worn (Vic)
6 Daniel Robb (SA)
 
M19  Keirin Final
 
1 Jeremy Hogg (Qld)                    11.679
2 Daniel Ellis (ACT)
3 Jackson-Leigh Rathbone (NSW)
4 Scott Sunderland (WA)
5 Benjamin Simonelli (Qld)
6 Alexander Smyth (Vic)
 
Men  Team Sprint Qualification
 
1 Jason Niblett (Vic)                  47.039
 Shane Kelly (Vic)
 Joel Leonard (Vic)
 
2 Adam Simonelli (Qld)                 48.108
 Grant Irwin (Qld)
 Daniel Rynne (Qld)
 
3 Sean Dwight (NSW)                    49.759
 Ben Kersten (NSW)
 Stephen Fitzpatrick (NSW)
 
4 Mario Mazza (SA)                     50.214
 Luke Horjus (SA)
 David Miller (SA)
 
5 Corey Heath (NT)                     53.451
 Ty Domin (NT)
 Darren Hicks (NT)
 
Men  Team Sprint Final
 
Gold & Silver Medals
 
1 Jason Niblett (Vic)                  46.738
 Shane Kelly
 Joel Leonard
 
2 Adam Simonelli (Qld)                 47.803
 Grant Irwin
 Daniel Rynne
 
Bronze Medal
 
3 Sean Dwight (NSW)                    48.676
 Ben Kersten
 Stephen Fitzpatrick
 
4 Mario Mazza (SA)                     49.597
 Luke Horjus
 David Miller
 
Women 25km Points Race Final
 
1 Katherine Bates (NSW)                    33   33.18
2 Belinda Goss (Tas)                       29
3 Rochelle Gilmore (NSW)                   25
4 Jessie Maclean (ACT)                      9
5 Alexis Rhodes (SA)                        9
6 Anna Jones-Perrin (Qld)                   3
7 Jenny Macpherson (Vic)                    1
8 Kerry Cohen (WA)                          1
9 Anouska Edwards (Qld)                     0
10 Toireasa Gallagher (NSW)                 0
11 Leanne Manderson (WA)                    0
DNF Alexandra Bright (Qld)
DNF Kellie Louise Hards (SA)
DNF Elizabeth Wishart (SA)
DNF Sue Ann Woodwiss (SA)
DNF Jessica Berry (Vic)
DNF Apryl Eppinger (Vic)
DNF Tiffany Godfrey (Vic)
DNF Claire Mclean (WA)
 
Men 15km Scratch Race Final
 
1 Christopher Pascoe (NSW)              18.07
2 Ben Kersten (NSW)
3 Darren Young (Tas)
4 Nathan Clarke (Tas)
5 Ben Price (Tas)
6 Ashley Hutchinson (Qld)
7 Bradley Payne (Qld)
8 Richard England (Vic)
DNF Brenden Savage (ACT)
DNF Joel Stewart (ACT)
DNF Nathan Silleto (ACT)
DNF Stephen Fitzpatrick (NSW)
DNF Ty Domin (NT)
DNF Grant Irwin (Qld)
DNF Mario Mazza (SA)
DNF Mark Bergamin (SA)
DNF Sean Hennessy (SA)
DNF Joel Leonard (Vic)
DNF Todd Wilksch (Vic)
DNF Carlo Barendilla (WA)
DNF Keith Evans (WA)
DNF Daniel Vogels (WA)
DNF Tomoharu Yara (Jpn)
DNF Yasutaka Aoki (Jpn)