2005 Australian Senior Track Championships - CN
Adelaide, South Australia, February 7-12, 2005
Main Page Results Previous Day Next Day
Day 4 - February 10: Men sprint; Men TP; U19 men points; U19 women sprint; U19 women scratch; AWD tandem sprint
Dajka back on top; Tasmanians make history
Back on track - Jobie Dajka (SA)
Photo ©: Rachel Burke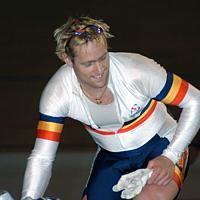 South Australian Jobie Dajka gave the home crowd something to cheer about tonight when he took out the men's sprint title at the 2005 Australian Track Cycling Championships in Adelaide. Dajka, the keirin gold medallist and sprint silver medallist at the 2002 World Championships, defeated three time kilometre time trial World Champion, Shane Kelly (VIC) in straight heats in the best of three races to decide the Australian crown.
"I've never felt more pressure in my life," said Dajka. "Not because I was coming back in front of Adelaide but because I was in a final against a 'kilo' guy and I'd get a lot of flack if I lost."
Dajka was the fastest qualifier for the sprint by three tenths of second over Kelly and although the Victorian was the first rider to give Dajka a run for his money the Adelaide speedster proved too strong in the final lunge for the line in both heats. "An Australian title is always good to get, especially after the year I had, but if I look behind too long I'm going to run into things" said Dajka who returned to competition in January after a four month suspension. "I'm probably at 85 percent with final prep to come in Sydney (World Cup Feb 18-20)."
Jobie Dajka (SA) stalking his prey
Photo ©: Rachel Burke

Dajka's form puts him in contention for a medal at the World Championships in Los Angeles where Australia will be missing Olympic champion Ryan Bayley due to injury. "It's just the challenge of final touches and getting to where I was last year and the year before," said Dajka who will race the keirin event here on Saturday. "I can go well in the keirin but in the sprints I know I need a bit of work in the next four or five weeks to get there."
In the 4km men's team pursuit battle for the Southcott Cup Tasmania upstaged their more fancied rivals New South Wales who had won the event for four of the past five years. The Tasmanian quartet of Mark Jamieson, who claimed the individual pursuit title on Tuesday night, Matthew Goss, Stephen Rossendell and Nathan Clarke were unstoppable leading from the gun to claim Tasmania's first ever team pursuit crown.
The four caught the New South Wales line up of Olympic and World team pursuit champion, Stephen Wooldridge, Christopher Pascoe, Christopher Sutton and Ben Kersten with one lap to go. Kersten, who is traditionally a shorter distance rider was briefed to give it his all and pull out in the latter stages of the 16 lap race but the plan came unstuck when Sutton's saddle broke forcing him to pull out and leaving the team in disarray. Under the rules the team's time is taken on the third rider across the line and as Kersten had just put in a big two lap effort in preparation for pulling out he was unable to close the gap to rejoin his team mates and was overtaken by Tasmania. Even though NSW had qualified faster (4:13.618) than the Tasmanians (4:14.470) a NSW team official admitted the mishap in the final did not affect the result saying 'they had us on toast'.
Team Tasmania with coach Kevin Tabotta
Photo ©: Rachel Burke

The Tasmanians had an added incentive to make history and that was to provide a fitting farewell to their coach Kevin Tabotta, who next week takes up his role as Cycling Australia High Performance Manager. "I thought maybe we'd won one decades ago but they tell me this is the first time in history," said a jubilant Tabotta. "The boys were pumped and we sat down before the race and I said 'well this is your chance now to make history'. It's really something for them and it's something for me going out," said Tabotta. "I'm really, really happy about this result."
Tabotta was full of praise for his team especially powerhouse performer, Jamieson, the 2002 junior pursuit world champion, who has now well and truly put his name on the list for a future in the senior ranks. "Mark Jamieson is inspirational because four months ago he was lucky to be riding a bike," said Tabotta of the difficulty Jamieson had in making the transition last year from U19 to senior ranks. "His motivation had dropped, his love for the sport had dropped and we've been working really hard to get that back for him.
"A week ago I would have said to you it's touch and go," said Tabotta. "But you're dealing with a racehorse, not a donkey and it showed tonight."
The bronze medal was awarded to Victoria's Richard England, Steven Sansonetti, Sean Finning and David Pell who posted the third fastest time in the qualifying round (4:14.668).
The Mens U19 Points race
Photo ©: Rachel Burke

It was another upset in the U19 team pursuit which has been the traditional battlefield of New South Wales and Victoria in recent years. Victoria made the final with Zakkari Dempster, Mark O'Brien, Mario Giramondo and Gerard Murphy who posted 4:24.837 in qualifying but it was Queensland on the other side of the track in the race for gold. Kyle Bateson, Todd Dawson, Hayden Josefski and Joel Davis had ridden 4:26.245 in the qualifying round but they more than made up for the one and half second deficit to the Victorians when it came to the crunch. Queensland hit the lead early with Victoria fighting back but not enough to reel in the northern juggernaut. Queensland won in 4:21.352 to Victoria's 4:21.727. New South Wales' Tyler McLachlan, Mitchell Pearson, Jackson-Leigh Rathbone and Matthew Pettit were awarded bronze for the third fastest time in qualifying of 4:26.365.
Victoria gained some solace though when Dempster hit back in the U19 men's 25km points race to claim gold with 47 points ahead of West Australian Cameron Meyer (42pts) and Mitchell Pearson (NSW) on 36pts.
The U19 women's sprint gave Queensland more reason to celebrate as Chloe MacPherson claimed gold over Victorian Jessica Tanner winning two of the three races to decide the Championship. Jennifer Loutit of Canberra took the bronze in straight heats against New Zealand's Brigette Broad.
Sydney's Skye-Lee Armstrong powered away from the pack in the second last lap of the U19 women's 7.5km scratch race to score an emphatic win. South Australian Bianca Rogers was second with 2004 junior points race World Champion Amanda Spratt (NSW) third.
Paralympian Janet Shaw (WA) with pilot Kerry Cohen won the multidisability tandem sprint defeating South Australians Felicity Johnson and pilot Vicki Birks in straight heats.
Liz Williams (NZL)
Photo ©: Rachel Burke

Meantime Friday's women's sprint final will be a battle between the Meares sisters after Kerrie upset the 2004 Olympic sprint champion Lori-Anne Muenzer in straight heats in the semi final. Sprint Olympic bronze medallist Anna also had a scare when she misjudged her second heat against New Zealand's Liz Williams and was forced to the third and deciding heat to get through to the final.
The last time the sisters met at a National Championships was in 2000 when Kerrie knocked Anna off her bike in the deciding heat of the gold medal round. Anna was awarded the title after judges ruled Kerrie guilty of dangerous riding.
Photography
For a thumbnail gallery of these images, click here
Images by Rachel Burke/www.maximumattack.biz
Results
Session 8

W19 Sprint Semi Finals
 
Heat 1
 
1 Chloe Macpherson (Qld)               12.822  12.744
2 Jennifer Loutit (ACT)
 
Heat 2
 
1 Jessica Tanner (Vic)                 13.256  13.362
2 Brigette Broad (NZL)
 
W19 Sprint Final
 
Gold & Silver Medals
 
1 Chloe Macpherson (Qld)               12.740          13.351
2 Jessica Tanner (Vic)                         12.894
 
Bronze Medal
 
3 Jennifer Loutit (ACT)                13.442  13.321
4 Brigette Broad (NZL)
 
Women's Sprint Quarter Final
 
Heat 1
 
1 Anna Meares (Qld)                    12.910
2 Rebecca Borgo (NSW)
 
Heat 2
 
1 Lori-Ann Muenzer (Can)               12.512
2 Elizabeth Georgouras (NSW)
 
Heat 3
 
1 Kerrie Meares (Qld)                  12.875
2 Laura Mccaughey (Tas)
 
Heat 4
 
1 Liz Williams (NZL)                   12.295
2 Kristine Bayley (WA)
 
Women Sprint 5th - 8th
 
1 Laura Mccaughey (Tas)                12.365
2 Kristine Bayley (WA)
3 Elizabeth Georgouras (NSW)
4 Rebecca Borgo (NSW)
 
Women Sprint Semi Finals
 
Heat 1
 
1 Anna Meares (Qld)                    12.432          12.708
2 Liz Williams (NZL)                           12.447
 
Heat 2
 
1 Kerrie Meares (Qld)                  12.391  12.790
2 Lori-Ann Muenzer (Can)
 
M19 4000m Team Pursuit Final (Bill Young Trophy)
 
Gold & Silver Medals
 
1 Kyle Bateson (Qld)                  4:21.352
  Todd Dawson (Qld)
  Hayden Josefski (Qld)
  Joel Davis (Qld)
 
2 Zakkari Dempster (Vic)              4:21.727
  Mark O'brien (Vic)
  Mario Giramondo (Vic)
  Gerard Murphy (Vic)
 
3 NSW
 
Men 4000m Team Pursuit Final (Southcott Cup)
 
Gold & Silver Medals
 
1 Nathan Clarke (Tas)                 (3:54.263)
  Stephen Rossendell (Tas)
  Mark Jamieson (Tas)
  Matthew Goss (Tas)
 
2 Ben Kersten (NSW)               Caught with 1 lap to go
  Stephen Wooldridge (NSW)
  Christopher Pascoe (NSW)
  Christopher Sutton (NSW)
 
3 Victoria

*The time was taken with 1 lap to go
 
Men Sprint Semi Finals
 
Heat 1
 
1 Jobie Dajka (SA)                     11.414  11.763
2 Sean Dwight (NSW)
 
Heat 2
 
1 Shane Kelly (Vic)                    11.326  11.562
2 Jason Niblett (Vic)
 
Men Sprint Final
 
Gold & Silver Medals
 
1 Jobie Dajka (SA)                     11.176  11.227
2 Shane Kelly (Vic)
 
Bronze Medal
 
3 Sean Dwight (NSW)                            13.176  11.791
4 Jason Niblett (Vic)                  11.274
 
Women Tandem Sprint Final
 
1 Janet Shaw (WA)                      13.028  12.925
  Kerry Cohen
2 Felicity Johnson (SA)
  Vicki Birks
 
W19 7.5km Scratch Race Final
 
1 Skye-Lee Armstrong (NSW)              9.53
2 Bianca Rogers (SA)
3 Amanda Spratt (NSW)
4 Tess Downing (Vic)
5 Laura Meisel-Dennis (ACT)
6 Jessica Hume (NSW)
7 Grace Sulzberger (Tas)
8 Philippa Martin (WA)
9 Tahlia Clayton (Vic)
10 Kylie Hansen (WA)
11 Brigette Broad (NZL)
12 Jessica Tanner (Vic)
13 Tiffany Cromwell (SA)
14 Kira Mason (SA)
15 Renae Horsley (WA)
 
M19 25km Points Race Final
 
1 Zakkari Dempster (Vic)                 47  30.58
2 Cameron Meyer (WA)                     42
3 Mitchell Pearson (NSW)                 36
4 Fabio Calabria (ACT)                   8
5 Hayden Josefski (Qld)                  7
6 Todd Dawson (Qld)                      7
7 Russell Gill (SA)                      6
8 Adam O'connor (WA)                     5
9 Luke Cridland (NSW)                    5
10 Mario Giramondo (Vic)                 2
11 Duane Johansen (WA)                   1
12 Jack Rassie (Qld)                     1
13 William Robinson (Tas)                0
14 Jarrod Harman (Tas)                   0
15 Gerard Murphy (Vic)                  -20
DNF Tyler Mclachlan (NSW)
DNF Craig Mattingly (SA)
DNF Matt Sanders (SA)
Session 7

W19 Sprint Qualification
 
1 Hayley Wright (Qld)                   12.438 (57.89 km/h)
2 Jennifer Loutit (ACT)                 12.484 (57.67 km/h)
3 Brigette Broad (NZl)                  12.528 (57.47 km/h)
4 Jessica Tanner (Vic)                  12.615 (57.07 km/h)
5 Skye-Lee Armstrong (NSW)              12.693 (56.72 km/h)
6 Chloe Macpherson (Qld)                12.693 (56.72 km/h)
7 Hannah Bush (Vic)                     13.082 (55.04 km/h)
8 Jessica Hume (NSW)                    13.106 (54.94 km/h)
9 Tahlia Clayton (Vic)                  13.669 (52.67 km/h)
10 Natalie Macfarlan (SA)               13.844 (52.01 km/h)
11 Renae Horsley (WA)                   14.464 (49.78 km/h)
 
W19 Sprint Quarter Finals
 
Heat 1
 
1 Jennifer Loutit (ACT)                 13.514
2 Tahlia Clayton (Vic)
 
Heat 2
 
1 Brigette Broad (NZl)                  12.939
2 Jessica Hume (NSW)
 
Heat 3
 
1 Jessica Tanner (Vic)                  14.153
2 Hannah Bush (Vic)
 
Heat 4
 
1 Chloe Macpherson                      12.799
2 Skye-Lee Armstrong
 
W19 Sprint 5th - 8th
 
5 Jessica Hume (NSW)                    13.782
6 Skye-Lee Armstrong (NSW)
7 Tahlia Clayton (Vic)
8 Hannah Bush (Vic)
 
Women Sprint Qualification
 
1 Anna Meares (Qld)                     11.667 (61.71 km/h)
2 Lori-Ann Muenzer (Can)                11.748 (61.29 km/h)
3 Kerrie Meares (Qld)                   11.784 (61.10 km/h)
4 Liz Williams (NZl)                    11.932 (60.34 km/h)
5 Kristine Bayley (WA)                  12.168 (59.17 km/h)
6 Laura Mccaughey (Tas)                 12.227 (58.89 km/h)
7 Elizabeth Georgouras (NSW)            12.275 (58.66 km/h)
8 Rebecca Borgo (NSW)                   12.483 (57.68 km/h)
9 Rikki Johnson (SA)                    13.233 (54.41 km/h)
10 Sue Ann Woodwiss (SA)                13.233 (54.41 km/h)
11 Nicole Holt (Vic)                    13.408 (53.70 km/h)
12 Kellie Louise Hards (SA)             13.991 (51.46 km/h)
13 Deborah Lovely (Qld)                 14.104 (51.05 km/h)
 
Women Sprint Round 1
 
Heat 1
 
1 Anna Meares (Qld)                     (Bye)
 
Heat 2
 
1 Lori-Ann Muenzer (Can)                (Bye)
 
Heat 3
 
1 Kerrie Meares (Qld)                   (Bye)
 
Heat 4
 
1 Liz Williams (NZl)                    12.629
2 Deborah Lovely (Qld)
 
Heat 5
 
1 Kristine Bayley (WA)                  13.144
2 Kellie Louise Hards (SA)
 
Heat 6
 
1 Laura Mccaughey (Tas)                 12.621
2 Nicole Holt (Vic)
 
Heat 7
 
1 Elizabeth Georgouras (NSW)            12.511
2 Sue Ann Woodwiss (SA)
 
Heat 8
 
1 Rebecca Borgo (NSW)                   12.733
2 Rikki Johnson (SA)
 
Open Men 4000m Team Pursuit Qualification
 
1 Stephen Fitzpatrick (NSW)           4:13.618 (56.78 km/h)
 Stephen Wooldridge
 Christopher Pascoe
 Christopher Sutton
 
2 Nathan Clarke (Tas)                 4:14.470 (56.59 km/h)
 Stephen Rossendell
 Mark Jamieson
 Matthew Goss
 
3 Richard England (Vic)               4:14.668 (56.54 km/h)
 Steven Sansonetti
 Sean Finning
 David Pell
 
4 Ashley Hutchinson (Qld)             4:17.829 (55.85 km/h)
 Miles Olman
 Bradley Payne
 Grant Irwin
 
5 Zakkari Dempster (Vic)              4:24.837 (54.37 km/h)
 Mark O'brien
 Mario Giramondo
 Gerard Murphy
 
6 Kyle Bateson (Qld)                  4:26.245 (54.09 km/h)
 Todd Dawson
 Hayden Josefski
 Joel Davis
 
7 Tyler Mclachlan (NSW)               4:26.365 (54.06 km/h)
 Mitchell Pearson
 Jackson-Leigh Rathbone
 Matthew Pettit
 
8 Cameron Meyer (WA)                  4:27.579 (53.82 km/h)
 Adam O'connor
 Duane Johansen
 Jayden Veljacich
 
9 Craig Mattingly (SA)                4:33.136 (52.72 km/h)
 Edward Petney
 Russell Gill
 Matt Sanders
 
Women Tandem Sprint Qualification
 
1 Janet Shaw (WA)                       12.285
 Kerry Cohen
2 Felicity Johnson (SA)                 13.156
 Vicki Birks