2005 Australian Senior Track Championships - CN
Adelaide, South Australia, February 7-12, 2005
Main Page Results Previous Day Next Day
Day 3 - February 9: LC & CP 1 lap TT, U19 men IP; Women team sprint; Women scratch, AWD tandem pursuit
Bates bags another gold as Meares sisters strike in teams sprint
Anna Meares (QLD)
Photo ©: Rachel Burke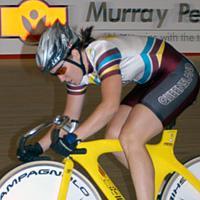 Sydney's Katherine Bates, 22, has claimed her second gold medal of the 2005 Australian Track Cycling Championships with a final burst of speed to get over the line in the 10km scratch race ahead of team mate and defending champion, Rochelle Gilmore. Tasmanian Belinda Goss was third.
"I'm really, really satisfied and to be honest, I got it by the skin of my teeth," said Bates who struck out to chase down Tasmanian Laura McCaughey who had attacked with four laps to go. "With half a lap to go, my legs were screaming at me and I thought 'aw crap, don't lose her (McCaughey) now.
"But all the background work I had gave me the extra heart and the will to win it - that makes a difference."
Bates, who was fourth in the pursuit and sixth in the points race in Athens has enjoyed amazing success so far this season with three gold medals at the Manchester round of the Track World Cup in January and now two gold medals in Adelaide. She is also favourite to claim triple gold this week with the points race yet to come.
Jobie Dajka (SA)
Photo ©: Rachel Burke

In the women's teams sprint event the gold medal was a foregone conclusion. Anna Meares, the reigning 500m time trial Olympic and World Champion blasted out of the gate for the first lap of the two lap event and then swung up to let team-mate and sister, Kerrie, the reigning Commonwealth Games sprint and time trial champion bring it home. The sisters won the gold in a time of 35.109sec. Silver went to the NSW pair of Rebecca Borgo and Liz Georgouras in 36.120 and bronze to ACT duo Jessie Maclean and Jennifer Loutit in 36.847.
"We had a fight at home this morning over who would be the lead out rider," said Anna after the race. "We had to call three coaches (Club, State and National) and in the end Martin Barras (National Coach) made the final decision."
The event is not contested at World Championships but the pair believe it should be admitting 'they're greedy for gold'.
"What's wrong with that?," said Anna.
Scott Sunderland (WA) under siege
Photo ©: Rachel Burke
The men's sprint competition got underway tonight with the qualifying flying 200m. 2002 keirin World Champion and sprint silver medalist, Jobie Dajka, (SA) was the clear top seed in 10.589sec with three time kilometre time trial World Champion Victoria's Shane Kelly crossing in 10.812 to clinch second seed.
"I can put myself in the position to win, I think," said Dajka who believes he'll face Kelly in the final tomorrow night if there are no surprise upsets in the semi finals. "That would be fun..... but if I lost to him I'd never lve it down so I'd better start preparing for tomorrow."
The U19 men's sprint Canberra's Daniel Ellis lost his first match up against West Australian Scott Sunderland but fought back to take the next two and the gold medal. The bronze medal was won in straight heats by Queensland's Benjamin Simonelli over Geoff Hopkins of New South Wales.
Zakkari Dempster during the ride
Photo ©: Rachel Burke

Victorian Zakkari Dempster added a gold to the Victorian tally with victory in the U19 men's individual pursuit covering the 3km distance in 3:25.969. He was seven seconds clear of Queensland rival Todd Dawson who claimed silver. The bronze medal ride was won by New South Wales Mitchell Pearson in 3:29.255.
Athens Paralympian Janet Shaw (WA) with pilot Kerry Cohen rode 3:47.13 for the 3km tandem pursuit to claim gold.
Earlier in the day Victorian Martin Vcelka claimed gold in the multidisability LC 2 men's one lap time trial in a time of 21.452 seconds. Glen Jarvis took out gold in the LC 3 division in 24.158 ahead of silver medallist Noel Sens (VIC) in 25.426 and triple Paralympic gold medallist Chris Scott blazed around the track in 21.154 to claim gold in the CP Div 4.
Warren McKennariey and James Kelly (SA)
Photo ©: Rachel Burke

Meantime a back injury has forced Sydney's Sean Eadie out of the Championships while dual Olympic gold medallist Ryan Bayley has confirmed he'll be unable to contest the World Championships in Los Angeles next month after tests revealed a crack in his scapula bone in the back of his shoulder. This along with the two broken ribs he also sustained in a crash in Rockhampton in January has put him out of action for several weeks ending his hopes of competing in Los Angeles.
Photography
For a thumbnail gallery of these images, click here
Images by Rachel Burke/www.maximumattack.biz
Results
Afternoon session

Under 19 men Sprint Qualification
 
1 Scott Sunderland (WA)                   10.933  (65.856km/h)
2 Daniel Ellis (ACT)                      11.107  (64.824km/h)
3 Anthony Bennett (NSW)                   11.195  (64.314km/h)
4 Geoff Hopkins (NSW)                     11.305  (63.689km/h)
5 Jeremy Hogg (QLD)                       11.310  (63.660km/h)
6 Benjamin Simonelli (QLD)                11.392  (63.202km/h)
7 Patrick Bolan (NSW)                     11.432  (62.981km/h)
8 Oliver Saare (WA)                       11.557  (62.300km/h)
9 Travis Hull (VIC)                       11.656  (61.771km/h)
10 Byron Page (WA)                        11.669  (61.702km/h)
11 Alexander Smyth (VIC)                  11.696  (61.560km/h)
12 William Draffen (QLD)                  11.702  (61.528km/h)
13 Daniel Robb (SA)                       11.752  (61.266km/h)
14 Gareth Coffee (SA)                     11.761  (61.219km/h)
15 Ryan Worn (VIC)                        12.113  (59.440km/h)
16 Ben Heylen (SA)                        12.278  (58.641km/h)
 
Under 19 men 3000m Individual Pursuit Qualification
 
1 Zakkari Dempster (VIC)                3.25.174
2 Todd Dawson (QLD)                     3.28.638
3 Mitchell Pearson (NSW)                3.29.554
4 Jackson-Leigh Rathbone (NSW)          3.30.327
5 Matthew Pettit (NSW)                  3.30.433
6 Cameron Meyer (WA)                    3.30.481
7 William Ford (VIC)                    3.31.881
8 Kyle Bateson (QLD)                    3.32.618
9 Mark O'Brien (VIC)                    3.32.825
10 Mario Giramondo (VIC)                3.33.988
11 Jarrod Harman (TAS)                  3.35.580
12 Adam O'Connor (WA)                   3.35.594
13 Luke Cridland (NSW)                  3.36.579
14 Russell Gill (SA)                    3.40.547
15 Matt Sanders (SA)                    3.40.959
16 Craig Mattingly (SA)                 3.41.672
17 William Robinson (TAS)               3.42.344
18 Edward Petney (SA)                   3.44.441
 
Under 19 men Sprint Round 1
 
Heat 1
 
1 Scott Sunderland (WA)                   12.480
2 Ben Heylen (SA)
 
Heat 2
 
1 Daniel Ellis (ACT)                      12.340
2 Ryan Worn (VIC)
 
Heat 3
 
1 Anthony Bennett (NSW)                   12.481
2 Gareth Coffee (SA)
 
Heat 4
 
1 Geoff Hopkins (NSW)                     12.399
2 Daniel Robb (SA)
 
Heat 5
 
1 Jeremy Hogg (QLD)                       12.845
2 William Draffen (QLD)
 
Heat 6
 
1 Benjamin Simonelli (QLD)                12.228
2 Alexander Smyth (VIC)
 
Heat 7
 
1 Patrick Bolan (NSW)                     12.158
2 Byron Page (WA)
 
Heat 8
 
1 Oliver Saare (WA)                       11.770
2 Travis Hull (VIC)
 
Under 19 men Sprint Quarter Finals
 
Heat 1
 
1 Scott Sunderland (WA)                   11.941
2 Oliver Saare (WA)
 
Heat 2
 
1 Daniel Ellis (ACT)                      12.147
2 Patrick Bolan (NSW)
 
Heat 3
 
1 Benjamin Simonelli (QLD)                11.548
2 Anthony Bennett (NSW)
 
Heat 4
 
1 Geoff Hopkins (NSW)                     11.860
2 Jeremy Hogg (QLD)
 
Under 19 men Sprint 5th - 8th
 
1 Anthony Bennett (NSW)                   11.713
2 Oliver Saare (WA)
3 Jeremy Hogg (QLD)
4 Patrick Bolan (NSW)
 
LC2 Men 1 Lap Time Trial Final
 
1 Martin Vcelka (VIC)                     21.542  (41.779km/h)
 
LC3 Men 1 Lap Time Trial Final
 
1 Glen Jarvis (VIC)                       24.158  (37.255km/h)
2 Noel Sens (VIC)                         25.426  (35.397km/h)
 
CP4 Men 1 Lap Time Trial Final
 
1 Christopher Scott (QLD)                 21.154  (42.545km/h)

Evening session

Men Sprint Qualification
 
1 Jobie Dajka (SA)                        10.589  (67.995km/h)
2 Shane Kelly (VIC)                       10.812  (66.593km/h)
3 Jason Niblett (VIC)                     10.953  (65.735km/h)
4 Damien Keirl (VIC)                      10.957  (65.711km/h)
5 Sean Dwight (NSW)                       11.028  (65.288km/h)
6 Carlo Barendilla (WA)                   11.147  (64.591km/h)
7 Adam Simonelli (QLD)                    11.196  (64.309km/h)
8 Tomoharu Yara (JAP)                     11.213  (64.211km/h)
9 Gary Ryan (ACT)                         11.267  (63.903km/h)
10 Mario Mazza (SA)                       11.291  (63.768km/h)
11 Damian Harris (QLD)                    11.360  (63.380km/h)
12 Dean Santoro (WA)                      11.518  (62.511km/h)
13 Luke Horjus (SA)                       11.552  (62.327km/h)
14 Corey Heath (NT)                       12.102  (59.494km/h)
15 Ty Domin (NT)                          12.280  (58.632km/h)
16 Darren  Hicks (NT)                     12.688  (56.747km/h)
 
Open Women Team Sprint Qualification
 
1 Kerrie Meares (QLD)                     35.063
  Anna Meares (QLD)
2 Rebecca Borgo (NSW)                     36.241
  Elizabeth Georgouras (NSW)
3 Jessie Maclean (ACT)                    36.847
  Jennifer Loutit (ACT)
4 Sophie Cape (WA)                        36.891
  Kristine Bayley (WA)
5 Chloe Macpherson (QLD)                  36.925
  Hayley Wright (QLD)
6 Apryl Eppinger (VIC)                    37.392
  Tiffany Godfrey (VIC)
7 Brigette  Broad (NZL)                   38.015
  Liz Williams (NZL)
8 Sue Ann Woodwiss (SA)                   38.517
  Rikki Johnson (SA)
9 Leanne Manderson (WA)                   39.403
  Renae Horsley (WA)
 
Men Sprint Round 1
 
Heat 1
 
1 Jobie Dajka (SA)                        12.245
2 Darren  Hicks (NT)
 
Heat 2
 
1 Shane Kelly (VIC)                       12.600
2 Ty Domin (NT)
 
Heat 3
 
1 Jason Niblett (VIC)                     12.251
2 Corey Heath (NT)
 
Heat 4
 
1 Damien Keirl (VIC)                      12.091
2 Luke Horjus (SA)
 
Heat 5
 
1 Sean Dwight (NSW)                       11.997
2 Dean Santoro (WA)
 
Heat 6
 
1 Carlo Barendilla (WA)                   12.391
2 Damian Harris (QLD)
 
Heat 7
 
1 Mario Mazza (SA)                        11.936
2 Adam Simonelli (QLD)
 
Heat 8
 
1 Tomoharu Yara (JAP)                     11.560
2 Gary Ryan (ACT)
 
Under 19 men Sprint Semi Finals
 
Heat 1
 
1 Scott Sunderland (WA)                   11.969    11.698
2 Geoff Hopkins (NSW)
 
Heat 2
 
1 Daniel Ellis (ACT)                      11.952    12.600
2 Benjamin Simonelli (QLD)
 
Men 4000m Tandem Pursuit Final
 
1 Warren McKennarley (SA)               5.04.041
  James Kelly
 
Women Tandem Pursuit Final
 
1 Janet Shaw (WA)                       3.47.132
  Kerry Cohen
 
Open Women Team Sprint Final
 
Gold & Silver medals
 
1 Kerrie Meares (QLD)                     35.109
  Anna Meares
2 Rebecca Borgo (NSW)                     36.120
  Elizabeth Georgouras
 
Bronze medal
 
3 Jessie Maclean (ACT)                    36.871
  Jennifer Loutit
4 Sophie Cape (WA)                        37.022
  Kristine Bayley
 
Under 19 men Individual Pursuit Final
 
Gold & Silver Medals
 
1 Zakkari Dempster (VIC)                3.25.969
2 Todd Dawson (QLD)                     3.32.935
 
Bronze Medal
 
3 Mitchell Pearson (NSW)                3.29.255
4 Jackson-Leigh Rathbone (NSW)          3.35.215
 
Men Sprint Quarter Finals
 
Heat 1
 
1 Jobie Dajka (SA)                        11.438
2 Tomoharu Yara (JAP)
 
Heat 2
 
1 Shane Kelly (VIC)                       11.709
2 Mario Mazza (SA)
 
Heat 3
 
1 Jason Niblett (VIC)                     11.416
2 Carlo Barendilla (WA)
 
Heat 4
 
1 Sean Dwight (NSW)                       *
2 Damien Keirl (VIC)                      11.771
 
* Rider 41 Damien KEIRL relegated in Heat 4
for not holding his line during the final sprint
 
Women 10km Scratch Race
 
1 Katherine Bates (NSW)                 12.55.000
2 Rochelle Gilmore (NSW)
3 Belinda Goss (TAS)
4 Laura McCaughey (TAS)
5 Apryl Eppinger (VIC)
6 Kerry Cohen (WA)
7 Jessie Maclean (ACT)
8 Tiffany Godfrey (VIC)
9 Anna Jones-Perrin (QLD)
10 Kristine Bayley (WA)
11 Toireasa Gallagher (NSW)
12 Alexis Rhodes (SA)
13 Elizabeth Wishart (SA)
DNF Alexandra Bright (QLD)
DNF Renée Braithwaite (SA)
Fell Anouska Edwards (QLD)
Fell Jessica Berry (VIC)
Fell Leanne Manderson (WA)
 
Under 19 men Sprint Final
 
Gold & Silver Medals
 
1 Daniel Ellis (ACT)                                 11.769     12.286
2 Scott Sunderland (WA)                   11.711
 
Bronze Medal
 
3 Benjamin Simonelli (QLD)                11.815
4 Geoff Hopkins (NSW)
 
Men Sprint 5th - 8th
 
1 Tomoharu Yara (JAP)                     11.314
2 Carlo Barendilla (WA)
3 Mario Mazza (SA)
DNS Damien Keirl (VIC)