2005 Australian Senior Track Championships - CN
Adelaide, South Australia, February 7-12, 2005
Main Page Results Previous Day Next Day
Day 2 - February 8: U19 men 1 lap TT, Men IP, Men 1000m, Women IP, U19 women IP, LC & CP IP
Kersten claims kilo as Bates pursuits to gold
Ben Kersten (NSW)
Photo ©: Rachel Burke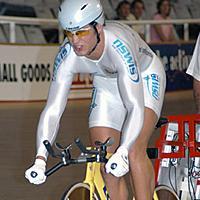 Wollongong's Ben Kersten, 23, who last night won the one lap time trial, claimed his second gold of the Australian Track Cycling Championships tonight when he posted 1:03.175 for the one kilometre time trial. Kersten was more than two seconds faster than silver medallist Joel Leonard (VIC) in 1:05.049 with Queensland's Grant Irwin third in 1:05.377.
"It would have been nice to do a 1:02 here at nationals," said Kersten. "But I've got to be realistic (because) I've only been on my road bike so next week maybe at the World Cup (Sydney Feb 18-20)."
Kersten's sights are set on the World Championships podium in Los Angeles next month where he will be Australia's main kilometre hope in the absence of three time kilometre world champion, Shane Kelly, who this year is taking a break from the event he has dominated since 1992.
"I'm definitely on for a medal, but Shane also definitely isn't finished with the kilo - he'll come back eventually," said Kersten. "Even if I do win a medal I'm still not filling his shoes, I've got to win about ten more (medals to do that)."
Katherine Bates (NSW) during her Gold medal ride
Photo ©: Rachel Burke

The women's 3km individual pursuit was the battle of the Olympians with Sydney's Kate Bates, who was fourth in Athens, taking on the Olympic road race champion, Sara Carrigan of Queensland. Carrigan who has opted this year to have a hit out on the track and is hoping to gain a start in the Australian team at the track World Championships performed well to make it to the gold medal ride off but Bates was always in control and cruised to victory in 3:37.132, almost eight seconds clear of Carrigan who finished in 3:44.845 for the silver medal.
"I have to admit most nights I have rainbows in my dreams and it's what gets me up every morning," said Bates of the coveted rainbow jersey which is awarded to cycling world champions. "Be it pursuit or points race, that's what I'm aiming for."
Bates credentials in both events are impressive and in Athens she finished sixth in the points race battling through heat exhaustion to finish the race. So far this year she has also claimed three World Cup gold medals in the pursuit, points and scratch races in the Manchester round in January.
"I came out of Athens really motivated and I think I have a big chance this year to put a footprint on international women's cycling," said Bates. "I'm aiming for the points race this year.
"The pursuit comes together the older I get and the stronger I get but the points race is a source of frustration for me because I know what I'm capable of ," she explained. "When I get to worlds (titles) I seem to choke a little bit so now is my time to turn it right."
Carrigan for her part was disappointed but determined to try again next year. "I got a little bit excited after the qualifying and gave it everything I could," said the road expert of only her third ever pursuit on the track. "I guess I should be happy, silver in my first senior track championships."
South Australian Alexis Rhodes (3:44.153) won the bronze medal ride against her team mate Amy Gillet (3:49.083).
Mark Jamieson (TAS) claims the Gold medal
Photo ©: Rachel Burke

The men's 4km individual pursuit saw 2002 junior World Champion Mark Jamieson blazed to gold catching his opponent, Olympic teams pursuit gold medallist Stephen Wooldridge (NSW) with six laps to spare.
The 20 year old Tasmanian sizzled in the qualifying with a time of 4:22.943, five seconds clear of his rivals and came out firing in the final. "Today was just something special," said Jamieson. "I never expected that time this morning and I've got great admiration for my coach, Kevin Tabotta, this is more his title than mine."
Tabotta leaves the Tasmanian Institute of Sport next week to begin his new role as Cycling Australia High Performance Manager. Jamieson took his hands of the handlebars and 'whooped' in excitement when he caught Wooldridge.
"He's no slouch, he's a class above most of the guys that I know and he really deserved to be in that final," said Jamieson who is pushing for a place in the senior endurance ranks. "This is the year for us young guys to step up and really make ourselves known and the Australian team is the best team to be in."
In the all-Victorian ride-off for bronze, Richard England was too strong for David Pell.
In the under 19 events South Australian Bianca Rogers (2:27.275) proved too strong for Amanda Spratt (NSW), 2:33.569 in the 2km pursuit with Peta Mullens of Victoria third in 2:35.152.
An action packed U19 men's scratch race saw Anthony Bennett (NSW) sprint to gold ahead of Russell Gill (SA) and Fabio Calabria (ACT) with all three medallists out in front when at a lap to go three riders hit the deck. All suffered grazes and bruising but were given the medical all clear.
The multi-disability athletes wrapped up the second night of racing in the same way they started the competition yesterday with world records.
South Australian amputee Angela Fleming wracked up her second world record in as many races when she completed the 3km individual pursuit for the LC2 classification in a time of 4:33.018. The time decimated the previous mark of 4:46.558 set by China's Rong Ji Wang in Prague in 2003.
Jane Armstrong of Western Australia followed her on the track and notched up yet another world mark, 4:42.612 for the 3km LC3 pursuit to better her own world best time of 4:45.273 set in Sydney at last year's nationals.
Triple Athens Paralympic gold medallist, Christopher Scott, (QLD), 36, claimed gold but was outside his own world record in the 3km CP Div4 individual pursuit by a fair margin. He finished with 3:38.610 but originally had a time of 3:57 before officials realised he had completed an extra lap.
Noel Sens of Victoria claimed the LC3 3km pursuit gold in 4:20.209 ahead of Glen Jarvis (4:22.611) and WA's Claire McLean rode fast enough to claim gold in the 3km LC 1 women's pursuit with her time of 4:12.947.
Photography
For a thumbnail gallery of these images, click here
Images by Rachel Burke/www.maximumattack.biz
Results
Session 4

W19 2000m Individual Pursuit Final
 
Gold & Silver Medals
1 Bianca Rogers (SA)                             2.27.275
2 Amanda Spratt (NSW)                            2.33.569
 
Bronze Medal
3 Peta Mullens (Vic)                             2.35.152
4 Tess Downing (Vic)                             2.35.841
 
Women 3000m Individual Pursuit Final
 
Gold & Silver Medals
1 Katherine Bates (NSW)                          3.37.132
2 Sara Carrigan (Qld)                            3.44.845
 
Bronze Medal
3 Alexis Rhodes (SA)                             3.44.153
4 Amy Gillett (Vic)                              3.49.083
 
Men 4000m Individual Pursuit Final
 
Gold & Silver Medals
1 Mark Jamieson (Tas)                            (2.45.080)
2 Stephen Wooldridge (NSW)
*Wooldridge was caught by Jamieson with six laps remaining                             
 
Bronze Medal
3 Richard England (Vic)                          4.34.903
4 David Pell (Vic)                               4.42.129
 
Men 1000m Time Trial Final
 
1 Ben Kersten (NSW)                              1.03.175
2 Joel Leonard (Vic)                             1.05.049
3 Grant Irwin (Qld)                              1.05.377
4 Adrian Sansonetti (Vic)                        1.06.413
5 Steven Sansonetti (Vic)                        1.06.644
6 Stephen Rossendell (Tas)                       1.07.068
7 Mario Mazza (SA)                               1.07.858
8 Daniel Rynne (Qld)                             1.08.006
9 Daniel Vogels (WA)                             1.08.958
10 Tomoharu Yara (Jpn)                           1.09.279
11 Luke Horjus (SA)                              1.09.314
12 David Miller (SA)                             1.11.926
13 Ty Domin (NT)                                 1.12.515
 
M19 10km Scratch Race Final
 
1 Anthony Bennett (NSW)                         11.47.000
2 Russell Gill (SA)                                      
3 Fabio Calabria (ACT)                                   
4 Jack Rassie (Qld)                                      
5 Craig Mattingly (SA)                                   
6 Tyler Mclachlan (NSW)                                  
7 Jayden Veljacich (WA)                                  
8 Mario Giramondo (Vic)                                  
9 Adam O'connor (WA)                                     
10 Duane Johansen (WA)                                   
11 William Robinson (Tas)                                
12 Jarrod Harman (Tas)                                   
13 Joel Davis (Qld)                                      
DNF Matthew Pettit (NSW)                                 
DNF Hayden Josefski (Qld)                                
DNF Matt Sanders (SA)                                    
DNF Travis Hull (Vic)                                    
DNF Mark O'brien (Vic)                                   
 
Event 23 - LC2 Men 4000m Individual Pursuit Final
 
1 Martin Vcelka (Vic)                            5.38.942
 
Event 24 - LC2 Women 3000m Individual Pursuit Final
 
1 Angela Fleming (SA)                            4.33.018
 
Event 25 - LC3 Women 3000m Individual Pursuit Final
 
1 Jane Armstrong (WA)                            4.42.612
 
Event 26 - LC3 Men 3000m Individual Pursuit Final
 
1 Noel Sens (Vic)                                4.20.209
2 Glen Jarvis (Vic)                              4.22.511
 
Event 26a - CP3 Women 3000m Individual Pursuit Final
 
1 Barbara Buchan (USA)                           4.47.596
 
Event 27 - CP4 Men 3000m Individual Pursuit Final
 
1 Christopher Scott (Qld)                        3.38.610
 
Event 28 - LC1 Women 3000m Individual Pursuit Final
 
1 Claire Mclean (WA)                             4.12.947
Session 3

W19 2000m Individual Pursuit Qualification
 
1 Bianca Rogers (SA)                     2.27.620
2 Amanda Spratt (NSW)                    2.30.821
3 Peta Mullens (Vic)                     2.33.289
4 Tess Downing (Vic)                     2.34.578
5 Laura Meisel-Dennis (ACT)              2.36.199
6 Tiffany Cromwell (SA)                  2.37.780
7 Grace Sulzberger (Tas)                 2.38.585
8 Aimee Howlett (Vic)                    2.40.909
9 Philippa Martin (WA)                   2.42.625
10 Tahlia Clayton (Vic)                  2.43.163
11 Kylie Hansen (WA)                     2.44.125
12 Kira Mason (SA)                       2.45.264
 
Women 3000m Individual Pursuit Qualification
 
1 Katherine Bates (NSW)                  3.36.602
2 Sara Carrigan (Qld)                    3.42.626
3 Amy Gillett (Vic)                      3.43.295
4 Alexis Rhodes (SA)                     3.43.679
5 Jenny Macpherson (Vic)                 3.48.289
6 Jessie Maclean (ACT)                   3.49.039
7 Toireasa Gallagher (NSW)               3.53.505
8 Anna Jones-Perrin (Qld)                3.55.442
9 Anouska Edwards (Qld)                  3.57.034
10 Jessica Berry (Vic)                   3.58.938
11 Tiffany Godfrey (Vic)                 4.00.422
 
M19 1 Lap Time Trial Final
 
1 Scott Sunderland (WA)                  0.18.721 (48.07 km/h)
2 Daniel Ellis (ACT)                     0.19.023
3 William Draffen (Qld)                  0.19.364
4 Oliver Saare (WA)                      0.19.390
5 Benjamin Simonelli (Qld)               0.19.429
6 Byron Page (WA)                        0.19.582
7 Jeremy Hogg (Qld)                      0.19.616
8 Tyler Mclachlan (NSW)                  0.19.619
9 Patrick Bolan (NSW)                    0.19.638
10 Jackson-Leigh Rathbone (NSW)          0.19.657
11 Geoff Hopkins (NSW)                   0.19.691
12 Jack Rassie (Qld)                     0.19.775
13 Alexander Smyth (Vic)                 0.19.827
14 Daniel Robb (SA)                      0.20.066
15 Ryan Worn (Vic)                       0.20.246
16 Jarrod Harman (Tas)                   0.20.524
17 Benjamin Young (SA)                   0.20.751
18 Gareth Coffee (SA)                    0.20.821
19 William Robinson (Tas)                0.20.895
20 Sean Pontelandolfo (Vic)              0.20.915
21 William Ford (Vic)                    0.21.719
DNS Ben Heylen (SA)                              
 
Men 4000m Individual Pursuit Qualification
 
1 Mark Jamieson (Tas)                    4.22.943
2 Stephen Wooldridge (NSW)               4.27.751
3 Richard England (Vic)                  4.32.288
4 David Pell (Vic)                       4.35.071
5 Sean Finning (Vic)                     4.35.392
6 Christopher Pascoe (NSW)               4.35.819
7 Robert Lyte (NSW)                      4.37.471
8 Nathan Clarke (Tas)                    4.37.957
9 Matthew Goss (Tas)                     4.39.324
10 Keith Evans (WA)                      4.45.569
11 Nathan Silleto (ACT)                  4.57.343
12 Mark Bergamin (SA)                    4.59.277