2005 Australian Senior Track Championships - CN
Adelaide, South Australia, February 7-12, 2005
Day 1 - February 7: Men 1 lap TT; U19 men 1000m; U19 women 500m; Women 500m; AWD 1000m
Olympic star Anna Meares too hot for rivals in Adelaide
Anna Meares focuses
Photo ©: Rachel Burke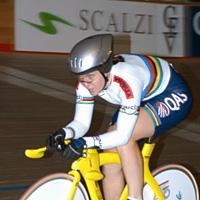 The women's 500m time trial at the 2005 Australian Track Cycling Championships was a case of Anna Meares first and daylight second but that was no surprise. After all with a pedigree that includes Olympic gold, World Championship gold and the current World Record, the 21 year-old Queenslander was the odds on favourite to defend her Australian title in Adelaide and she did it in a time of 34.897sec.
Her sister, Kerrie, 22, continuing her successful comeback from the back injury that ruled her out of Athens selection in 2004, was more than a second slower in 35.749 to claim the silver medal with West Australian Kristine Bayley third in 36.268.
The Meares sisters thrive on competing against each other but are also each other's greatest supporters. Anna took time out from her preparation for the race to snap a couple of photos of Kerrie on the start line for their website with Kerrie doing the same minutes later for Anna.
"It's good for me to have Kerrie there and it's good for Kerrie to have me there as well - a bit of extra support never goes astray," said Anna. "I'm very happy with that time because I'm not focussing on the time trial this year so much.
"I want to improve my sprint and keirin game at the World Championships this year," said Anna who tonight tried out a bigger gear for the time trial.
Kerrie, meantime improved by two tenths of a second on the time she rode to claim the Oceania crown in December. "I just had a laugh - I rode up next to her (Anna) and said 'you rode a second faster than me'," said Kerrie. "That's the best I could have done, I've got a lot of improvement to make, my personal best is 34.9 and I'm concentrating on myself and (using) Anna to chase at the moment.
"What better than to have a world and Olympic champion as a training partner and sister - I can't complain."
Kersten keeps men's 1 lap in NSW
Ben Kersten (NSW)
Photo ©: Rachel Burke

In the men's one lap time trial defending champion Sean Eadie did not start due to a niggling back injury but 2004 silver medallist, Ben Kersten, stepped up to keep the title in New South Wales hands. He completed the 250m distance in 18.426sec, outside the personal best of just under 18sec that he rode last year, but two tenths of a second clear of Victorian Jason Niblett (18.671) with another Victorian, Joel Leonard third in 18.859.
"It means it's time to stop strength training and go to speed," said Kersten. "Unfortunately the times weren't that quick, but I really needed to come here tonight and do that to get ready for tomorrow (men's kilometre time trial).
"I've just been long, slow training and I really need something like tonight to kick start me into gear," said Kersten who at the Manchester World Cup in January cracked the 62 second mark for the first time in the one kilometre event. "I'm a bit heavy, but the goal is the worlds (March)."
Kersten will race in six more events this week but his main goal is the March World Championships in Los Angeles and the one kilometre time trial.
Wright adds to Queensland tally in U19 500m; Rathbone takes U19 men's 1000m
Hayley Wright (Qld)
Photo ©: Rachel Burke

In the under 19 events Hayley Wright added another victory for Queensland winning the 500m time trial in 37.129, a time which would have placed her fifth in the elite event. Silver went to Bianca Rogers of South Australia in 37.317 and Canberra's Jennifer Loutit claimed bronze in 37.569.
The men's under 19 kilometre time trial was a hard fought affair with New South Wales rider Jackson-Leigh Rathbone clinching gold in 1:06.057 by a margin of five hundredths of a second over West Australian Scott Sunderland, 1:06.112. Queensland's Jeremy Hogg was third in 1:06.709.
Records fall in AWD events
Earlier in the day the 2005 Australian Track Cycling Championships got off to a flying start this afternoon as the multi-disability athletes set the benchmark for the event.
Triple Athens Paralympic gold medallist, Christopher Scott, (QLD), 36, took more than a second off the world record for the 1km time trial for CP Div4 men covering the distance in 1:10.058 to eclipse the previous record set by Czech rider Jiri Bouska at the Athens Paralympics of 1:11.353.
South Australian Angela Fleming then cracked the world mark for the LC2 women's 500m time trial riding 44.626. Her time smashed the mark of 46.539 set by Yuan Li Yuan (CHN) in Prague in 2003.
Jane Armstrong of Western Australia knocked four seconds of the 500m time trial mark in the LC3 division riding 46.890 to better the mark of 50.793 set in 2003 by American Alison Jones.
Glen Jarvis of Victoria set a national mark of 1:21.842 seconds in the LC3 1000m and WA's Claire McLean rode 43.124 seconds for an Australian record in the LC1 500m.
Photography
For a thumbnail gallery of these images, click here
Images by Rachel Burke/www.maximumattack.biz
Results
Session 2

Event 10 - Men 1 Lap Time Trial Final
 
1 Ben Kersten (NSW)                0.18.426
2 Jason Niblett (Vic)              0.18.671
3 Joel Leonard (Vic)               0.18.859
4 Carlo Barendilla (WA)            0.18.881
5 Damien Keirl (Vic)               0.19.190
6 Adrian Sansonetti (Vic)          0.19.209
7 Adam Simonelli (Qld)             0.19.306
8 Tomoharu Yara (JAP)              0.19.486
8 Damian Harris (Qld)                      
9 Sean Dwight (NSW)                0.19.496
10 Gary Ryan (ACT)                 0.19.513
11 Corey Heath (NT)                0.19.571
12 Todd Wilksch (Vic)              0.19.601
13 Daniel Rynne (Qld)              0.19.621
14 Ben Price (Tas)                 0.19.724
15 Mario Mazza (SA)                0.19.762
16 Steven Sansonetti (Vic)         0.19.797
17 David Miller (SA)               0.19.872
18 Luke Horjus (SA)                0.19.946
19 Dean Santoro (WA)               0.20.307
20 Ty Domin (NT)                   0.20.624
21 Darren Hicks (NT)               0.21.337
 
Event 11 - Women 500m Time Trial Final
 
1 Anna Meares (Qld)                0.34.897
2 Kerrie Meares (Qld)              0.35.749
3 Kristine Bayley (WA)             0.36.268
4 Liz Williams (NZL)               0.36.855
5 Laura Mccaughey (Tas)            0.37.427
6 Elizabeth Georgouras (NSW)       0.37.815
7 Rebecca Borgo (NSW)              0.37.830
8 Tiffany Godfrey (Vic)            0.38.057
9 Deborah Lovely (Qld)             0.38.303
10 Alexandra Bright (Qld)          0.38.401
11 Jessie Maclean (ACT)            0.38.454
12 Sue Ann Woodwiss (SA)           0.38.724
13 Rikki Johnson (SA)              0.38.904
14 Apryl Eppinger (Vic)            0.38.921
15 Nicole Holt (Vic)               0.39.167
16 Kellie Louise Hards (SA)        0.41.279
 
Event 12 - W19 500m Time Trial Final
 
1 Hayley Wright (Qld)              0.37.129
2 Bianca Rogers (SA)               0.37.317
3 Jennifer Loutit (ACT)            0.37.569
4 Chloe Macpherson (Qld)           0.37.885
5 Brigette Broad (NZL)             0.38.266
6 Tess Downing (Vic)               0.38.736
7 Jessica Hume (NSW)               0.38.937
8 Jessica Tanner (Vic)             0.39.190
9 Amanda Spratt (NSW)              0.39.445
10 Skye-Lee Armstrong (NSW)        0.39.540
11 Grace Sulzberger (Tas)          0.39.931
12 Hannah Bush (Vic)               0.41.299
13 Renae Horsley (WA)              0.41.533
14 Natalie Macfarlan (SA)          0.41.577
15 Kira Mason (SA)                 0.41.639
16 Aimee Howlett (Vic)             0.42.425
 
Event 13 - M19 1000m Time Trial Final
 
1 Jackson-Leigh Rathbone (NSW)     1.06.057
2 Scott Sunderland (WA)            1.06.112
3 Jeremy Hogg (Qld)                1.06.709
4 Zakkari Dempster (Vic)           1.06.833
5 Daniel Ellis (ACT)               1.07.511
6 Anthony Bennett (NSW)            1.07.666
7 Jack Rassie (Qld)                1.08.143
8 Joel Davis (Qld)                 1.08.364
9 Gerard Murphy (Vic)              1.08.544
10 Hayden Josefski (Qld)           1.09.056
11 Tyler Mclachlan (NSW)           1.09.627
12 Travis Hull (Vic)               1.09.913
13 Sean Pontelandolfo (Vic)        1.10.085
14 Geoff Hopkins (NSW)             1.10.710
15 William Robinson (Tas)          1.10.979
16 Jarrod Harman (Tas)             1.11.614
17 Gareth Coffee (SA)              1.12.028
18 Ben Heylen (SA)                 1.14.376
19 Daniel Robb (SA)                1.15.683
20 Benjamin Young (SA)             1.15.696

Session 1


Event 2 - Women 1000m Tandem Time Trial Final
 
1 Janet Shaw (WA)                         1.13.728
 Kerry Cohen (WA)                                 
 
2 Felicity Johnson (SA)                   1.17.844
 Vicki Birks (SA)                                 
 
Event 3 - LC2 Men 1000m Time Trial Final
 
1 Martin Vcelka (Vic)                     1.15.780
 
Event 4 - LC3 Men 1000m Time Trial Final
 
1 Glen Jarvis (Vic)                       1.21.842
2 Noel Sens (Vic)                         1.24.256
 
Event 5 - CP4 Men 1000m Time Trial Final
 
1 Christopher Scott (Qld)                 1.10.058 (WR)

Event 6 - LC1 Women 500m Time Trial Final
 
1 Claire Mclean (WA)                      0.43.124
 
Event 7 - LC2 Women 500m Time Trial Final
 
1 Angela Fleming (SA)                     0.44.626 (WR)
 
Event 8 - LC3 Women 500m Time Trial Final
 
1 Jane Armstrong (WA)                     0.46.890 (WR)
 
Event 9 - CP3 Women 500m Time Trial Final
 
1 Barbara Buchan (USA)                    0.52.110