34th Bendigo Madison - IM
Australia, March 5-7, 2004
Main Page Results Previous Day
Day 3 - March 7: Bendigo Madison
Aitken/Weispfennig take Madison honours
By Mikkeli Godfree in Bendigo
Brett Aitken celebrates his fifth victory at Bendigo
Photo ©: Shane Goss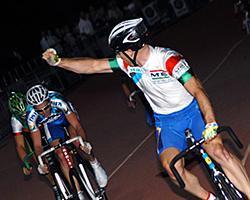 Brett Aitken and Erik Weispfennig were desperate to win tonight for two very different reasons, and they fulfilled their dreams when they snatched the win from the jaws of the super-strong German team of Christian Lademann and Lars Teutenberg in the final sprint of tonight's Bendigo Madison.
In a thrilling final, the German duo took to the front of the race with two laps to go in an attempt to protect their three point lead, but couldn't hold the pace as Aitken burst from the bunch to win the final sprint and the race in the last 200m of the 200 lap event.
Both Aitken and Weispfennig were ecstatic with their victory. After soaking up the crowd's cheers, Aitken said, "We both had a lot to ride for tonight - Erik has run second here three times and I wanted to equal Danny Clarke's record of five wins. I was packing myself with five laps to go because we missed the second last sprint. That meant that everything rested on the last sprint but we were able to take it out."
World Madison Champion of 2000, Weispfennig was just as relieved as Aitken with the win, "That was bloody close! Finally I got a win. I am very glad," he beamed after a television interview.
When asked whether he thought the win felt as good as he had anticipated, Erik replied, "Yeah, but I thought it would be a little bit easier. It was incredibly hard. I was so tired in the last sprint. I was so exhausted after bringing Aitken to second wheel with one lap to go...and he is just so fast that he won it.
"We had a lot of pressure because everyone picked us as favourites. It was great having Brett as a partner, he is incredibly good and I really hope he qualifies for the Olympics because he is definitely one of the best sprinters in the world."
Indeed, Aitken has earmarked a sixth victory as one of his goals, given his brilliant record a the Bendigo Madison. Although not able to hold a crowd to their feet with a lead-guitar and microphone like Danny Clarke, Aitken was sure to note that he had a few years of racing left in him yet, "and today makes it all the more inviting to go for win number six."
How it unfolded
A cheap day's entertainment
Photo ©: Shane Goss

After a day of great racing at the Bendigo track, the stands reached capacity in anticipation of some great madison racing, with 17 teams representing what was touted as one of the best fields of all time. The most feared riders seemed to be the German pair of Lademann/Teutenberg but while the team of Aitken/Weispfennig may have been the underdogs speed-wise, they were hungry for victory.
While Weispfennig had been a bridesmaid here three times, Aitken wanted to make amends for being denied his chance to make it 5-wins in 2003 because of a broken thumb he sustained in the weeks preceding the event.
The rest of the field was chock full of quality with Victorian madison champs Finning/Norton looking good and 2002 Australian madison champ Rodney McGee teaming up with Chris Sutton, whose father won the event back in 1983. 1999 winner, Darren Young was paired up with Nathan Clarke and 1996 winner Tim Decker would be swinging the junior Miles Olman around the track.
With some good coin up for the first sprint at 5 laps, the whole bunch ripped along behind McGee, who looked very keen to establish a firm grasp on the race. He would not have it his way though and was rolled by Brad Norton. Norton and his partner, Finning, quickly set about trying to rip the race to shreds with some great sprinting. This quickly put them at the head of the leader board after taking the first three sprints and placing second in the fourth.
However, a new set of players would come to the fore, with the McGee/Sutton showing they were not to be discounted as they sprinted their way to the top of the leader board. This was short-lived however as the main break in the race saw Lademann, Olman, Atkins and Cameron leave a surprisingly disinterested bunch with one quarter of the race gone.
The start
Photo ©: Shane Goss

The ever-attentive team of Norton and Finning made sure they didn't miss the move and in two laps they had ridden up to make a front five which looked very dangerous. These riders held their 150m advantage for nearly thirty laps and behind, the McGee/Sutton and Aitken/Weispfennig teams looked worried.
However, cool as ever, Aitken called the bluff of the FDJeux.com team who had a few helpers in the bunch and he let them pull the race back together. With the race finally back together, the team of Lademann/Teutenberg had amassed 27pts, three clear of Norton/Finning and Decker/Olman.
Keen to make amends, Aitken and Weispfennig gnashed their teeth and went about winning sprints 16, 18, 19 and 20 to put them right up into the points again. By the 22nd sprint, they had clawed their way to within 1pt of the German pair while they were 1pt clear of Decker and Olman who were poised in third.
For the third quarter of the race, it was a contest of sprints with Lademann/Teutenberg pushing Aitken/Weispfennig all the way. Scott McGrory, who has recently been sidelined with glandular fever was watching attentively from the centre of the track and gave his comments to cyclingnews.com with 50 laps to go,
"It is awesome, you've got three teams really close and it is tit-for-tat out there. I think the German's are still the strongest out there. Olman is very impressive, he is coming in at the right points, he is reading the race well and he has a bit of go - he knows what he is doing, I'm really impressed. Aitken is going deep, I think it is hurting him but he is always fast. Norton and Finning have just made a comeback and are not fading at all. What a great night of racing!"
The 29th sprint may as well have been the sprint for the finish because, realising the race was going to be won on points, not on laps, the men were contesting sprints with every fibre of muscle in their bodies. In this 29th sprint, the fifth-last, Teutenberg led in to the final lap while Aitken came over him to sling in Weispfennig. However, Teutenberg responded by slinging in a fast-finishing Lademann in who drew up alongside his German competitor but couldn't get around him despite a big throw on the line.
Yoshi Koujii
Photo ©: Shane Goss

Lademann reversed the result in the next sprint though and with four sprints remaining, the German pair held a 9pt lead over Aitken/Weispfennig with Decker and Olman third 15pts behind, meaning that the winner would almost definitely come from the front two.
A momentary lapse of concentration saw the German pair miss the 4th-last sprint whilst an incredible duel between Weispfennig and Lademann in the 3rd-last sprint saw them marked out of the big maximum points, finishing third and fourth respectively.
This set up a massive showdown for the final two sprints and when Aitken and Weispfennig missed the penultimate sprint (Lademann taking 4th and 1pt) the Aussie-German duo looked to be done for. However, with a three point lead going into the final sprint (and with 5,3,2,1pts on offer) Lademann and Teutenberg panicked and took to the front with two laps to go.
A huge effort from Lademann on the penultimate lap softened him up for an attack which came from Young with Aitken on his wheel. In the panic, Lademann struggled to find his partner Teutenberg and by the time he had reached him, Aitken was already half-way down the back straight looking victory right in the eyes. As Young faded, Aitken came around him to win the final sprint and the Bendigo International Madison in fine style.
With the crowd on their feet, the Bendigo track was buzzing with the excitement of the last lap and yet again, the famous madison had not failed to deliver the goods.
Under the bright evening lights, a relieved Aitken interpreted the race and noted that the sustained effort of the break in the first half of the race was a key factor which played into his an Erik's hands.
"I think that worked in our favour because no-one was looking at us to bring it back. We were worried when those five had a big gap but we called everyone else's bluff. In doing that, we saved a lot of energy which we needed in the last set of sprints when we needed to make up for the points we had lost. I said before race that the race was going to be won in the sprints at the end and it was. It was really dramatic but I'm so glad we pulled it off."
Eric Weispfennig (Daikin/McCaig Airconditioning)
Photo ©: Shane Goss

The second-placed German team was a bit disappointed at not taking home the win and cited Aitken and Weispfennig's great track record at the Bendigo Madison as reasons why they were unbeatable. Although they won't take home a winner's sash, the continental riders are really showing the benefits of summer training programs in Victoria which should offer them greater rewards later in this Olympic year.
Possibly the most outstanding ride of the night though, came from the third-placed pairing of Decker and Olman. An odd pair, Decker with huge madison experience, having won it in 1996 with Chris White, was paired with Olman, a junior world champion in the points score, in his first big madison. These two snapped at the heels of the leading two teams and won the crowd's favour with their aggressive racing style.
The junior Queenslander Olman was extremely happy with his ride tonight saying, "It was unreal. I had awesome legs and my teammate, Tim Decker was fantastic. He threw me in with great position and it was an unreal night." Hometown boy, Decker was similarly full of praise for his junior partner and reveled in the cheers of the Bendigo crowd.
But the final applause was saved for the winning pair of Brett Aitken and Erik Weispfennig whose hunger won them the race today. Before the race, Aitken admitted that there were many faster guys in the line-up and noted that he would have to rely heavily on his experience.
His long-time madison partner, McGrory concurred, "Yeah, he looked like he was digging pretty deep there. He said that he isn't fast and I can see that he hurt but even when he is not 100%, he is still very, very fast. It was a great race to watch."
A fitting end to the Bendigo Madison: dreams came true for Aitken and Weispfennig while one remains to be realised for McGrory, Aitken's gold medal winning partner from the Sydney Olympics - a return to health and to be on the boards again - who knows, McGrory, a two time Bendigo Madison winner himself (partnered with Aitken of course), might be back to help Brett take a 6th title next year.
Other races
Golden Mile Wheelrace Final over 1600m
Shane Kelly in top form
Photo ©: Mikkeli Godfree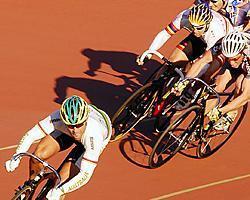 In the biggest wheelrace of the night, scratchmen Todd Wilksch, Stephen Rossendell and Shane Kelly looked menacing despite being half a lap down with only 1600m to race. The scratchies were flying and soon picked up Rod McGee and Matthew Goss. McGee helped out in the chase for half a lap before Wilksch took over duties, absolutely flying past the out-markers. With a lap and a half to go, Kelly looked the goods but a late charge a few wheels up from Chris Pascoe worried Kelly a bit.
With Wilksch spent, Rossendell made his move and set off in pursuit of Pascoe while Kelly looked to be getting an armchair ride to the finish. Indeed, in the last bend, Kelly kicked like a scolded cat and came over the line for a strong Golden Mile wheelrace win.
Kelly, the winner of the A-grade elimination, scratch race and Keirin, was very happy with his ride saying that it is the best form he has been in at a race meet for a very long time. "It is about time I had a win. I have done my apprenticeship so it is good to get a win myself. The Austral, the Golden Mile, they are the two big ones so I'm very happy."
The 1km specialist has always been a threat in the wheelraces and Kelly was indeed keen to assert his love for the outdoor country track racing, "I love to race out here on the open track - you know, in the elements - I'm a country boy so I have been racing here since I was little."
The fast Kelly has a jam-packed program ahead of him with a World Cup in Manchester, the National Track Champs in Australia, a World Cup in Sydney, the World Champs in Melbourne all before the end of May...and then Athens.
Women's A-grade Elimination
In what was looking like a pattern this weekend, Belinda Goss (TIS) and Jessica Tanner ended up surrounded by three of the Bananaman Flooring girls. With the biggest threat, last night's wheelrace winner, Jessica Berry leading through with one lap to go, the Bananaman girls looked to have it sewn up but Jessica Tanner had different ideas, hitting out with half a lap to go.
After a moment's hesitation, Goss realised that the Bananaman girls didn't have the horsepower to close the gap and went off in pursuit. Although, she reached Tanner, Goss couldn't come around the leader and had to settle for second as the Bananaman Flooring duo of Berry and 126 came in behind.
Men's Wheelrace over 1000m
After his wheelrace win the night before, Steve Martin was keen to lead out but ran out of steam at the bell. Jeremy McLay took over duties while backmarker, Damien Kierl (riding with a broken wrist in a cast) struggled to make contact. Showing great form, McLay held his lead but the headwind finish straight proved too much as both Malcolm Hill and Kierl found their way to the front. With a desperate throw, McLay held on to draw for first with Hill while Kierl nearly upset the both of them with a super quick charge to the line.
Photography
Images by Shane Goss/licoricegallery.com
Images by Mikkeli Godfree/Cyclingnews.com
Results
Bendigo International Madison

1 Brett Aitken (Aus)/Eric Weispfennig (Ger)     71 pts
2 Christian Lademann/Lars Teutenberg (Ger)      69
3 Tim Decker/Miles Olman (Aus)                  61
4 Chris Pascoe/Scott                            43
5 Brad Norton/Sean Finning                      35
6 Chris Sutton/Rod McGee                        25

Men's Golden Mile Wheelrace Final, 1600m 
 
1 Shane Kelly
2 Chris Pascoe
3 Stephen Rossendell
 
Men's Keirin Final 
 
1 Shane Kelly
2 Joel Leonard
3 Todd Wilksch  
 
Men's Wheelrace, 1000m
 
1 Jeremy McLay (80m)
1 Malcolm Hill (85m) 
3 Damien Kierl (15m)
 
A Grade Elimination 
 
1 Shane Kelly
2 Daniel Thorsten
 
A Grade Scratch 
 
1 Shane Kelly
2 Tommy Nankervis
3 Joel Leonard. 
 
Women's Wheelrace, 1000m
 
1 Livia Gluchowska
2 Sean Hennessey 
3 Kate Finegan 
 
Women's A Grade Elimination
 
1 Jessica Tanner (ACR)
2 Belinda Goss (TIS/Cyclingnews.com/Avanti)
3 Jessica Berry (Bananaman flooring)
 
U17 Handicap Final, 2000m
 
1 Ricky Peoples (25m)