World Junior Track Championships - CM
Los Angeles, USA, July 28-August 1, 2004
Women Sprint
Shuang Guo gets the hat trick
By Kristy Scrymgeour
Shuang Guo (China)
Photo ©: Mitch Friedman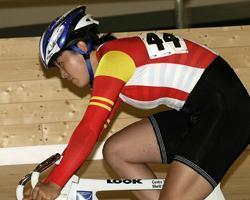 After winning two gold medals in her first attempt at Junior World Championships, Shuang Guo (China) went one better this year, taking home a gold medal from each of the three events she competed in, the final one being the women's sprint tonight.
After a straight sweep, winning every heat from the qualifying round all the way through to the final against A You Jin (Korea), Shuang told Cyclingnews after the race that the final battle "was the hardest one all week." It wasn't until she came up against Jin in the final that she looked to be challenged at all. In a very exciting first heat of the Gold medal ride, Shuang made her move as usual with a lap to go. This time however her competitor Jin was able to grab her wheel and almost nipped her on the line. This made Shuang nervous for the next.
She needn't have been though, because the second heat saw her win easily from Jin to take the gold and another rainbow jersey. "She is very strong," said Shuang of Jin, "and I have lost energy because I have raced so much in the past few days."
You Jin (Korea) leads out Shaun Guo (China)
Photo ©: Mitch Friedman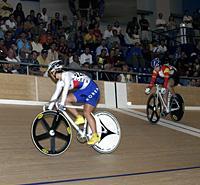 Shuang flies back to China tomorrow after a very successful season. In addition to the three gold medals she won this week, she succeeded in winning three world cup keirin events against the senior women this year. "In total I won five medals," she said shyly. "My season is over."
In the ride off for the Bronze, Marlijn Welte (Germany) came up against her teammate Jane Gersich. She breezed through both rounds to take hte Bronze but said it wasn't as easy as it looked. "It was hard," she said. "It was my hardest race, as I was very tired."
Welte won the silver medal in the Keirin and the 500m and was very surprised to win a third medal for the week. "I didn't think I would win three," she said. "It is a nice surprise."
Shuang Guo on fire
By Kristy Scrymgeour
After winning two Gold medals this week already in the women's Keirin and the 500 events , Shuang qualified for the women's sprint this morning with a time that would have made her competitive in the men's field. Her time of 11.730 made her the only woman today to break the twelve second barrier.
Taking second place, as had become her habit in the last few days was Miriam Welte of Germany with A You Jin (Korea) taking third in the qualifying rounds. The women will return to the track tonight to contest the 1/8 and 14/4 finals.
The sprint podium
Photo ©: Mitch Friedman
Photography
Images by Mitch Friedman Photography
Results
200m Qualifying
1 Shuang Guo (China)                         11.730
2 Miriam Welte (Germany)                     12.091
3 A You Jin (Korea)                          12.115
4 Elodie Henriette (France)                  12.241
5 Jane Gerisch (Germany)                     12.320
6 Franziska König (Germany)                  12.326
7 Annalisa Cucinotta (Italy)                 12.327
8 Bridgette Broad (New Zealand)              12.414
9 Hayley Wright (Australia)                  12.567
10 Olga Streltsova (Russia)                  12.657
11 Jennifer Loutit (Australia)               12.699
12 Natalia Prokurorova (Russia)              12.746
13 Laura Brown (Canada)                      12.881
14 Irene Aravena (Chile)                     12.896
15 Skye-Lee Armstrong (Australia)            12.918
16 Tela Crane (USA)                          13.000
17 Elena Raspopina (Russia)                  13.514

1/18 Final

Round of 18 Heat 1
 
1 Shuang Guo (China)
 
Round of 18 Heat 2
 
1 Miriam Welte (Germany)              13.441 (53.567 km/h)
 Elena Raspopina (Russia)
 
Round of 18 Heat 3
 
1 A You Jin (Korea)                   12.355 (58.276 km/h)
 Tela Crane (USA)
 
Round of 18 Heat 4
 
1 Elodie Henriette (France)           12.878 (55.909 km/h)
 Skye-Lee Armstrong (Australia)
 
Round of 18 Heat 5
 
1 Jane Gerisch (Germany)              13.259 (54.303 km/h)
 Irene Aravena (Chile)
 
Round of 18 Heat 6
 
1 Franziska König (Germany)           13.381 (53.808 km/h)
 Laura Brown (Canada)
 
Round of 18 Heat 7
 
1 Annalisa Cucinotta (Italy)          13.237 (54.393 km/h)
 Natalia Prokurorova (Russia)
 
Round of 18 Heat 8
 
1 Bridgette Broad (New Zealand)       12.920 (55.728 km/h)
 Jennifer Loutit (Australia)
 
Round of 18 Heat 9
 
1 Hayley Wright (Australia)           12.679 (56.787 km/h)
 Olga Streltsova (Russia)

1/18 Final Repechage

Round of 18 Rep 1
 
1 Olga Streltsova (Russia)            13.803 (52.163 km/h)
2 Laura Brown (Canada)
 
Round of 18 Rep 2
 
1 Natalia Prokurorova (Russia)        14.055 (51.227 km/h)
2 Irene Aravena (Chile)
3 Elena Raspopina (Russia)
 
Round of 18 Rep 3
 
1 Tela Crane (USA)                    13.497 (53.345 km/h)
2 Skye-Lee Armstrong (Australia)
3 Jennifer Loutit (Australia)

1/8 Final

1/8 Final Heat 1
 
1 Shuang Guo (China)                  12.659 (56.877 km/h)
 Tela Crane (USA)
 
1/8 Final Heat 2
 
1 Miriam Welte (Germany)              13.313 (54.082 km/h)
 Natalia Prokurorova (Russia)
 
1/8 Final Heat 3
 
1 A Jin (Korea)                       12.492 (57.637 km/h)
 Olga Streltsova (Russia)
 
1/8 Final Heat 4
 
1 Elodie Henriette (France)           12.879 (55.905 km/h)
 Hayley Wright (Australia)
 
1/8 Final Heat 5
 
1 Jane Gerisch (Germany)              12.960 (55.556 km/h)
 Bridgette Broad (New Zealand)
 
1/8 Final Heat 6
 
1 Annalisa Cucinotta (Italy)          12.691 (56.733 km/h)
 Franziska König (Germany)

1/8 Final Repechage

1/8 Final Rep 1
 
1 Hayley Wright (Australia)           12.660 (56.872 km/h)
2 Tela Crane (USA)
3 Franziska König (Germany)
 
1/8 Final Rep 2
 
1 Bridgette Broad (New Zealand)       13.653 (52.736 km/h)
2 Natalia Prokurorova (Russia)
3 Olga Streltsova (Russia)

1/4 Final

Quarterfinal Heat 1 - Race #1
 
1 Shuang Guo (China)                  12.432 (57.915 km/h)
 Bridgette Broad (New Zealand)
 
Quarterfinal Heat 1 - Race #2
 
1 Shuang Guo (China)                  15.343 (46.927 km/h)
 Bridgette Broad (New Zealand)
 
Quarterfinal Heat 2 - Race #1
 
1 Miriam Welte (Germany)              12.733 (56.546 km/h)
 Hayley Wright (Australia)
 
Quarterfinal Heat 2 - Race #2
 
1 Miriam Welte (Germany)              12.538 (57.425 km/h)
 Hayley Wright (Australia)
 
Quarterfinal Heat 3 - Race #1
 
1 A You Jin (Korea)                   12.376 (58.177 km/h)
 Annalisa Cucinotta (Italy)
 
Quarterfinal Heat 3 - Race #2
 
1 A You Jin (Korea)                   12.309 (58.494 km/h)
 Annalisa Cucinotta (Italy)
 
Quarterfinal Heat 4 - Race #1
 
1 Jane Gerisch (Germany)              12.689 (56.742 km/h)
 Elodie Henriette (France)
 
Quarterfinal Heat 4 - Race #2
 
1 Jane Gerisch (Germany)              12.558 (57.334 km/h)
 Elodie Henriette (France)

Finals
9th-12th
 
9 Franziska König (Germany)         13.463 (53.480km/h)
10 Tela Crane (USA)
11 Natalia Prokurorova (Russia)
12 Olga Streltsova (Russia)
 
5th-8th
 
5 Hayley Wright (Australia)         12.630 (57.007km/h)
6 Elodie Henriette (France)
7 Annalisa Cucinotta (Italy)
8 Bridgette Broad (New Zealand)
 
Semifinal Heat 1 - Race #1
 
1 Shuang Guo (China)                12.243 (58.809km/h)
2 Jane Gerisch (Germany)
 
Semifinal Heat 1 - Race #2
 
1 Shuang Guo (China)                12.352 (58.290km/h)
2 Jane Gerisch (Germany)
 
Semifinal Heat 2 - Race #1
 
1 Miriam Welte (Germany)            12.910 (55.771km/h)
2 Jin A You (Germany)
 
Semifinal Heat 2 - Race #2
 
1 Jin A You (Korea)                 12.134 (59.337km/h)
2 Miriam Welte (Germany)
 
Semifinal Heat 2 - Race #3
 
1 Jin A You (Korea)                 12.190 (59.065km/h)
2 Miriam Welte (Germany)
 
3rd-4th - Race #1
 
1 Miriam Welte (Germany)            12.671 (56.823km/h)
2 Jane Gerisch (Germany)
 
3rd-4th - Race #2
 
1 Jane Gerisch (Germany)            13.045 (55.194km/h)
2 Miriam Welte (Germany)
 
3rd-4th - Race #3
 
1 Miriam Welte (Germany)            12.552 (57.361km/h)
2 Jane Gerisch (Germany)
 
Final - Race #1
 
1 Shuang Guo (China)                12.503 (57.586km/h)
2 Jin A You (Korea)
 
Final - Race #2
 
1 Shuang Guo (China)                12.263 (58.713km/h)
2 Jin A You (Korea)
 
Final classification  
 
1 Shuang Guo (China)
2 Jin A You (Korea)
3 Miriam Welte (Germany)
4 Jane Gerisch (Germany)
5 Hayley Wright (Australia)
6 Elodie Henriette (France)
7 Annalisa Cucinotta (Italy)
8 Bridgette Broad (New Zealand)
9 Franziska König (Germany)
10 Tela Crane (USA)